The czech metalgroup The Revolt is a really interesting group. They have here answered a lot of questions from me in april 2016.
Please tell me a little bit history of the group?
The group was established in December 2007 and after that we started to work on new material. Our first concert was in March 2008 and it was great because a lot of people came to see us on stage.In 2009 we began to record our first album "Istinct"……that album was very positive accepted.The next record we made in 2010 (Demo 2010) and in 2011 our second full length album "Liberate"….The songs were great but the sound it self was shitty :o) . So we decided to change everything and started to work on the new material. We had to change our way of making music and sound recording in studio,so we went to a new studio with some of the old people :o). In 2013 we released next full album "Lost in fiction",this album is very diferent and is the most experimental this far. Some of our fans wasn´t happy about it, because it was a bit softer than the previous records, but lot of new fans came because of it:o). So in the end it worked out pretty well. After this album we changed drummer and it was a great idea, because Mira is great person, loves music and is a stanishing musician. Last year we went to the studio…again :o).We just love recording and recorded EP "Pearls for swines" this EP sets the way of following music creation.
Please tell me a little about every member in the group right now, age, family, work, interests and something bad about everyone? Earlier bands? Other bands on the side?
Láďa – frontman – he is a fucking beast and loves pink underwear. He looks constipaded all the time but deep inside, he is really nice guy who has 2 kids, a wife and works as a bussiness deputy. He is also our demon because he leaves his everything on stage and is a producer of our albums. Nobody gives so much as much as he is and we are grateful for that.
Zdenek – he is our good soul. This guy wants the best for everyone and hopes for the best. A truly good person (doen´t fit among us at all J) He works with afflicted people (we don´t meant us as Revolt J). He has a really good feeling about melodies.
Pavel (Bruce)– 40yr old teenager. The most funny guy you will ever meet, especially after bottle of Vodka his heart belongs to Pantera and most of the "cruel" riffs comes from him. Loves 8 string guitars, father of a baby girl and lives with his girlfriend in a lovely village. He works as an insurance broker…even though we love him. J
Míra (BlastMír)– this is the guy you wanna have on stage behind you. Precise like a swiss clock and also lover of disqusting jokes. Also plays in 100 of other bands, his work ethic is unbelievable and he fits in Revolt perfectly. The only musician in a band.
Marek (Sly) – creates most of the music by listening on artists like Robbie Williams, BB King, John Mayer, 30 seconds to Mars… Hates 8 string guitars!!! and he always wants to play in the rain with wet white shirt. Works as a Project Manager in an automotive, is an immortal optimist and workoholic.
I can hear much different influences , much raw music but also some with melodies and back in the music some hardcoree too on the new LP? Favorites from the past?
-When we are creating the songs we never think of it as "Ahh, this doesn´t fit, this is not core enough, this is too soft aso…" we always focus on the song. What does the song needs to become THE SONG? It needs to have some additional value, some surprise, something what the listener brings the goosebumps. That´s what we are trying to make, music for the people who loves diversity. There is 5 individuals in a band and everyone brings something different to a music, that´s what makes us who we are.
The Revolt are you satisfied with the name? How did it came up?
-Marek wanted the band to be called "Marek and the village boys", but the other guys surprisingly didn´t accept it. :o) To be honest, we really like the name, because nobody can mispell it, it´s short and easilly remembered. Unfortunatelly in CZ they call us The Renault :o).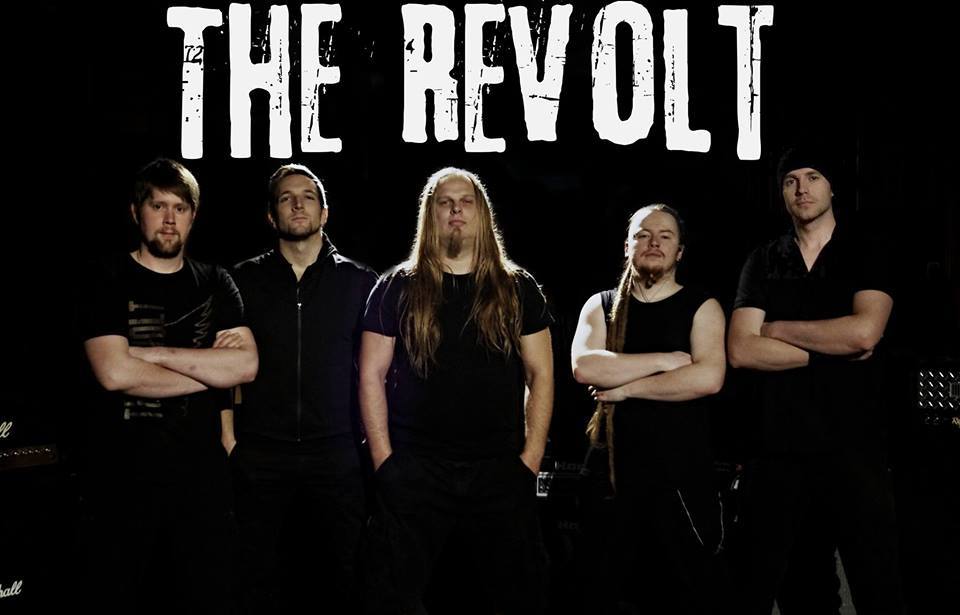 What´s the best thing with playing live?
-FUN. We have such fun being on stage and playing the music we create. When you see the fans singing the words…beautiful.
And where is best to play? And the worst place?
-The best place where we played was an Independent festival in Czech Republic,great stage and people who likes our music and us as we are.
The worst place,we have played was some fucking pub at Humpolec :o) we played on the floor between some garbage and drunk people :o)….. man it was stupid gig :o)
How is to play this sort of music in Czech republic right now? Which types of bands do you have concerts together with?
-It's hard to play this kind of music in our country, because most of the people in CZ wants to hear easier music, with czech lyrics, some form of 80´s hard-rock. :o) The shit they play in radio is unbelievable. We have bands like Mandrage, Michal Hruza, Slza…man, that´s the absolute bottom of music. But they have money and are famous, so I am thinking "What the hell is going on in here?"J We´ve meet so many good bands that deserves to be famous or even more famous like "Rattle Bucket, X-Core…it´s shame, but we hope it´s gonna change one day. Lot of Czech core and metal bands are great ,but only few of citizens want to support them.
Our concerts are very different,that´s because we love it and enjoys every minute of it!!! And we don't resolve which types of groups plays with us. :o)
How would you describe your music in three words?
-Energy,headbang ,spontaneous
What does punk mean to you, is it only a word or is it a lifestyle? I know that you don´t play punk but me I´m coming from there..
-We think that punk has been devasted over the years. The only true punk for me is Exploited and Sex Pistols. But I totally agree about the lifestyle. I believe that´s what the true punk is as a lifestyle, that freedom, that "I don´t give a shit what You think about me", that´s for us is the true punk.
How do you see on downloading, mp3 and that stuff?
.Just do it! Music is made to be played. Better to get it among people for free than have it only in our computers and wait for someone to pay 15EUR for a CD. (3EUR in our case ) :o)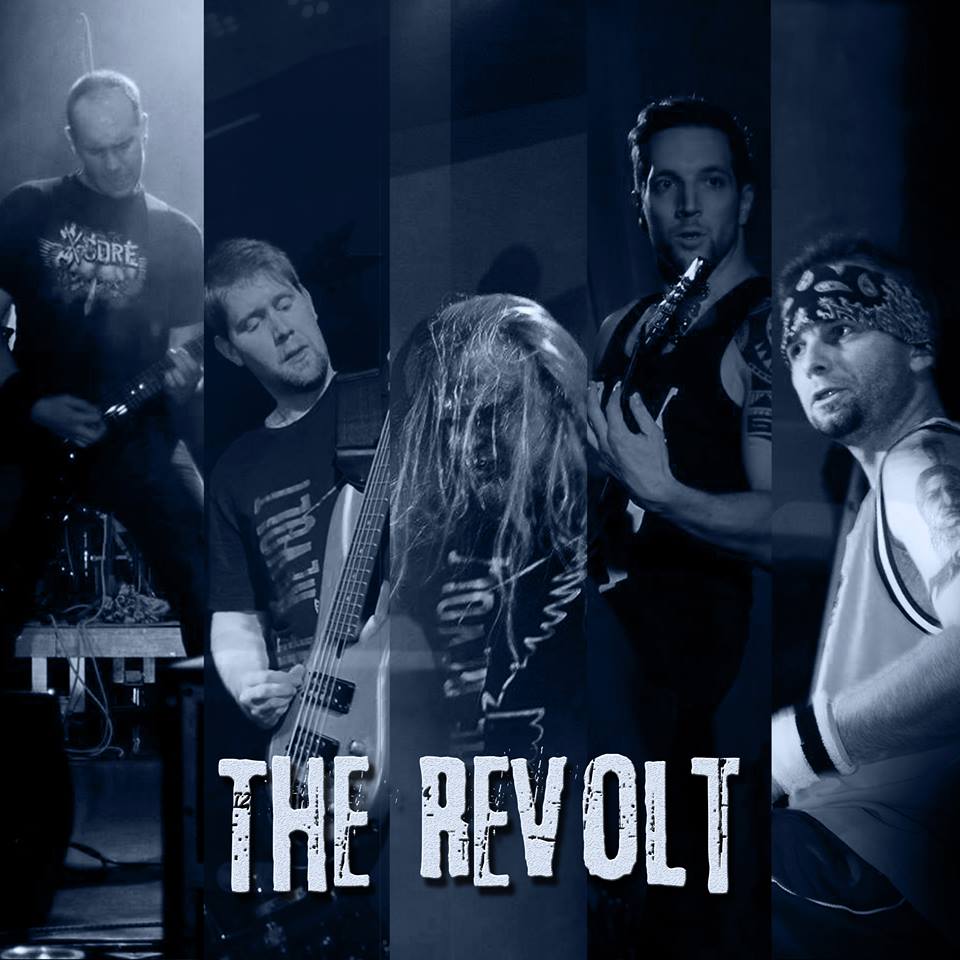 How is it to live in Czech republic now? Politically?
-It´s a comedy. You gotta have a sense of humor to be able to accept the things in politic these days.
Is there any good bands from Czech Republic now? Is the punkscene/hardcorescene big? The metal scene? How is it in your hometown?
-It is, we recommend bands like X-Core, Straight,Shatter and lot of others……. We have so much great bands in Czech Republic but the scene is small and producers and promoters don´t give a damn about any of us :o).
What do you know about Sweden?
-Blonds!!! Volvo and absolutely stanishing nature. :o)
Have you heard any good bands from Sweden?
-Of course – Bathory, Opeth, Amon Amarth, Hypocrisy, Meshuggah You have some really good bands man.
Your lyrics, who does them and what influences you? Is it easier to do lyrics now or was its easier to do it when you was younger? Never in Czech?
- Lyrics are made from 80% by Lada, 20% by Marek. Lada writes schizophrenic lyrics and Marek writes songs about getting married, being sad from a break up…it´s a great cooperation. One of our song is in Czech :o) "Carpe diem" from our last record.
Is there any subject that you never will write anything about??
-Cheating…we are all in a relationship. :o)
Politic and music, does it goes hand in hand? Which is your most political song?
-It goes. When You see the mess in TV, you need to react and it´ s better to express your feelings via music than standing in front of parlament for days. Our most political song is "Broken wings" and "Carpe diem"
Best political band/artist?
-Rage against the machine, Biohazard……
Do you think that music(lyrics and so on) can change anyones life, I mean people who listens to music?
-I don´t personally think it can change life, but it can change Your mood, your mind set, Your look on things. Mira says it can. :o)
Your cover on your CD looks really nice, is it important to have a record cover which shows people which type of music you play? Your favorite recordcover? Who does your covers? And do you have any good recordstores in your hometown?
-Covers of our records are very important for us…..last two records was made by Veronika Vašátková,she is great designer and grafics and we love her work…..first album was designed by Láďa and "Liberate" was made by a grafic studio. But the main motive we prepared at home :o).In our hometown,we don't have any record shop….. and we love a lots of recordcovers by other bands,but we don't have enough time to write them ALL down and we don't want to forget any of them. :o)
Is it important to get out physical records of your stuff? Why or why not? Vinyl, CD, cassette, what do you prefer if you could choose whatever ?
- It is really important - If you have something in your hand you can appreciate it.
Please tell me a funny thing which have happened during your career and under some gig?
-OHH Man, every gig is very funny for us. Most funny situations was after the gig on the bar with some alkohol :o)) So we don't remember them :o) But the most things also happen on stage, Marek felt down from the stage, broke the guitar in half with last chord from set, Pavel always forgets how to play the same song again, Lada screamed so hard, that he almost passed out…and we were wondering why he is not singing the refrain…J Come to see us, You never know what happens.
How does your audience look like? Which people do you miss on your concerts? Which is the biggest band you ever have played together with?
-They look like us. On the stage we are very spontal and full of energy,we want to play on 100% and more :o) . We miss people who loves the energy from live music on concerts.
The biggest group ? We have played with lots of famous bands from our coutry,maybe you don't know anyone of them….. (Debustrol,Krucipisk,Atari Terror,Hentai Corporation,Locomotive,Root …….)
Please rank your five favoriterecords?
-Man we have lots of favourite records of many bands……we talked about this question so many hours with so many beers and whisky ,but no compromise :o)…. And in the end of the evening we didn't remember lots of our proposals. :o))
First, record ever bought?
-Marek - Linkin Park – Hybrid Theory, Robbie Williams – live at Knebworth
Pavel – Pantera – Cowboys from hell
Láďa – Sepultura – Chaos A.D.
Zdenek – Metallica – Black Album
Míra – Don't know…we have known him about 6 months :o)but we think,he hasn´t bought anything :o)
Is it boring with interviews? Is it much interviews??
-There is so many interviews…almost one per Year. :o) No, we love interviews, it belongs to this bussines and if some reads it and laugh, we will be happy.
If you could choose five bands from the past and the history and nowadays and both dead and living bands to have a concert together with your band. Which five have you been chosen?
-Pantera+Metallica in Moscow. unbelievable…then Machine Head, Slipknot, Iron Maiden, Fear Factory,Asking Alexandria,Bring me the horizon…..
Is music a good way to get out frustration and become a nicer person outside the music??
-Definitely. Music helps us to get through hard times, helps us to realize that life can always get better.
Which is the most odd question you ever have got in an interview?
-With whom from the band would you have sex with if you have to? The answer is Marek – sexy beast. :o)))
Which is the question you want to have but you never get. Please ask it and answer it?
-Can you play instead of us on the next gig with Asking Alexandria?? – Fuck Yeahh!!!
Futureplans for the band?
-Become sexy idols :o) and make tons of good music with our band, our family.
For yourself?
-Be the best fathers, husbands possible, because our girls deserves the best from us. Look like George Clooney in our 50s…instead of Zdenek, he want´s to look like Chuck Norris. :o)
Wisdomword?
-It ain´t over till it´s over" – Sylvester Stallone
Something to add?
-We wanted to express our thanks to our family, our girlfriends whom take care of us and are part of our journey. And….See You in Sweden hopefully. J