The Past is a band that's been going on for a while. 41 years Now Mikael, who plays guitar and sings, has been so kind and answered a bunch of questions from me when they released a ten-inch on Grönpeppar records. Buy it before it runs out. November 2021
How long has it been since you started playing? A lot of member changes?
-We started in 1980 and we were going to have Johnny on bass, but for a number of reasons it didn't happen. There was a guy named Pelle. We also had a guy who was in Köping's 2nd punk band, Nasty Native, but he left after a while and started another band. For a while we had another guitarist named Terje Nielsen, it was a friend of Micke Forsberg, who jumped in on bass after Pelle. We asked Johnny if he wanted to jump into on bass about 5 years ago, Micke wanted to take a break from the music, and so was the circle closed, and the band back as originally intended.
Tell us a little about every member, band on the side, age, family, job and something we don't know about every member worth knowing?
-Linus: Mikael Linder guitar and vocals, 57 years old and living in Kolsva outside Köping, working at GKN in Köping, have played in a funband called Arga Russin. Likes to be out in the woods tracking and scouting for wolves. Roger Andersson, 57 years old , Drums and vocals, Former Drums and vocals in Finkel Rokkers, Has played in Arga Russin and Flowers of evil as well . Now lives in Fagersta. Works as a support technician at a computer company located in Trollhättan and Gothenburg Johnny Smedberg, bass and vocals (57 years old) lives in Köping Works as a carpenter. Previously played guitar in Charta 77. And is a devil at mechanize with guitars and guitar pedals.
You've released your new 10 now. how does it feels?
-It feels good to get the chance to make records, partly to get the songs "on the line" so you get the chance to hear for yourself what it sounds like, this record we mixed wildly and did exactly what we wanted, and we are happy as hell with the result, thanks largely to a great blender guy who we think captures how we want to sound in a perfect way. His name is Henke Karlsson.
You are fucked on the head, is there anyone special you are thinking about?
-Fuckedin the head is about people voting for right-wing/Nazi parties and think it would change something. Which, of course, is bullshit.
How did it come to be Grönpeppar Records?
-The intention was to bring a few songs to a compilation record, but we took the opportunity to squeeze in a few songs extra. But that project was moved further forward. Roger sent the final mix to Martin to get it reviewed. Martin liked it and presented it to Danne and that's the way it is.
Any reviews of the record?
-The record has received a lot of reception, we haven't heard many reviews yet - but so far it's has sounded positive.
You've had some reviews all time, haven't you? Any odd?
-No, not as far as we can remember, other than that they mixed up where we are from, in some article they placed us as a local band... In Västerås.
Who are you being compared to?
-Actually don't know, haven't heard anything much more than a mix of Stiff Little Fingers and Ramones on speed.
Have you ever done a song in Swedish?
-Yes, sir. Det är jul , it's called, we were going to make a Christmas record together with Charta 77 and Piskad Senap, we wrote in English but had to turn it into Swedish text, didn't really become so good.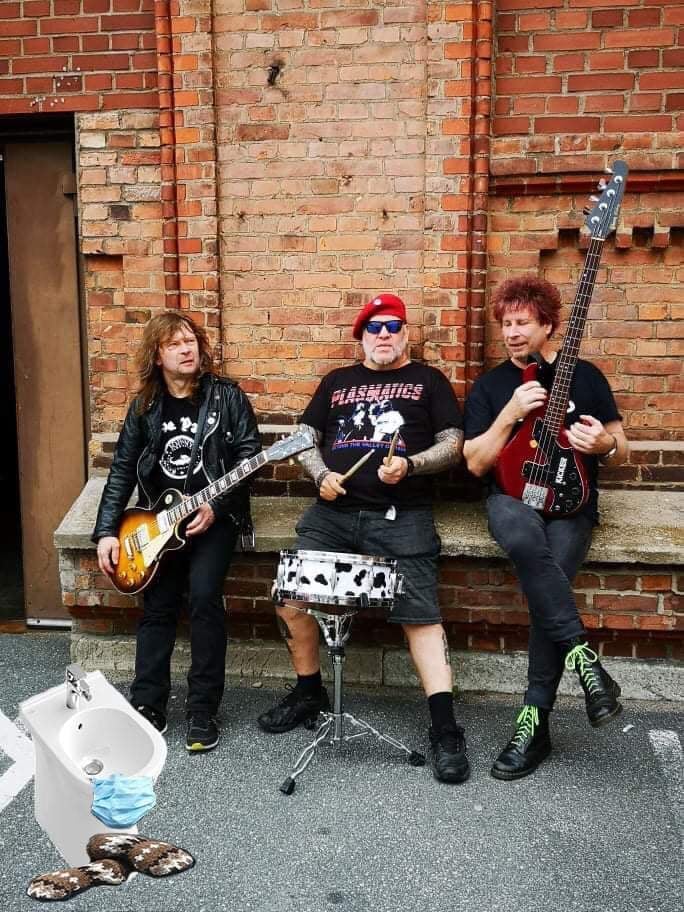 Photo:Palme Oloffson
The record was recorded a year and a half ago, was it the pandemic that made you wait. Have you played a lot out now?
-It wasn't exactly the pandemic that took time, but that it wasn't really meant to release an entire record, but of course everything probably went a little slower thanks to the pandemic. We recently had a release party for the record, before that we have played at 2 outdoor festivals, we will see what it will be now if the restrictions are lifted.
How often do you play live?
-Right now it's a little quiet on that front, we'll see if it starts.
Have you played a lot abroad?
- No, two gigs in Germany at festivals.
How should a gig be like to be a dream gig?
-The dream gig would be in a little intimate place - with a lot of people who are excited, so you get a we-feeling with everyone, that you feel like everyone wants a party.
No means no is a song in MeToo's wake, is it important to take a stand in lyrics?
-Yes, for us it feels like it is important to get messages out, but not in all songs, we also have songs with humor and madness in some songs
Have you ever done any songs that aren't political?
-Yes we make songs about what we feel like at that particular time, humour, usually with a twinkle in the eye.
Best political band/artist?
-Good music doesn't have to be political. But a good political band is Subhumans.
Everything you've done isn't on Spotify, is it a conscious choice or has it just happened?
-It's just happened, we released the last record completely without a record label, then it became more complicated to get it up on Spotify.
Would you consider publishing an LP only digitally?
- Yes, unless there's another option.
How many songs have you done? Do you do any covers?
-Between 50 and 100 maybe, we've done a few different covers over the years, most recently we did Now I want to be your dog ,Iggy pops earring, and Bodies by The Sex Pistols.
What do you think it is like to live in Sweden politically with SD-KD-M?
-It feels like it's going to be a colder and more selfish in Sweden, with those fools.
What's the most dangerous thing about that alliance you think?
-If they get wind in their sails, you don't know how it can end at all, history has shown that such "small" changes can produce fatal outcomes.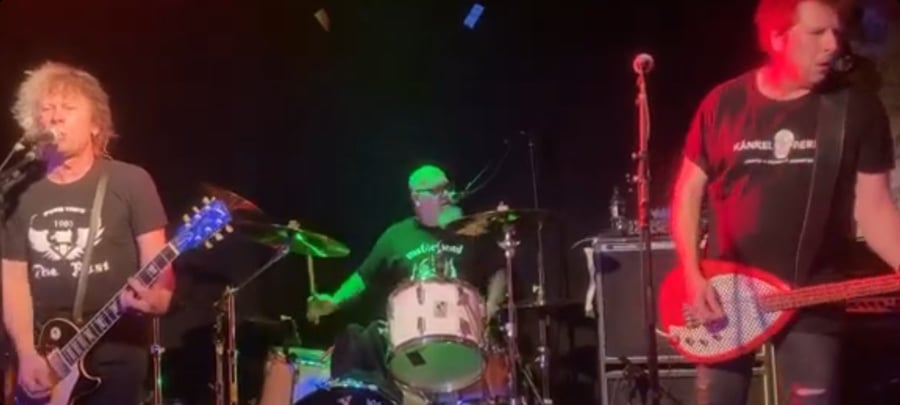 Photo:Ia Ingvarsdotter
Will there be a lot of gigs now that the record has come out?
- Let's see if there's anyone who wants us haha.
If you look at the feed on Facebook, do many people seem to have ordered your record? How many have you done?
-I think there were 250 vinyls first, then we'll see what the record company comes up with.
What does punk mean to you today if you compare when you were younger, is there a difference?
-Roger: Yes, there is a small difference, but the basis of Punk is the same. Everyone can, everyone can join, DIY. Don't take any shit and be yourself. I guess you were shouty when you were younger.
If you were to describe your music in three words to someone who hadn't heard you before, what would you say?
-Punk, punk, punk. We make no claim to be anything more than a punk band. Are tired of everything being divided into different genres, trall ,käng, crust and so on. .
Five favorite records that everyone should have?
Roger: It's really hard, but a few records that I often play are Ramones - It's alive, X-ray spex, SLF - first and Damned's first. Johnny and Linus think there are no records like that, well maybe Never mind the Bollocks.
The record you havee and are ashamed of but still are quite proud that you have?
-Roger: I am not ashamed of any record that I have, have broad taste in music from Classical music to worst crust punk, Johnny and Linus are also not ashamed of any record.
Future plans the band and personally?
-You get to see what happens You have to be happy that you get to participate.
Words of wisdom?
-As Joe Strummer said, The future is unwritten. Create your own future and as Johnny Rotten said Take no shit, from noone, ever...
Anything to add? - As above, stay yourself, create your own style and life, and don't take any shit. From anyone.