The Most really manages to get a solid 60's sound in a modern vintage. They were so kind that they answered a lot of questions from me for an interview and this happened in the middle of July 2021
Tell the story of The Most?
-Mats: A bunch of like-minded guys had the luck to have been drawn to each other through the interest in 60's music and found that we could create tones in the same spirit.
Frans: We started playing together at the end of the 20th century. Magnus and I put together a band and we started writing completely unforced music. When we had a similar musical background, it happened to sound like a tougher 60s sound. I would not call ourselves a retro band - we think it sounds new and fresh. Drummer Mats was perfect to get the sound we wanted.
Current members and what do you do when you are not playing with The Most. Other bands? Working with what then? Former members?
-Mats: I drummed with Caligula's Barn who at first judged someone the worst they've ever heard. I'm very proud of it and if I could trace this I would happily give a cake, for consumption - not in the face, haha! Later, I played with the garage / rock'n'rolls The Chronics.
Frans: Magnus Kollberg, Mats 'Slim' Westin, Martin Claesson and myself. We have been lucky with three fantastic bassists over the years: Marcus Holmberg from Komeda, Inge Johansson, most recently Gatuplan and now Martin Claesson. As far as I know, everyone works hard during the day.
I check your photos on Facebook and see that you are sitting on a replacement bench in some arena. Where is it taken and is football something you like, favorite team in that case?
-Mats: Well, can watch TV football sometimes but is unfortunately not a major sports buff.
Frans: Gammliavallen in Umeå. Magnus likes Djurgården I think. The rest of us just like music the most
You were on Umea Vråljazz giganter with the Swedish song Du är Punk, how did you get there among all the punk bands and how come you sang in Swedish there?
-Mats: Swedish suited the context and it felt damn good to be able to lift it out, a genuine punk song whose English original did not fit on record at the time. If you know us, you probably know about our punk and new wave roots, but which even then were always bled with a taste for 60's pop. Also in previous bands.
Frans: I had a punk band in high school called the Kloakråttorna (Sewer Rats) naturally as a result of growing up with Sex Pistols, Clash, Stiff Little Fingers, Damned, Stranglers, Ramones etc. Du är Punk is actually an unreleased song in English but it was a bit fun to sing in Swedish ... maybe just then inspired by my friend Dennis Lyxzén. English 60's Mod is often quite punk in its expression and I see no major difference.
You never sing in Swedish otherwise, do you?
-Mats: Njet. English is the pop language.
Frans: No!
When we talk about punk anyway, how is your view on punk? Is it just a style of music or a way of life? What are your connections to punk?
-Mats: Well, the music is available to everyone, but I can admire those who take the consequences of punk a step further, "a way o life", image-wise, graphically, etc. I myself have mostly "on the inside carried the punk within me" all the way since I was lucky enough to find it via John Peel on BBC Radio 1 1976/77 at such an early stage when, as far as I remember, he just called it "this new music". Generation X and Damned and other magic bands, partly there were radio sessions before the records were released. The group that stuck most to life was the Stranglers, but they were almost heard more on Radio Luxembourg.
Frans: Punk for me are the early English bands around '77. Also to some extent The Stooges, Ramones and maybe bands like Motorhead. Kinks and Pretty Things were punk in the 60's, right? Really do not like anything that came later than the first wave. Punx '67 which Inge minted suits us best. When I was growing up, punk was really a lifestyle and not so much a fashion. Ring in the ear, safety pin on the jacket and holes in the knees went a long way as a statement. When I was 10 years old, however, I went to London and bought, among other things. Dr. Martens. In summary, punk was a nihilistic attitude and lifestyle as a 12-13 year old but really incredibly stimulating and exploratory in finding one's own expressions.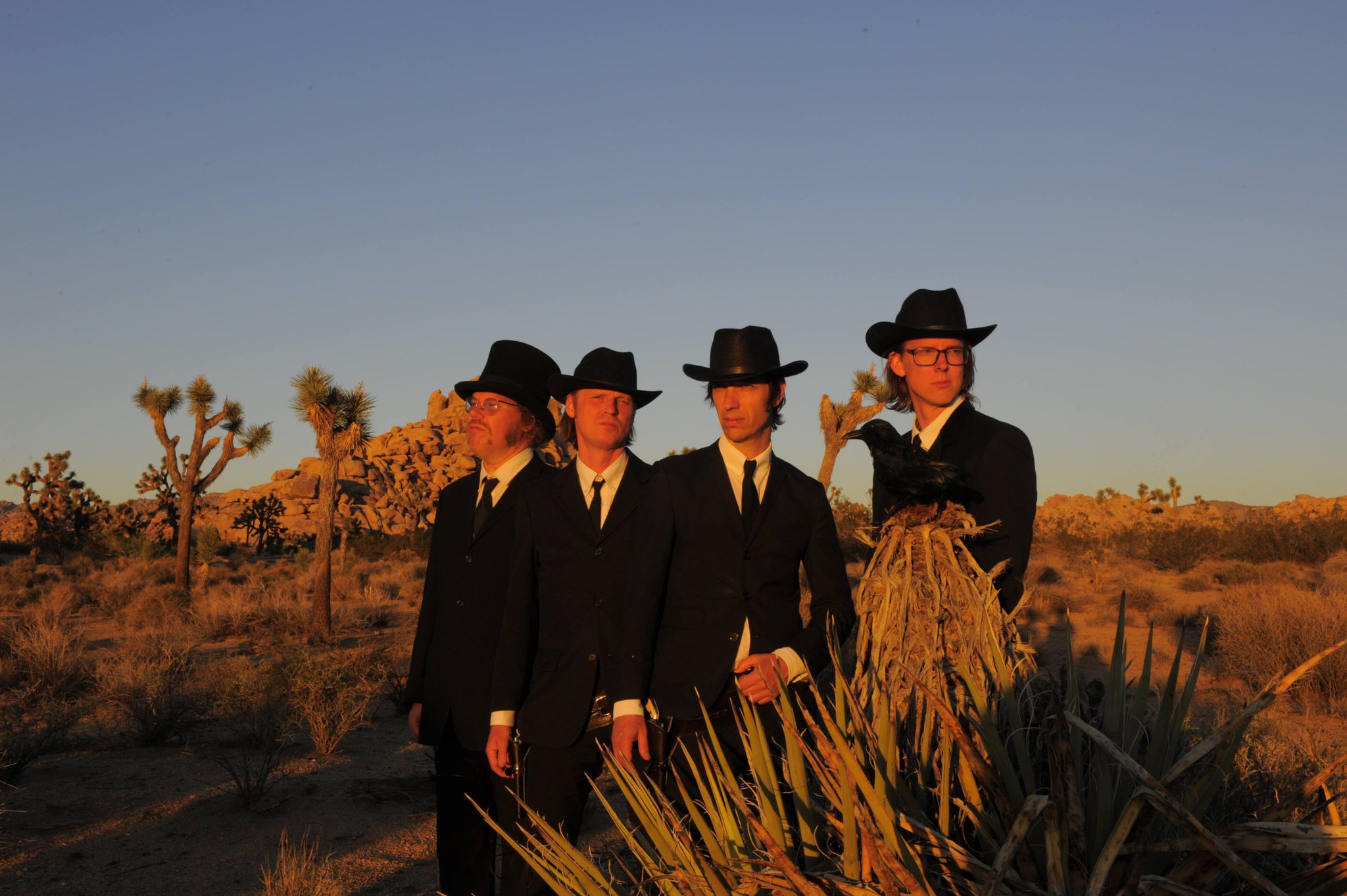 I had a sister who loved Tages and I think you have a bit of their style and of course many other influences? Is it something you listen to and what other Swedish 60s groups do you like?
-Mats: Tages were the best and most groups were uneven but could have real gold nuggets: Jackpots, Sleepstones, Ola & the Janglers, Shanes, Maniacs, Caretakers… Swedish reissue business of the 60s is probably the world's worst, at least from the big companies it is a complete cultural scandal. For decades, the same 20 songs have been recycled in all Swedish collections. In the UK, every basement band is given a CD, but try to find a Swedish 60's original album on CD! Through enthusiasts, thankfully, some early Swedish rock'n'roll and "barbed wire music" such as Spotnicks are available, but hardly anything from the Beat era.
Frans: Personally Tages and Shanes ... you have to watch the documentary about Shanes on SVT ... belongs to the general education. We did a cover of Tage's song Fuzzy Patterns which is on a very good tribute album, check it out!
Howcome you started to play this type of music today, it's been a while since it started ?
-Mats: Because in our individual constant depressions we most capitulated for the 60's and our sound ran well out of a pent-up need to create something that took over the baton and loose / unfinished threads from the legendary bands. It should be pointed out that we have also generously embraced listening to even previous decades and from the 60s itself much more than pure and simple pop and rock.
Frans: We do not try to fit in and play what comes naturally only.
What kind of audience do you draw? Are there any people that you are missing?
-Mats: Sometimes those who listen to us usually mention that there are elements in our music that would quite easily have an appeal to a more contemporary minded audience (and that the sound would not be in the way of them), ie one that is not so snowed in on the 60's! But how to reach them?
Frans: Mods ... ha ha..fantastic people, would like to hang out with them evenly. It's fun to play for both young and old. Extra fun if someone thinks we are good.
You have made a fairly typical sound on your records, do you do everything yourself or is there a producer involved?
-Mats: Thank you! Right from the start, things probably sounded a bit of a struggle, but through everyone's taste in music, it probably sits, in Norrland's "in the head" and to some extent in the fingers, everyone's natural approach means that we fall towards 75% "right" already when a song is presented! So… our sound "probably plays itself" even if the choice of classical instruments helps us go to the finish line. Sometimes I get so happy that a song is so nicely served with our still quite limited technical arsenal and studio time.
Frans: The producer is called "Trial & Error without budget". No one else to blame .... ha ha.
Your lyrics otherwise, what are they about? Could you imagine mixing politics into them?
-Mats: No not straight out. There were actually some more political and agitating 60s artists whose agendas were good but would lead to a flat thing to recreate. By using universal and, yes, actually not so time-bound themes, we probably manage the balance on a slippery slope that the lyrics still "live" in the 60's when you connect them to the music we write. Direct 60s references are of course also included. I hope people find the lyrics poetic, thought-provoking or entertaining.
Frans: Politics? Or Politricks as Rastas calls it ... no, not that fun. However, I often have an underdog / anti-hero perspective in my lyrics. Or memories of the worries of adolescence and sometimes the feeling of being bulletproof ... but still basically unsure if you understand what I mean ?!
Are there any good political bands you like?
-Mats: For some reason I think of just challenging and confrontational lyrics by Clash and Stranglers from the punkyears. Swedish punk could have some cool political lyrics, the left wave before it passed me almost completely, very young pop guy as you were - there Hoola Bandoola probably had some meaningful thoughts in the lyrics.
Frans: Uh, not directly as I know. Was the Beatles political? Expressively, I really like Stiff Little Fingers first album.
Are there any other bands in the same style as you in Sweden that you can recommend?
-Mats: Oh, I have unfortunately lost my grip on it completely. 15-20 years ago, there were some interesting bands with a good retro mind.
Frans: Maybe, really do not know, hope so!
Any good bands in Umeå?
-Mats: There are many good musicians in Umeå and I certainly have a lot of nice friends among them who also like us. But the bands I belonged to have always been so different to the other bands, that I never felt that I belonged to the Ume scene to any great extent. Frans: Phew! Seems to be pandemic silence now or ?? We are probably not so mentally "local" to keep track.
Do you think it is important to get out physical records? Is it vinyl you prefer to release? Do you have a good record stores left in Umeå?
-Mats: Very important. Vinyl preferably. It's like a double mission to illuminate and enthuse more people about 60's music, not just preach about our own tones! Burman's Music and Be Bop a Lula Land hold the positions.
Frans: Vinyl, nothing beats the black gold! Be Bop-A-Lula Land and Burmans are the name of the record stores in town.
Do you buy a lot of records yourself, are you a collector? What is the most expensive record you have?
-Mats: I have always collected, for a while I had a Swedish 60's madness. My most expensive 45 is Swedish The Best "Back door man" / "Whatcha gonna do about it" - SEK 909! The B-side is nowhere else, thank you dear lazy record label. Sex Pistols "Anarchy" - SEK 633! On LP Groundhogs "Blues Obituary" from SEK -69,610. The soundtrack to "Blow-up" in mono is worth about SEK 800 but was found at a flea market for five!
Frans: 1000s records .... do not know the most expensive maybe some Swedish prog 1500-2000kr? Maybe not collect directly, just want things I want to listen to. I have some really old American Gospel records that are only available on vinyl and they play and sing rock hard!
Just releasing music digitally, it's nothing for you? Would it feel like you even released an album if you just released it on say Spotify?
-Mats: No, it feels like the music just disappears into space. Songs and album ideas that should not be separated are spread and lose "impact".
Frans: Digital-No, would feel like just weird, like a condom .... ha ha. Just kidding, kids! use rubber !!
How else do you think it is to live in Sweden today, politically with the brown-blue mess and covid strategy etc?
-Mats: I usually keep a low political profile but I am angry that dark forces in the country and the outside world can so easily attract / mobilize as much obvious latent evil from individuals that I never judged possible in previous decades. Covid? It is ignored in an unsympathetic way by many.
Frans: I have lived abroad a lot and think that Sweden feels like a small, safe and nice duck pond. Political color soups are not something that interests me. However, I like history from all points of view. Humanism goes further than most party programs.
Do you play a lot out (I understand if you do not do it now). Abroad?
-Mats: Well, we have started to build up a small fan base here and there so we have been able to gig in Paris and London, for example. A crazy fun gig was at La Meca in Paris, the response drove us to unimaginable heights.
Frans: We did it before Covid. In Mexico, the west and east coasts of the United States, Spain, England, Germany and France. Incredibly fun.
Is there a lot of interest from abroad that you have noticed?
-Mats: Well, it seems to bloom a little interest here and there. The music spreads quite easily. We have a fan on Borneo!
Frans: He he ... more than in Sweden!
What is the best thing about playing live?
-Mats: It may be to feel that the songs have been sharpened in rehersals and palying and I think the audience can then find a lot of enjoyment under unexpected songs or themes if you are used to the records. We should make a live album!
Frans: The energy from the audience and getting to meet nice and interesting people.
Please rank your five favorite records, your five favorite concerts? The most embarrassing record in your collection?
-Mats: Good Candidates for the 5: Yardbirds "Roger the Engineer" (66), The Who "Sell Out" (67), Byrds "Notorious Byrd Brothers" (68), Beatles "Abbey Road" (69), Stranglers " Rattus Norvegicus "(77). 5 memorable gigs: The Pirates, Paul McCartney, Love, Zombies, NRBQ. Most embarrassing: Westin's "Tillsammans" (old birthday present on pin kiv).
Frans: Spontaneous, SF Sorrow - Pretty Things, Village Green - Kinks, Forever Changes - Love, Having A Rave Up - Yardbirds and Piper At The Gates Of Dawn - Pink Floyd Concerts also Spontaneous: Yardbirds, The Who, Pretty Things, Zombies and Love.Michael Jackson - Thriller (Extremely embarrassing, gift from my well-meaning dad)
Do you play a lot of covers live? If so, which ones?
-Mats: No, really few. One that has been aired is Ray Charles' swinging "What'd I say".
Frans: Sometimes because it's fun, reached by e.g. Ray Charles, Smokie Robinson, Chris Montez, Cannonball Adderley, Buckinghams or Velvet Underground
Is there be a lot of interviews, is it boring?
-Mats: Not boring, it's fun to add info both to curious prospective listeners and those who have taken the time to listen to us. Even if it's best when the music speaks for itself.
Frans: Just fun and maybe makes one reflect.
What is the most common and boring question?
-Food: Boring to mix professions plus too much of other interests/opinions.
Frans: What do you work with? How old are you? Has anyone had surgery? ... ha ha..break the magic.
Future plans for the band?
-Mats: Hm. Try to make stimulatingly varied but always as meaningful records as possible in the 60's area.
Frans: Play until we fall.
For yourself?
-Mats: Trying to piece together fragments of music ideas - is bad at writing whole songs, so I'm glad that the talent is otherwise in the group.
Frans: Survive.
Anything to add?
-Mats: Thanks for the interest!
Frans: Many thanks to you at Magazine.
The Most lyckas verkligen få till ett gediget 60-talssound i en modern tappning. De var så snälla att de svarade på en massa frågor från mig till en intervju och detta skedd I mitten av jui 2021
Berätta historien om The Most?
-Mats: Ett gäng likasinnade sällar hade turen dras till varann genom intresset för 60-talsmusik och fann att vi kunde skapa tongångar i samma anda.
Frans: Vi började spela ihop i slutet av 1900-talet. Magnus och jag satte ihop ett band och vi började skriva helt otvungen musik. Då vi hade liknande musikalisk bakgrund råkade det låta som ett rivigare 60-tal. Jag skulle inte kalla oss ett retroband - vi tycker att det låter nytt och fräscht. Trummisen Mats var gjuten för att få till soundet vi ville ha.
Nuvarande medlemmar och vad gör ni när ni inte spelar med The Most. Andra band? Jobbar med vad då? Tidigare medlemmar?
-Mats: Jag trummade med Caligulas Barn som i begynnelsen någon bedömde som det sämsta den nånsin hört. Jag är mäkta stolt över det och om jag kunde spåra denne skulle jag gladeligen ge en tårta, för konsumtion – inte i fejjan, haha! Senare har jag bl a lirat med garage/rock'n'rollarna The Chronics.
Frans: Magnus Kollberg, Mats 'Slim' Westin, Martin Claesson och jag själv. Vi har varit lyckligt lottade med tre fantastiska basister genom åren: Marcus Holmberg från Komeda, Inge Johansson, senast Gatuplan och numera Martin Claesson. Vad jag vet jobbar alla hårt på dagarna.
Jag kollar igenom era kort på Facebook och ser att ni sitter på en avbytarbänk på någon arena. Var är det taget och är fotboll något ni gillar, favoritlag isåfall?
-Mats: Nja, kan slötitta på TV-fotboll ibland men är tyvärr ingen större sports buff. Frans: Gammliavallen i Umeå. Magnus gillar Djurgården tror jag. Vi andra gillar mest bara musik <![if !vml]>

<![endif]>
Ni var ju med på Umea Vråljazzgiganter med den svensksjungna låten Du är punk, hur kom det sig att ni kom med där bland alla punkband och hur kommer det sig att ni sjöng på svenska där?
-Mats: Svenska passade kontexten och det kändes jäkligt bra att få häva ur sig den, en genuin punkrökare vars engelska original då inte passat på skiva. Känner man till oss vet man nog om våra punk- och new wave-rötter men som även då alltid bleadades med smak för 60-talspop. Även i tidigare band.
Frans: Jag hade ett punkband på högstadiet som hette Kloakråttorna (Sewer Rats) naturlig följd av att ha växt upp med Sex Pistols, Clash, Stiff Little Fingers, Damned, Stranglers, Ramones etc. Du är Punk är egentligen en outgiven låt på engelska men det var lite kul att sjunga på svenska...kanske just då inspirerad av min kompis Dennis Lyxzén. Engelsk 60-tals Mod är ofta ganska punkig i sitt uttryck och jag ser ingen större skillnad.
Ni sjunger väl aldrig på svenska annars eller?
-Mats: Njet. Engelska är popspråket.
Frans: No!
När vi ändå pratar om punk, hur ser ni på punk? Är det bara en musikstil eller en livsstil? Vad är era kopplingar till punk?
-Mats: Mja, musiken är ju tillgänglig för alla, men jag kan beundra den som tar punkens konsekvenser ett steg längre, "a way o life", imagemässigt, grafiskt etc. Själv har jag mest "på insidan burit punken inom mig" ända sen jag hade turen finna den via John Peel på BBC Radio 1 1976/77 i ett så tidigt skede då han såvitt jag minns bara kallade det "this new music". Generation X och Damned m fl trollband, delvis var det radiosessioner innan skivorna utkom. Gruppen som fastnade mest för livet var Stranglers, men de hörde man nästan mer på Radio Luxembourg.
Frans: Punk för mig är de tidiga engelska banden kring '77. Även till viss del The Stooges, Ramones och kanske t.o.m. Motorhead. Kinks och Pretty Things var väl punkiga på 60-talet? Gillar egentligen inget som kom senare än första vågen. Punx '67 som Inge myntade passar oss bäst. När jag växte upp var punk verkligen en livsstil och inte så mycket ett mode. Ring i örat, säkerhetsnål på kavajen och hål på knäna räckte väldigt långt som statement. När jag var 10 år åkte jag dock till London och köpte bl.a. Dr Martens. Sammanfattningsvis var punken en nihilistisk attityd och livsstil som 12-13 åring men egentligen otroligt stimulerande och utforskande i att hitta egna uttryck.
Jag hade en syster som älskade Tages och jag tycker att ni har lite av deras stil och självklart många andra influenser? Är det något ni lyssnar på och vilka andra svenska 60-talsgrupper gillar ni?
-Mats: Tages var bäst och de flesta grupper var ojämna men kunde ha verkliga guldkorn: Jackpots, Sleepstones, Ola & the Janglers, Shanes, Maniacs, Caretakers… Svensk reissueverksamhet av 60-tal är förmodligen världens sämsta, åtminstone från storbolagen är det en fullständig kulturskandal. I årtionden har man recyclat typ samma 20 låtar på alla svenska samlingar. I UK förlänas väl vart källarband en CD, men försök hitta ett svenskt 60-talsoriginalalbum på CD! Genom entusiaster finns tack och lov en del tidig svensk rock'n'roll och "taggtrådsmusik" som Spotnicks tillgängligt, men knappt nåt från Beat-epoken.
Frans: Personligen Tages och Shanes...man måste se dokumentären om Shanes på SVT...hör till allmänbildningen. Vi gjorde en cover på Tages låt Fuzzy Patterns som är med på en väldigt bra tributskiva, kolla in den!
Hur kommer det sig annars att man spelar den här typen av musik idag, det var ju ett tag sedan den började att spelas?
-Mats: För att vi i våra enskilda ständiga fördjupningar mest kapitulerat för 60-tal och vårt sound sprang väl ur ett uppdämt behov att skapa nåt som tog över stafettpinnen och lösa/ofärdiga trådar från de legendariska banden. Det ska påpekas att vi frikostigt även anammat lyssning på än tidigare decennier och från själva 60-talet mycket annat än ren och skär pop och rock.
Frans: Vi försöker inte passa in och spelar det som kommer naturligt bara.
Vad för typ av publik drar ni? Finns det några sorter som ni saknar?
-Mats: Ibland brukar de som hör på oss nämna att det finns element i vår musik som ganska lätt skulle ha dragningskraft på en mer samtida sinnad publik (och att soundet inte skulle vara i vägen för dem), alltså en som inte är så insnöad på 60-talet! Men hur ska man nå ut till dem?
Frans: Mods...ha ha..fantastiska människor, skulle vilja hänga med dem jämnt. Det är kul att spela både för unga och gamla. Extra kul om någon tycker att vi är bra.
Ni har ju fått till ett ganska tidstypiskt sound på era skivor, gör ni allt själva eller är det någon producent inblandad?
-Mats: Tack! Alldeles i början lät nog saker lite tillkämpade, men genom allas musiksmak sitter det nog, på norrländska "i hövvet" och i viss mån i fingrarna, allas naturliga approach gör att vi trillar in emot 75% "rätt" redan när en låt presenteras! Så… vårt sound "spelar sig nog själv" även om valen av klassiska instrument hjälper oss gå i mål. Ibland blir jag så glad att en låt blir så trevligt serverad med vår ändå ganska begränsade teknikarsenal och studiotid.
Frans: Producenten heter "Trial & Error without budget". Ingen annan att skylla på....ha ha.
Era texter annars, vad handlar de om? Skulle ni kunna tänka er att blanda in politik i dem?
-Mats: Nej inte rakt ut. Det fanns ju faktiskt en del mer politiska och agiterande 60-talsartister vars agendor var bra men skulle leda till platt fall att återskapa. Genom att använda universella och, ja, faktiskt inte så tidsbundna teman klarar vi nog balansen på hal lina att texterna ändå "lever" i 60-talet när man kopplar dem till musiken vi skriver. Direkta 60-talsreferenser finns givetvis även med. Jag hoppas folk finner texterna ömsom poetiska, tänkvärda eller underhållande.
Frans: Politik? Eller Politricks som Rastas kallar det...nä, inte så kul. Jag har dock ofta ett underdog/anti-hero perspektiv i mina texter. Eller minnen från tonårens bekymmer och ibland känsla av att vara skottsäker...men ändå i grunden osäker om du förstår vad jag menar?!
Finns det några bra politiska band som ni gillar?
-Mats: Av nån anledning tänker jag på justa utmanande och konfronterande texter av Clash och Stranglers från punkåren. Svensk punk kunde ha lite balla politiska texter, vänstervågen innan den gick mig nästan helt förbi, jätteungt popsnöre som man var – där hade väl Hoola Bandoola en del meningsfulla tankar på sin lyra.
Frans: Äh, inte direkt som jag vet. Var Beatles politiska? Uttrycksmässigt gillar jag verkligen Stiff Little Fingers första platta.
Finns det några andra band i samma stil som er i Sverige som ni kan rekommendera?
-Mats: Oj, jag har tyvärr tappat greppet om det helt. För 15-20 år sen fanns en del intressanta band med ett juste retro-tänk.
Frans: Kanske, vet verkligen inte, hoppas det!
Några bra band i Umeå?
-Mats: Det finns många giftiga musiker i Umeå och jag har förvisso en mängd trevliga vänner bland dem som dessutom gillar oss. Men de band jag tillhört har alltid musikaliskt varit så eljesta katter bland hermelinerna, att jag aldrig känt att jag tillhört Ume-scenen i nån större mån.
Frans: Phew! Verkar vara pandemi-stiltje nu eller?? Vi är nog inte så mentalt "lokala" för att ha koll.
Är det viktigt att få ut fysiska skivor tycker ni? Är det vinyl ni helst släpper? Har ni någon bra skivaffär kvar i Umeå?
-Mats: Jätteviktigt. Vinyl helst. Det är som en dubbel mission att belysa och entusiasmera fler om 60-talsmusik, inte bara predika om våra egna tongångar! Burmans Musik och Be Bop a Lula Land håller ställningarna.
Frans: Vinyl, inget slår det svarta guldet! Be Bop-A-Lula Land och Burmans heter skivbutikerna i stan.
Köper ni mycket skivor själv, är ni samlare? Vilken är den dyraste skivan du har?
-Mats: Jag har alltid samlat, ett tag hade jag en svensk 60-talsvurm. Min dyraste 45:a är svenska The Best "Back door man"/"Whatcha gonna do about it" – 909 kr! B-sidan finns ingen annanstans, tack kära slöa skivbolag. Sex Pistols "Anarchy" – 633 kr! På LP Groundhogs "Blues Obituary" från -69 610 kr. Soundtracket till "Blow-up" i mono är värt ca 800 kr men hittades på loppis för fem!
Frans: 1000-tals skivor....vet inte dyraste kanske nån svensk progg 1500-2000kr? Samlar kanske inte direkt, vill bara ha sånt som jag vill lyssna på. Jag har några riktigt gamla amerikanska Gospelskivor som bara finns på vinyl och de spelar och sjunger stenhårt!
Att bara släppa musik digitalt, det är inget för er? Skulle det kännas som om ni ens hade släppt ett album om ni bara släppte det på säg Spotify?
-Mats: Nej, det känns som musiken bara försvinner i världsrymden. Låtar och albumtänk som inte borde separeras sprids och tappar "impact".
Frans: Digitalt-Nix, skulle kännas som konstigt bara, typ kondom....ha ha. Skojar bara, kids använd gummi!!
Hur tycker ni annars det är att leva i Sverige idag, politiskt med den brunblå röran och covidstrategi etc?
-Mats: Jag brukar hålla en låg politisk profil men är vred över att mörka krafter i landet och omvärlden så lätt kan locka/mobilisera så mycket uppenbar latent ondska ur individer som jag aldrig bedömde möjligt tidigare decennier. Covid? Det nonchaleras på ett osolidariskt vis av många.
Frans: Jag har bott väldigt mycket utomlands och tycker att Sverige känns som en liten trygg å fin ankdamm. Politiska färgsoppor är inget som intresserar mig. Däremot gillar jag historia ur alla synvinklar. Humanism kommer längre än de flesta partiprogram.
Spelar ni mycket ute (jag förstår om ni inte gör det nu). Utlandet?
-Mats: Mja, vi har börjat bygga opp en liten fanskara lite här och där så vi har kunnat gigga i exempelvis Paris och London. Ett galet kul gig var på La Meca i Paris, responsen drev oss till oanade höjder.
Frans: Vi gjorde det innan Covid. I Mexico, USAs väst och östkust, Spanien, England, Tyskland och Frankrike. Hur kul som helst.
Finns det mycket intresse från utlandet som ni märkt av?
-Mats: Jo, det tycks blomma opp ett litet intresse här och där. Musiken sprids ganska lätt. Vi har visst ett fan på Borneo!
Frans: He he...mer än i Sverige!
Vad är det bästa med att spela live?
-Mats: Det är kanske att känna att låtarna skärpts i arr och spel och jag tror publiken då kan finna mycket njutning under oväntade låtar eller teman om man är van skivorna. Vi borde göra ett live-album!
Frans: Energin från publiken och att få träffa trevliga och intressanta människor.
Snälla ranka dina fem favoritskivor, dina fem favoritkonserter? Den mest pinsamma skivan i din samling?
-Mats: Goda kandidater för de 5: Yardbirds "Roger the Engineer" (66), The Who "Sell out" (67), Byrds "Notorious Byrd Brothers" (68), Beatles "Abbey Road" (69), Stranglers "Rattus Norvegicus" (77). 5 minnesvärda gig: The Pirates, Paul McCartney, Love, Zombies, NRBQ. Mest pinsamma: Westins "Tillsammans" (gammal födelsedagspresent på pin kiv).
Frans: Spontant, S.F Sorrow - Pretty Things, Village Green – Kinks, Forever Changes – Love, Having A Rave Up – Yardbirds och Piper At The Gates Of Dawn - Pink Floyd Koncerter också spontant: Yardbirds, The Who, Pretty Things, Zombies och Love Michael Jackson – Thriller (Ytterst pinsamt, gåva från min välmenande pappa)
Spelar ni mycket covers live? Isåfall vilka?
-Mats: Nej, verkligt få. En som luftats är Ray Charles' svängiga "What'd I say".
Frans: Ibland för att det är kul, nått av t.ex. Ray Charles, Smokie Robinson, Chris Montez, Cannonball Adderley, Buckinghams eller t.o.m. Velvet Underground
Blir det mycket intervjuer, är det tråkigt?
-Mats: Inte tråkigt, det är roligt att tillföra info både till nyfikna presumtiva lyssnare och de som gjort sig besväret att lyssna in sig. Även om det är ballast när musiken talar för sig själv.
Frans: Bara roligt och kanske får en att reflektera.
Vilken är den vanligaste och tråkigaste frågan?
-Mats: Trist blanda in yrken plus för mycket av andra intressen/åsikter.
Frans: Vad jobbar ni med? hur gamla är ni? Är någon opererad?...ha ha..bryter magin.
Framtidpslaner för bandet?
-Mats: Hm. Försöka göra stimulerande varierade men alltid så meningsfulla skivor som möjligt inom 60-talsgebitet.
Frans: Spela tills vi stupar.
För dig själv?
-Mats: Försöka pussla ihop fragment av musikideer – är dålig skriva hela låtar så är glad att talangen finns eljest i gruppen.
Frans: Överleva.
Nåt att tillägga?
-Mats: Tack för intresset!
Frans: Stort tack till dig å Magazinet.