The Dead and Living is a Swedish group that I have never heard of, but this year they make their second gig at Sweden Rock and it feels great .... April 2013
History of the group?
-Coroner: The Dead And Living was founded in 2007 at a tavern Sunday in Karlstad by me and Gravedigger. We had tired of the music we were doing before and had commonalities in metal and ompa-ompa music. We listened to fucking weird music during that time, I remember, and the embryo The Dead And Living victims of our ruthless experimentation. We started writing songs for the formula test everything once. Either it sounds crap or maybe it works. It sounded mostly crap but when it worked, it felt like we've created something unique. Janitor joined shortly afterwards and then Manny. Vincent has sat behind the drums since 2009. Since its inception, the band has released two full length albums and a vinyl single and played on including Sweden Rock, Peace & Love and Arvika Festival. 2013 begins with gigs in Sweden, Norway and France. On June 6 this year playing The Dead And Living for the second time at the Sweden Rock Festival.
Members now and previous, previous bands, family, interests etc for the current band members?
We have past in a number of unsigned bands in Karlstad punk and hardcore scene.
Coroner - vocals
Interests: Big buildings, decadent cities, stand in the way and get lost.
Gravedigger - bass
Interests: Snacks, booze and death metal.
Janitor - guitar
Interests: Building the shopping centers and hotels, eat kidney and remember things.
Manny - Guitar
Interests: Painting, trip, collecting trash and read occult literature
Vincent - drums
Interests: Playing golf, environmentally safe neighborhoods and lose things. Got unfortunately not be captain because of ferry-blindness.
Former members
Skeletor - drums 2008-2009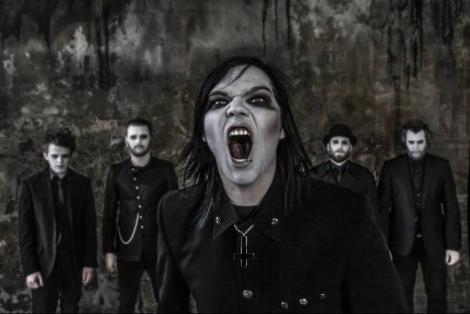 I compare you to bands like Rammstein, Empire / Thåström and even Depeche Mode .... comments on this?
-Coroner: I was a big Rammstein fan when I was a guitar tech for Deathstars on their European tour last year. Rammstein does something more than just play, they take the music one step further. It is something that even we had intended to do. Our first album was recorded in the Dust Music where Thåström recorded parts of Skebokvarnsvägen 209. Sometimes we met in the stairwell when Pimme and Hell had put their stuff and we were in and recorded ours. Working so close to one of those gang obviously did imprint on the music. Depeche Mode's I grew up with when my 11 year old sister used to play CDs with them in the girls' room during the late 80's early 90's. We conclude that it was probably she who gave me the gateway to my interest in dark music, it began with Depeche and Joy Division.
Will you be tired of comparisons or understand that journalists / reviewers use other bands comparisons?
-Coroner: No it's perfectly understandable. You do the something to compare to explain to someone how a band sounds. So it is quite ok. However, we have always been careful that we do our thing. We pick rather inspired by the Muppets or some obscure film than from any particular band or any specific genre.

What is the strangest thing you compared?
-Coroner: Tom Waits was a friend saying. I had never drawn the parallel. But we have well-like vocal style perhaps. Just because he is 62 and I am 29. When I'm 60 I'll sing like Bob Dylan, sitting in corpse paint.
How would you describe your music in three words?
-Theatrical dance deathrock
How do you think the interest in this type of music is in Sweden?
-Coroner: We feel that we have created most of the interest in our type of music itself. It's not exactly that we have stomped around in some trodden footsteps. But interest in the dark music is available, however there is still more in the culture in eg Norway, where the macabre visuals are more popular than in Sweden.
Much interest from abroad?
-Coroner: We've toured us to an audience in Norway and France. The fans there are die hard. In Norway tattooed a club owner in our logo on the back before a gig. As dedication is noticeably larger abroad.
<![if !supportLineBreakNewLine]>
<![endif]>
Have you played much abroad?
-Coroner: We are and play in Norway now and then and have done two France-tours. The plan is to play more abroad to come.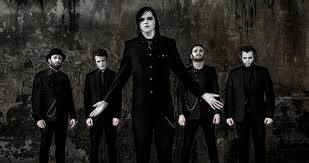 What kind of audience do you draw?
-Coroner: Our audience often tend to be a mixture of hard rock and punk. Middle-aged men, alternative girls and older women.
What do you miss a concert, what kind of people?
-Coroner: There is surprisingly little amish people at our concerts. Given that we have the same taste in clothes. We will just have to do a tour through Amish villages in Ohio and Pennsylvania. Acoustically then of course. Pennsylvania is the new Transylvania tour 2014!
Are there any good bands in Sweden right now?
-Coroner: Hell, yeah. That's how a lot of good bands anywhere. Just look at our record label Lightning Records arsenal: The Scams, Rob Coffin Shakers, Blästerorkester, Monkfish and The Generals. Sparzanza and Deathstars we played support to. Our tour leader during the recent France-tour playing with an awesome hardcore band called Damien. That's how much good everyhwere, not least with Karlstad extension.
Manny: I agree. I also like Ghost very much right now!
What is the biggest bands you have played with .... which is the biggest band you had as support act that become bigger then?
-Coroner & Manny: We have no idea actually.
The lycris ... what influence you?
-Coroner: At the beginning we brought a lot of inspiration from 1800s London, culture, decadence. I lived in London when I wrote the first song Dance With The Dead. The town oozes history and heritage. Now that we're out on tour with the band, the lyrics also become more about ourselves and our life.
Manny: I'm very influenced by books such as Poe, Crowley and Lavey
Are lyrics important in this type of music or is it just something that needs to be?
-Manny: The lyrics are very important to me. They should convey a sense as much as the music.
Corner: The lyrics are extremely important for our kind of music. They are part of an overall concept, where each fragment represents an important part of it all.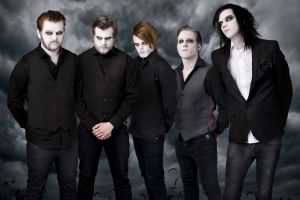 Politics and music hear it together?
-Coroner: Absolutely. Especially in the punk scene so music has had a major role to convey political, or rather anti-political messages. We in the Dead is far too cynical to care about politics.
Manny: Both, I myself do not write political lyrics but I like some bands that do.

Best political band / artist?
-Coroner: I think GG Allin had a pretty healthy outlook on life. He or Bob Dylan. Or maybe a mixture. Damn advised it would be.
Can affect any man with music do you think?
-Coroner: Absolutely. We sometimes forget how much that you create in a studio in the woods or in a cramped rehearsal means for people around the world.
What is the weirdest thing you ever experienced during a concert?
-Coroner: That happens sick stuff all the time with this band. Janitor has received its monitor puked by a guy in the audience, people have fainted on stage, pulled his head into a concrete wall, power outages, I have presented the wrong song so that everyone starts playing different tunes.
How do you think it is to live in Sweden?
-Coroner: Sweden is a good country to live in. You can achieve almost anything and you put your mind to. You are also treated pretty well as a musician. But for us who grew up in Karlstad lovely residential areas have security and commodified unit given birth to a desire to pursue something more challenging. We like life on tour and feel a closeness to those you'll find weird places and people we encountered in Europe, although it might be nice to come home to running water, hard bread, beer and toilet rings
Is it many interviews? Is it boring?
-It becomes part yes. It will be more associated with releases and tours before, which is a natural part of what we do. It's great that people are interested in what we do.

The weirdest question you've ever gotten?
-Coroner: I do not really remember. There are no awkward questions. There is only bad answers.
How do you see on download, spotify, mp3 etc? Is it good or bad for your own part?
-Coroner: It's both for our part. Obviously we want the fans to want to buy our CDs and vinyls but people today purchase our music in countries where we never had to distribution without today's digital solutions. Then, there is a natural thinning of the bands that are in it for life and bands who want to go prawn sandwich. You get to work themselves to death to stand out from the crowd and the bands that work the hardest tend to be those that reach out, which feels very fair.
If you buy any physical discs today?
-Manny: Less than I would like, but absolutely! Have gone back to buying vinyl again which feels more exclusive than CD.
Coroner: I still buy CDs and trying to fit in record collection in the apartment. Often I buy singles on iTunes also if any buddy bands release new. I have bad patience and is a perfect victim for ease of access.
First, last and most expensive record you bought?
-Coroner: Nirvana - Nermind, Graffen - Black Sheep Squadron, Dimmu Borgir - Abrahadabra (box)
Manny: Micael Jackson - Bad, Ghost - Infestissumam,??

Best album to have sex to?
-You wanted the best, you've got the best (Kiss)
The disc must be in the tour bus?
-Coroner: A burnt CD with Gravediggers own composed pyscho-electro-let (alone bass). Then you put it on repeat for 10 hours until they begin to hallucinate.
Future plans for the band?
-Coroner: Now that the new album is out, we will tour as much as possible, try to take us to places we have not visited before. At the same time, we write the constant music for an upcoming album. That is how the cycle works.

For yourself?
-Manny: Buying a small farm in Värmland and have goats and make cheese.
Coroner: I'll become permanent residents at the hotel Janitor built, munching up all of Manny's cheese and haunt guests at the hotel as in The Shining. Maybe I'll write a book, too, if large buildings, decadence cities and life in a suitcase.
Words of Wisdom?
-What goes on tour smells like shit!
Something to add ....?
-Coroner: Buy our latest album The Last men standing. It took three years to make, it takes half an hour to listen through and you can play it as many times as you want. Do not miss us at Sweden Rock in the summer and look out for us in your town. We are on the way!