Terrorpop have played music in different styles in 25 years now but often they have been into punk. Haze plays drums in the group and he was so kind that he answered some questions in the middle of august 2006.
History?
-AROUND 1980 SOME TEENAGERS WAS GATHERED IN THE HOPE OF HAVING A TERRORGROUP. IT BECAME A PUNKBAND UNDER THE NAME TERROR POP. FROM THE BEGINNING AND UNTIL 83 SO WAS IT KLAS AS WHICH WAS PLAYING THE BASS AND ULRIK ARMSVETT WAS SINGING. 1983 CAME JOEN, KICKED OUT KLAS AND TOOK OVER THE SONGMIC. ULRIK PLAYED ONLY GUITAR AND WE LEAVED THE GROUP 1992 AND WHEN WE GOT A NEW MILLENIUM SNORIS CAME INTO THE BAND. HAZE ON DRUMS AND SVEN-SVIN ON GUITAR HAVE BEEN IN THE GROUP ALL THE TIME.
Please tell me a little about every member, age, work, family and something bad about every one?
-HAZE – WORKS EXTRA IN THE HARBOUR IN HALMSTAD AND DO WEBSITES ON THE COMPUTER. HAVE BEEN RUNNING NEW YORK MARATHON(HORRIBLE?)
SVEN-SVIN – WORKS AS A SOUND ENGINEER AND HE OFTEN MAKE SCANDALS. HAVE NOT BEEN TO PRISON FOR DRUNKNESS(HORRIBLE??)
JOEN – PAINTS AND CLIMBS THE MOUNTAINS. IT'S SOMETIMES CALLED URINE-JOEN(HORRIBLE!!!)
SNORIS - NEWMARRIED VINTAGE-GUY WHICH LIKES BEATLES(SUPERHORRIBLE!)
You started in swedish once upon a time, why english now? No thoughts about singing in swedish again?
-WE THOUGHT IT WAS EASY AND IT WAS COOLER AND THE WE WANTED TO SPREAD OUR DISEASE ALL OVER THE WORLD!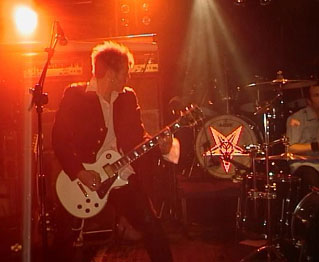 How have you gone through all these years, you have never got a commercial break?
-WE DON´T LIKE COMMERCIAL SHIT SO IT´S THE RIGHT THING FOR US. BUT HONESTLY SO IS IT SO THAT WE HAVE STUCKED TO THE THINGS WE LIKE AND BELIEVE IN AND THAT DO THAT WE HAVE HAD VERY FUN – AND WE STILL HAVE VERY FUN.
And to get that commercial break isn´t any thing you looking forward to?
-SPOT ON!
The latest record Freak Out I think sounds a little like Therapy? What do you think and what response have you got?
-THERAPY?, YEAH, WHAT HAPPENED TO THEM? BUT I DON´T THINK I AGREE WITH YOU. WE DON´T CARE ABOUT WHAT OTHER PEOPLE THINKS-WE LIKES IT.
Is that your try to breakthrough?
-COMPARED WITH WHAT?
The record before was a little bit tougher? What happened why did you come back to punkrock?
-THE RECORD BEFORE WAS DIFFERENT. YEAH, WE HAVE DEVELOPED ALL THE TIME AND WE HAVEN´T CARED TO STAND STRAIGHT IN ANY PUNKLINES. WE HAVE DONE THE THING THAT HAVE BEEN RIGHT FOR US. AND THEN THE TIME HAVE CAME UP TO US NOW AND WE WANTED TO GET BACK TO THE ROOTS. WE HAD COME TO A "PERIOD" WHEN WE HAVE BECOME A LITTLE DIFFICULT AND THAT WE WANTED TO COME AWAY FROM.
What does punk mean to you, is it a lifestyle or is it only a word?
-IT CAN BE A WORD. IT CAN BE THAT YOU´RE STUBBORN AND DO WHAT YOU LIKE, IT CAN BE TO DON´T CARE ABOUT WHAT OTHER PEOPLE THINK. IT CAN BE ABOUT AN OPINION THAT NOT ACCEPT THE OVERCLASSOPPRESSION AND IT CAN BE THE WORST HANGOVER. OR SOMETHING ELSE.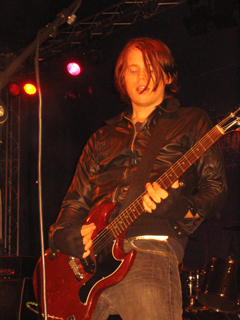 Is it hard to play this sort of music in Sweden? Is it hard to get some gigs?
-NOE, I DON´T THINK IT FEELS LIKE IT´S HARDER THAN ANYTHING ELSE. THE POSSIBILITIES TO GIGS SEEMS TO BE BADDER AND BADDER AND IT SEEMS TO HAVE BEEN SOME SORT OF MONOPOLY WITH THE MANAGAERS?.
Do you play much abroad?
-NOT SO OFTEN. DENMARK AND CZECH REPUBLIC IT'S THE LATEST THINGS WE PLAYED AND WE HAD A GREAT TIME.
Your old songs Du är död for example...do you play them live sometimeS?
-WE DON´T PLAY OLD SONGS SO FOFTEN BUT W´RE MUST SAY NOT SO OFTEN. BUT THE SONG DU ÄR DÖD HAVE WE SHAKED INTO LIFE SOMETIMES.
No thoughts about releasing them on CD in some way? How can I get them on CD?
-NO, WE HAVEN´T THOUGHT ABOUT THAT. DU ÄR DÖD WAS ON VARNING FOR PUNK, ACTUALLY. THERE´S A PROBLEM ALSO BECAUSE NOT ANYONE FO THE SONGS IS LEFT…SOMEONE DRUNK AWAY SOME TAPES....
How do you think that musiclife in Sweden lives today? Is there any good bands?
-ONEHANDED AND EVERYTHING SOUNDS THE SAME. TOO TRENDY. I THINK THAT TEENAGE IDOLS ARE COOL AND ROYAL STAKEOUT.
How do you think it is to live and be in Sweden?
-I LIKE SWEDEN MOST.
When you do a song…which is most important? Is it to have good lyrics, a good melody or to have a refrain that people remembers?
-MOST THAT THE SONG SHOUKLD DELEIVER A FEELING-BEST IS A KICK IN THE ARSE. BUT I THINK THAT THE LYRICS ARE IMPORTANT TOO. IF NOTHING ELSE THEY CAN DO A GOOD SONG EVEN BETTER AND MAKE ANOTHER DIMENSION.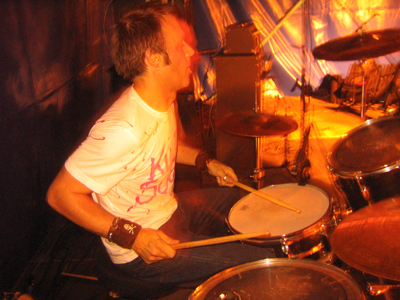 Who does the songs? Have you a s a drummer any active role or do you do your own songs?
-IT VARIES. IT`S OFTEN SVEN-SVIN OR JOEN, BUT SNORIS HAVE ALSO STARTED DO DO HIS THINGS. WE DO THE SONGS VERY MUCH TOGETHER EVEN IF IT IS A GROUNDIDEA AT THE FIRST PLACE. I MIX MYSELF IN TO THE ARRANGEMENTS AND I WRITE MUCH OF THE LYRICS.
Which is the most wellknown band you have been support act to and which is the most wellknown band which you have had as a support act?
-THE ARK AND CEASARS(PALACE)/SILVERBULLIT AND ROYAL STAKEOUT...
Please rank your five favourite records, five favourite concerts and five most important things in life?
-LONDON CALLING(CLASH), NEVER MIND THE BOLLOCKS(SEX PISTOLS), GREATEST
HITS VOL. 1(COCKNEY REJECTS) BUT ALSO OTHER STUFF LIKE SELECTED AMBIENT WORKS
85-92(APHEX TWIN) AND WHY NOT DUBNOBASSWITHMYHEADMAN(UNDERWORLD).
IT WAS HARD, I NEVER REMEMBER WHICH YEAR8 OR ANYTHING ELSE) BUT CLASH IN SCANDINAVIUM 1980 I REMEMBER BECAUSE THEN TERRORPOP BEGAN TO PLAY. I SAW HELLACOPTERS AND DANKO JONES IN NEW YORK 1998-IT WAS GOOD BUT NOT MAYBE TOP 5. A REALLY GOOD GIG DID INFITE MASS IN HALMSTAD TWO YEARS AGO. IT WAS REALLY GOOD. I MISSED FLESH FOR LULU WITH THIRTY MINUTES OTHERWISE THEY´RE HAVE BEEN ON THE LIST.
MY GIRLFRIEND(VERONICA), TERROR POP, MY COMPUTER(MAC), MY IPOD AND MY CAT
(LUCIFER) (...IF YOU MEANT "THOSE THINGS"...;)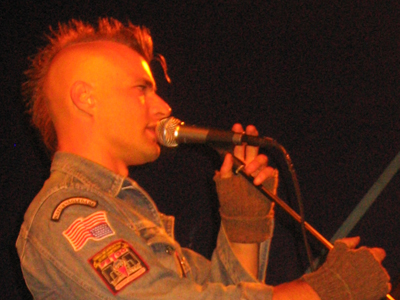 First, latest and the most expensive record ever bought?
-THE FIRST WAS ALICE COOPER BILLION DOLLAR BABIES, THE LATEST DANKO JONES
'SLEEP IS THE ENEMY'. THE MOST EXPENSIVE I DON´T KNOW – I´M NOT A COLLECTOR.
The most embarrassing record in your collection?
-HAVE NEVER TAKEN AWAY ANY OF MY "BAD" RECORDS EXCEPT FROM ONE. IT WAS KANSAS- I COULDN´T BARE TO HAVE IT IN MY COLLECTION.
Why have it been so few releases in your career…I mean why haven´t you relased more records?
-WE HAVE NEVER BEEN LAZY, IT´S MOSTLY SO THAT WE COULDN´T AGREE WITH RECORD COMPANIES AND OTHER PEOPLE WHICH ARE GOING TO DECIDE OVER US. AND THEN WE HAVEN´T UNDERSTAND HOW THE BUSINESS IS. WE´RE ECONOMIC IDIOTS. BUT IT HAVE GIVEN US BIG FREEDOM IN THE SAME TIME. LAUGHING BUT IT´S TRUE.
Is it many interviews?
-NOT MORE THAN WE CAN HANDLE;)
Which is the question you never get but you want to have…please ask it and answer it?
-HOW WAS YOUR TIME WHEN YOU RUN THE NEW YORK MARATHON? THREE HOURS AND TWENTY MINUTES
Which is the most important punkband in Sweden through all times?
-GLO WAS GOOD; BUT IMPORTANT….NO…I CANNOT ANSWER THAT QUESTION.
The most important punksong?
-THE BEST ONE MUST BE 'JAG SKA ALDRIG DÖ' WITH DR ZEKE
Futureplans for the band?
-NEW ALBUM IS RELEASE IN A MONTH BUT IT´S STILL A LITTLE BIT SECRET.
For yourself?
-CONTINUE THE STRUGGLE FOR MY FREE WILL!
Wisdomword?
-HAVE FUN!
Something to add?
-SNUFF IS GOOD!