Television Sect is a band from Germany with members from many countries. The Swedish guy Benny(Ego-T) was so nice together with his mates from the group to answer a lot of questions for an interview…..July 2022
Hi there....Tell me the story of TV Sect
Ego T: Hi there music lovvers! After my old band The Blackmailers broke up i kinda lost the energy and inspiration...Running a bar/Venue like Freak Show are more than a full-time work (but i fuckin luv it – ofcourse!) My wonderful wife kept telling me i should form a new band but i didn't wanna waste my time in bands full with compromises...."whenever the time is right and whenever i stumble over the right people..." but i didn't put any effort in finding any...until i saw the film "FULL CIRCLE" by and with my friend Andy Brings. The very day after i posted on Face Book that i was looking for a drummer and a guitarplayer who likes Small Faces, New York Dolls, Sex Pistols and Clash. Doing the Dolls-version of the song Pills for the auditions i hit the high score and got Thorsten to play drums and Ric on Guitars...that they both were able to share the leadvocals were a salty bonus! Fabian, who was my music-soul-mate in Blackmailers joined us on bass. After Fabian left the band, Ron were with good timing, "Lurkin around the corner" and completed our line-up as our new bassplayer! Thanx Andy for a well needed kick in my arse! :-) We're just some down-to-earth guys from Sweden, Germany and the UK who shares the passion playing 77-Punkrock'n'roll...Now...off you go and start your own bands...it's fun...you know?!
Tell me something about each member of the current Line-up...Work, families, other bands beside TV Sect...something "horrible" about each bandmember
Ron: I am the youngest member of TV Sect. Developed my bass skills in several bands before including German streetcore band Harte Worte. I recorded our first E.P. "Television Paranoia" and am only in the band to attract girls, as I am obviously good looking.
Ego T. : I'm running a small venue called Freak Show since January 2012 together with my wife Ela here in Essen, Germany. I was born and raised in the late 60's in Nacka, a suburb of Stockholm, where i formed my first band in late 79 called "Runk" together with my dear ol mate Roger Crossler. I recently joined a band called District as their new bassplayer and they've been around since mid 90's. I'm also (still) every odd year, playing with my old band from Stockholm, The Part-Time Posers. There's nothing horrible about me...that haven't already been told, forgotten or forgiven!
Thorsten: Horrible facts about me: none. I'm a nice guy - mostly. Side project: Barbie Satan, but no releases or gigs up til now...
Ric: I lived in Camden Town, London most of my life and played in a whole bunch of different bands including The Electrified Cats, Speedurchin (with Johnny Britton of Subway Sect/Orange Juice, and Donagh O'Leary of Phantom Chords/Marc Almond), Men & Gods, Plastic Heroes, and Dharma Bums with Vince White from The Clash (Cut The Crap era).

The name TV Sect comes from a Sods 7"...right..or? Have you ever regret the name of the band? Is there not an other band with the same name?...strange
Ego T: The idea for the bandname popped up when people suddenly started to walk around like zombies with their Mobilephones infront of their mouths – like a fuckin bar of chocolate they're on their way to give a bite... You can't call your band Mobilephone Sect if ya playing 77-punk ;-) So what turned people into zombies in the 70's part from the disco-plague? So I started to play around with "Television Families" (a single with Cortinas) and "Television's Over" (a song with the Adverts) and old fav bands like Alternative TV and Subway Sect....Great....Television Sect...that's perfect!!...eeh, wait a minute...that's an ol song with Sods....well that makes it even better – you can't go wrong with one of my all-time fav singles!!! Sods-"Television Sect" I fuckin luuuv it!
You're not on your way to release an LP/CD with more than 3 songs soon?
It is in the making. Planned release is later spring 2023
Ric: It's taken 3 years to get these 3 out. Do the maths how long a full album might take!
You do have a Club in Germany, tell me about how you ended up there and about the Club. How come you ended up in Germany?
Ego T: During a european tour in 2009 with my old band Sonic Farm, where i played bassguitar, we played a small venue in Essen called Panic Room. Panic Room where runned by my future wife Ela. A few months later i visited Ela every second weekend (when Ela didn't visit me in Stockholm) In november/dec 2010 we stumbled over a location that would be perfect for a bar/venue. So we spent a year renovating/creating/building our small rock'n'roll-monster-crypt called FREAK SHOW. The first 6 months i was still living in Sweden so every second weekend I joined Ela in the process of getting Freak Show to what it became and in august 2011 I moved to Essen, Germany to speed up the project with the goal to open in early 2012. Me and Ela married in november 2011 and opened our bar in January 2012. Since then we had loads of luvverly bands, new and old, which some of them were my favs'n'heroes in the late 70's/early 80's like Eddie & The Hot Rods, Slaughter & The Dogs, Fleshtones, Pointed Sticks, Outcasts, Protex, Menace....and loads of newer bands...too many to mention, that found their ways to our rock'n'roll hearts!!!
You've been in several bands here in Sweden, is there any difference being in a german band?
Ego T: Part from the language? Nope – same old stupid jokes and childish behavior – same ol´three chords, same ol`passion for filthy rock'n'roll!!!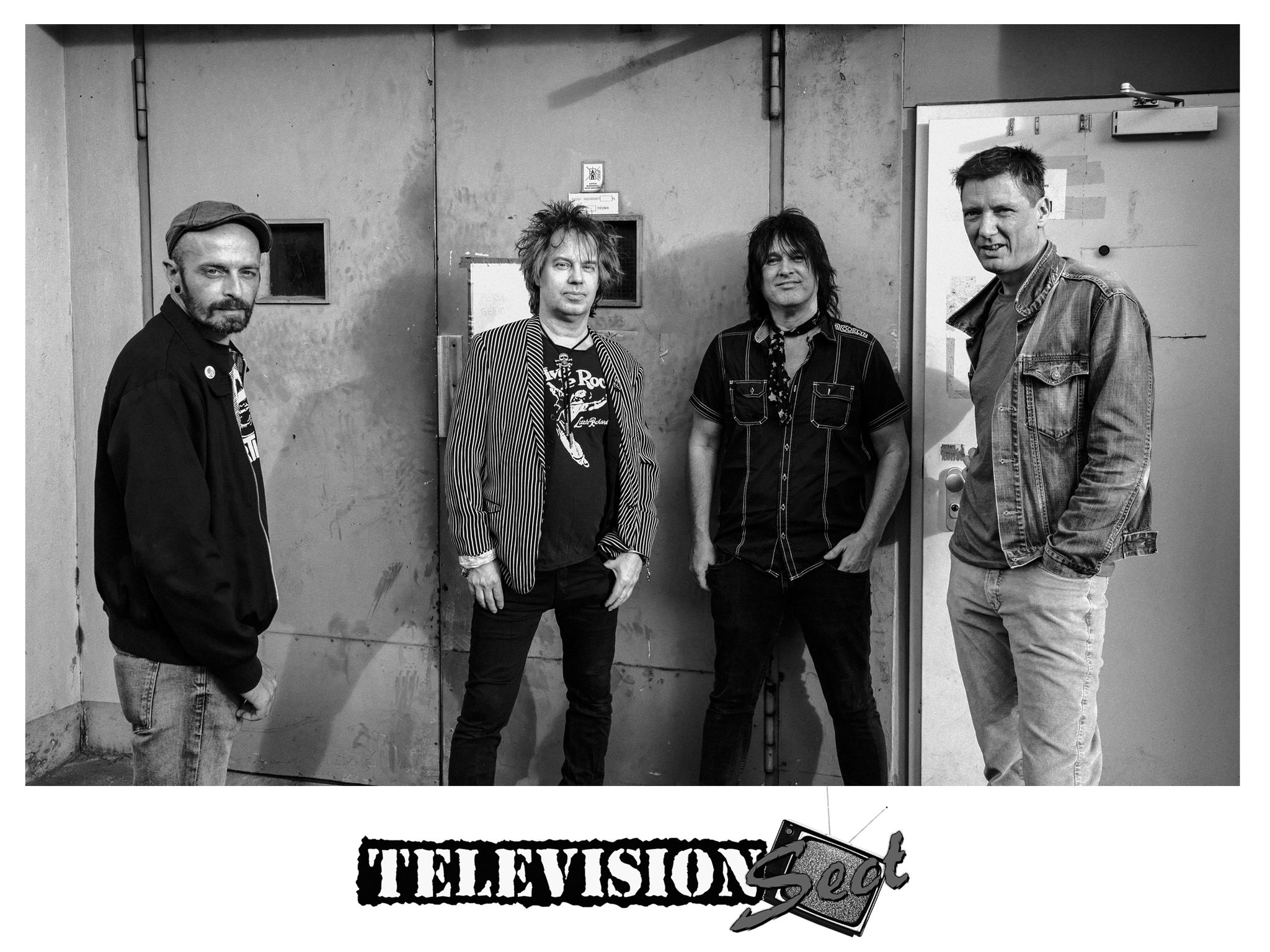 You only do songs in english, right? Would it feel wrong to write songs in german language?
Ego T: If it feels wrong to write german lyrics?...Well, it doesn't feel right to offend my german teacher by trying ;-) Honestly...I haven't been writing many songs in swedish either, just a few between 79-81. It feels more natural to sing in english even thou my grammer is crap, Clichés sounds better in english....I grew up with Swing, Bebop, 50's/Rockabilly, Beatpop, Glamrock, Hardrock...and all the luvverly punkbands in the mid/late 70's...mostly sung in english...the language of rock'n'roll...But please have in mind – i still luv loads of bands singing in their native language...
Thorsten: We are an international band so it's easier to write English lyrics. In general I have no problems to do music with German lyrics, too.
Ric: I can't even say my own name in German!
Do you think it's any difference playing concerts with a band today compared to when you first started playing in a band?
Ego T: There's some differences....Back then when i started to go to gigs in late 70's and when i started playing gigs myself, in early 80's, bands played in youthclubs and clubs/pubs where people went – no matter if they knew the bands or not, people were curious on an other level. Bare in mind, there were no Internet – the social media, the social interaction were where you met people physically and back at that time Punk had exploded and everyone was either playing in a band or writing a Punkzine and the social networking happened at the gigs.
I guess that people in general are bit more careful of seeing bands that they don't know nowadays...With technology of today – internet are overflooded with music and everything and people stilling their curiousity in a few seconds too busy scrolling and surfin the internet...Social media in absurdum making us all unsocial! Hats off to all of you who's sharing the passion of rebelious rock'n'roll in any shape or form. It's great to see that there's still people out there starting bands, setting up concerts, running record-labels and Fanzines and going to concerts! I just wish that people were a bit more curious to discover new bands, live at a small venue! Go and see more bands ya lazy sods!!! ;-)
In the early days, before punk become a uniform,and it wasn't divided into different sub-punk-genres, it was simply punk. Gigs were often shared with fusionrockbands, reggae-pop-rock bands and you name it. The ones from the previously Music Movement called "Progg"(not to be mixed up with progressive rock bands like early Genesis) "Progg" was more like an alternative-workingclass-protest-rock-movement. When punk happened, lots of the old hippies and Progg-people turned their backs against punk and hated it. I guess it was mainly coz they got reminded of that they've turned old and lost their vitality! But, still, there were a few ones that got reminded of how important it is for teenagers to have their own cultural revolution and helped out organizing concerts and rehearsalrooms for new young bands. Back then, for a short moment, Girls and boys, women and men were equals in the scene, we didn't use the term "girlband" (the media for sure did), we all shared the same passion and burning ambition – no matter which background you had, no matter which gender you had and no matter which colour your skin had...just the way it should be!
In early 80's, around 82/83, it felt like a big part of the punkscene got "infected" by a macho-virus. If you didn't have a "uniform" consisted of army boots, a leatherjacket with Discharge, Dead Kennedys and Exploited written on it and a mohikan, then you were an oddball. (I really loved the bands that were "Oddballs") But things change in cycles. For me playing in bands inspired by Ronettes, Supremes, Kinks, Small Faces, T-Rex, Sweet, Thin Lizzy and a healthy dose of Clash, Damned, Heartbreakers, Boys and Sex Pistols, every cycle of 10 years, we were "accepted" for a short time.
Television Sect attracts lot's of different people: Punks, Metalheads, "normal people" from teenagers up til the age of 70+, so it kinda reminds me of how it was when i first started playing live. Like a non-excluding scene, no snobbishness, no dresscodes – just people who share the same passion for rough and unpolished rock'n'roll!
Thorsten: Yes, there is a difference: Today people don't leave.
Ric: The main difference is the ladies now throw respirators onstage instead of underwear…
Rooftop Records...tell me more about it....is there any other bands on that label?
Ron: Rooftop Records is my DIY label. Not official yet, and in fact it's name should transport, that it is what it says. Everything just happens in my flat, beneath the roof. I could have called it Bedroom Records :oD
Is there any good bands in Germany right now?
Ron: As "good" displays a matter of taste there will be many different answers to that. I am very much into F*CKING ANGRY, OXO86, LOCK67 (a pretty awesome band of my best friend)DRITTE WAHL, SONDASCHULE, just to name a few. So yes, there are good German bands.
Ego T: Just as elsewhere around the world, there are loads of great bands going on. Many of them "going under the radar " so you better hang out regular on your local venues! Here's some great german bands (there are too many to mention) Punk/Powerpop: PISSE, VAGEENAS, SPITPINK, NOT THE ONES, GARDEN GANG, DISTRICT(yours truly on bass). SPOOK (great "horror punk") NECK CEMATARY + SNAKEBITE (two great 80's metal bands!) VERY END (Thrash Metal with a voice that can move buildings and melt hearts of any Thrashmetal fan!) CROSSPLANE (If you like No-nonsense Rock'n'Roll like Motörhead, then you should check Crossplane out!!!) CELLOPHANE SUCKERS (brilliant high-octane r'n'r!) MORLOCKS (60's garage as its best!) LUCIFER STAR MACHINE (Action R'n'R...A furious steam-engine-Train on amphetamine!) JANCEE PORNIK CASINO (fantastic musicians playing a fab mix of 50's/Rockabilly/Garage...Amazing!) JAIMIE CLARKE'S PERFECT(UK/D) (Great party-Folkabilly!) DOUBLE CRUSH SYNDROME (they somehow manage to mix catchy powerpop-punk with high energy metal!) LORD BISHOP ROCKS (a beautiful mix of Hendrix, Cream with elements of funk topped with a pinch of Motörhead-energy!)
Thorsten: No
Ric: What Ego T said. I've seen most of these bands and loads of others in Germany, many at Freakshow.
Is there any difference playing concerts in Germany compared to playing gigs in Sweden?
Ego T: I guess the main difference are for the venues – there are more rules and restrictions in Sweden that makes it a bit more difficult to "match the standard" as it normally are in Germany. In Sweden as a band you might get a few limited drinks but you have to pay for most of your drinks yourself. But hey...don't blame the clubs or the venues in Sweden. The rules, regulations and a high alcohol-tax/VAT are some reasons for it. Give the hardworking club/venue guys who are putting a lot effort in making things happen your understanding, appreciating and support! Hats off for everyone running a club, venue in Sweden (and elsewhere in the world as well) An other difference, Sweden and Germany are geographic almost the same size but Germany are about 10 times the population of Sweden so it might be a little bit easier putting up a tour in Germany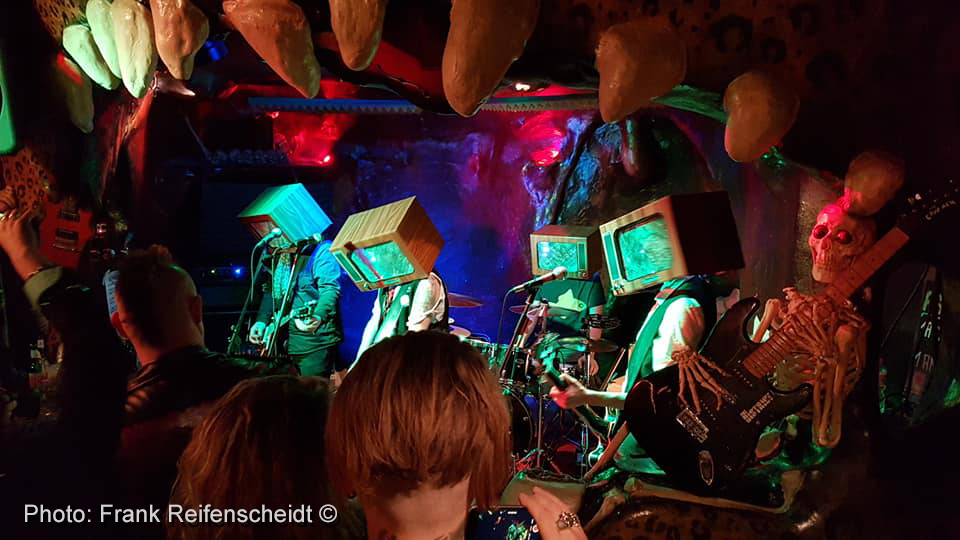 What's the difference of being a young punk and like now, being an old punk?
Ego T: In the winter of 77/78 when punk invaded my heart and soul, it was fresh and vibrant – it was a different climate back then. Everyone seemed to either be in a band or writing a zine. And you would get beaten up if you had a hole in your trousers and your knees were to be seen...Nowadays people pay 100's of euros extra to get pre-fab-broken-trousers...They fuckers should refund us who got beaten up 45 years ago! Hahaha
I've got more scars, my back is fucked up but i am still young at heart!!!
Thorsten: Today I Don't need to leave clubs at 10pm (in fact, sometimes I still do).
Ric: I am still a young punk, but the mirror and calendar don't agree!
What does punk mean to you today compared to when you were younger?
Ego T: It still means the same to me: Never gonna grow up, it's still about passion, frustration and non-comfirmity
Thorsten: Today punk is dead and rotten. When I was young it was only dead.
Ric: Punk to me means freedom of expression and not giving a fuck what others think
How is it to live in Germany today? Politically thoughts? Reflections on the everyday-day-by-day life?
Ego T: I guess it's like in many other countries, the welfare getting dismounted by privatizing things that we in the past took for granted, schools, hospitals, public buses/trains etc I guess it's not easy being old in need for hospital care or a single-parent with an ill child...It's like we are all watching as the egg being sucked out of its shell but the shell stays intact for us to believe that everything is like it has always been... at the same time we're getting nostalgic over that everything used to be better in the past...and meanwhile the empty "Eggshells" lining up as a nice facade to calm us all down...Everyone swallowed the smokescreen "more freedom for everyone" that the politicians been preaching for decades...Anyone got a bad taste in their mouth?....It literary sucks egg, doesn't it?
Thorsten: Mostly harmless. But it's still Germany. People are afraid.
Ric: It's alright once you get used to planning a night down the pub 3 months in advance!
To sing about politically things, ain't that anything for you?
Ego T: We sing about things that comes around living our lives...passion, frustration, boredom, anxiety, sometimes it has politically issues...i want people to wake up and think...but i don't wanna tell people how or what to think. ...Oooh...wait a minute...Treat each other with respect and be nice to each other!
Thorsten: We sing about political issues. The private is a political thing.
Ric: I could maybe write a song called Boris The Buffoon…
To play your kind of punk in Germany, how is it? Are you mostly playing gigs with other punkbands or how is it? Which are the most odd band you've done a gig together with?
Ego T: We love it – we have a nice mix of people showing up at our gigs! We play with other punkbands or pop, rock or 60's/garagebands. We're playing some kinda 77-Punk but we don't wanna be locked up in a "genre-Jail" We wanna reach out to anyone into some rowdy and raunchy rock'n'roll! The most odd band we've been playing with? That must be....Television Sect!
If you could pick 5 bands to play a gig together with, which 5 bands would you pick if you could choose any existing or non-existing bands? Which dreamband have you played together with?
Ego T: It would have been cool to share the stage with Eddie Cochran, Fats Domino, Screamin Jay Hawkins, Ronettes, Kinks, Small Faces, Cream. Or playing the Punkrock festival at 100 Club with Damned, Pistols, Clash, Slits, Vibrators and Stinky Toys...or doing the Anarchy in the U.K. Tour with Pistols, Clash, Damned and Heartbreakers....Or Stockholm 77-79 sharing the bill with The Pain, Warheads, Mob-77, Cathy & The Heat, Imps, Rapers,Rude Kids and Bitch Boys...Beam me up mr Scott!!! We played a few gigs with Menace – so there you go – our dreamband we have been playing with. Would be fun to team up with TV Smith, Cyanide Pills, DeRellas or Guitar Gangsters in the future...there's sooo many great bands out there...don't get stuck infront of your computors – go out and see bands live!!!
Thorsten: 1.Hüsker Dü 2.Melvins 3.Minutemen 4.Naked City 5.Frank Zappa
Ric: I'd attempt a duck-walk with Chuck Berry and Bon Scott era AC/DC
Are you buying records yourselves? The first record you bought, the last record you bought and the most expensive record you've bought?
Ron: I am a vinyl-collector. The first one was, when I was 10 years old, and it was really not cool. Music Box by Maria Carey. The las one was Dabei sein ist alles by Oxo86 and the most expensive one was Chimes at midnight (LE) - Madrugada.
Ego T: I had the luck having two older brothers and a sister supporting me with Mott The Hoople, T-Rex, Sweet, Beatles, Alice Cooper, Kinks, Deep Purple, David Bowie, Budgie, Black Sabbath, Jimi Hendrix, Janes Joplin...and having a father loving Bebop, Blues, Jazz... The first record i bought was Suzi Quatro – "Story of" in 1975. I still have that album. Suzi was the first artist that really got me to think "I wanna play in a band!!!" The last album so far is the new brilliant album with GUITAR GANGSTERS - "Fortune favors the brave" The most expensive record i bought was a single with the Damned. I don't wanna tell you which one it was or how much i did pay coz then i would get arrested by the Punk-Police ;-)
Thorsten: Of course. First: Yello - You Gotta Say Yes To Another Excess, last: The Hypstrz - Hypstrz, most expensive: Karlheinz Stockhausen - Gesang der Jünglinge/Kontakte
Ric: I used to save up my pocket money for rock 'n' roll albums when I was a young kid. I've got loads of Elvis, Chuck Berry, Little Richard etc.

Three words that describes your music?
Ron: Handmade, honest, wild
Ego T: Rough Catchy 77-Punk!!!
Thorsten: One, two, three, (four)
Ric: Punk Rock 'n' Roll!
AR you getting lot's of interviews nowadays? Boring or fun?
Ron: This is my 1st one ever, and yet it is funny.
Ego T: Not that many at the moment due to lockdowns and that we just recently got our promo-kit ready. Radiostations, web-TV-makers, and Fanzines around the world – Follow the good example of SKRUTT-Zine: Contact us, Interview us – spread the wonderful gospel of the TV SECT!!!
Thorsten: Too many - but that's business.
Ric: Yes, lots of interviews but McDonalds still won't hire me!

The strangest question you've ever got? (part from this one)
Ego T: "Am I supposed to know you?"
Thorsten: "How are you?"
Ric: "Can you stop playing that guitar?"
The question that you're missing to be asked?
Ego T: What's your bankaccount number....
Ric: "How have you managed to have such a prolific output in only a few short years?"
Are you reading the reviews of your own records? Which is the strangest review you've ever got?
Ron: I am always curious about reviews, as they show me, what to improve next time. Nobody is perfect and reviews good or bad, always can be a momentum to learn.
Ego T: Sure i read it – with mixed emotions, it's scary and exciting until you've read it all.
Funniest or strangest must have been Record Collector reviewing my old band Suicide Pact: "It sounds like a dickies 7" played on 33 1/3....they must be from Scandinavia...it sounds like Cod-Cockney!..."
Ric: Yes, I always read them. If it's good many times and to everyone. If not it's tomorrow's toilet paper! I played the Marquee Club in London on New Years Eve 1989 in my band Monterrey. We thought we were pretty cool drawing inspiration and influences from the previous 3 decades. The reviewer at Kerrang! Magazine wrote " like a cross between LA Guns and a heavy metal Quireboys"! Haha!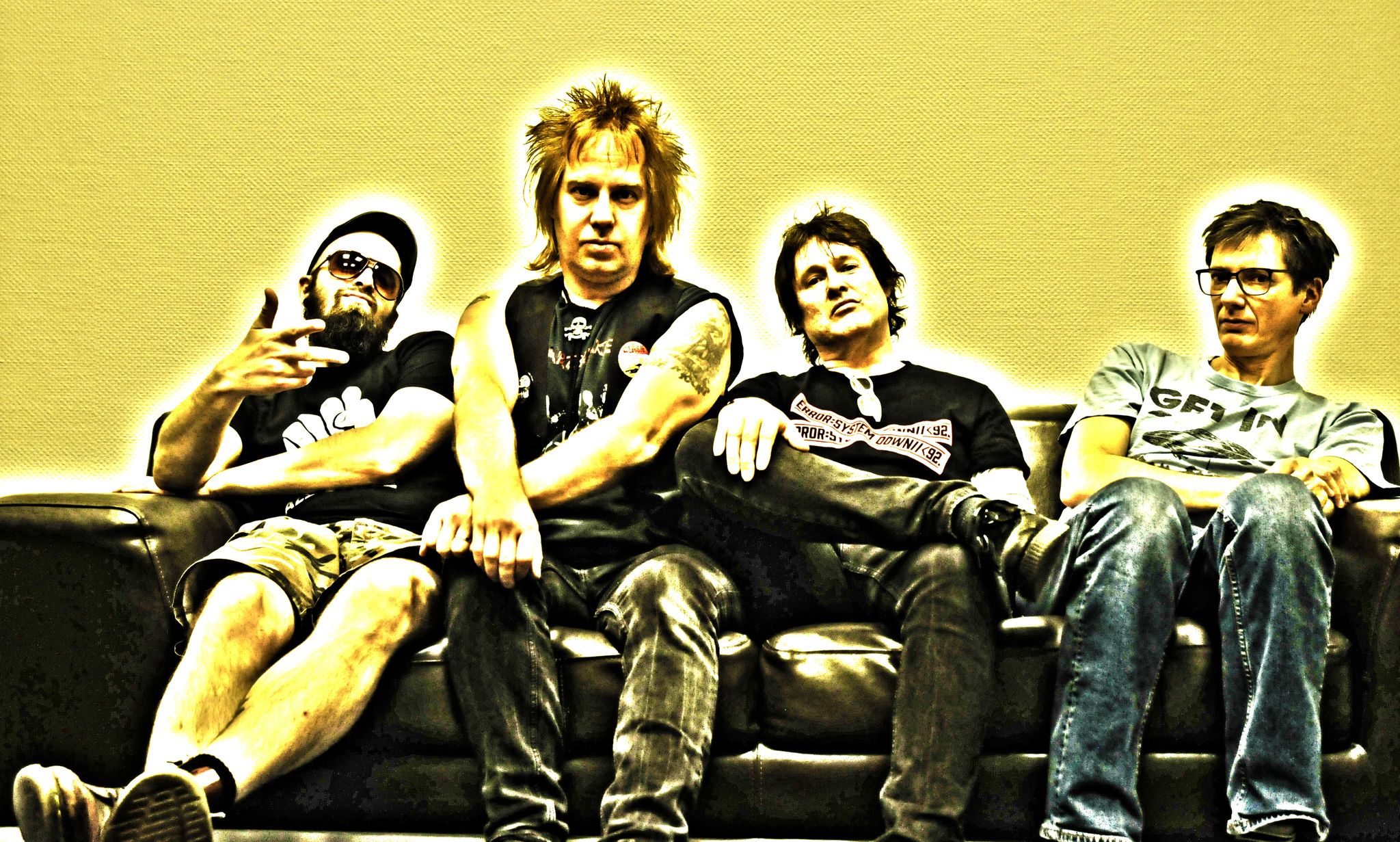 Tell me the story behind the song OH NO (Ego T.)
Ego T: It's about how old friendship sometimes just fades away to be just nostalgia. Seeing someone you haven't met in 20-40 years and all you talk about is"do you remember...how much fun we used to have..." and finding out that you have nothing more in common than just nostalgic memories...Conversation often starts with an unsecure "...Ooooh...I can see that you still haven't grown up yet..." Bloody right I haven't...I am still as childish as back then!!! I have a handful friends from late 70's early 80's that I luv to meet – we don't have to pretend, we know where we have each other...we share lots of found, crazy and tragical memories but we're not only stuck in nostalgia...Roger Crossler, Palle and Spinx – I fuckin luv ya!!!!
Are you playing any covers live?
Ego T: We're actually playing one or another cover that i wrote in the past livin in Stockholm and playing in bands like Chinese Takeaway and Part-Time Posers...but that's songs that i wrote so it might not really count as covers. Otherwise we like to pick anything with Who, Small Faces, Stones or who knows...we might even end up doing a cover of Monkees song....We did a one off cover of "Firestarter" by Prodigy...
Thorsten: Yes.
Ric: It's fun to throw a cover or two in here and there but we're mostly about doing our own stuff.
Which of your songs are the favorites amongst your audience? You might not have done so many...?
Ron: As we only had two gigs in this constellation, I am not really in the position to mark a song as a real banger, but What a Joke once was asked for after we played FreakShow. So this one might be the only favorite, that at least came to my ears.
Ego T: We have some new songs that goes down very well together with "Paranoia" "Oh No" "Procrastination"....I think one or another in the audience likes to sing a long to "All or nothing" (Small Faces)
Thorsten: Ask the audience.
Ric: I think they mostly like the ones where Ego T jumps up and down.
If someone paid for a four-song-recording where you were "forced" to record 4 covers, which ones would you pick?
Ron: Love our version of the Small Faces' ALL OR NOTHING so this one would have to be on the list!
Ego T: All or nothing (Small Faces) You Talk Too Much (Joe Jones) Hang onto yourself (Bowie) Daytona Demon (Suzi Quatro)
Ric: Hang On To Yourself (Bowie), That's Alright Mama (Elvis), The Last Time (Stones), And Your Bird Can Sing (Beatles)
Future plans for the band part from more gigs?
Writing and finishing new songs. Recording and planning for our full-lenght album...as soon as my broken hand has healed...BoXXocks!!! And...it would be great to be able to bring both of my bands, Television Sect and District, for some Festival and Clubgigs around Gothenburg, Uddevalla, Malmö, Örebro and Stockholm...Bookers, Festival-orginizers and musiclovvers into 77-punkrock...please get in contact!
Ric: Write, rehearse, record, repeat.
Your own future plans?
Ron: Never to grow up!
Ego T: To follow wherever my passions leads me
Ric: To think positive unless going for a Covid test!
Words of wisdom?
Ron: I am only the bassist. No wisdom from me!
Ego T: Don't eat the yellow snow!
Ric: We don't stop playing because we grow old; we grow old because we stop playing.
Anything to add?
Ron: Thank you!
Ego T: Thanks for reading about us and special thanx to SKRUTT for writing about us – keep up the good work! Cheers!!!
Ric: Cheers Skrutt…Cheers everyone!