The Italian punkband Teenage Gluesniffers is a really good band, The guys from the group have given some time to answer questions from me. They did that in the beginning of march 2010.
History?
-Fra: We're a punk rock band from Milan, Italy and since May 2006 we played nearly 150 shows touring Italy, England, France, Belgium, Holland, Germany, Scotland, performing in great clubs and festivals as La Skaletta (La Spezia - IT), Festa Radio Onda D'Urto (Brescia - IT), The Rambler (Eindhoven - NL), Old Angel (Nottingham - UK), Fighting Cocks (London - UK), Subway To Peter (Chemnitz - DE), Bannermans (Edinburgh - UK) just to name a few, with such bands as Anti Flag, Queers, Skimmer, Apers, Leftovers, Copyrights, Johnie3, Zatopeks, Accelerators, Jizz Kids, Griswalds, Priceduifkes, Murderburgers, Dopamines, Derozer, Senzabenza, Crooks, Viboras and many many more. We've released a 7" split with Los di Maggios from France. Our first full lenght is finally out on Mind Rot Records so check it out! More or less...this is our history!!!

Please tell me a little about every member, age, family, work, interests and something bad about every one?
-Pably: I sing and i play guitar. I'm 30 and i work in a factory.
Enri: I play drums and I'm 22. I'm studying to become a social worker.
Fra: I play bass and sometimes i sing a little bit. I'm 27 and i work as a researcher in a lab. We're all engaged with the 3 most beatiful girls you can find here in spaghetti-land and what else?! No bad things about us we're too good to be true! Eheheheheh!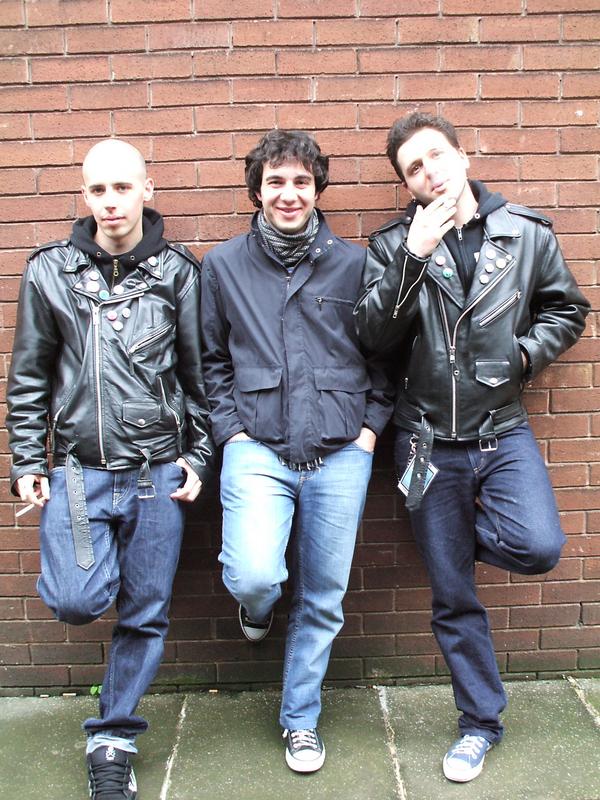 My review of your record is like this:
TEENAGE GLUESNIFFERS - NERVOUS BREAKDOWN (CD-MIND ROT RECORDS)
Wow this I liked at once…I felt it when I saw the name, read the titles and saw how the group looked like. You can understand really fast which sort of groups which they have listened to and it´s surely Ramones, Dickies, NOFX ust to say some but it´s not so that they sound exactly how these groups do and it feels like if TG have found a really own style in the style poppunk. Nice backgroundvocals lifts the songs and I become really happy when I listens to this..that´s obvious. Much of the own sound is surely Pablys songvoice which fells a little bit different without being any peculiar in any way. 11 really good songs with poppunk…who says no thanks to that? Not me anyway. (EIGHT) 24/2-2010
What about it?
-Fra: First of all thanks a lot for the kids words!
Enri: Well, we started recording in April and ended almost in September. We had some problems with italian custom in receiving all the copies from USA so we were quite unpatient to get everything! Anyway, we like it, hopefully someone else will appreciate it, it's a punk rock album, nothing more nothing less. That's the way we like it!

Is there any other bands you´re being compared with?
-Enri: No, it seems nobody watches us as "the band who plays like...". We're just TGS, and it's cool.
Fra: Even if in my humble opinion our influences are pretty evident. We're 3 chords addicted!!!

Do you care about reviews?
-Fra: Well...I look at them but if someone don't like what I've done i don't get mad. As long as there are pertinent observations it's ok to me!
Enri: Only if they're good ehehe. Everyone does it, so who cares?

Which is the most peculiar review you ever have got?
-Fra: Sincerely i don't remember, we've had some good reviews for the 7" but i don't remember something in particular!
Enri: On our myspace you can find a review of our 7" written by some Hungarian guy. I still don't know what it means because obviously nobody of us knows Hungarian. That's probably the best review we've ever had.
How would you describe your music in three words?
-Fra: Energic Poppy Punk

How is it to live in your homecountry?
-Fra: Good food, nice places and cute girls. I like Italy even if in my opinion we're the "Flinstones" of Europe for lots of reasons!

What about the government?
-Fra: Bah...it sucks!!!

Do you think that music and politics goes hand in hand?
-Fra: We're definitely not a political-band but personally I care a lot about politics and i really like tons of political bands as long as they don't use only slogans but they really know what they're talking about!!!
Enri: It's not our case, but I do really like political punk rock if it's not only shouting against everything without any reason. Exploited are not a political band, even Casualties. They're just bands who like to hate stuff.

Best political band?
-All Together: THE CLASH.

Is there any good bands in your homecountry now?
-Fra: In my opinion there are tons of good bands!!! Obviously everyone know the Manges but there are even some new acts that are doin' really good things such as Nasty Cats, Riccobellis, Snipers, Flowers...just to name a few. Check Out our top friends on myspace and you'll discover some good stuff!!!
Enri: My favourites are: Nasty Cats, Manges, Leeches, Retarded (even though they splitted up) and Duracel. But there are other cool bands too.
Pably: Obviously the Manges but there others good bands such as the Crooks.
What do you know about Sweden?
-Fra: I know Ibra!!!
Enri: It's very cold. And according to what I'm seeing at Vancouver Olympic Games on tv, you're pretty good at winter sports.
Pably: IKEA!!!

Have you heard any good swedish bands?
-Fra: When I was a kid I used to listen to Millencolin and stuff like that, but i know Sweden basically for "scandinavian rock" bands such as Hellacopters and Backyard Babies. Then I discovered the Hives and what else?! Actually I really dig HFOS and Lost Patrol Band but for sure i forgot someone!!!
Enri: A lot!! Hellacopters, Bombshell Rocks, Hives, The Bones and tons of others! Except for Millencolin, I don't really like that stuff eheh.
Pably: Radio Brigade and No Fun At All.

What does punk mean to you, is it only a word or is it a lifestyle?
-Fra: Definitely a lifestyle!!! Punkrock is doin' fanzines, settin' up shows, buy records...is having fun doin' this with your friends.

Do you get many comments on your name?
-Fra: Sometimes it happened! Someone told us was silly because it came from a Queers' tune, others that was not politically correct, well...I think that these people took themselves too seriously.
Enri: Anyway, we don't actually sniff glue. Try to keep it in mind.

Please rank your five favourite records, five favourite concerts and five most important things in life?
-Fra: Really really hard question!!! In no particular order:
- Records: Green Day – Dookie, Ramones – Road To Ruin, Clash – London Calling, Queers – Don't Back Down, Circle Jerks – Group Sex.
- Concerts: I've seen tons of gigs...I've to say the first time I saw Green Day in 2000 and then some classics such as Kiss, Motorhead and Rolling Stones. I've talked about big shows but I really love to see gigs in small venues...so the 5th place is for every good band I've seen in a small, sweaty and smokey room!!!
- Top 5: Health, my girlfriend, family, friends and music,
Enri:
- Records: Ramones - Leave Home, Mr. T Experience - Revenge is sweet and so are you, Queers - Love songs for the retarded, Screeching Weasel - How to make enemies and irritate people, Apers - You're only as strong as the table you dance on.
- Shows: Green Day - Milan 2009, NOFX - Bolzano 2008, Sick of it all - Milan 2007, Anti Flag (with us!!) - Brescia 2009, Teenage Bottlerocket - Milan 2009.
- Top 5: My girl, Punk Rock (so I mean my bands, my friends and all the stuff related to it), My family, Sex, Books.
Pably:
- Records: NOFX – Punk in Drublic, Green Day – Imsomniac, Queers - Love songs for the retarded, Screeching Weasel - How to make enemies and irritate people, Rancid – And out come the wolves.
- Shows: Iron Maiden Milan 1993, Green Day Milan 1998, Queers Vicenza 2005, Teenage Bottlerocket Fidenza 2006, Joe Strummer Bologna 1999.
- Top 5: Family, girlfriend, music, friends, red wine.

First, last and most expensive record ever bought?
-Fra: First: The cassette of Dookie back to '94. Last: Lemuria – Get Better. Most expensive: I think it's an ex-equo between the original italian pressing of the first Rolling Stones LP and Beatles' Rubber Soul!

Most embarrasing record in your collection?
-Fra: I think Ska-P or something like that.
Enri: I've got the "Disco Duck" 7". No words are left to say.
Pably: Klasse Kriminale.

Do you do any covers on stage? Why or why not?
-Fra: Yes we usually play some covers during out live-set. We like to do that cause it's usually fun to play some classics!

Is it many interviews? Is it boring?
-Fra: We did some interviews in the past and it's not boring for me! It's fun!!!

Which is the question you never get, please ask it and answer it?
-Enri: "Hey, do you want me to give you a million euros?" "Yeah dude"

Is it any chance to see you in Sweden soon? have you ever been here?
-Fra: Wow...we'll love to come there!!! If someone can help us with some booking it will be amazing. I've never been in Sweden but everyone told me it's beatiful!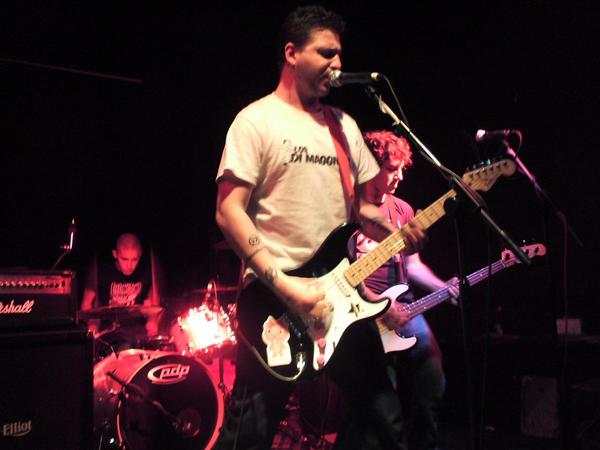 Where is the best place to play?
-Enri: Here in Italy I love Rome and Udine, and near my hometown we have this place called Circolo delle Arti which is maybe one of the best venues in Italy for small - medium shows. In Europe I love UK, especially London.

How is a good gig with you?
-Enri: Small venue, 100 people and wild crowdsurfing. That's the way i like it.

Which type of people comes to your concerts??
-Enri: Alcoholics.

What shall we do about all rascists?
-Fra: Man...racism is a plague! Racists are just so narrow-minded and uncultured...I really can't understand it.
Enri: Best way to fight them is to be tolerant.

The best band in punkhistory?
-All Together: Ramones!!!
The most important punksong?
-Fra: Probably the song that changed my life is "Basket Case" from Green Day. I was 11 when I saw the video the first time and i remember that it blew me away!!!
Pably: Anarchy in the UK from Sex Pistols introduce me to punkrock so I guess I've to say this one!

Futureplans for the band?
-Enri: A new 7", a Green Day tribute, lots of shows. We'd like to tour USA, maybe 2011 will be the right year.

For yourself?
-Fra: Party till i die!!!
Enri: Being happy.
Pably: I've to go to dinner cause it's gettin' late!!!