The French band Suppose Itīs war is a hardcore group( I think) but they say that theyīre influenced by thrash and punk so this is the way. June 2015
Please tell me a little bit history of the group?
-S I W was born in 2008 in FougŤres , BRITANNY , in the music association 8eme AVENUE
I joined two friends who were jamming together , we played for hours and create 3 songs so we thought it could be great to form a band
Please tell me a little about every member in the group right now, age, family, work, interests and something bad about everyone? Earlier bands?
-The band was formed by Vince on drums ( ex - ALTOKON ) , NICO on guitar and lead vocals ( ex- RETENTUM CURIAE ) , JULIEN on guitar ( ex - ALTOKON ) and ANTOINE joined us few months later on bass guitar ,in 2010 our first album Eponyme came out and a second one in 2012 and in this same year VINCE and JULIEN leaved the band and Yannick ( BURN AT ALL , ex- RETENTUM CURIAE ) joined and we keep on playing as a trio for few months , JULIEN decided to come back as a bass player and ANTOINE became the new guitar player and it never have changed since this time .
Weíre all 32,33 years old but Antoine is 26
Iím a guitar teacher , Yannick works in the industrial maintenance , Julien is a fiber optics technician and ANTOINE works in factories ( sometimes hahaha )
We like good food , and playing music .
Something bad about us : everything is fine !
I can hear both hardcore and anarchopunk in your music? Am I right? Favorites from the past?
-Weíre not influenced by HxC bands , we like punk music and thrash metal , but the mix sounds HxC thatís true , about anarcho punk , we like to sing anthems but thatís all , our lyrics are punk and our music is more thrash I think than anarchopunk , we just try to create the better mix that we can between punk and thrash metal
Suppose itīs war are you satisfied with the name?? How did it came up? Why an English name? Which is the best bandname you know?
-Yes we are , we tried to find a name with the sound ď war ď and I said ď suppositoire ď suppositories in English we all thought it was stupid but fun ( it was late and it was a no-water night if u know what I mean ) and we changed it to Suppose itís war , we like joking and kidding together , weíre not a poser band or some shit like that , some people doesnít like it but they remember it , so it works !!!
The best band name we know ? ...................ÖSuppose itís war , hahahahaha !
Whatīs the best thing with playing live?
-Meet people , spend good time with friends and share our music on stage and see people enjoying it !
And where is best to play? And the worst place?
-I donít think there is good or bad place to play , we play in squats , pubs and sometimes we play in professional concert halls , itís just a question of feelings !
How is to play this sort of music in France right now? The difference from when you started to play and now?
-Itís really not easy , this music is not popular , itís an underground movement , the same for punk and metal , there Ďs only independent radio which plays this music , no tv shows , nothing , weíre like ghosts in the french music world . It was so , is and will be always like that !
How would you describe your music in three words?
-3 words : energy , friendship , enjoyment
What does punk mean to you, is it only a word or is it a lifestyle?
-Punk is a way of thinking , with our association 8eme AVENUE we collaborate with other associations , we organize gigs and try to build something positive and the mean word is ďrespectĒ, never judge each other and we donít care about where you come from
How do you see on downloading, mp3 and that stuff?
-Uploading thatís great , we can spread our music everywhere itís a good way to be heard , the negative point is that mp3 sounds like shit , but we like buying albums , get a vinyl in your hands itís always cool we like all kind of way to share music .
How is it to live in France now? Politically?
-Living in France ? itís a passive way of living , FRANCE just follows the capitalist politics , the government is useless , life quality is getting lower for the people , I donít understand why there Ďs no revolution movement like in 1789 , our guillotines are all rusted up hahaha !
Is there any good bands from France now? Is the punkscene big? How is it in your hometown?
-Yes thereís a lot of good bands , we canít all list them but there are here , you have to search for them because as I said , there is no help from radio and TV .
The punk scene is really big and it stays underground , itís always hard to survive in this world of money , but our labels , MASS PRODUCTION , FFC production AND PUNKíS SHADOW make gigs with international bands from BRAZIL , USA , ENGLAND etc..Ö.and there are a lot of underground associations in France so we are here .
Our town is really small, about 22 000 people live in , but there is a lot of cultural association .
What do you know about Sweden?
-Big metal scene , beautiful girls , and crisprolls , I think itís all hahahaha !
Have you heard any good bands from Sweden?
-Totalitšr , Dismember , Meshuggah , Victims , Skitsystem , Wolfbrigade , Refused ,Millencolin , Disfear , Entombed , At the gates , Doberman cult , The Dontcares , The Haunted .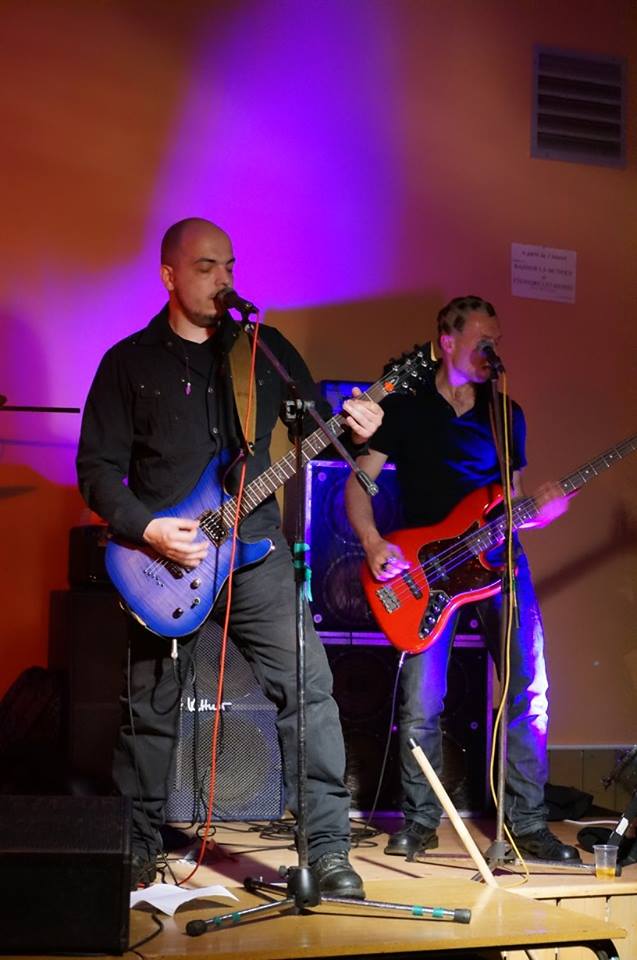 Your lyrics, who does them and what influences you? Why not in French?
-I write thelyrics , we talk about politics , war , social problems , religion , or mental experiments , thereís song about true stories , like LULLABY FOR THE BUTCHER , the true story of woman tortured by a Gourou in Canada i donít know the English name of the book ( líalliance de la brebis )
Is there any subject that you never will write anything about?
-I didnít think about that , I could write about love if I had to , only if it turns wrong ! Thereís no happy end in our lyrics .
Politic and music, does it goes hand in hand?
-Yes I think it does , when you see people like JELLO BIAFRA , RAGE AGAINST THE MACHINE ,PETER GARETT I think it really works .
Best political band/artist?
-The same I named just above .
Do you think that music(lyrics and so on) can change anyones life, I mean people who listens to music?
-Yes because music is an outlet for your mind , about our songs we donít tell anyone what they have to do or think , we just tell stories , people understand songs the way they want but it stays antisocial ,people who listen to us are especially punks so they know how to be a better person .
Your cover on your CD looks really nice, is it important to have a record cover which shows people which type of music you play? Ö Your favorite recordcover? Who does your covers?Ö
-Yes it is , as I said , there is a an underground connection with labels and association who help us so we had to show that our bands is not only four guys but a collective work .
Our friend MARTIAL made the cover of our two album and the infographic was made by JC for the first one and AURELIEN SAUVE from AS communication for the second one .
Our favorites cover are :
Nico : NOFX So long and tx .ÖÖ
Yannick : BRING TO RUINS ( vinyl picture)
Julien : MAGMA ( attack )
Antoine : COLLAPSE MACHINE ( The death we deserve )
Is it important to get out physical records of your stuff? Why or why not?
-Yes we think thatís important, because itís timeless , and artwork can gives color of your music , and sends a message . Itís more interesting than a computer file.
Please tell me a funny thing which have happened during your career and under some gig?
-A show with Turbojugend at the Danielís pub in Brittany , there was the most violent pogo I ever seen , it was impossible to sing and play there was only Yannick drumming faster and faster to drive people more crazy , and a festival we organized with 8eme AVENUE for the 20th anniversary , it was raining so much that we felt like we were at Woodstock , the stage was totally unusable , we were swimming in a giant pool of mud , but all the audience enjoyed the party all night long , some people said that we Ďd better to cancel the show but we stayed united and won against the elements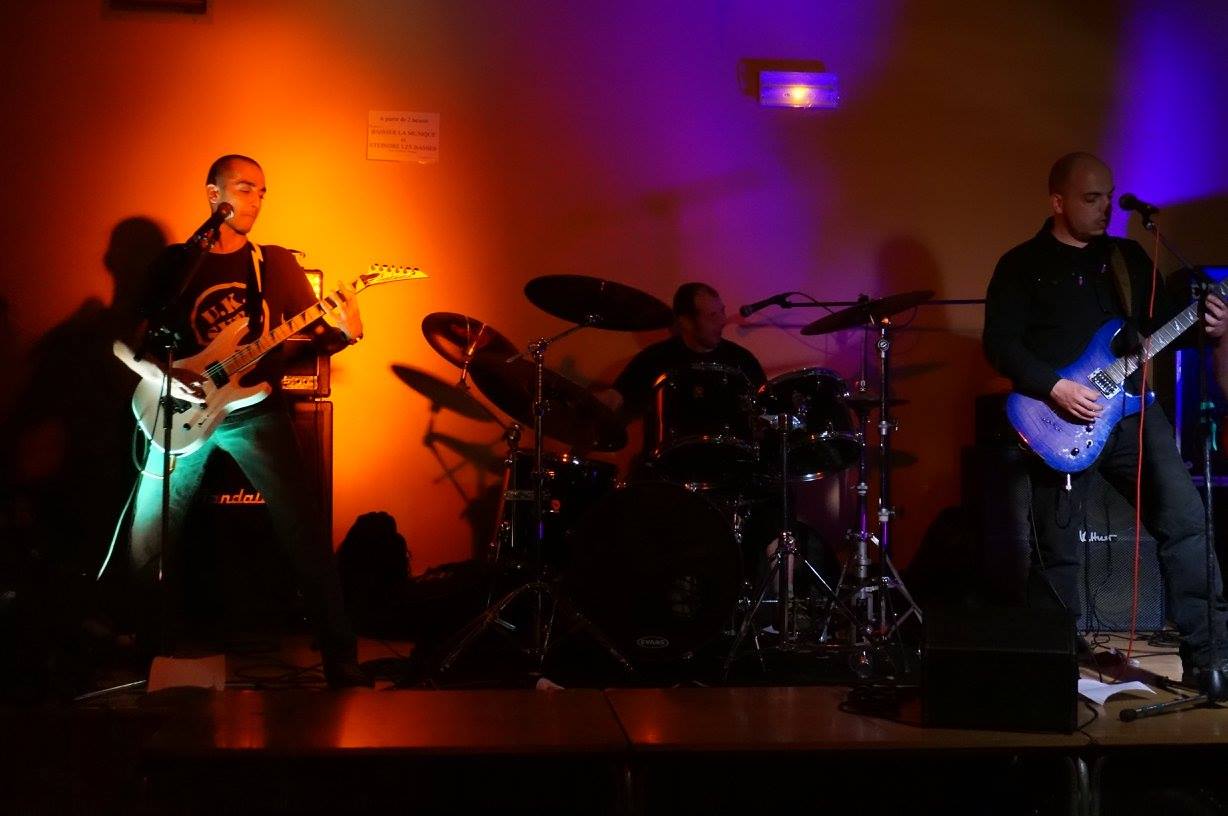 How does your audience look like? Which people do you miss on your concerts? Which is the biggest band you ever have played together with?
-Wedonít care about who come to see us on stage , if youíre not an intolerant asshole your welcome .
The most important we played with are Poison Idea , Discharge and Inner Terrestrial .
Please rank your five favoriterecords, five favoriteconcerts and five most important things in life?
-5 albums we said :JULIEN : Nirvana Unplugged
ANTOINE : Slayer Season in the abyss
NICOLAS : Mastodon Blood mountain
YANNICK : Pink Floyd Pig
ALL OF US : Bonehouse Onward to mayhem
5 live : JULIEN : Assasin ( Touche díespoir )
YANNICK : Coroner at the Motocultor festival
NICOLAS : Toy Dolls
ANTOINE : Iron Maiden Somewhere back in time tour
ALL OF US : Bring to ruins
5 important things : rockíníroll
friends
respect
beer
galette saucisse ( typical meal from FougŤres )
Is it boring with interviews? Is it much interviews?
-No itís our first interview , thatís fun
If you could choose five bands from the past and the history and nowadays and both dead and living bands to have a concert together with your band. Which five have you been chosen?
-Pantera, Neil Young , Johnny Cash , Dead Kennedyís , and Beyonce when she will be dead hahahaha !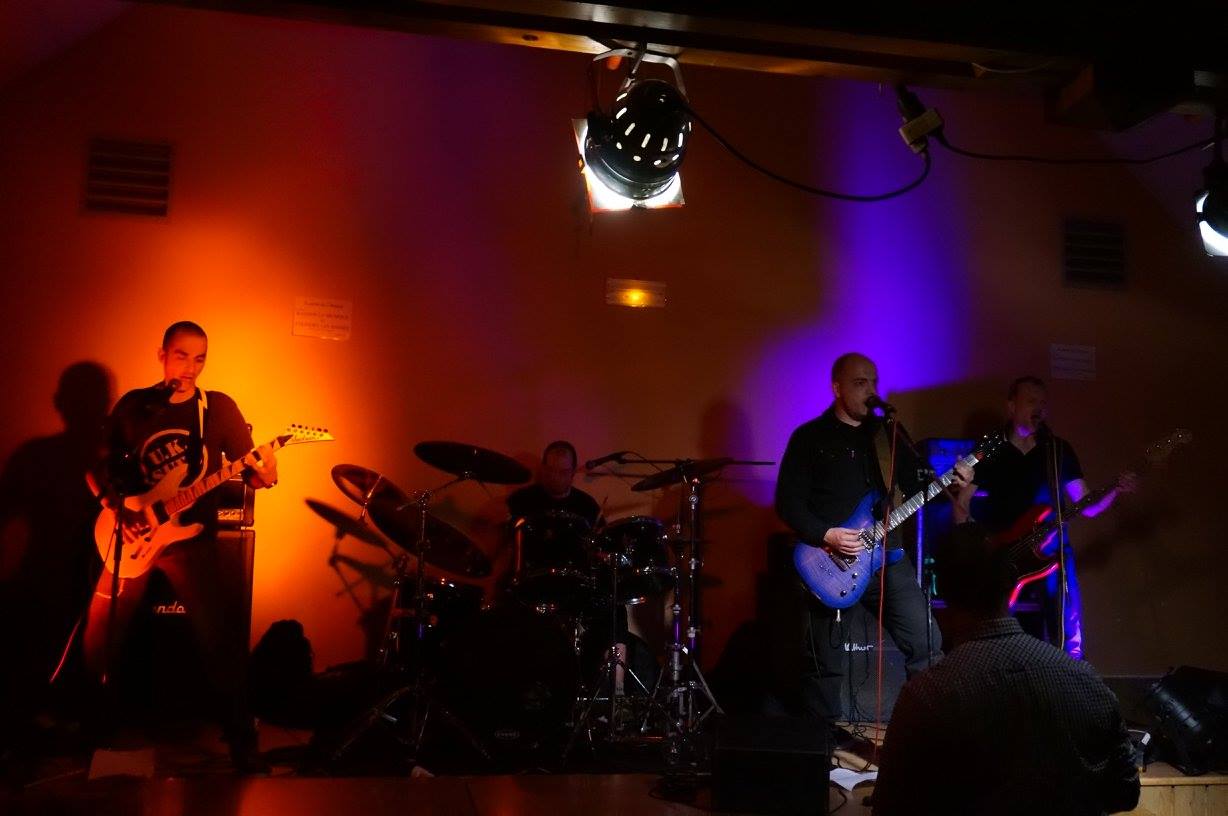 Is music a good way to get out frustration and become a nice person outside the music?
-We think that when youíre an asshole you stay an asshole , life can change you to
Become a better or worst person but itís just life, itís not especially because of music .
Which is the most odd question you ever have got in an interview?
-Itís not boring , but this question is really much hahahaha
Which is the question you want to have but you never get. Please ask it and answer it?
-How do you feel since you Ďre billionaire ?
-Not bad .
Futureplans for the band?
-A new split album vinyl with Arrach from Toulouse , a new video and maybe come to Sweden to kick some Swedish butts !!!
For yourself?
-Julien : Be a Professional musician
Yannick : Have my own place to organize gigs
Antoine : To be a social worker and help people
Nico : Keep teaching guitar
Wisdomword?
-The one who swallow a coconut trust is sphincter too much !
Something to add?
-Guts , sweat , blood , beers , rock and pancakes
thanx four your support , and this interview ! keep rocking
<![if !supportLineBreakNewLine]>
<![endif]>