I have interviewed Stefan 2 times before and this time I gave him the chance to express himself in writing instead of talking and that he did very well. He have precisely released a new album Hjärtats Melodi with members from Hellacopters, Soundtrack among other…This interview was done in august 2004.
STEFAN SUNDSTRÖM...Third time around
What have happened since the last time(98/99) when I interviewed you the last time?
-Yeah, wow, much, my dad has passed away, the kids have been older, I have done an Alan Edwall-record, I have been to Bosnia and then I have found a new band to play with which I really like. Read poetry and I have fell, been a mate to Kristina Lugn and a lot of other stuff
You have been someone that everyone knows about now also with performance on TV in Allsång på Skansen and newsmorningprogram on TV4? How does it feels?
- It feels pretty good, and then I understand that the oldlaldies who likes my Allan Edwall things don´t pee on themselves of delightment when they hear my other stiff. But I do what I do and I´m stand for it. And I like people, mostly.
What was the most funny with being on the program Allsång på Skansen?
-When Lasse Berghagen was on the show. When everything was improvised and they trusted people who was there and they spread some loving.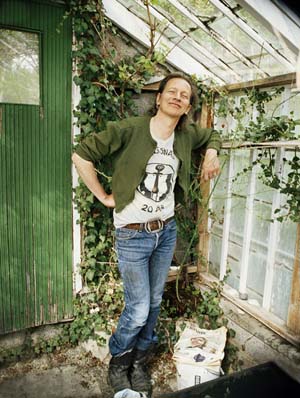 I know that the last time I interviewed you you mentioned Lars Winnerbäck, it was then I got my eye on him and more people have heard him now, was it some kind of "rivalry" between you after that? Or was it only a thing that papers blow up
- It was much so that the papers blew it up, I was a little bit frunk on stage and said some funny things about Winnerbäck and if it was anything so was it my fault. I was maybe a little bit mobbed that he was young and talented but I only wanted to to joke about it. I like Lasse a lot. The papers want shit and that´s some sort of competition all the time, it fucks up a lot of things
What do you think about his latest stuff , now he will go back to the acoustic stuff and you do the opposite way?
-I heard a little of the record which will come soon , acoustic and with Sara Isaksson. It sounded as the best thing in a long time.
I don´t know if I do so much the opposite way i think my record is really soft actually.
How does it feel to play with some younger guys as you do now?
- Fun. A lot of energy and happiness to play. No tired guys. I like it.
Your old band became Weeping Willows, what do you like their stuff?
-I think that Broken promise land is a really good record. Then I´m not so in love with their 80´s sound. But they´re really good musicians with much feelings.
Have you done a record which is called, how can I get it(I saw it on his website under discography)and what is it on it? _What? I have never done anything named so, it must be someone who have burned it at home.
You have done a book too, tell me about it?
- A little thinkingbook with chronicals I have written for Etc. A funny thing which you can read at the subway, no hard to read or heavy thing..
Is it pathetic to see young punks today or do you get happy when you see them?
- No, I think it´s more pathetic when you see old punks like me be PR-men and taht things. It´s really good trying to be soemthing else than Brothers Herrey or Fame Factory.
Is there any good bands/artist in Sweden today?
- Yeah, many I think, Maja Josefsson, Dan Victor ,Gunnar Källström.
A lot of good rockbands,Captain Murphys which I think is good.
You´re on National Records today, how does that work? Why noit MNW longer, was they too commercial?
-No, it was more so that they did so much shit with stockexchangeintroductions and directors which came and went away again and a lot of good people which they fired.
National is small and easy to look over and I like their attitude to music.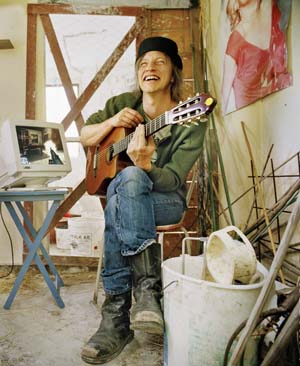 What do you like the other artists there?
-I think taht Mo is good, it´s the only which I have listened to. No Kajsa Grytt is also good and Pugh have done some of the best songs ever written in Swedish.
You did a coverrecord with Allan Edwall, when doe the record come which I´m waiting for, the record witl Bellmancovers?
-Those things are hard.Fred Åkerström have blocked that possibility for the nearest 20 years. I think so.
You don´t think about giving out a box with Läppstars and all other groups you have been in plus some Sundströmsongs?
- No, I have never thought about that.
Which reactions have you got on the songtitle Fula Gubben Hitler(Ugly man Hitler)?
- Not so much actually. People says: Stones. And there they´re right.
Do you care about reviews? Have you ever changed anything after a bad review?
- Yeah, unfortunately but you can´t do much about them. The thing which upset me is that reviewers have POWER to sink a debutante but they pretend that is it so that they haven´t any responsibility and do it it to some entertainment, something which should be a consumerinformation instead. But I have never changed something after a review.
Which is the most peculiar you have got?
- Something about "Stefan Sundström have been divorced and that can your hear on the record"
Mp3 have been big , where do you stand there, does the companies dig their own grave?
-Yeah, if you only are angry and try to stop it they dig their own grave?
-
Do you download something yourself?
- Yeah, when I have broadband and everything I am curious on. And then I maybe buy the whole record if I like it.
You have your figureperson Jan Banan and many other singer/songwriters have their own figures, is that something which is typical for this style or why do you think it is so and are you Jan banan yourself or how is?
-yeah, there is some sort of tradition. I like it and the songs is growing when they goes in to each other. I think that is good.
When is it best to write songs, when youre angry or when you´re happy?
- Nowadays when I am happy.
Which record except from the latest are most satsfied with?
- Vitabergspredikan
Which record is other people most satisfied with? Your most asked song??
- The allanrecord. Amors Pilar.
What could you have done better on the new record? Or is it perfect?
-It could have Johnny Dunder as the last song. But Burman decided it and I gave myself up.
Do you listen to your own music, why or why not?
-No, not much, have difficulties to enjoy it unfortunately.
Please rank your five favouriterecords, five favouriteconcerts bnd the five most important things in life?
- Wow
Beggars Banquet,Stones
I´m your man, Leonard Cohen
Get yer ya yas out,Stones
Istället för vykort,Cornelis
Glimmande nymf, Fred Åkerström
Stones on cirkus 2003
Ebba Grön Långholmsparken 1977
Kebnekaise,Gärdet 1973(I kissed a girl then)
Cornelis, Gamla stan , about 84
Karin Renberg,streetmusic,Gamla stan 1983
Sun
wind
water
food
love
First,latest and most expensive record ever bought?
-Håkan Hellström to my daughter , the most expesnive I don´t know, I´m really stingy, so many midprice is it
Most embarrasing record in your collection?
-Julio Iglesias,really good actually
What do you do to get the time going when you´re on tour?
-I like to lie down and watch out from the window.
How do you think is to live in Sweden and then I mean politically right now?
-If you compare it´s good, historically seen, brilliant, good social securement, no wars. But of course, , some socialism and that I can say things liek this is a good certificate for Sweden.
Should we have our king and his family still left. I don´t mean as a family , more the monarchything? Any alternatives?
- No for god´s sake. He can be some sort of toursitattaraction, let Bert Karlsson handle it so can he sit down in Sommarland with crown and cloak.
You was on Hammarbys record, the footballinterest is it anything who you haveor was it only a funny thing to do(can´t you be on a GAIS-record too??), , fotbollsintresset är det något som
finns eller var det bara en rolig grej(kan du inte vara med på en
GAIS-skiva också)? Går du på matcher och så?
- No I was superuninterested in sport. But all my mates is supporting Hammarby and itwas why that I did that. I comes fro Hammarbyland so it was some sort of duty I presume
Wisdomword?
-Take it easy
Something to add?
-Hare krsna-good!!