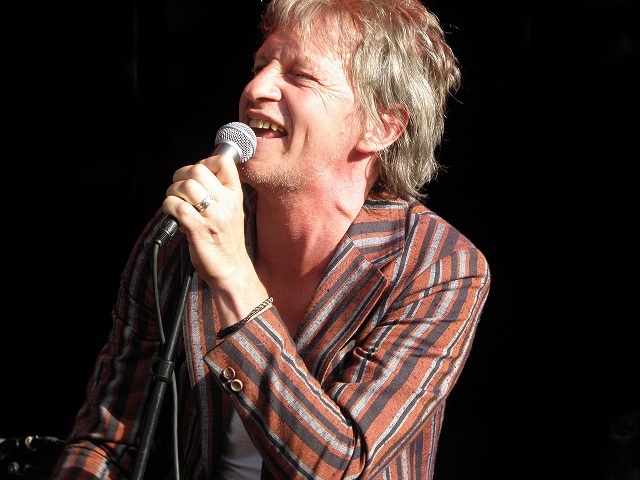 Jag har sett Stefan Sundström många gånger men jag tror faktiskt att detta är första gången jag ser honom med band och bland andra är Strängen från Hellacopters med i bandet tillsammans med ett gäng andra musiker. Som vanligt när det är konsert på Taube-scenen på Liseberg så är det väldigt olika sorter i publiken, det är gamla, det är unga, det är tjocka och det är smala. Konserten börjar med Internationalen och på scenen finns en banderoll som säger Stoppa Högern.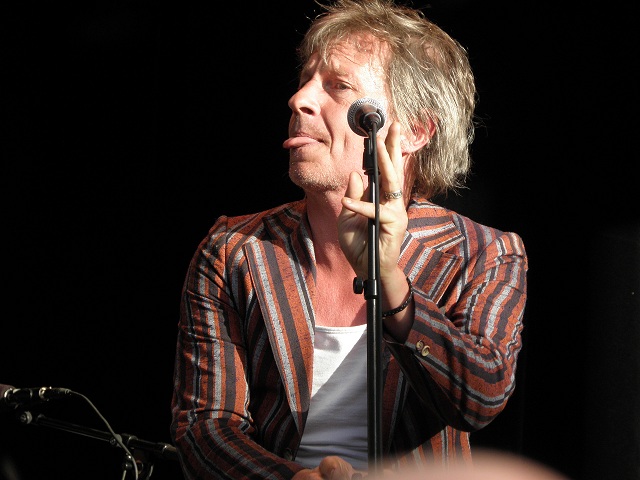 Sundström hoppar in på scenen och ser väldigt ung och fräsch ut men det jag tänker på att jag har alltid sett honom med gitarr på scenen är att han har lite svårt att vara still och det blir ungefär som Thåström utan gitarr men Stefan rullar på sin ring istället för att kråma sig som Thåström gör. Han startar starkt med Nån har slagit upp ett hål och Palme var en fräck filur som är en riktigt bra låt. Efter några låtar så blir det en dyster period som Stefan säger och då spelas bland annat Alla ska i jorden som är tung och bra. Liksom Glöm och dröm som också är riktigt tung. Vem är terrorist är en underbar låt från förra skivan och det blev några mer låtar men inga hits som många kanske ville höra men det är alltid kul att man inte publikfriar med bara kända låtar för det behöver inte Stefan för han har en stor scennärvaro som vanligt men när han inte spelar något instrument så blir han kusligt lik Jagger ibland.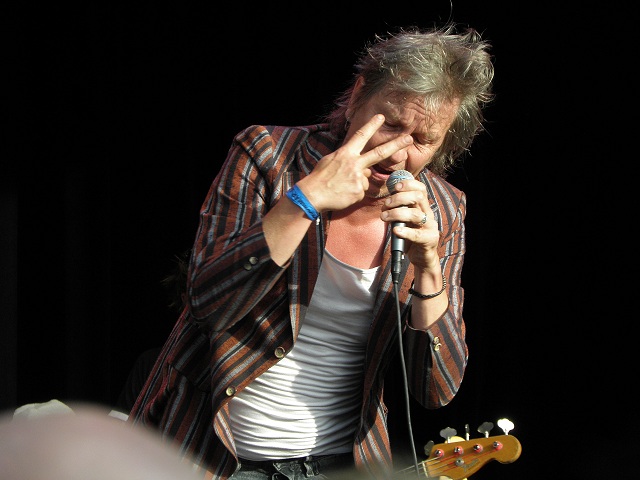 Ett riktig bra band har han med sig också och det är väl Strängen som är den som märks mest men framförallt märks det att bandet har roligt tillsammans. En rolig sekvens är när Strängen blir anfallen av en humla/geting och blir skiträdd och Stefan uttrycker att det måste vara en moderat som anfaller. Som extralåt blir det en Ebba Grön-låt och det är Slicka uppåt sparka nedåt som görs i en riktigt tuff Stones-version. Visst är det en bra konsert utan de självklara hitsen och för mig är alla Stefans låtar hits men 45-50 minuter är inte mycket för en konsert...det är lite synd.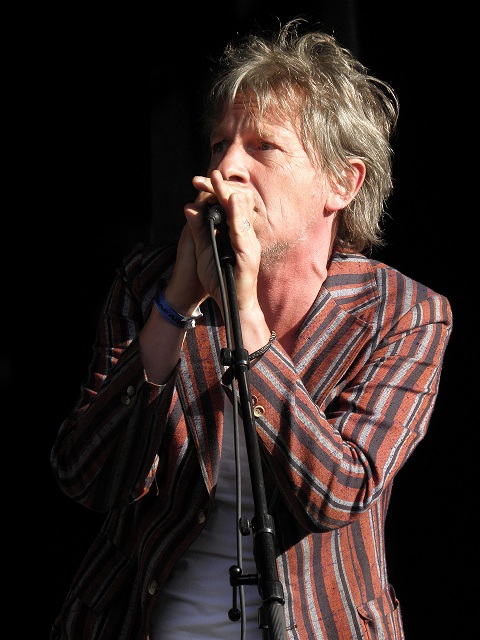 I have seen Stefan Sundström many times but I think that this is actually is the first time I see him with a band and among others so is it Strrängen from Hellacopters in the band together with a lot of other people. As usual when it´s concert on Taube-scene on Liseberg so is very varied in the audience, it´s old, it´s young, it´s thick and it´s small. The concert starts out with The International and there´s a sign on stage where it stands "Stop the right wing".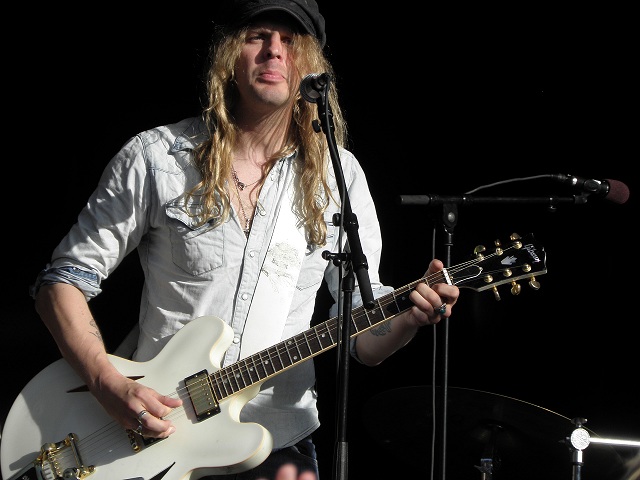 Sundström jumps up on stage and he looks very young and healthy but one thing I think of at once is that I have alays seen him with a guitar on and now he have some difficulties to focus and he rolls his ring on his finger instead of being like Thåström without guitar on stage. He starts out with Nån har slagit upp ett hål and Plame var en fräck filur which is a really good song. After some songs it becomes a depressive period on the gig and then it´s played songs like Alla ska i jorden which is heavy and goof. And so is Glöm och dröm which also are really heavy.Vem är terrorist is a wonderful song from the last record and it becomes some more songs but not any hits and many surely wanted to hear more wellknown songs than these ones but it+´s always fun that artists don´t do as the audience wants and that doesn´t Stefan need because he´s so good on stage and when he don´t have any instrument on stage he´s scary similar to Jagger sometimes.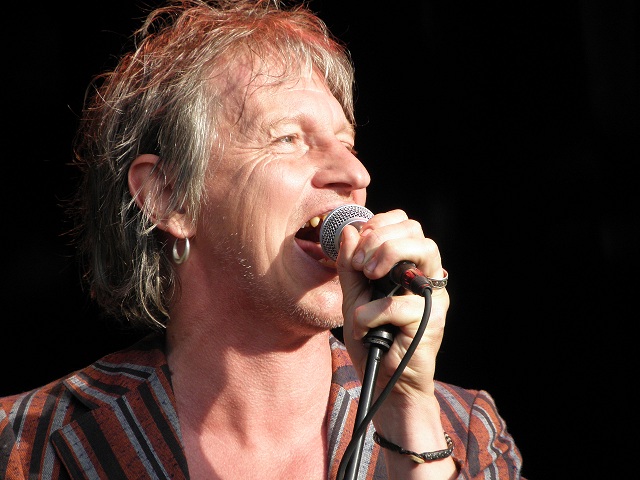 A really good band he have also and it´s Strängen which is the man who is mostly wellknown there and it´s noticed that the band have very fun together. One funny thing was when Strängen got a bumblebee over himself and becomes really scared and Stefan says that it is the right wing which is over him. As one of the extrasongs it becomes an Ebba Grön-song Slicka Uppåt Sparka nedåt in a really tough Stones-version. Sure it´s a good concert without the ususal hits and for me is all of Stefans songs hits but 45-50 minutes is too short for a concert...that´s a shame.