I donīt really like bands with Suicide in their name because Iīm aware about what it can cost. But this german bands music I really like. They answered me really fast and this was the frist interview 2014, January…
Please tell me the history of the group?
-We founded us in early 2005 by me Rüdiger, Sascha, Tober, Matthias and Chris G.
From the begining on we wrote own Songs and just in english. After some local Gigs and a selfmade Demo we released our first record "Devil may care" in 2008 and after that we played Gigs all over Germany.
In September 2009 the second album was recorded and released under the name "Rule the Apocapylse" and more and more Festivalshows and Clubgigs were played. Pretty soon we continued with the work for new songs. In April 2011 "Menticide" the third album appeared and now 2014 we released our 4th Record "Generation Suicide" one month ago!
Please tell me a little about every member, age, family, interests, work and something bad about every one?
-Rüdiger is 35, Tober is 29, Chris G.(Drums) is 31 and Chris S.(Bass) is 28 Years old, we all have Girldriends but none of us is married or has kids.
Our interests are rather the same, we love music, we love concerts, we do some sports and we like to drink. We work in firms and factorys as electricians, except of Chris G. he is a Tennis Coach.
Something bad, yeah that's good, Tober lives not 1 mile away from our practice room, but is always the last who arrives. Chris S. turns into a crabber when he is hungry or tired, believe me itīs horrible when he is both at the same time.
Chris G. is sometimes out of control when he is drunk, but it is not bad anyway itīs more funny, he isnīt angry or aggressive, no way, but he hurts his self sometimes, because of tumbling or clamber up things that fall down with him, it doesnīt suck, we love it, but the next day he knows it was bad for him.
Myself i think sometimes I give people round me a hard time, because i love it to talk shit and annoy the guys when I have good temper, hehe, but i although know i am the master in dragging them down when my temper is bad.
Do you have any other groups on the side of Suicide Kings?
-Just Chris G., he is although Drummer in a Black Metal Band called Deadwood.
Have it been many changes in the line up through the years?
-Not really, Sascha one of the founding members left because of his family to have more time for wife and son. Thatīs why we continued with one guitar. Matthias left because it wasnīt really his kind of music and for him Chris S. joined the Band. Chris G. the Drummer just made a break because of his field of study, but since over one Year he is back again.
I think your sound like if you have taken influences from many ways, how does your audience look like, I can imagine that itīs mixed?
-Thatīs right! Metalheads, Punks, Skins, Rockers and everybody who isnīt a right wing asshole is welcome.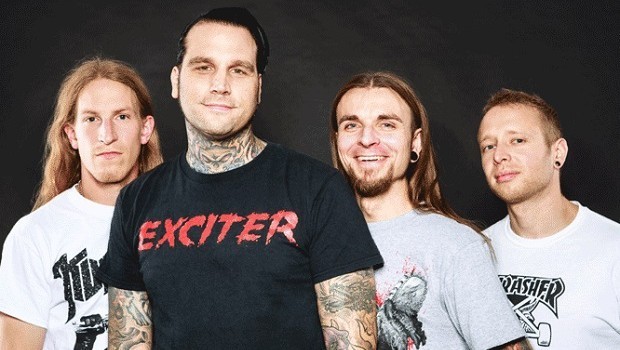 My review sounds like this
It's not that I love the band name like that because my daughter chose to take this road for a year and a half ago. Do not understand why you have to mix in the name Suicide in its name but it is surely a loaded word that concern. Now to this group's music. I would imagine that they have listened to a lot of different music but the foundation's punk course and the singer sounds like Animal of Anti-Nowhere League a little bit and he sounds really mad because just like Animal makes. The ten songs are fast and they are very energy demanding and I like that because there's not many chances to breathe. Fun to check out how the band looks. It looks like two death metal guys, two punks, one of which has an Exciter sweater. It is perhaps not surprising that they sound the way they do ... well, it is all the same but that does not mean I like the band name better for it. 5/12-2013
What about that?
-Thatīs cool, THX a lot, but please do not think worst is our bandname, it doesnīt literally mean Suicide, we are really sorry for what you wrote about your daughter! The name is from an Peter OīFallen Thriller, for us it means to live fast, to love the life, to live on the razors edge and to risk and to dare things in life.
Have the other reviews of the new album been good or bad?
-Oh we are really satisfied with the reviews some are good and most are really good, of course some people donīt like our music and so they didn't wrote the best review, but although these guys say itīs not mine but they can imagine that people who listen to those music will like it, they wrote neutral but not bad about the album and thatīs absolutely Ok for us!
Do you care about reviews? Which do you trust the most the bad or the good ones?
-About every good review we are happy like little kids and sometimes we canīt believe that they like our tunes so much, thatīs great!
But of course we take the bad for us to work on the things they criticize, if itīs about songwriting or my german slang in the vocals, on which i worked, i hope you recognized!?...
But in the end itīs all about taste, like beer, some like it, some donīt!
Have you ever changed anything in your music after some review?
-There is the thing with my german slang, yes I know it was sometimes really horrible, hehe! We do what we want, we do what we love, Punk, Thrash and HC, we are a Punkband and not one of these casting bands which are ready to do everything for the career, we will never get softer or let more of these or that influence our music, if a song is more punk and another more metal, we donīt care.
As you read in my review I donīt really like your name but you're not the first band which have Suicide in their name, is the name important for a band?
-I think no, more important is to be authentic and to live what you do! Itīs about passion and if the people recognize that, they donīt care about your name!
Take a look at Germany, there are a lot of Bands saying they are Metal and they look like fucking fashionheros itīs a fucking Catwalk and they have terrible bandnames, but they have big success!
And punkbands like Broilers, which means a half chicken in english, what a name, but they are true and their music is good and that's why they get what they deserve and that's good!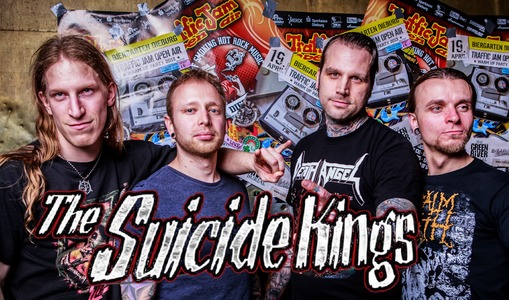 Which is the best bandname you have heard?
-Hmm...I canīt answer this question, there are too much, I like so many bandnames. Ok an example is Bad Religion, sounds great and the Message is good.
Which five bands would you like to have a concert together with, if you could choose five bands from now and from the history?
-Thatīs difficult to answer but for Example: Tankard, Casualties, Motörhead, Good Riddance and of course Slayer.
History I guess you mean bands that donīt exist anymore, so the first name has to be Pantera and then the original Misfits, S.O.D, original Black Flag, Dead Kennedys.
Is there any good bands in Germany right now? In the world?
-Of course there is Kreator, Gamma Ray, Helloween, Accept, Sodom, Destruction, Tankard, Blind Guardian, Edguy, Running Wild, Heaven shall burn and many more and these Bands are Bands which play in the whole world.
In the world seems countless, there are so much great bands we hear and love!
Why do you sing in english and not in german? Have you had any thought of singing in German?
-Never ever, i like the english language, we almost only listen to bands singing in english, so we never thought about singing in german.
Is it more easy to do songs in english? What do you like to sing about?
-Yes for me it is, I donīt know why, but in english it is easier for me to say what I want to say in lyrics. And for me english music sounds better may be because german is my mother tongue, but anyway i like it to sing in english, I think I altough can emphasize lyrics better.
Yeah itīs mostly about the things in life, the fighting against the system, fascism, capitalism but although about fears, taking chances or just about having a good time and of course drinking!
What do you know about Sweden?
-Not enough and this is sad, Iīve never been there for Holidays.
But our Drummer has been there quit often, because he loves the nordic countries!
I just know that you have a beautiful country and beautiful girls...but isnīt beer and booze so fucking expensive, hehe?
Have you heard any good bands from Sweden?
-In Flames, Soilwork, Amon Amarth, Hammerfall, Bathory, Marduk,
Sweden has a lot of really really great Metal Bands...but we donīt listen to ABBA hehe...and these bands are absolutely amazing: Refused, Raised Fist, Millencolin, Misconduct, Bones.
Is it many interviews? Is it boring?
-No it is a manageable amount. Boring? No way, we like Interviews, we like feedback and the interest of our work and we love to talk to people in other countries
Which is the question you never get but you want to have? Please ask it and answer it?
-What do you wanna say with "Generation Suicide" the Titel of the new Album?
Generation Suicide and especially the title track is dedicated to such people wich are sitting full with food on the couch and build castles in the air.
Which are programmed by TV and the media and represent nothing more than a consumer in this world.
In one hand the smartphone and in the other hand, the remote control,
but afraid to switch off, the reality could come back... thatīs what they fear.
Sighing breath, ignoring of the superficial and boring life they have and complain the whole time about their lousy content, the overtime work and the chief that sucks.
But they donīt dare a change.
These people need not be afraid of dying, why? they are already dead yet!
Please rank your five favouriterecords, five favouriteconcerts you have been to and five most important things in life?
-Records: Accept-Balls to the walls, Rancid-...and out came the wolves, Slayer- Reign in blood, Metallica- Master of Puppets, Sepultura-Arise just a few but although many many more.
Concerts: Tankard 30 Years at Batschkapp, Rancid at Groetzrock, Annihilator at Rockfabrik, Leftover Crack at Exzess, Municipal Waste at Nachtleben
Life: To be healthy, to be lucky, to play live, to have good friends, to stay away from trouble
First, last and most expensive record ever bought?
-That was Die Toten Hosen-Damenwahl, itīs a german Punkband, I guess you know them in Sweden, or? And the last was Betzefer- The devil went down to the holy land, we toured with these Guys from Tel Aviv end of last year through 4 german citys, if you donīt have the record, buy it, you wonīt regret, believe me!
Hmm expensive I canīt remember that i ever bought a real expensive record, I pay what the company want me to have, I know the money and the time a band has to give for it, so itīs ok. Or i can say i am glad to have the most of the good vinyls from the beginning, so i must not buy them today at Ebay for bad prices.
What do you think about mp3 and downloading and that stuff?
-Itīs Ok and itīs a good way to spread your music, we arenīt angry if someone will download our album, we just want that people listen to our tunes, in this time small bands like us donīt make any money by selling records thatīs for sure. But Collectors buy records their whole life, so as we do, i personally donīt have a lot of mp3s or something i like vinyl and cds...itīs everyone's own decision. But what would be the world without small mp3 players, this is really good, i hated my big 10 sec. antischock discman, hehe.
Is it good or bad for a band like yours?
-It doesnīt really matter, i think at last it is better, people have the chance to download and share in good ways, so i think we can reach a lot of more punks and metalheads out there and that is in our interests not any money.
But itīs more fun to release real and physical records?
-Of course, itīs great for a band to be in the studio, workin hard but at least you can hold your own new record in your hands, itīs a great feeling and no one can take you this cd, itīs like a tattoo.
What does punk mean to you, is it only a word and musicstyle or is it a lifestyle?
-Itīs both its music and lifestyle, the one could never exist without the other! Itīs a heartbeat, itīs passion, you donīt need to have a mohawk on your head, punk is inside your head, itīs rebellion for lifetime. I think a punk hadnīt said something like that:
"from today on i am a punk", no you are born as one, itīs no decision itīs in your genes.
But although itīs just a word with 4 letters...
Futureplans for the band?
-Playing live, playing live, we hope for Festival in 2014 and good clubshows and we hope that soon we will cross german borders for a couple of shows...and of course we will write new songs, next year we have our 10th birthday, this screams for new songs and the 5th release.
For yourself?
-Health, good music, that our band will exist a long time, to meet cool people all over the world while playing there and that the people around me will stay forever and healthy.
And of course that i can see more places of this world for holidays...i hope someday a dream will come true and i can spend some good time in the USA to see the land and ride on the highways with a bike!
Wisdomword?
-Fight the system for evermore and stay true to yourself!!!
Something to add?
-Yes! This was a great interview with real good questions and it was a great pleasure for us to talk to you and your readers. Thank you so much for your support!!! We wish you all the best and hope you continue your great work with skruttmagazine and may be one day we will play in Sweden, then you are invited to join this for free entrance and drinks of course, hehe!
Keep well mate and the best regards!!!