Suckerpunch is a halfnew group from Falun(I think) which I got a record from . I got in contact with Chrille from the group and here follows an ICQ-interview which is done during two hours in august 2003.
Yeah, then we begin, a little history of the group? Where, when and why did you start to play?
-Chrille:We began to play late summer 2000.It began with that I(Chrille) talked to Axel(the drummer) and Martin(guitar and chorus) about starting a band which should be influenced by bands The Wildhearts, Jimmy Eat world or The Get up kids and so on.. And we splitted rehearsalroom with another band so we asked their basist(Jonas)if he wanted to be in the band. Evereything went out OK and after that we have released five demos and our first fullengthrecord. We have done about 20 gigs here and there
You haven´t any label, because Six Pack Productions is your own label
Chrille:-It´s an own label which H recently have started. I have thought about starting a productionlabel which is doing records, websites, posters and recordcovers. But with music as the main thing. I´m working with a compilation right now and it will be released somewhere this autumn(I´m looking for band so do you know any please give me a call). But the Suckerpunchrecord is financed by our own money.
How much did it cost and how many have you done of it?
Chrille:-The record cost about 7500 and it´s printed in 550 and it had a recordingcost in 7000:-. That´s the cheapest way to dit I think….the record is printed in Czech Republic and the recording we got a really good prize on. We recorded the record in the studio Wall of Sound in Falun and the guy who runs the studio is a friend to the band and he´s really good doing business with.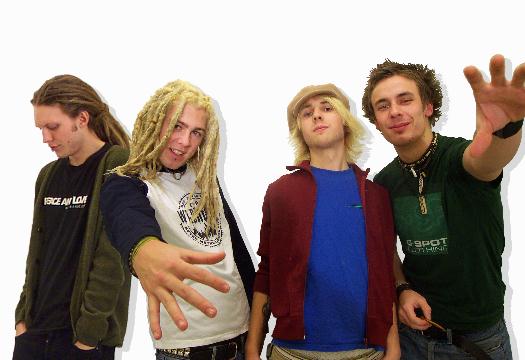 You have no thought about doing a burned CD?
Chrille:-We have released five burned demos already and it was time to take a step foreward in some way. And then people take a printed record more serious. But personally I don´t see any difference on a record , if it´s burned or released on a label…it´s music anyhow.
You haven´t heard anything from any labels? Other labels I mean, bigger ones?
Chrille:-It´s worser with that. We´re wrong in time or something like that…but we works a lot of promoting the record both In Sweden and in other countries. So who knows? It feels like it goes foreward and it seems like people like what we´re doing.
I wrote something that I really don´t like to write, that you sound unswedish, do you take it like a compliment or how do you take it?
Chrille:-We take it as a big compliment because it´s stupid who sound like all other bands in Sweden. And it would be very odd if we sound like a swedish band…because we don´t listen to any swedish band. So thanks for the compliment.
I compared you to a harder Hard-Ons, what other things have you been compared to?
Chrille:-Hmm...no one of us know about Hard-ons? Otherwise have we been compared to the bands I said as our influences..
Have you never heard Hard-ons, shame about you.Mention, when, in the releasepaper or what? Which band was it?
Chrille:-The band I mentioned in the beginning of the interview... But I promise to check out Hard-ons…do they sound like us they must be good…...haha...
Yeah, you mean them, I´m a little bit confused, how would you describe your music in three words?
Chrille:-Great kicking power-melodic-core rock to say as Birdnest mailorder…eeeh, some more word than you thought maybe......
Yeah, it will go through….have you got any reviews yet on your record….how are they?
Chrille:-Eeh...we have got good reviews on our promo with songs taken from the record. And I can say that we haven´t been refused yet, and to says as Ben Hopkins on Logo Magazine said: "Finally the best demo that has found it's way into my grubby little mitts lately is ""Somewhere in the middle of..."" by Suckerpunch. If you like heavy-harmony-pop with substance..." But you´re the first one who has written about the album.
Yeah, finally first with something? Do you still have any demos that I can lay my hands on?
Chrille:-You can get the two last demos which was released before the record but the most of the songfs are on the record. The three first demon isn´t anymore
How much for them then?
Chrille:-A twentykrona or something like that which will pay the porto and the production.
You said that you didn´t listen to swedish music but some good swedish bands is around or??
Chrille-Of course there are some good swedish bands! To mention some:: Fireside, At the gates, Hellacopters, Sator (my Swedish favoruiteband), Skumdum, Sonic Surf City and so on...
Sator will be out soon and play I think. What does the word punk mean to you, is it only a word or is it a lifestyle?
Chrille-For me there is a thing called punk which is music and then punk with is about dirt. But in the bottom everything is a word which makes people be in some certain way…it feels like I don´t care. If you´re only happy….
Dirt??
Chrille:-Yeah, you know when you come to Hultsfred 98 to see Misfits and you´re met of people who lies in the newmud with more studs than bones in their bodies and don´t seem to care about anything.
Yeah, punks like that isn´t so fun but the political punk I mean? Do you think that music and politic goes hand in hand? Who does the best political music?
Chrille:-..The political punk is really good….in some cases anyway. Politic can go hand I hand with music as long as the music have bigger priority than the message. For myself I think it´s better to mix everything which come up in my head. The best political music in my eyes are Bad Religion. But I don´t put to much weight on politics when we´re talking about when I listens to music. I have enough of it on my spare time. I want to see music as a happy thing even if it´s sad or happy.
Where do you stand in the euro-question?
Chrille:-EhhhI think i´m sceptic. The whole things seems to be a little corrumpted…but who the hell am I to judge..
All opinions counting…now back to the music…please rank your five favouriterecords, five favoruiteconcerts and five most important things in life?
Chrille:-Five records(Not in a order and just right now):
The Wildhearts - Fishing for luckies
Jimmy Eat World - Bleed American
All American Rejects - S/T
Sonic Surf City - Life´s a Beach
Tool - Aenima
Five favourite concerts:
The Wildhearts - Astoria 03 oct 2002, London
Turbonegro - Hultsfred 2002
Fu manchu - Hultsfred 1999
Suicidal tendencies - Hultsfred 2000
Sparta - Hultsfred 2003
Five important things:
music
to like...
justice
mother
to be yourself and stand for the things you think
it took a while thinking out those things…yeah , I hchange every day…and this was today
The first, latest and the most expensive ever bought?
Chrille:-First record: Queen - Greatest hits II
Latest record: Johnny Cash - The man comes around
Most expensive: The Wildhearts - Best of The Wildhearts
Now have we soon been doing this for two hours, but I want you to tell us a little about every member, age, family, work , earlier bandsand something bad about every one
Chrille-Jonas Liljegren 20 years basist.
Interests:climbing, playstation II, extreme sports.
work: with sick poeple in their homes
earlier bands: Tony Rocky Horror
bad about him: He drank a lot of wine and throwed up through a carwindow til he didnd´t knew anything
Martin Nilsson 22 years guitarist and more..
Interests:redwine, his cat Iskra and chaosmusic
Work:unknown
Otherbands:Feeble, Iskra, Deud
Really bad:The biggest "smygbult"through all times, polite outside and a not so polite inner.
Axel Östberg 21 år drummer.
Interests: Dead languages, to debat:, Civilization III,
work: The same as Jonas)
earlier bands: Gonzo, Elias and the chicatears
bad: He tried to get an older girl because of his polisongs in Spain…
Christian Rask 21 years, guitar and vocals.
interests: snowboaerd and waterskking and skateboard. Sixpack productions, terrariums
arbete: Sixpack Productions, studera och möjligtvis "The Battle" (snowboardtävling)
other and earlier bands: The Sick, Gonzo, B.I.L., Hoax, Never Ending Story.
Bad one: I really forced down a big limp of bananliquer and a lot of beers in Portugal. I spend the rest of the evening saying that someone have been poisoned me and the beer…it ended up being throwed out out on the street.
Now it´s time to end this interview, futureplans??
Chrille:-We will probably go out and play with Skumdum and Mimikry during the autumn…and then a trip to London for some gigs and then to Chamonix for a gig and beside of that we will take over the world or something like that.
A last wisdomword?
Chrille:-Just smile and get over it!
Something to add?
Chrille:-Look after us and then we see each other out in the fog....We should all just eat Bush!