This interview with brazilian Suversivos was done in may 2009.
History?
-Brazilian Band formed in 1997 by socialist militants with the proposal of making punk rock from the perspective of the Marxist ideas.. The Subversivos released their first CD in the beginning of 2001 (Hinos de uma luta de Classes), produced in way entirely independent, through the label created by the own group "Marx..s not dead! Records."
In the year of 2004, the Subversivos released their last cd, the Democracia Vermelha(Red Democracy). More heavy guitars and strong order words. Strong songs like "Abaixo o Vestibular" and "O que Fazer" makes this disk a true slap in the face of those that keep the individualism as their first rule and the capitalist empire.
During all the time, the band frequented the most important stages of the brazilian punkrock, as the Hangar 110 in São Paulo (known as the most important house of the underground of the country), and the band revelation of the 10 years of the "Abril Pro Rock Festival", in the opinion of the journalist Fábio Massari. With the commitment of fighting for a fairer society, the Subversivos were always close of the social movements, and among several other contributions, they were present in the opening of 21° EIJAA (XXI International Meeting of the Antifascist and Anti-imperialistic Youth) that took place in the year of 2008 in Rio de Janeiro.
Please tell me a little about every member in the group, age, family, interests, work, school and something bad about everyone?
-Camilo (lead singer), 30, is graduated on design and work as design professor. He has two daughters, love tattoes and he's a socialist militant since he was on school. He's our hammer voice.
-Leonardo (guitar and backing vocals), 27, is graduated on design too and work as tattoo artist and general designer. Member of PCR (Revolutionary Communist Party) for 9 years. He's the Ska-folk-punkrock man of the band.
-Tiago (guitar and backing vocals), 21, is trying to graduate on computer science. He loves beer, football (he's a Náutico' supporter) and the Ramones. He's the three-chord-rockabilly-catchy generator of the band.
-Hallan (bass), 20, is studying to be a fireman. He loves the skinhead culture, Le parkour and is the youngest kid in the band. He's got the Best reggae lines in the bass.
-Renan (drums), 24, is studying electrical engineering at university. He loves football too and also ska music and punkrock. Its a Santa Cruz FC supporter.
To play this sort of music in Brazil, how is that??
-It's hard. It's very difficult to be self-sustentable playing punkrock here in Brazil, which is a very big country, what makes the costs of traveling between the big cities very high economically. All the members do that for passion, fun and because of the revolutionary content of the message we play.
It feels like you have an old punkstyle? Much influences from the past?
-Yeah, it comes from the The Clash, Ramones, old Brazilian punkrock bands, other british punk bands and the Oi! Music. We also have new school influences provenient of each members that play or have already played in the band. As we say, it's a subcultural chemistry of all the personal influences what results in our music.
Was it any good bands back in time in Brazil?
-Yes, the punk culture began in Brazil effectively in the beginning of the 80's, with some old bands. It has a very good moment in the 80's with bands like Garotos Podres, Cólera, Ratos de Porão, Plebe Rude. In the 90's lots of cool bands were formed and with some difficulties, Brazilian punk still goes on.
It seems to be very political your music, is it so?
-Yes, Subversivos were formed with this intention. Not only protesting, but also to propose ways and practical solutions to kill the capitalist exploitation all over the globe.
The label you have is it a good label?
-Our label is just something we created to release our two albums (Hinos de Uma Luta de Classes/2001 and Democracia vermelha/2004), because we don't have structural and financial conditions to release other bands. But we are planning to release our next album with the collaboration of other labels and distros, with the intention of reaching people in all parts of the earth.
Is there any good bands around nowadays in Brazil?
-There lots of cool bands. Nowadays, bands that kick ass are Juventude Maldita, Flicts, Sweet Suburbia, Morte Cerebral, Zumbis do Espaço, Bad Luck Gamblers, 88Não, Nômades, Ugly Boys... And many others.
What is the song Realismo Socialista about?
-Initially, Realismo Socialista is an graphic artistic style created on the USSR. Our song was inspired by the heroic ideals of the people that stand up and fight, urging the idea that it's the organization and the conscience that will turn the socialist proposal a reality for the workers.
How do you see on mp3 and downloading and so on?
-As an effective form of disseminating culture and knowledge, something that is bringing damage to the industry because they still don't have invented any effective way of commercializing music in that format. We made available all our music in mp3 in our site, but the people are free to donate the amount of money that they to judge fair for the music.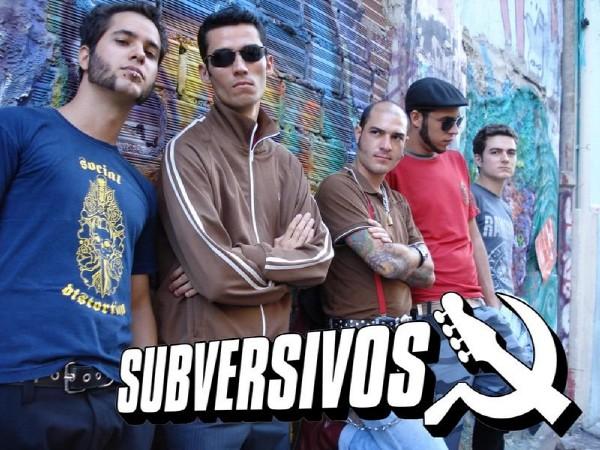 What does punk mean to you, is it only a word or is it a lifestyle?
-It's basically the attitude of having your destiny in your own hands. It's music, behaviour, feelings and faiths all together. It's something very important for each one of us in each one's own way and that we'll have for the resto f our lives for sure. Do it yourself is even more important if you have something important to do.
What do you know about Sweden?
-We know it's a very cold country, where the girls are incredibly pretty and where Brazil was football world champion for the first time. Particularly, we're so much curious about all the nordic countries.
Have you heard any swedish bands which you like?
-Yeah, we know Sweden is a place known by the good bands you have. Asta Kask, Troublemakers, Millencolin, Satanic Surfers, Hellacopters....
You like football or what?
-Of course, 3 of us are active supporters of football teams. Tiago and Leonardo are Náutico supporters. Renan is a Santa Cruz supporter. Both teams from our city, Recife.
Which is the best political group/artist?
-The Clash. But we enjoy some current bands, once we were presented to the music of a ska band from Italy called Redska, which is on everybody's playlist nowadays.
Please rank your five favourite records, five favourite concerts and five most important things in life?
-Very difficult and complex question. Let us see some...
London Calling – The Clash
Leave Home – Ramones
Sweet and Dandy – Toots & The Maytals
Shock Troops – Cock Sparrer
,,,,,,,,,,,,
About concerts, we really don't know!!!
,,,,,,,,,,
Solidarity, Honesty, Perseverance, Companionship and Friendship
First, last and most expensive record ever bought?
-I only remember the first, Loco Live(Ramones).
Most embarrassing record in your collection?
-There's a funny brazilian guy called Supla.
How is it to live in Brazil right now,I mean politically?
-Well, we live in a fake democracy like most countries of the world. A place where there are very rich people and very poor people. A place where the rich one's(minority) choose the rules and the hardworkers must follow it.
Have you done anything more than Democracia/Hinos..., if you have how can I get it?
-This is our basic discography. We have also participation in some local and national compilations. We are now in a worldwide compilation called Sunrise, released by the Proletopia Recs from China, with other 11 worldwide bands. All bands have the same political point of view, a socialist point of view. You can check it on www.myspace.com/proletopiamusic or www.proletopia.com .
Who have done the superb drawing on the record?
-Our lead Singer, Camilo Maia, and our ex-guitar player Eduardo Padrão.
Which type of people comes to your concerts?
-In our area, things are not so much segregated, so different kinds of people. Punks, skins, hardcore kids, socialist militants, and etc..
Which type of people do you miss there?
-We miss a bigger amount of the same people, making the local and national scene bigger and bigger.
Futureplans for the band?
-Record a fucking great new album and touring over Brazil this year. Next year, we have plans of making our first international tour in Europe.
Futureplans for yourself?
-Tiago: graduate and touring with the band in Europe and all over the world.
Wisdomword?
-"If you get angry every time that an injustice is committed, then we are companions" by Che Guevara.
Something to add?
-Thank you so much Peter! As we said, we are planning to do an european tour in April/May 2010, in partnership with Insano Booking ( www.myspace.com/insanobooking ). We are beginning to work on it, so if anyone is interested on booking a date, contact us!!
www.subversivos.com (only portuguese)