Suburban Lockdown is a band which do not have a drummer right now but the other three answered my questions this december 2006.

Currently the lineup is Kevan - Vocals, Roger-Bass, and Mike-Guitar

History?
-Roger:We started in 2002/2003 somewhere around there.
We were all in other bands and knew each other from the scene,and when we all had nothing going on,we decided to start Suburban Lockdown.

Please tell me a little about every member, age, family, work, interests and something bad about every one?
-Roger/Bass:old enough to know better,and still dumb enough to not care.I load and unload trucks with a forklift.Married and 1 kid.Horror movies and Rock and Roll.and as for something bad...Kev is shorter then me.
Kevan/voc als - Fuck off Rog, Rog is so old that he has begun the shrinking process maybe 10 years ago he was taller than me. Anyway I uh teach, coach a girls high school futbol/soccer team, assist at the college I played for, and head the premier womens club soccer team for my area. So it keeps me pretty busy combined with the band. As for bad I am the youngest in the band and Roger could be my grandfather.(I am pushing 30)
Mike- Iím a bounty hunter with a tough exterior, but a heart of gold. As for bad, Iíll tell you after a couple drinks.

My review of your record is like this SUBURBAN LOCKDOWN-LOCKED IN(CD-STEEL CAPPED RECORDS SCRCD004) When Iīm buying a record with an unknown band so must I always check out the thanklist to see if there any good bands there. It says something about the group and hopefully it says how they sounds. I did the same thing with this record and here I see groups like GBH, LCB, Beerzone, Defiance, Partisans and Blitz just to mention some and that looks interesting. Really wellplayed punkrock is it which is streaming out of my stereo and it's streetpunk mixed with a little hardore aīla American hardcore which si the thing for this group. Really interesting and good sounds the group and Suburban Lockdown is one of the group which have been impressed on me in the last time.(EIGHT) 4/12-06
What about it?
-Roger:I think you hit it on the head!
Mike- Word up.

Is there any other bands youīre being compared with?
-Roger: I've heard us compared to discipline,Casualties.
Kevan- Iíve heard Motorhead of course, with some Test Tube Babies, and a bit of old AF.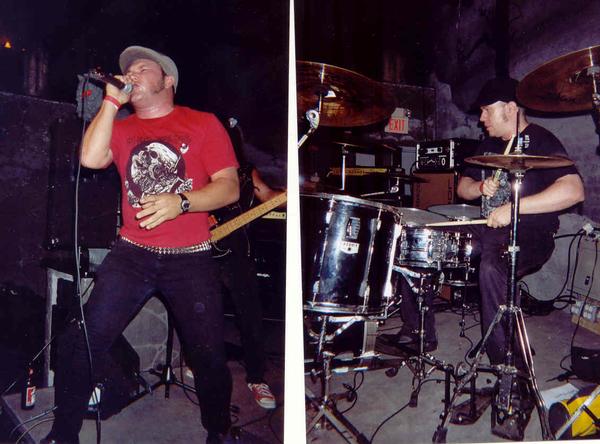 Do you care about reviews?
-Kevan- I know Roger does, thatís probably why he didnt respond to this question. We had a review in MRR that wasnít necessarily bad but clumped us in to a typical punkcore/UK 82 type band and he flipped and refused to read the rest of the issue. Of course being in a band you put a lot of your heart, soul, time, and effort into your music you have to care at some level. So yes.
Mike- There is no such thing as bad press.

Which is the most peculiar review you ever have got?
-Roger:Hahaha..when someone said we were the same as all the other POP PUNK bands.
I wondered what cd he listen to,because it wasn't ours!

How would you describe your music in three words?
-Roger:Real Punk Rock

How is it to live in your homecountry?
-Roger:I love America,as I am sure you love your homeland.Things could be better,but they will get there.
Kevan: America is a great place to live in most cases. It could be a lot worse.
Mike- America, Fuck Yeah!!!!!

What about the government?
-Roger:Left/Right fuck them all!
Kevan: There is good and bad in all countries right now we are in a sad state of affairs but so is most of the world at this point. Every time I turn on the news I wonder how much fucking time we have left before everyone starts dropping bombs on each other.
Mike- I love our constitution. And our congressional page system.

Do you think that music and politics goes hand in hand?
-Roger: I try not to write political.Rock and Roll is suppose to be about fun!
Kevan: I like a good mix, but in this band we stick to more social issues which in turn can relate to politics, but in the end if it sounds good and we like it fuck it.
Mike- It depends on the band. If they are visionary political thinkers, such as Nashville Pussy, then yes.

Best political band?
-Roger:The Clash, Fuck Crass!
Kevan- The Clash the only band that matters besides Sublock!
Nothing better than going to the local pub playing the entire singles collection a few times in the juke box and running out a bunch of college kids.

Is there any good bands in your homecountry now?
-Roger:Oh Yeah! Old and new!
Mike- Of course, but I can tell you as far as our home state, itís all about New Mexican Disaster Squad, Polluted Youth, and The Horror.

What do you know about Sweden?
-Roger:Only country where the clouds are interesting,haha Line from a Stranglers song. Not much really.I know I wanna come there.
Mike- I think you have it right with your welfare system. Iím not a personal fan of seeing people starve or go without medicine. I also think itís great that you are descended from Vikings.
Kevan-I loved the country when I was over, but walking out of pub at closing time and the sun still fucking out kinda threw me off.

Have you heard any good Swedish bands?
-Mike- Randy are on of my favourites, along with Arch Enemy. The Hellacopters are good as well.
Kevan-Guttersnipe, The Regulations, and The Pints to name a few.

What does punk mean to you, is it only a word or is it a lifestyle?
-Roger:I been one for longer then most punks been alive today. I think it's a lifestyle,the way you do things..for me it's the way I play Rock and Roll.
Mike- Not having to wear the uniform, you know, Mohawks, tight pants, bullet belts, Hot Topic sales items.
Kevan- Wearing bullet belts, mohawks and tight pants. HA HA. Really the community and family it breeds throughout the world. The heart and emotion and being able to stand up and take a piss even if it is into the wind.

Please rank your five favourite records, five favourite concerts and five
most important things in life?
-Roger:Ramones Rocket To Russia,Deadboys Young Loud and Snotty,Stranglers Black and White,GBH City Baby Attacked By Rats,Motorhead Ace Of Spades..Ramones,Stranglers,Bad Brains,Toy Dolls,Dickies...Sex,Food,Sex,Rock and Roll,Horror movies
Mike- My guitar, fifteen times.
Kevan-The Pogues-Rum Sodomy and the Lash, The Clash-Give em enough Rope, The Dead Boys-Young Loud and Snotty, Anti Nowhere League-We are the League, Rose Tattoo-Assault and Battery,
Peter and the Test Tube Babies, GBH, Major Accident, The Crack, The Skatalites
Music, soccer, women, beer, food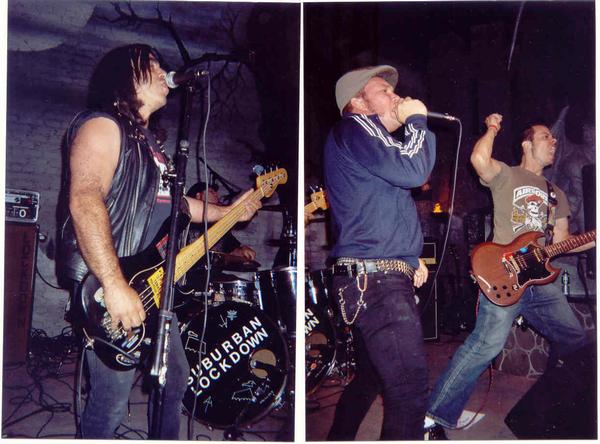 First, last and most expensive record ever bought?
-Roger:Steppenwolf At Your Birthday,Dictators D.F.F.D,
Most expensive was a Stranglers box set.
Mike- Vinyl? First, Spoke 7Ē. Last, Mission of Burma, Vs. Most expensive, The Damned, Shadow of Love 10 ď.
Kevan- First/Poison-Look what the Cat Dragged In, Last/External Menace-Process of Elimination, and most expensive/The Avengers first lp

Most embarrassing record in your collection?
-Roger: I don't have one,not ashamed of anything I listen to.I listen to everything from 60's synth pop hardcore,punk powerpop everything.
Kevan: Chipmunk Punk it was an old lp that had Blondie songs sped up like they were playing at 45rpms, but fun as hell when played while drunk and great cover art to boot. I think I saw a Prince record in Rogers collection and a blow up doll, or was that an old bandmember? I cant remember.
Mike- Probably the first Killers record. Hey, theyíre from Vegas, they canít help it.

You says that you have some roots in Gothenburg? Please tell me? And you have played football here or what did you say?
-Kevan: My moms side of the family traces back to Sweden hence the different spelling of my first name. I played soccer over in Gothenburg with an Olympic Development Team I was playing with before I went on to play in college and professionally.

Which type of people comes to your concerts?
-Roger:mostly 15 to 40 year olds,Skins ,Punks,Metalheads,a good cross section.
Kevan: The scene here in the states is really young especially in FL its harder for the older crowd to get out to shows because the all ages shows have to be over by 10:00 so the disco tech can start or some other lame shit.

Is it many interviews? Is it boring
-Roger:We have done a few,I get a kick out of them.? Boring?: Not to me.
Kevan: Anytime I can make fun of Rogers short ass itís good times.

Which is the question you never get, please ask it and answer it?
-Kevan: Is Roger really 100 years old?, and was he really too short to play with the Ramones? Kevan: The answer is no he is only 65, which helps out on tour because he spends less money by getting the senior citizen discount. And he really tried out for the Ramones and they told him that he was too short. HA HA he is pretty short. Sorry Rog.
Why are good drummers so hard to find? They are either sexual deviants, or they canít play.

Is it any chance to see you in Sweden soon?
-Roger: I sure as hell hope so,We wanna come to Europe really bad!
Kevan: I would love to make it back over.

Where is the best place to play?
-Roger:Thats hard to say,everywhere we play we have a blast.
Kevan: Agreed
Mike- Jacksonville, Orlando, Savannah, Philly, Boston, Eatonville, Compton.

How is a good gig with you? And which is the biggest band which you have played with as a support act? And which is the biggest band which have been support act to you?
Kevan: We have played with a lot of great bands old and new. GBH, The Vibrators, The Briefs, Defiance, Clit 45, Beerzone, Murphys Law, The Disasters, Hudson Falcons, Iron Cross, The Freeze, LCB, Naked Aggression, The Business, and probably some others. We are still working on that second question.

The name where does it comes from?(yeah itīs a boring question but itīs interesting)?
-Roger:hahaha..It was the only thing we came up with that everyone could agree on without being forced into submission.
Kevan: In the past the rich and middle class moved from the cities to escape rising crime rates. Now there is a trend in most major cities to fix up the downtown areas and attract the rich back to the cities. Now there is a shift of higher crime rates in the suburbs because of the lack of community involvement, rising cost of living, and stagnant wages. So the name kinda symbolizes the new shift in our society. Or maybe someone in the band just made the shit up so we could play shows and it kind of stuck before we could change it. Take your pic of explanations.

What shall we do about all rascists?
-Roger:I say let them do their crap.so I can see who they are and know they are a bunch of dicks with ears.
Kevan: The only thing we can do is communicate with each other and educate our youth in a proper manner so they don't become intolerant and ignorant asses.
Mike- For the most part, it appears that the fascists discourage more people with their views than recruit them. And honestly, even if someone is not a rabidly vocal racist, they can still be just as dangerous as the loudmouth fascist. So is silencing them the answer, or would paying attention to the reasons for racism more important?

The best band in punkhistory?
-Roger:for me Thats a 3 way tie,Ramones,Deadboys,Stranglers.
Kevan: The Pogues, Dead Boys and Clash for me.
Mike- N.W.A., or maybe Mayhem (how punk is a band that literally kills each other? G.G. Allen was a school girl in comparison)..

The most important punksong?
-Roger: My Sharona,Because it may not be thought of as punk,but It was and it broke through on radio.
Kevan: Every single one that helped me through a shitty day, helped me remember the good times of the past, or evokes some different kind of emotion in me that relates my life to the artist or a general feeling around me. I could write a book about this shit.
Mike- ďFuck the PoliceĒ, by N.W.A., because it brought the FBI down on them.

Futureplans for the band?
-Roger: To take what use to be the Ramones top spot.
Kevan: Ramones Ramones Ramones thats all Roger ever talks about. For me to put out some quality records, tour the states and every part of the world, and pay the bills.
Mike- I came to bring the pain, hardcore from the brain, letís go inside my astroplane.

For yourself?
-Roger:To get rich ,and start a horror movie channel and just watch it all day.hahaha
Kevan: Footy and PunkROck that s my life and always will be and down the line maybe a little family to carry on the legacy.
Mike- To learn how to become a better cook, and a better shot. And learn how to play guitar like Dimebag Darryl.

Wisdomword?
-Kevan: Oi! buy our shit its cheaper than a case of Newcastle and it will last longer.
Mike- Normalcy.

Something to add?
Mike- Burn your uniforms!
Kevan- For the record. Rog is way shorter than me. And older!