Mathieu from the band Subsistance comes from Canada. I found them on My space and really like their music. He answered my questions after some weeks and here´s the interview. 6/6-2007

When and why did you start to play?
-We're all from the suburbs of Montreal and when you're a raging teenager growing up there isn't much to do but to skateboard, drink, do drugs, and piss off people. We all met in high school and one day we just started a band to kill boredom and meet new people. That was 8 years ago.

Please tell me a little about every member in the band, age, family, interests, work and something bad about every one?
-We're all from working class families, so we all grew up with a strong working ethic. We're all 23 years old, Mat is currently unemployed, Phil works in construction all around Montreal and Scott work in telemarketing. We all like to get together after work and practice our tunes, you know to let go the fucking routine. Mat and Scott go see a lot of local show in Montreal, see friends play, hear new bands and drink beer. Mat is a hard headed mother fucker, when he's got an idea set he can harsh some times. Phil always looking for the cheapest bargain around, sometimes its pretty annoying. Scott is a very direct person in some ways it's a good thing but in other well things gets ugly.

Canada as a punk country how is that?
-Canada has a lot of good bands, we had the chance to share the stage with some of them. The scene is different from province to province, we have fun everywhere we go. The only irritating factor about Canada is the long drive between cities for instance: Montreal to Winnipeg is about 27 hours, the drive is still worth it.

What does punk mean to you? Is it only a music style or is it a lifestyle?
-Punk is a totally underground music style that deals with real issues of today's modern way of life. To say if it's a life style or not well some may disapprove.
We create our music by the life we live, we live the struggles, failures, tragedies, etc…So yes, it is a lifestyle.

How is Montreal as a music city nowadays?
-There are a lot of local bands roaming the streets, most of them are underage bands which is very refreshing to see and hear. The only thing that's sucks is that sometimes you'll have three different shows playing at the same time, so the crowd is pretty divided in that way.

Is there any good bands around ....and in other cities than Montreal?
-We have come a cross a lot of good bands all across Canada while playing gigs.
Check it out: La Gachette, Gerbia, Under Pressure, the Fallouts, Wednesday night heroes, the Rebel Spell, Ripcordz, Dayglo Abortions, Subhumanz, D.O.A. and many more.

What do you know about Sweden?
-We've heard that the scene is very strong and we hope to be able to see it one day. To tell you the truth we don't know much about Sweden but we're looking forward to visit and learn about the culture.

Have you heard any good Swedish bands?
-There are so many bands we like from Sweden; Raised fists, Massmord, Satanic Surfers, Wolfbrigade…

What´s the best and what's the worst of being in a punk rock band?
-The freedom of being on stage and playing songs that you wrote while having people singing along is all worth it. We could do this for the rest of our lives and be satisfied. On the other hand being in a band that is punk, Oi!, Ska, Rock, can be expensive. Most people don't realize how much a band can cost for studio, traveling between shows, equipment and so on. But like I said, we would do this for the rest of our lives, nothing comes close to this kind of freedom.

How would you describe your music in three words?
-In your face

Which type of people comes to your concerts?
-Anyone that's willing to listen to what we have to say; punx, anarchists, skins, straight edge, the homeless (that we let in for free), open minded people that are not looking for trouble.

Which type of people do you miss on your concerts?
-All the good bands we shared the stage with and broke up over the years. We never get a chance to see again, cheers to all we will never forget you.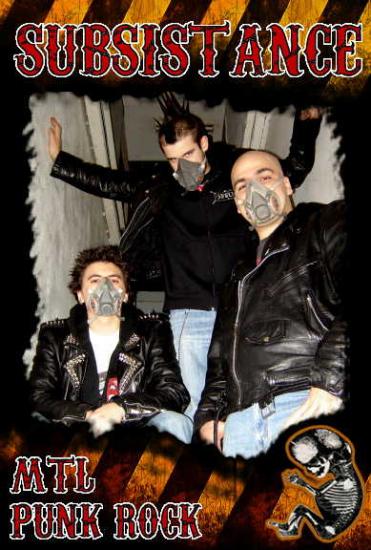 When you do a song, which is most important, is it to have a good lyrics, a good melody or to have a refrain that people remembers?
-It all depends what's in the air when we write a song. One day we might have good lyrics but no beats and sometimes it's the way around. We always point a good attention on the lyrics, there's so much to talk about and we prefer talk about real issues then to talk about how my relationship with my girl is going.

Politics and music, does it go hand in hand?
-Sometimes it's the only way to make people listen to what's going on in the world. I'm sure if you would listen to some South American bands you would learn a think or two about the way off life down there. But sometimes it's also good to put on some Motorhead, grab a beer and relax with friends.

Best political band/artist?
-The Crass/Conflict, Aus-Rotten/Behind Enemy lines, Nausea, Dead Kennedys, Leftover Crack there's more be we'll stop here.

Please rank your five favourite records, five favourite concerts and five most important things in life?
-F-Minus – Suburban blight
Leftover Crack – Fuck World Trade
Blood for Blood – Outlaw Anthem
7 seconds – The Crew
Toxpack - Aggressive Kunst

Subsistance - record launch 28th of April 2007
Motorhead - Metropolis Montreal 2005
The Exploited – Montreal riot 2003
The Fiend Fest: Misfits, the Adicts, UK Subs – Foufounes Electriques 2007
The Bouncing Souls – Foufounes Electriques 2007

Music, Friends, Truth, Love and Hate

First, last and most expensive record ever bought?
-My first album was Heavy Petting Zoo of NoFx, very good record when you're hung over. The last album that I bought is the Agrotoxico – Estado de Guerra civil album, very strong music from Argentina check it out. I listen to a lot of underground bands that are not accessible on big distributor so sometimes the cost is high. Ya Basta – Luchea y fiesta was expensive but worth it.

Most embarrassing record in your collection?
-MxPx- Life in General. I bought this record when I was 13, I stumbled upon it recently and I was very disappointed to find it still in my collection.

The record you bought for the cover and become so dissatisfied with?
-The Unseen – Lower class crucifixion. The cover looks fucking mean, angry and dark. I had a totally different idea of how it was going to sound, when I potted it in my cd player I was disappointed. I tossed it aside and just recently a gave it a listen and I must say its not all that bad.

How is it to live in Canada otherwise, I mean politically?
-The medical situation is really awful. The reigning party is the conservatives which is not very good, they support the Bush administration with the war. They should vote a law that implies politicians having to respect their promises and if they don't, they serve a 10 year sentence in prison for laying to the public. I would definitely vote for that.

What do you think about the government?
-Just to keep this short, we think that the governments of today are not adequate for the problems of today. They are to old fashion, we need new independent parties with fresh new ideas. Here in Canada, global warming is hitting hard and none of the current parties is doing something about it, it's not alarming they say. WHAT ABOUT THE PEOPLE, WHAT DO THEY HAVE TO SAY. The people want change and they can't give it to us.

You sing both in French and in English? How come?
-We write Subsistance in French because we want to show our heritage. We're all from a French community and we're very proud to be part of one of the only French population in North America. We write in English also because we don't want to limit ourselves to only one language. Music is a form of language by its own.

I understand that you being compared to other bands, which are those bands?
-We find it funny most of the time, because people compare us to bands we don't even listen to. I guess it depends on your opinions. We get compared to: Conflict, Mad Ball, Pennywise, Good Riddance, Old school punk, Kill your Idol, F-Minus, Rancid, Inner Terrestrial without the reggae. We find it flattering.

Do you care about reviews? Which do you trust the most, the good or the bad ones?
-It's always good to have good reviews, you know to feel appreciated. Like getting compared to bands hehehe. Even if bad reviews are sometimes hard to digest we still look at them very carefully and see if we can build from the critic. We find it's a good way to evolve as a band, because having your friends critics is not enough. So yeah we take good or bad, bring it on.

Which are the most peculiar you have got?
-We get some that were pretty funny and it's hard to take them seriously. We played a show last year and there was a local zine reviewing the show. We red the article when it came out and the guy said that our songs were too long and we needed to work on that. When we play shows we link 10 to 13 songs in a 20 to 25 minute block, we hardly stop between songs jumping to the next one right away. So if you're not paying attention, it's going to sound like a 25 minute song.

Which is the biggest audience you have played for? The amount of people I mean?
-Our album launch was crazy. We doubled the capacity of the room we played in.

Which is the biggest band you have been a support act to and which is the biggest one you have had as a support act?
-We supported Conflict and Total Chaos when they came to Montreal last year. When we play with Conflict, the club we played in banned punk shows forever. Crazy shows.

Futureplans for the band?
-Play as many out of town shows, tour for the album, go back in studio for a E.P. and Tour some more. Check out our site for more details: www.subsistance.net

For yourself as a human being?
-Mat is constantly working on Arisen Records, he's moving to Montreal East so he's pretty busy. Phil is going on a trip in Mexico with his girlfriend this summer and Scott is starting a hardcore band on the side, more info to come.

Wisdomword?
-The only freedom given is the mutiny to choose.

Something to add?
-We would like to thank the whole Skrutt crew for giving us a chance to speak out. And to all the bands that reads this, KEEP UP THE FIGHT!