I phoned upp Stry an evening in the beginning of july 2001 and I heard a nice southswedish dialcet with some Stockholmaccent beging to tell me whole his life. A nice hour which felt like ten minutes and here´s the long interview.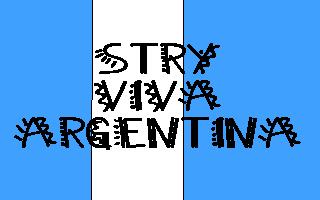 It´s take a while before we begin to talk because Stry sat down and worked with music when I phoned him, and before he sit down and talk to me he must have some water to drink and he must roll a cigarret. It´s thunder outside but Stry don´t thinks that´s no danger to talk with me. He mumbles a little before we´re goign away on this hour. He said that he worked and then he meant that he recorded som stuff and then I´m forced to ask him if he´s living on music but he´s not living on it. He earns some on Ebba Grön, Imperiet but it´s no big money. I don´t get an answer what he´s living off instead. He have been in many groups through the times and the first group he was in was Riot and they was playing in Perstorp in Skåne. They later changed name into Push and they began to play reggae and they released som records in the beginning of the 80´s. He wasn´t on any of the records but he remembers with a laugh the peculiar giigs they had , they play at high school in the mornings.- I worked night then in a fabric in Perstorp. And i went directly from the work to make a gig, it was an odd feeling, says Stry.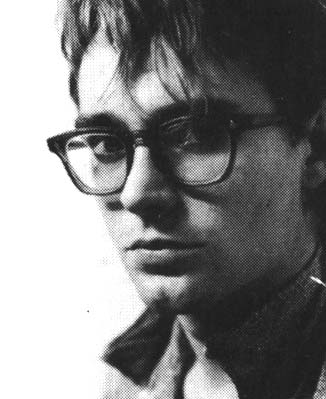 And then came Kriminella Gitarrer and there it have come out some sort of bootlegLP which Stry have heard sells a lot. He haven´t seen it yet. The singles they did is very hard to find and expensive. It was Pål Spektrum(a producer) which did the thing from the beginning and he did CD-things of it but somebody told him not to do it anymore. It wasn´t Stry who said but he don´t remember why and who was stopping it. And then the basist hold the project living because he have a label but Stry don´t think it has been done yet. After that Kriminella Gitarrer have put their instruments away Besökarna saw the light. In the same time Stry moved to Malmö because Krim Git was a Klippan-product. And then it was some people who was interested to be in Besökarna(Binkie among others) and they did one single but not so many gigs. It only was six gigs in all and they have worked some kind of cultstatus through the years. Stry have managed to be in many groups and almost every group have succeded to release a record. But many of the records they paid themselves to get out.- There was no labels who wanted to release it and then we thought that we must release it ourselves. And then came Heartwork and helped us out a little.
He have not some other people I have interviewed not sold or throwing away his old records. He have one left of every record, sometimes two. But he´s a little sad that he haven´t ten or something like that left of every record because he heard that someone in New York bought a kriminella Gitarrer single for thousand swedish krona some months ago. I know that I was trading one of their singles very expensive against an expensive LP. This guy came from New York(he who bought the single for 1000 krona) and Stry tells me that it´s some freaks over there. He don´t know if they like the music but they want to have every single odd record in the world. That the record was going to be so expensive wasn´t something that Stry had a thought of when they released them. After that Besökarna split up they had an odd group called Bldarna, And then gave Stry and Stripparna out records but it was never a group , it was more a cointious as Stry says. Garbochock came after that and they was together for a while. They did a LP and a single. And it´s not out on CD but it come sout in september on MNW .- It was Thåström(Ebba Grön) who convinced the label to put it out. Right now we are talking and fighting a little about the in which order the songs will come on the CD. If you really can call it Ritual if you cahnge the sonmorder. I´m a little disappointed with the order of the songs. It´s some songs that I don´t want to have so early on the record. I want to do some changes but there´s discussions about if you really can do it and call it Ritual. I think you can do it because it´s going to be a better record. But there´s some praxis that you must have the same songorder as it was. But I know that we was thinking different because it was a LP with two different sides. It would be a good song in the opening on the other side and you wanted to do a special song last on the first side and so on. I want to have it this way, what do you say about it.
I think that they can mix the songs because i have records which are reissued but with the ongs mixed with each other. I don´t remember which records it is but I know that I have some. Not everything Garbochock come on this record but one song which isn´t on any record before come out. It´s some songs on Ritual he don´t like but Ritual is coming on this record in their wholeness with two extrasongs. Stry don´t know what to think about the record because he want a good record and he thinks they can do the songs gettable somewhere else. Ebba Grön came next for Stry and there he came in some way. How did he came in Ebba Grön then?- I don´t know myself, laughs Stry. if they really had any use of a southborn swede. It was a really good band already I thought. I had met them when they released their first single. We met each other really often and then I don´t really know what happened. I got invited to do the filmmusic to the film Operation leo, I did Scheisse first. And then I did that and when Garbochock split up they asked med to join them. It was more tours than I ever have done but I don´t know what good things I did to the group. Not musically becasue I´m not really good to play anything.
After Ebba Grön they went over to Rymdimperiet and then they became Imperiet. there Stry didn´t lay anythyng special. But this that he isn´t good at anything comes from taht he can play many different instrument. It´s nothing special I´m good at Stry thinks but maraccas or tamboruine he´s really good at he thinks. babylon Blues was the group which came after that and Strys humming to say that he hears waht I say. he sounds a little happy when I take up the name Babylon Blues. The first records he want to get out on CD but he wants to do a compilation more than he wants to give out every single LP.- I don´t know if there any idea to give out every single LP, it´s a question of interest. I feel for to give out a really good record there every song is fucking good. Not a really long compilation but a record with a normal long playing time. Not a s Laddat lugn.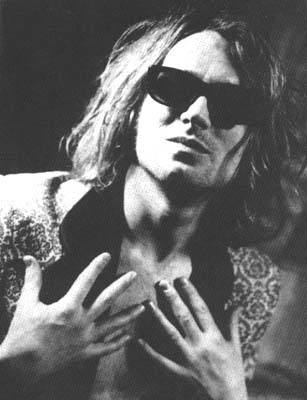 Babylon Blues split up and Stry did some things on his own. Some english stuff and he did Wild Smoke which was recorded 1996. Wild Smoke and Besökarnas CD can be ordered at hiw website , both for 180 swedish krona including ostage. The recording of Besökarna is very good he thinks and not only an odd recording. It´s done in their rehearsalstudio and the vocals is a little to low and the organ is too high. It´s really tight he thinks. Wild Smoke was more raw rock n roll and the record theyr ecorded they recorded very fast and it would show up the liveside of the band.Stry doesn´t know if it was a good strategy. -We didn´t get so many gigs and we ould done something better maybe. It was people who was very good at playing like Christer Nlsson and Peter Gardevall wgich played with Henrik Venant in Pojken med Grodan i Pannan. They was a little more rocker than they showed in PMGIP. We was playing some years together and they suit more into play rock n roll an the things they played with Henrik.
Nowadays he´s not in any group but he does music and whn I was phoning him he did a new song. It should be fininshed to the sunday ater that and they will be given away on his website. He gave away another song last week, it was Tågbanegården in a version with Problem. He played with them also for a while. they recorded some things which didn´t came out on record and then a really cool version of Tågbanegården. So when we have talked for a while a thought come up in my head. Which groups haven´t Stry been in in his life and that makes Stry laugh.When I ask him which of the group which have been funniest to play in he says Garbochock. I wonder which type of public it was who listened to Garbochock and Stry thinks it was the usual punkpublic. - But then it was the begiining of the divided punkscene so the the worst hardcorefans didn´t like us so much,says Stry and continue. Our music maybe sounded depressive but on stage it wasn´t depressive.
Strys ambitions when he started to play wasn´t so big. It felt mostly fun to play. Stry was a little of the organisator when it was about to get thingstogether. When it was to fix things with Krim Git and Garbochcok and Besökarna. Stry wonder where the people was. But after that it wasn´t so organisated. And of course when you talk about succeess. Some success ha had , they have been banned on the radio and he earns and have earned some money on Ebba Grön. He don´t works with any other thing right now and he has right now gone out of highschool. He have never worked if you don´t talk about the fabric he worked when he was very young. " You can´t say that I´m unpolitical because of that I come from Skåne" he have said once upon a time and it stand so in Ebba Gröns compilationalbum. I wonder what this means.- It´s not a historical speech , it´s more about the bans, the punkthing from Skåne wasn´t so political if you compared with Ebba Grön or Göteborgs Sound, it was really unpolitical in a way. Not Problem or any other band. It was maybe Hoola Bandoola Band but I didn´t thought about them then. I have never been any Hoola Bandoola Freak either.
Strys life have really been changed much depending of the music and I ask him if he thinks that somebodys life can be changed of msuic and when I ask him that he´s humming.- It was fun that you asked me that just today because just before I sent you a mail it was a guy who wrote to me and said that I have saved his life. It was a very short mail and it was some words from Laddat Lugn which maybe could give me a fingerpoint what it was all about. It was maybe an overreaction from him and I got scared and thought is itt so fucking important the things I do. But of course this is only one person. I think he´s away from the drugs or something now. But that the only time somebody have told me a thing like that.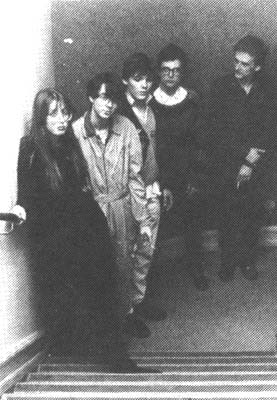 Stry have done about 100 songs which haven´t come out yet and it´s about 100 songs which have come out. So about 200 songs have Stry done and when I ask him if he have any favourite he says that the best thinsg haven´t come out yet. This is the right style for a musican to say. It´s songs which Stry have had for about 20 years and he thinks and wait til the right time come to release them.- Of the things which have come out it difficult to pick out a favourite. Now I have been tired of the stuff. I listen to the record sometimes. Not to think it´s good but more to get a perspective on things when I do new things. How was this,was it bad or good. Sometimes I pick them up when I drink some beer, not to be nostalgic but more that the beerdrinking give you the taste to listen to it. I don´t remember things because I hear special music. I always listen to old music but it´s not so often that I think about good times when I hear it.
There´s some good bands in Sweden now but he can´t mention some special band. But he have nevere evr listen to swedish bands. He thinks there never comes anything new which is really good. But he likes a new group on Dischord Records which named Make Up. But he likes commercial music too like R.E.M. and the new Red Hot Chili Peppers. - You can´t call it avantgardistic my musictaste. I can´t sit right up and down and listen to music, I must play a game on my computer or something like that. It´s a phenomen for about five years and before that I could sit and listen to music.
He haven´t write any lyrics for a long time. On the new song it was a very short lyric. He likes most to write in english, not so that it´s easier but he can use the things which came out of his head and mouth without thinking. That can´t he do with the swedish language. It´s the thing he want to do and he thinks it´s really nice to don´t understand all english words. He thinks it´s really odd.- But of course some of the lyrics is the same shit as ever. But in the same way I think it´s really good with simple lyrics. If you listen to old Stooges:Funhouse , what lyrics is it there. They say me a lot even if I don´t understand nothing. They´re really crazy lyrics.It can be there I like the thing. I haven´t so easy to write new music right now but I have some music for a while. It have always been more work to write the lyrics, it´s more like toothache. When you do a song it´s a very sudden thing, it´s very short time when you came out with the song and that´s the thing. On the other hand I can puzzle with my old songs and take a refrain from an other song and put into a new one and so on. The songs are finished but I work a little with my computer.
Stry vdoesn´t know how many people who are visting his website. It´s not himself who is doing it, it was some guys who was asking if they could do it. He said yes and he is a little involved, he helps out a lot and he thinks it´s a good place to sell records. And to put out songs there. That´s a fact that I thinking about doing a new songs every week and put it out there. But it´s not maybe the best songs because they I can take on two Cd´s when I got the time. I think I shall do it but I´m not really have decided in which way to do it.
Stry isn´t out so much on internet and if he is it´s mostly footballsites he visit. he have been so interested of the Argentina soccer team so it feels like a possession.He don´t know why but he thinks it´s nice to have a stupid thing to do.Some years ago he really snowed in on Detroit Red Wings but now it´s Argentina which is the thing. He likes fottball on TV but he´s never going to a livematch. The most peculiar review he have got was on Garbochocks Repulsiv where the reviewer said that the guitar on Repusliv was only good to take away warts from the body. It was a really fun review he thinks. - I think I´m always there on 3 or 3½ when I got reviewed. i didn´t care som much about reviews when I was playing in groups.You only wonder what use it was to let a person who don´t like us would review us.
It´s almost notime that people come up on stage and disturb him when he play gigs. he remembers that he was sober on some gigs.- it wasn´t good at all because I couldn´t concentrate on the things I did. You only float away in a way, it´s not so peculiar, but it´s fucking hell . Before I was drunk really often but that´s no good eitehr.You lost some of the chance to see round things and that get´s me more concentrated on the things I do. Otherwise it wasn´t happen so much odd things when we played. Once upon a time in Finland MA NUmminen was on stage with us in Ebba Grön but he didn´t do so much. He liked the songs Born to Be Wild but I don´t think he could get things together..
He started in the punkmovement and that have give him a groundattitude but he thinks that attitude have beenb around for a very long time. Not to take all for given with traditions and the will to try to do other things and new things. - But many times you maybe come back to the things which was against your way to think but there´s a little variation sometimes. But what about the music then, the trashy thing I really like New York Dolls still but it´s not so often taht I listen to punky stuff like Sex Pistols. But in the same way some people say that Make Up is punk but I don´t think so. They maybe have an attitude of punk but the music sounds like a mix of Prince soul and rock.
We close the interview eher and I must thank Stry for a nice hour of talking. the pictures comes from his website.
STRYS DISCOGRAPHY
The complete discography, with singles ,EP:s, CD:s and compilations. All in chronical order frpm Vårdad Klädsel to Wildosmoke. And titles there Stry is on as a composer is also on....

Kriminella Gitarrer
Vårdad klädsel, singel 1978 Silvias Unge singel 1978 36 Patroner,singel 1979Kriminella Gitarrer LP 1999

Besökarna
Anna Greta Leijons Ögon, singel 1979, Kamikaze,demosingel 1980, Besökarna CD 2000

Blödarna
Diggar ditt hål del 1-2, singel 1979

Stry & Stripparna
Malmö City, ep 1979. Sjunger stulna sånger, MP 1980


Garbochock
Invasion,singel 1980, Repulsiv, LP 1980, Repulsiv, demosingel 1981


Mikael Hagström Combo
Gangster,singel 1981


Ebba Grön
Scheisse, singel 1981, Ebba Grön, LP/CD 1982, Samlade singlar 78-82, LP 1983, 78-82, CD 1987, Live CD 1998, Boxen 4-CD Box 1998


Rymdimperiet
Vad pojkar vill ha,singel 1981, Alltid Attack 12-ep 1982, Felrättsnettheltfelrättsnett, singel 1983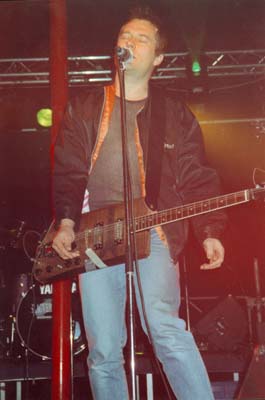 Imperiet
Alltid rött, alltid rätt ,singel 1983, Rasera, LP 1983, Imperiet, Mini-LP 1984, Du ska va president, 12-singel 1984, Studio/Live, LP/CD 1988, Kickar ,LP/CD 1990, Greatest hits,CD 1995


Babylon Blues
Har vi inte grävt för många hål? singel 1985 Gunga Bergets Topp, singel 1986, I labyrintens hjärta LP 1986 Jesus eller Djävulen 12-singel 1986, Utanför Eden LP 1987, Känsligt Guld, singel 1987 , 15½, 12-singel 1988, Stry & Babylon Blues, LP/CD 1989, Glädje kan vara danska barer, promosingel 1989

Stry
Mmm...ängel singel 1987, Flickan med det, singel 1990, Plåstålekrik, LP/CD 1991, Laddat Lugn, CD 1991, Hale Bopp, CD 1996


Stry/Thåström
Städer,singel 1991


Wildsmoke
Wildsmoke,CD 2001


Compilationrecords
Punk är trevligt, jazz är farligt, LP 1980, Eldbegängelse, MC 1981, Heartowrk Live Klubb 2000, MP 1981, Sveriges Största singel vol 2, Mini-LP 1982, Sveriges Största Singel Vol 3, Mini LP 1983, Sveriges Största Singel vol 4, mini-LP 1983, A real cool time, LP/CD 1985/1986, Öresundstwist MC 1985, Absolute Hultsfred, LP/CD 1992, Ny Våg, 2CD 1993, Vägra raggarna benzin vol 1, CD 1998, Vägra raggarna benzin vol 2 1998, 25år/25 spår, 2 CD 1999, Bloodstains across Sweden, LP ?, Volym 3, Den bästa svenska musiken 80-tal, CD 2000, Break the rules vol 8,LP/CD ?


he´s on this ones in one way or another...
Ebba Grön: Kärlek & Uppror, Lp 1981 (Written the song "Stockholms pärlor")
Tant Strul: S/T, Lp 1981 (Written the song "Vågar du va ensam")
Tant Strul: Amason, Lp 1983 (Written the song "Kom och ta farväl")
Problem: (Written the song "You don´t need" which is on the compilation "Raw cuts volume two")
Backdoormen: Out of mind, singel 1985 (Producer)
The Creeps: Enjoy the Creeps, Lp 1986 (Producer)
Hidden charms: History, Lp 1986 (Written the song "Moonlight night")
Nike & Gurra: Hula Hula, Lp 1987 (Written the song "Kom och håll om mig")
Nina letar UFO: S/T, Lp 1987, Baba Twist, singel 1987 (Written the song "Rock´n roll blåa ögon")
Babies: ?, Lp 1990 (Written the song "Guldimund")
Peace Love & Pitbulls: S/T, Cd 1992 (Wreitten three songs with Thåström)
Pelle Ossler: Cds, ? (Written the song "Har vi inte grävt för många hål?")