Wayne in the finnish group Stranded makes me happy and answer some questions about the group…Sid which is in the group too have really managed to lookalike the old wellknown Sid…..shit the same…here´s the interview November 2006.

History?
-It all started in November 2003 when I met I.Striker and he asked me to join the band with Sid and Artsi. We haven't seen each other for a couple of years. Year after that we recorded our first demo and soon after that drummer Artsi decided to leave the band. We found Henry soon and started to do some gigs in Finland and recorded another demo (My reputation). We've been tryin to find someone to publish our stuff but...

Please tell me a little about every member, age, family, work, interests and
something bad about every one?
-I.Striker, 35. In relationship, has a daughter. Works for the state railways. Likes especially 70's british punk-rock, but also listens to a lot of reggae, rhytm n' blues and rock n' roll.
Wayne, 27. In a relationship. Likes different kind of music for example including punk, soul, reggae and r n'b, bands like The Clash, The Who...too many to mention. Likes Joe Strummer, tattoos, football (Liverpool). Working at constructions.
Sid Razor, 40. Never works. Likes Sex Pistols, The Clash, Ramones, Stiff Little Fingers, Dead Kennedys, Anti-Nowhere League, Rancid, Lars Frederiksen and the Bastards, The Exploited, Johnny Thunders & The Heartbreakers.
Henry, 34. In a relationship. Working in a warehouse. Plays football in a team with friends and is skateboarding as much as possible. Henry's musical interests have come along skateboarding and different scenes like punk, emo, hardcore and even pop have affected on him.

My review of your record is like this STRANDED-MY REPUTATION(CD-SINGEL) It's really nasty how similar Sid Vicious Sid Razor is in this finnsish group. Here it is really good 77-punk and it feels like I know this from before in some way. I dream back and here it isn´t about play the best or be the better than the other it's more about a feeling and not being the most beautiful. Many good riffs which is wellknown from bands like New York Dolls, Heartbreakers and other early punkband.s(SEVEN) 10/10-06 What about it?
-Yes, Sid really looks like Sid...This really is about the feeling but we concentrate on our songs when we are working on them because if the song doesn't work, the band doesnt't work either. Riffs may remind you about Dolls and early punkrock, we've heard it before and that ok. But thats the kind of music we like, basic rock&roll and punkrock...raw power. It's like building on tradition with something new.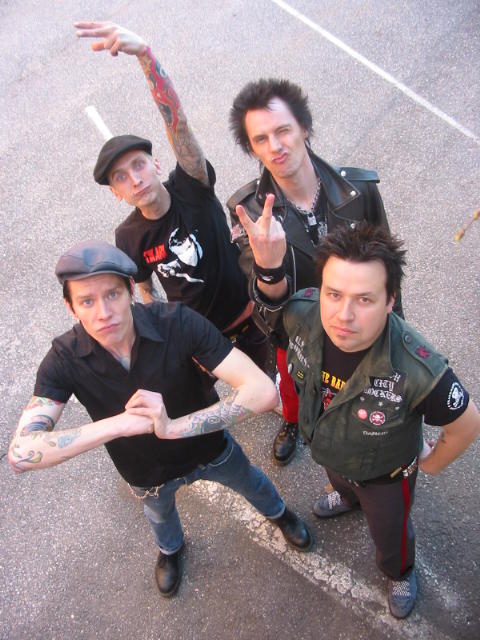 Is there any other bands you´re being compared with?
-Ramones, The Clash

Do you care about reviews?
-Not that much, but it is always good too read what people think of our music. Anyway we wont change anything because of reviews.

Sid is very similar to Sid and then I mean his look? Howcome?
-I guess he was born looking like that.

How would you describe your music in three words?
-Good Old Punk-Rock!

How is it to live in your homecountry?
-It's too cold here...

What about the government?
-Its all bollocks, I guess it must be the same anywhere. Politicians are making promises they are not even trying to keep. Recently they just lift their wages 200 euros a month because of the cost of living have been rising. It's funny my wage still remains the same... Workers are pushed to maximum limits and if you aren't able to work you are worth of shit. And there are thousands of homeless people here but more important thing is to buy some army-equipment, what for? And the list goes on...

Do you think that music and politics goes hand in hand?
-I don't mind bands being political and its really good when bands have something reasonable to say but I think you must also remember to have fun. We have some "street level politics" in our lyrics but we don't "preach" anything. Our lyrics are more about everyday-life and sometimes politics includes in it.

Best political band?
-The Clash

Is there any good bands in your homecountry now?
-Yes, many. Brigade, I Walk The Line, Wasted, The Valkyrians...for example.

What do you know about Sweden? .
-I know your football-team sucks! Not really, I know some bands and football stuff...


Have you heard any good swedish bands?
-Yes. Bombshell Rocks, Voice of a Generation, Charta 77, Negatives...

What does punk mean to you, is it only a word or is it a lifestyle?
-Of course it's a lifestyle. It's a way to think and do things.

Please rank your five favourite records, five favourite concerts and five
most important things in life?
-Fav-recs (at the moment, depends on a day and a feeling): Clash - London Calling, Who - My Generation, Dr. Feelgood - Down By The Jetty, Damned - Machine Gun Etiquette Rancid - Out Come The Wolves. fav-concerts: Joe Strummer & The Mescaleros in Provinssirock 1999, The Pogues in Dublin 2005, Damned in Blackpool 2006, T.V. Smith in Blackpool 2006, Wilko Johnson in Helsinki 2005. The most important things: my wife to be, band, music overall, friends, health, liverpool fc

First, last and most expensive record ever bought?
-First record: Hurriganes - 16 Golden Greats, Last: John Holt - Greatest Hits, Most expensive: I dont know, they are not that expensive...

Most embarrasing record in your collection?
-Mötley Crue: Girls,Girls,Girls

Is My space a good place to get your music?
-Yes, MySpace is a good channel to spread music and also to find new bands and things like that.

When do we see your next CD, is it the same sound?
-We were in studio early in november, recording three songs. i'm not sure what are gonna do with them since we have no-one to publish them. Maybe we do it by ourselves, we'll see. Basically it's same Stranded than earlier. Studio was really good, so the sound is gonna be stronger and better.

Is it many interviews? Is it boring?
-Actually this our second interview so its not boring...yet anyway.

Which is the question you never get, please ask it and answer it?
-How come it took so long to answer these questions? - I'm a lazy S.O.D.

Is it any chance to see you in Sweden soon?
-I hope so!

Where is the best place to play?
-We haven't played that much but I have to say VV-Klubi in Tampere this far.

How is a good gig with you?
-Loud and sweaty, crowd "dancing"...

The name where does it comes from?(yeah it´s a boring question but it´s
interesting)?
-Our name is from The Saints song (I'm) Stranded...It's a good song and a good band.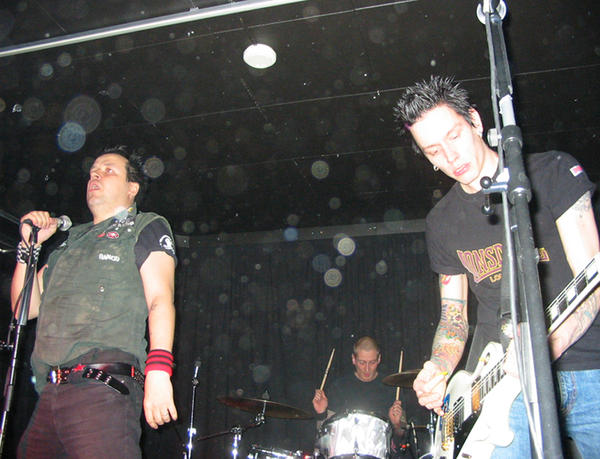 What shall we do about all rascists?
-That's a tough question...I (and many others) have to deal with them everyday. Constructions for example are full of them. Basic man in Finland is at least a bit racist. That's the kind of thinking I cant understand. It would be great to make them think different but that's impossible. (though I know a few who have turn their sledges). The only way is to fight back I guess.

The best band in punkhistory? And in finnish punkhistory?
-The Clash, Ratsia

The most important punksong?
-Must be one of The Clash's song but I really cant name it...

Futureplans for the band?
-To play as many gigs as possible in as many places as possible and to make a record.

For yourself?
-Same. And to marry my girlfriend next summer.

Wisdomword?
-No ,I'm too stupid...

Something to add?
-Not really. Thank you!


<![if !supportLineBreakNewLine]>
<![endif]>