Kari from Stillborn took the time to answer these questions in October 2017. Fun that Stillborn is running again I think.
A little story about the group? Why do you start playing again? What have you done between Stillborn and Stillborn?
-The band has the roots in the early 1980s, when we were more at the Joy Division stage musically. We liked everyone even heavy rock from the 70s, such as Black Sabbath, and slowly we started sliding over to heavier music. In 1987, we decided to record four songs in the studio. These came later on the debut album "Necrospirituals" (1989). The same year as the album came, I left the band, which continued in a different direction musically and with some new members for a few years. After that, many years followed when we lived our lives in different directions. Until the fall of 2015. Then we met us four who made "Necrospirituals" all at the same time for the first time since the early 1990s, and then we decided to rehearse once, just for fun. It was awesome. We got blooded tooth and decided to rehearse again, and then we recorded two songs. And then two more. And then some more. And suddenly we had made an album.
Tell us a little about each member, age, job, family, bands before and band on the side? This is the original set well?
-We are the four members who did "Necrospirituals", but there have been other members at other times. We are all born in the 60s, have families and work in different professions. I work in the media, Ingemar is an IT specialist, Peter is Art Director and works with 3D graphics and Erik is a silversmith and stonecarver. Everyone has played in some different bands on different occasions, the most famous is Bombus, where Peter plays drums.
I can hear a lot of old hard rock but I think I hear other influences too, hear-me right? Was it better before?
-The music we want to do should have weight, strong riffs and melodies. There are certainly a number of pieces of Sabbath-DNA in the structure, but we have never really seen ourselves as a hardrock band. Other parts, perhaps more hidden, come from Finnish tango, Sisters of Mercy, Lee Hazlewood, Jean Sibelius, Motörhead, Edvard Grieg, Joy Division, Johnny Cash, Sex Pistols. And a splash of Celtic folk music. And Hurriganes. Then the result will hopefully be a very own sound.
Stillborn, are you satisfied with the name? If you hit Google, you get many things but not always on you! Which is the best band name?
-I think that there are about ten bands with the same name today. We may have been first, but it's hard to know, at that time it was not possible to google. Today, each small band is online in some form. For us, the meaning of the name has been a reminder of the vulnerability and sadness of life, influenced by, for example, Samuel Becketts "They give birth astride of a grave, the light gleams an instant, then it's night once more.." We were very young when we took the name, but we never had plans to change. Good band name? Hard to say, but remember we smiled when we first talked about "The Kristet utseende".
What's the best thing about playing live? Will there be a lot of life gigs now?
-The feeling of here and now, a hell of a discharge in a relatively short period of time, and the contact with the audience. There will be some gigs, but hard to say how many.
Where is the best to play, where is the worst?
-The best shows are when you really feel that you get along with the crowd, it's sweaty, the energy flows and hyperintensively. Does not matter if it's a small or big place, the audience decides everything. Worst thing is the opposite.
How is it to play this kind of music in Sweden today? What's the difference with playing now if you compare when you started?
- Actually don´t know, we have not played out yet, first since 1989 together will be on Sticky Fingers December 1st. Then we know.
How would you describe your music in three words ??
-Energy, hard-hitting, lead heavy.
What does punk mean to you, is it just a word or is it a lifestyle? I know you're not playing punk but just funny to hear your opinion?
-Punk is primarily an attitude. Remember when Never mind the Bollock's with the Pistols came. It changed one's entire world, of course musically, but above all: you can do it yourself. You no longer needed to look up to unattainable arenabands.
How do you look at downloading, mp3 and the like?
- I think that streaming services have become a completely ok compromise, even though there has been a lot of discussion about artists' compensation. The option before was that people downloaded illegally, neither artists nor companies got a crown.
How do you think it's to live in Sweden today, politically?
-Since we began in the 80's there have been major changes in society, the classic struggle between left and right has gained competition from other new forces. Today we have an unclear parliamentary position that gives weak governments and instability. Polarization between different groups has also increased. A big danger today is that for anyone who wants it, you can live in a bubble, via the internet, where you only have contact with like-minded people, where the image of reality of your own group becomes the only truth. And unfortunately, this development is likely to be worser.
Are there any good bands in Sweden today? In your hometown?
-There are always many good bands in Gothenburg, for example Bombus J
Do you play anything outside Sweden?
-Yes, we are playing at the Pumphuset in Copenhagen on December 2. Then we'll see.
Other good bands from abroad?
-Is soo many. Muse, Mogwai, Radiohead are some.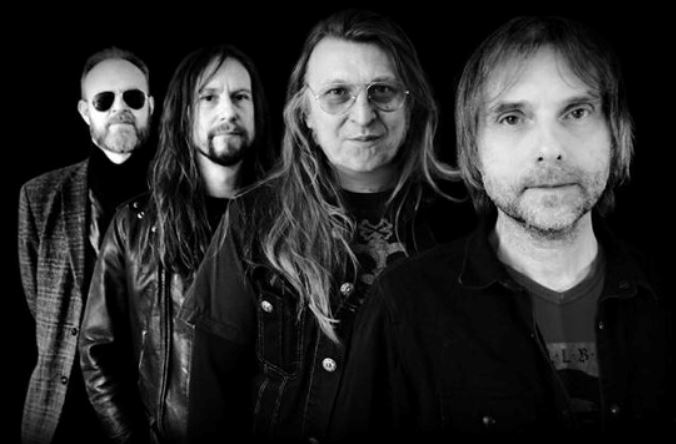 Do you play anything outside Sweden?
-Yes, we are playing at the Pumpehuset in Copenhagen on December 2. Then we'll see.
Other good bands from abroad?
-Is so many. Muse, Mogwai, Radiohead are some.
Your lyrics, what are you influenced?
-Nowadays, about dark events in human history, from the perspective of common people. We have always described evil of various kind, and you do not need to directly sing about devils and demons to portray it. It's enough to look at how people treated each other through the centuries. Unfortunately, there you can find a lot of dark and sad stories. Certainly, of course, we have left our love for fear and darkness, which we occasionally season with black irony.
Is there anything you will never write about?
-Göteborgsvarvet.(Gothenburg half marathon)
Politics and music,does it always belong?
-Good music touches and awakens feelings for the listener, whether politically or not politically. There is superlative political music that affects as much as a bucket of cold water, as well as there is music that can be perceived as unpolitical, but which gives the listener enormous energy and power to change the world.
Best political band / artist?
-U2, Crass, KSMB, Joe Hill, Ebba Grön, Dan Berglund (individual favorites, no common sense in the band)
Do you think music can change someone's life, then I mean lyrics etc?
-Absolutely. Take the punk for example, as mentioned earlier. It changed the lives of many young people, so that teens around the world dared to form bands and do it themselves, instead of just receiving what was served. Music has an incredible power, and it is also because songs and music that are considered to be deliberately forbidden in totalitarian states. Music is a direct channel to human mind and thoughts.
Your cover is really nice on your CD, who has done it. Is it important to have a cover that you understand what kind of music you play? What is your favorite cover all the time? ...
-The presentation is a homage to our first album," Necrospirituals ", and a collaboration within the band. Peter has done the most, Erik has designed the crown on the front. I and Ingemar have contributed ideas. , stylish and powerful layout. Favorite cover all the time? Joy Divisions Unknown Pleasures.
Is it important to get out physical discs? Vinyl or CD or both ? Is there any good recordstore in your area?
-Yes, it adds value to the listener, something to watch and swipe in. And there should always be lyrics. Overall, it gives a greater experience of the band and the music. Record store? Bengans has a good range, and there are some more.
Please tell me something really fun that happened during your career on stage or behind stage etc?
-On our way from Gothenburg to a gig in Copenhagen we had a new guy as a driver who did not say so much. When we'd been driving for an hour, the bus suddenly started to slow down on the highway, until we finally got out. Everyone looked surprised at each other. We asked the driver "How are you getting along?". He looked down at the gear lever. "Not that good. Look". He turned the gear lever like a whisk. "You see the asphalt". Everyone in the bus stared at the gear lever and the asphalt that was seen underneath. "That's no good," someone said when the bus stopped. We jumped out and watched under the bus.
No gearbox.
Someone looked along the highway we arrived. "It must be there somewhere," and then we began to walk. And we walked. And walked. Eventually something metallic seemed far away. The gearbox.
Back at the bus it turned out we could drive on one shift, which we did for one hour. In Halmstad we found an open workshop (it was Saturday), and they found that only four new bolts were needed, the gearbox was fixed again, fully functional. We came to the gig in Copenhagen on time.
How is your audience looking like? Do you miss any kind of people?
-I think we will draw many who liked us before, and some new ones who are curious about hearing what we have to give.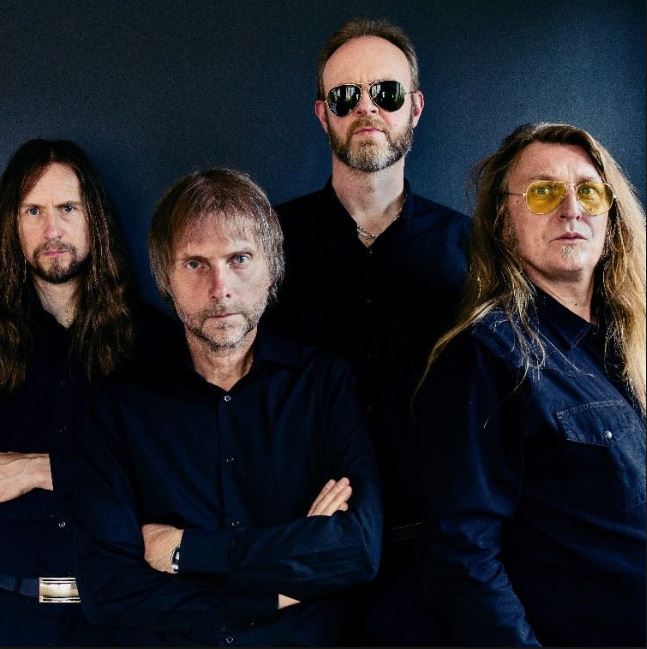 Please rank five favoritediscs, five favoriteconcerts?
-Five favorite discs:
Cowboy in Sweden – Lee Hazlewood
Masters of Reality – Black Sabbath
The Residents - Eskimo
Johnny Cash på Österåker (live)
Kiss - Destroyer
Five favoritconcerts:
Sweet, Scandinavium, Göteborg, 1976 (first concert as an eleven year kid))
The Residents, Falkoner teatret, Köpenhamn, 1981
Einstürzende Neubauten, Prippska tomten, Göteborg, 1984
Sisters of Mercy, Mud club, Göteborg, 1985
The Cramps, Kulturbolaget, Malmö, 1986
Is it boring with interviews??
-Only honered to be in interviews.
If you could choose five bands , both dead and living to have big concert wtih you, whih five have you been chosen then?
-The Residents
Hurriganes
Velvet Underground
Suicide (Alan Vega)
Bay City Rollers
Is music a great way to get frustration and become a nicer person? Are you angier today than you were young musician?
-Music is a fantastic valve in life. A finished song is almost something physical, you have created something that didn't existed earlier. It's a breathtaking feeling. That kind of creative processes gives a lot of energy. Then we are always angry because time is short and we can't do everything we want. We want to make up lost ground here. But we have learned to deal with our feelings, ha ha.
What is the strangest question you received in an interview?
"Is it true that you, Kari, bitten the head of a canary bird on stage?" (Answer: no, I do not even like to fish, feel sorry for the fish.)
What is the question you never get, ask it and answer it?
- "How high can a bird fly?" (Answer: about 12000 m)
Future plans for the band?
-To continue making our music, record it, and to play it for people who like it.
For yourself?
-To continue making our music, record it, and to play it for people who like it. And to read Stagnelius's complete writings and get the car through the survey.
Words of wisdom?
-"One should not own more than he can bring up in a birch.
Easy to add?
-Thank you for us joining Sweden's oldest punkfanzine.
There are many bands named Stillborn:
1) Blasphemous Death/Black Metal band from Poland.
2) Doom Metal band from Sweden ('84-'94)
3) NYHC band formed in '84. They had several demos and an album Questions Left Unanswered.
4) Technical Death Metal band from Netherlands.
5) Female fronted gothic/prog Metal band from Malta.
6) Rapper from Norway known for his collaborations with the norwegian horrorcore rapper Bad Spit.
7) Young Metalcore band from England who have worked with Devil Sold His Soul guitarist Johnny Renshaw
8) Death/Thrash metal band from Serbia, from the city Jagodina. The band changed their name to Stillborn Sun!
9) Italian Heavy Metal band.
10) German Black/Death Metal band from Mosbach city.
11) German Metalcore/Melodic Thrash Metal band from Mönchengladbach city.
12) 80s Thrash Metal from USA. Released 1 demo in 1987.
13) British Thrash/Death Metal band.
14) Hardcore - Austria (Vienna)