Croatian band Stigma plays hard and raw music and I really love it. Here they answer my questions about the group and many other things. November 2014. It´s Vucko who answers the questions.


Please tell me a little bit history about the band?
-We are Stigma, crustcore band from Zagreb. We have formed in 2007. Back then, there were two hardcorepunk bands rehearsing in the same garage, one called ˝Pogrebno poduzeće˝ (means˝Funeral company˝, in which our drummer Branko and lead guitarist Klen then played), and second one was ˝Kriza˝ (which means ˝crisis˝; my former band). At some point (while drinking on a back wall after some rehearsal), Branko, Klen and me came to idea to to form a new band, Stigma, and play raw crustcore.
Our first demo was ˝Povratak bombardera˝ (¨return of the bombers˝), recorded in 2007. Second demo, ˝Apokalipsa˝ was recorded in 2009. Our first, and for now only album is ˝Nova doza mržnje¨ (˝a new dose of hatred˝) recorded in february 2011 in Studio depth in Požega (studio owner is our friend and bass-player of grindcore band Dislike, which you may know for playing on OEF in 2011). The album was released in a DIY manner, in limited edition of 100 copies (which are gone by now). Coverart was made by Stiv from Visions of war (thanks Stiv, great job!), grafhic design was made by our friend Ficho and printing by Dena (also from Dislike, as he works in printing company).
To this time we had aprox. 50 gigs, mostly in Croatia and Slovenia (most notably supporting Extreme Noise Terror, Inepsy, and Malignant Tumour). We haven't played more because of our job obligations (days off are hard to get in this times of recession, when you can actually lose a job just for asking for a day off, and it's even harder to coordinate days off in the same time for five of us in the band)

Please tell me a little about every member in the group right now age, family, work, interests and something bad about everyone? Original members? Bands on the side?
-Branko (28 yrs old, drummer) is a truck driver, he also plays drums in punk band "No More Idols", and spends his spare time repairing his car. Klen (24, lead guitarist) is a carpenter, joined the Army recently as a professional soldier, mainly due to the fact that Army offers secure and steady wages and cause he hated his former job in a warehouse. Pupi (28, bassist) is an electrician, he also plays guitar in "No More Idols" and guitar and vocals in his other band "Kvar" (which means "malfunction"). Gorša (24, rhythm guitarist) is a machinist (and a metalhead), after some time on the dole, now works in a computer store. As for me, I'm 31, married, one daughter; before recession I was a construction worker. When the crisis started, I've lost my job and spent few months on the dole, found another job and worked for several years in a public company for waste management, changed company again recently etc. I also work part-time as a security guard and bouncer on gigs and other events. Most of us in the band listen to similar music, in the range from crossover thrash to grindcore.

I can of course hear some Discharge and Varukers and some Thrash metal …what about that? Which bands are you being compared to??-
Well that is sort of music that we all grew up with (hardcore punk and thrash metal), so those influences are obvious. Some people here and there used to compare us by genre with Doom, ENT and some Scandinavian bands. It is flattering to be even put in the same sentence with such bands, but we are primarily trying to make some sort of our own, distinctive sound. You can't avoid influences, which is not a bad thing, as long as you build something of your own based on those influences, and not just ripping off others music.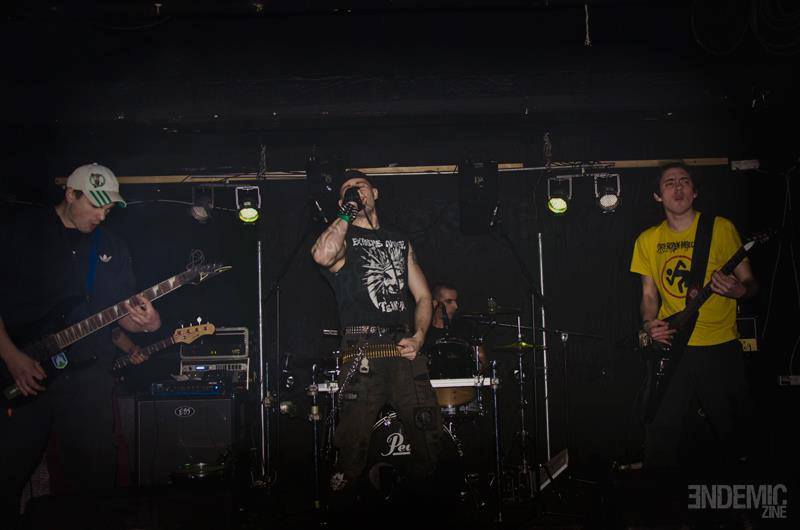 Stigma where did the name came from… Was it suggestions on any other name? Which is the best band name ever?
-"Stigma" here stands for "a mark of disgrace/infamy". We had a personal/social reasons to choose that name back in 2007. And no, it has nothing to do with Vinnie Stigma, his second band, or Christ's wounds, or dwarves, unicorns, or anything else.
Which is the best name ever? Well, what is the riddle of steel? I can only came up with the answer that every band name with a real meaning is good. In my opinion, name of the band should be part of the whole message.

What´s the best thing with playing live?
-Playing live as such.

And where is best to play?
-Everywhere where there are people who like to listen and create noise.

How is it to play this sort of music in your Croatia? Is it a big scene?
-It's a small scene. Luckily there are still some persistant people who keep it going.

How would you describe your music in three words?
-Crust core thrash.

What does punk mean to you, is it only a word or is it a lifestyle?
-As I recall, punk was that guy whom Dirty Harry asked: Do you feel lucky...well do ya punk?

How do you see on downloading, mp3 and that stuff?
-It's good to get the access to the music and bands that you wouldn't otherwise ever heard of, like from Brazil, Mexico, and Indonesia or somewhere like that. But someone's music experience shouldn't be based solely on MP3, as it is in a way degrading of a musicians effort and of music itself.

How is it to live Croatia Politically?
-Fucked up. Fucked up hard.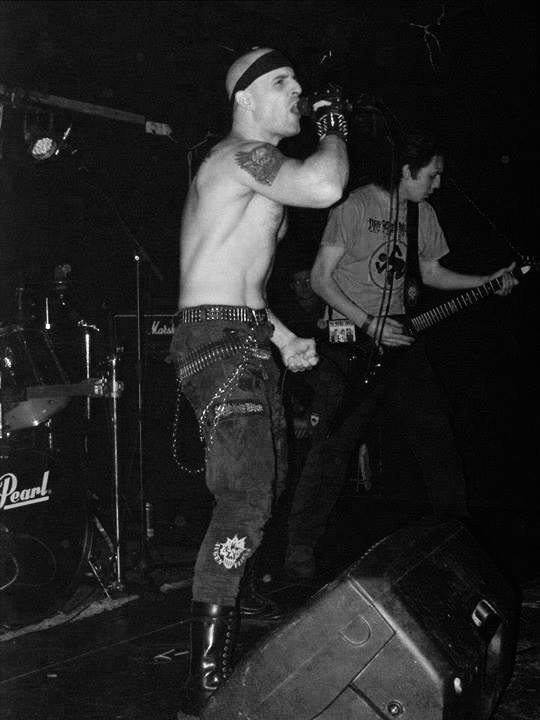 Is there any good bands from Croatia now? ?In your homecity?
-There are, even in this and similar genres. Bolesno Grinje and Nulla Osta from Pula, Dislike from Požega. Motus, Deafness by Noise, Upset and Stronghold from Zagreb. Of course there are lot of bands being formed and splitting up on a monthly basis, mostly being formed again by same people under different name. Only a few bands (people) are really active.

What do you know about Sweden? Have you been and here and played?
-Vikings, Henrik Larsson, Zlatan Ibrahimović and some really good bands (by that we don't think on ABBA). We have never played in Sweden, but we would surely like to.

Have you heard any good bands from Sweden?
-Yes, many of them. Anti Cimex, Moderat Likvidation, Crude SS, Black Uniforms, Mob 47, Wolfpack, Driller Killer, Disfear, No Security, Totalitar, Skitsystem, Avskum etc

Your lyrics, who does them and what influences you?
-I do most of the lyrics. Some of the older ones were done by Branko and me together. Our lyrics mainly cover themes of war, system oppression, alienation, fear, hatred, and violence. It's a state of mind of a society in which we are living and which is affecting us the most

Is there any subject that you never will write anything about?
-Well, we won't make any love songs, that's for sure.

Politic and music, does it goes hand in hand? Which is your most political song? And your most unserious song?
-Music is a channel to express yourselves in the first place. As you can express your anger, rage, concern, apathy or fear through music, you can also express your political views through your lyrics if you need to. But we don't think it should be prevailing over music itself, thus degrading it to a mere tool for political agitation, religious preaching, or such shit. Our most political song from the album is probably "Kurva sistema" ("Whore of the system"), and among the new ones, which are not recorded yet, most political would be "Abomi-nation". Our most unserious song is definitely "Bond", with lyrics based on an inside joke about James Bond ending up in a bloody mosh pit.

Best political band/artist?
-Discharge, Antisect, Doom, ENT, Napalm Death for sure among european bands, Nausea, and Crucifix among american ones.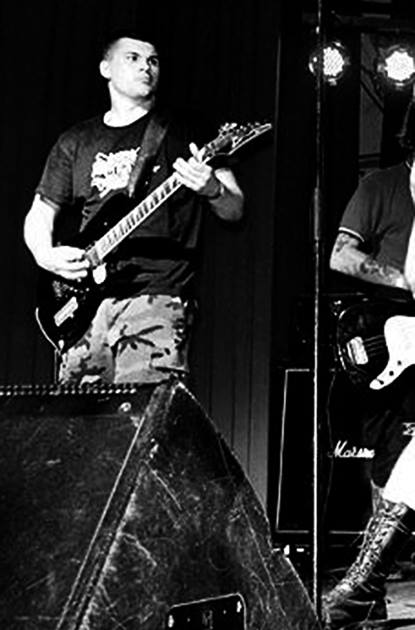 Do you think that music(lyrics and so on) can change anyones life, I mean people who listens to music?
-Sure. Especially for those who so often get too drunk on a festival and use to take a nap next to the blasting loudspeakers. They'll go deaf eventually and their life would change in that manner.

You do Discharge Fight Back as a cover, do you do any other covers?
-We used to do Lycanthro punk (Wolfpack) and Ausgebombt (Sodom) on some of our gigs.

Is it important for you to get out physical records? Why or why not?
-Well, you don't really have an album until you put it on a hard medium. Tape, CD, or vinyl. Vinyl is the best medium but also the most expensive.

Please tell me a funny thing which have happened during your career and under some gig? I can imagine that it´s wild
-Well, last year, during the crust festival in Slovenia, a big military tent with distro was caught on fire from the vegan barbecue. Fire also caught the cable leading to the big gas cylinder near the barbecue. Everything seemed as we'll got a really explosive situation in our hands. Luckily, Branko managed to turn off the burning cabel on time, saving lives of some crusties that were so drunk/stoned, that they just stood around and waited what will happen. Actually, one of that crusties was somewhat proactive so he tried to extinguish the fire with a half-empty plastic glass of beer. The organizer was stoned as well, so after some staggering around, he asked Branko something as: 'Hey mate, what's up with all that fire? '

How does your audience look like? Which people do you miss on your concerts?
-If you ment which kind of audience comes to hc/punk gigs in Croatia, that are punks, crusties, metalheads, skinheads...same as elswhere on such gigs I supose. We don't miss anyone who doesn't have real interest in this kind of music, since we are not doing this for money.

Please rank your five favoriterecords, five favoriteconcerts and five most important things in life?
-The most important thing in my life was a birth of my daughter Jana. Among our concerts, that would be the one supporting ENT in Zagreb. Other gigs would be hard to rank. Favourite records are somewhat also hard to rank for me, but among them, Extreme Noise Terror "Retro-bution", The Exploited "Troops of Tommorow", Slayer "Reign in Blood", Discharge "Hear Nothing, see Nothing say Nothing" and Wolfpack "Lycanthro punk" would surely find their place in top five.

Many of the old good guys is dead, Ramones, Joe strummer etc. If you had a chance to put together a concert together with five bands(living and dead) together with Stigma, which five would you have choosed?
-It would be great to play with Extreme Noise Terror again. And for the dead you mentioned, let them rest in peace.

Is it boring with interviews?
-Only with the boring ones.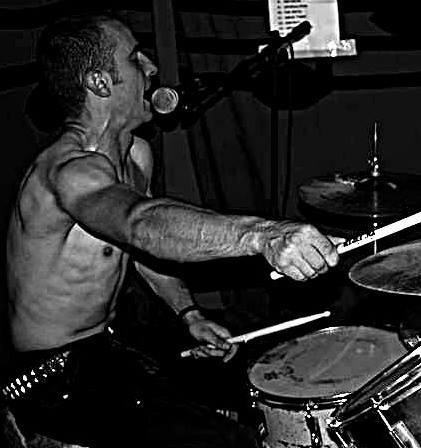 Futureplans for the band?
-We are currently working on a new material. Some 8 tracks are already finished and few others are in the process. We have some loose plans to record that material as a new album in next few months. If all goes well, we will do so. When recorded, it will surely be released on a CD, also on the internet free for download. If we'll have the money, maybe we'll also release some very limited edition on vinyl.

For yourself?
-To keep my job and take care for my family.

Wisdomword?
-Even a kick in the butt is a step forward.

Something to add?
-Cheers to you mate and to all those who still love raw hardcore!
Vučko