Hans Stengård, a 23 year old singer/songwriter from Karlskrona have never listend on music so much, he watched more Tv when he was young. Here he answer 30 questions about himself and his musiclife. This was done in the end of February 2005
Tell us a little about yourself!
-Yeah, my name is Hans Stengård, I´m born 1982 and right now I live in Lund because I study at the Social High School. I like film, books and foxes.
Many in your style of music comes from the punkstyle, which style do you come from?
-I have never been the person which have listened so much to music. Nowadays it´s mostly pop and rock. When I was younger I looked much on TV.
Is it a little bit of inbreeding in this style? Or maybe more mutual admiration?
-I don´t think I´m in a special style so I must say I don´t know, but if you look at different forums around on the net so can you get the feeling of inbreeding. But if you don´t get so much attention otherwise you must be happy if you get some backthumbs from the own people. .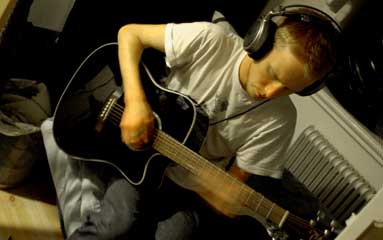 Allan Records, tell me, will it be any other bands there?
-I don´t really know. It´s not so that our future survival depends on that we sell records, so it´s really calm on that front. But it seems like if Arvid and Mattias have some new stuff going on. They use to send me music which they have done their selves, the last time it was some odd samplings they said that they was really revolting.
You come from Karlskrona, it was a lot of of pop/rocklife there once upon a time with Rockslaget, how is the rocklife there now?(I understand his reaction because I said wrong, it was Karlshamn which had the festival Rockslaget)
-What is Rockslaget? I have never have heard about it. I don´t live in Karlskrona anymore so I have really bad check on those things. And then I have mostly been in my room and done my own songs so have never been active in some "musiclife" . But it have been some festivals in the summer and there is ONE nice place which have concerts the whole year, so it´s not completely dead..
Is there any good bands/artists there?
-Yeah sure, but noone that I know something about.
In Sweden?
-Yeah, absolutely, actually I listen to swedish.
You will release your fullength CD this year, will it be a burned record or a "real record"? Or how is it released?
-We will see how it´s going with that, I must talk a little with my my partners before I answer this or that. The excitement insufferable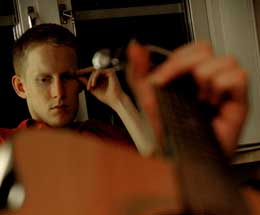 Is there only new songs, or is it some from your old demos?
-IF there is going to be a fullength it will only be new songs, otherwise it´s nothing fun. The few demorecordings I have done doesn´t sound so good.
No other record company which is interested?
-yeah, BMG, EMI, Universal... The telephone is ringing all the time. No, now I was lying. I have never sent any demo to some record company, I don't think they want me.
Which label could have been good to you?
-I think that Allan Records is more than enough for my modest needs. Otherwise I think that Silence seems to be a cosy label with good music, Ulf Sturesson for example.
To play this sort of music and to sing in Swedish puts high expectations on the lyric writer I think, do you think it's difficult to write lyrics?
-Yeah, I think it's difficult but it's fun to do it also so it doesn't matter.
What inspires you?
-To sit and stare into the wall.
From where comes the story with the tow children which was locked in for a weekend on the day nursery?
-It was such a long time since I did that so I can´t remember but I can imagine that it was so that I wanted to write something so my mate Johannes should be impressed by and think was funny, a cause which is really good.
Which lyricwriter do you like?
-If we talk about swedish lyrics I must say that both Tomas Andersson Wijs
extreme fingertipsensitive and thoughtful lyrics is good and Håkan Hellströms instinctive and "messy" lyrics is really good. And then it´s a lot of others. Ulf Lundell is really good if you´re asking me..
Music and politics, is it going hand in hand?
-It´s surely do, but not so much in my songs. But if politics is the same as opinions so must you say that it goes hand in hand. But I have really hard to like proggressive music and that sort of stuff.
Can music change anyone's life? Give me an example if you think so?
-You can maybe get some ideas from music but I don´t think it´s the music premier task to change anyone's life, then you have taken over your head.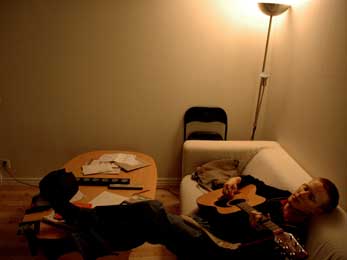 Please rank your five favourite records, five favourite concerts and five most important things in life?
-OK Right now then:
1. "Vargmåne", Ulf Lundell
2. "Allt jag vill säja", Ulf Stureson
3. "Ett slag för dig", Tomas Andersson Wij
4. "Long gone before daylight", The Cardigans
5. "Inspiration from the pain", Carl Smith
1. Public Enemy in Lund 1999
2. Rage Against The Machine in Hultsfred 2000
3. Håkan Hellström in Kalmar 2003
4. Atomic Swing in Karlskrona 1994 (Swedens coolest band ever?)
5. Just D in Visby 1994
1. Air
2. Food
3. Water
4. Toilet paper
5. Table hockey
The first, last and most expensive record ever bought?
-The first one was the soundtrack to "Philadephia", the latest was Håkan Hellströms "Ett
kolikbarns bekännelser" and the most expensive….no, I only buy cheap records.
The most embarrassing record in your collection?
-It must be one of my own demorecordings. But those I have throwed away somewhere.
Can you understand that people download music from the net? Good and bad with that?
-That is good that the music is easy to get, the risk is that some smaller artists lose a lot of money. To buy a record is some sort of sponsoring.
Do you download yourself?
-If I had something else than my slow modem I have surely downloaded some things.
How is otherwise to live in Sweden? And then I mean politically?
-I think it´s really Ok if you compare with how other people have it and then I don´t mean that it´s perfect. I think it´s a shame that the lefties have so bad leaders , they have no authority. I think that Reinfeldt(The right wing leader) wins the next election only because of this.
Is Karlskrona still a big place for neonazis?
-It´s a fact that I dreamt last night that a nazi from Karlskrona shoot me in the leg with a gun. But in the reality it seems to have thinned out a little and it have been a staking from the municipality in that thing, with manifestos, antipropaganda and some writings about it. I think there is borders for how long people have the energy to be rejected, hated and dispised..
The futureplans with the music?
-As long as it´s fun to do songs and record I will continue with it some sort of way and if it´s someone who wants to listen to it it´s a bonus.But some more big plans there isn´t.
As a person?
-Stay sharp and pass en exam.
Wisdomword?
-No….I´m a gentlemen of a little bit of profound as Bellman said.
Something to add?
-Be cool, stay in school.