Andreas from Starts did this interview in many different parts via mail but now it´s here. October 2014. Some things in the interview was really hard to understand so I was forced to take it away.
Please tell me a little bit history of the group?
-We find us at the first day of august 1999, all members played before we start in a lot of other little bands. vocals Soiche, guitar Anti & Schnitzel and drums Dödel, bass player was a little girl name Steffi. We practice punk rock every time in our life, that's our lifestyle forever !!! Three months after the first gig at our club Brückenkopf in the punk rock city Torgau. For the bass player this was this to crazy, and then came the next bass player, Killer - he have no time for us haha and then the next bass player was Cobra, he is in the band now.
In the first years of Starts was for the 2nd Guitar player Schnitzel the tours and something to Crass, we played only for the fun, not for the money he sad that sucks, not for the other members, and he was going.
Soiche the lead vocalist have many problems with himself and went away 4 years later and then Anti did the vocals and 2nd guitar, for the lead guitar came Paule, he played in a other band, Sperrzone and have lust of dirty fuxxing punk rock. and then we have played together and have find our way !!!
Please tell me a little about every member in the group right now, age, family, work, interests and something bad about everyone?
-The band members now, Dödel - drums and percussion in the middle of 30 years, Paule - lead guitar and backing vocals next year he´s 40, Cobra - bass 32years and Anti - 2nd guitar and lead vocals 35 years - old punx never die. We are possessed by punk !!! And this see you on stage.
You have listened a lot to Discharge, Exploited, VArukers and Slime? Am I right?
-The bands we listen to, Cobra - haha I don´t know but I hope he listen to music, Paule listening to Motörhead and J.rR. Cash, Dödel listen to any german punk and mass murderers, Anti listen to Exploited, Ministry and something !!!
The Starts, how did the name came up, is it a good bandname on a punkband? Which is the best bandname you know?
-The name Starts comes from Soiche, we started the band 1999 and the first name was starts 99 - the fans and other people say Starts, than fuck off with the 99 and the name was Starts. So simple, we are Starts and the name was born. An english name is better for the shows in Europe you know what I mean.
We started the band with high and colored Mohawks and spiky hairs - and after 15 years, we have grey hair and no more spikes hahaha, that´s the time - the punk rock is deep in our heart and nothing to do with fashion.
What´s the best thing with playing live? I can imagine with your fast music that it´s wild?
-We have played in Germany over in many many cities, the punk rock scene in Germany are really big. The gigs in other lands are better for Starts when we talk about the wild music, we have been to Holland, Schweiz, Italy and Czech republic. The shows in other lands are really amazing.
And where is best to play?
-There are really no particular place where it is at it is best,
The main thing is to be able to stand at all on the stage and let the madness really run wild.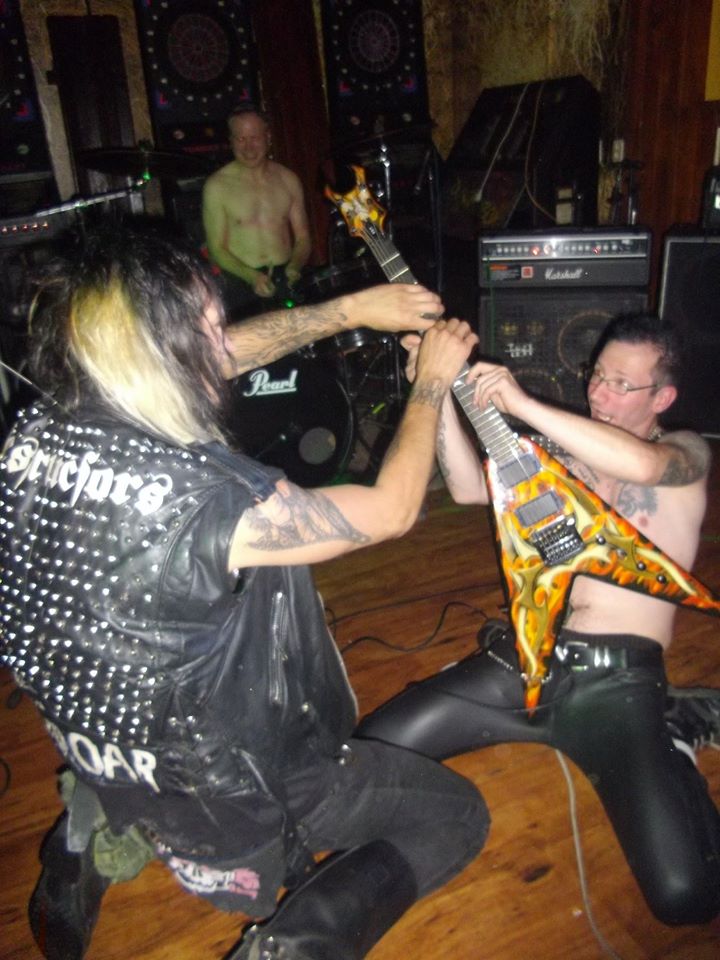 How is it to play this sort of music in Germany?
-Our style, no idea - how about high agressiv sado metal punk !!!
What does punk mean to you, is it only a word or is it a lifestyle?
-Punk is more for us than just music and more than a youth culture, it is our attitude towards life - even if we are getting older and where the hair grow differently. It is deep in our hearts and will burn as long as we live, so it burn the flames of punk forever.

How do you see on downloading, mp3 and that stuff?
-Our goodies like shirts and cd's. LPs - mp3 and so on can be found on our label BANDWORM records or on our Facebook page, Starts eastside division starts army.
Is there any good bands from Germany now? Is the punkscene big? How is it in your hometown?
-Here in the city Torgau there are a lot of punk, oi! and metal bands and even hip hop, have a hot club where you can rehearse and take place withregular concerts. Would say that the punk scene is enormous here, in some cities more and in the other just not that much, have lots of cool people crazy and horny concerts, if you like almost every week have something going on.
What do you know about Sweden?
-Sweden, hmm ... is apparently very large and as far as I know there are have lots of very good bands there !!! Whether now punk, rock'n'roll or metal, you can hear just a lot and it is supposed to be very nice, haven´t been to Sweden but that may change.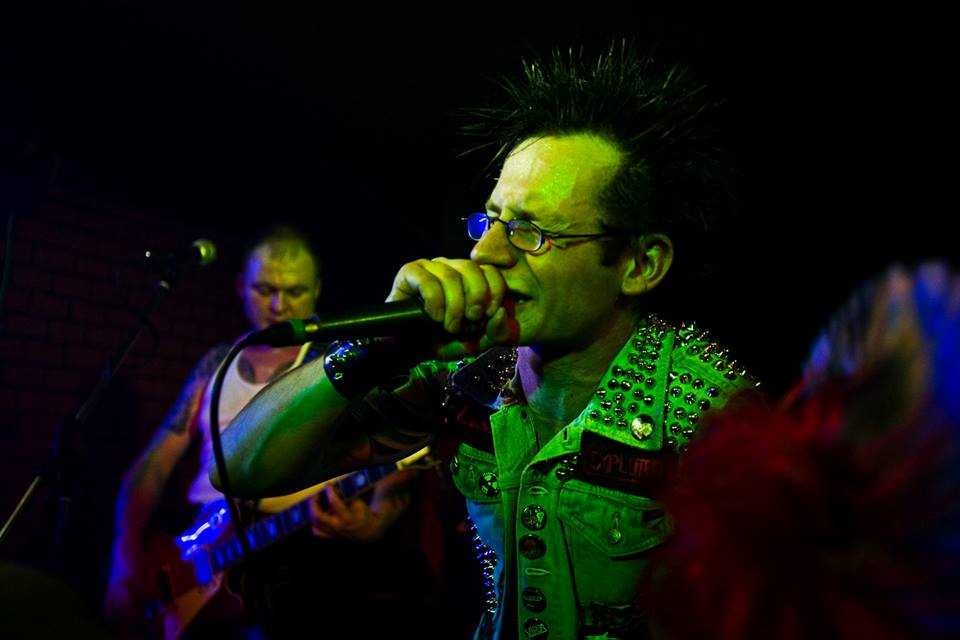 Have you heard any good bands from Sweden?
-Would enumerate all the good bands from Sweden I think last forever because there are just too many.
Your lyrics, who does them and what influences you?
-Our texts are almost always stories or experiences that we have experienced or could experience, because the best lyrics writes truly about the living. And as provocative punk rocker has to tell you what ever. Although one has seen and been through a lot over the years is that reflected in our texts again, I hope haha.
Is there any subject that you never will write anything about?
-There's always something to write with music can reach more than anything else, music can enrich every matter in which mood position he currently is, it can make you happy, pull down or endure recharge power and memories of bygone times but everyone has to find out for yourself.
Politic and music, does it goes hand in hand?
-Not for all bands, for some it is very important that politics and music to connect and to make interest and to make himself strong or to put oppression and so open, then there are those bands are 100% political correct and since there is always is people which is meat eater and the whole crap that has nothing to do with us for punk, punk has always remain hostile picture and always against injustice, nazis in any form and to the fight against racism and stupid intolerant.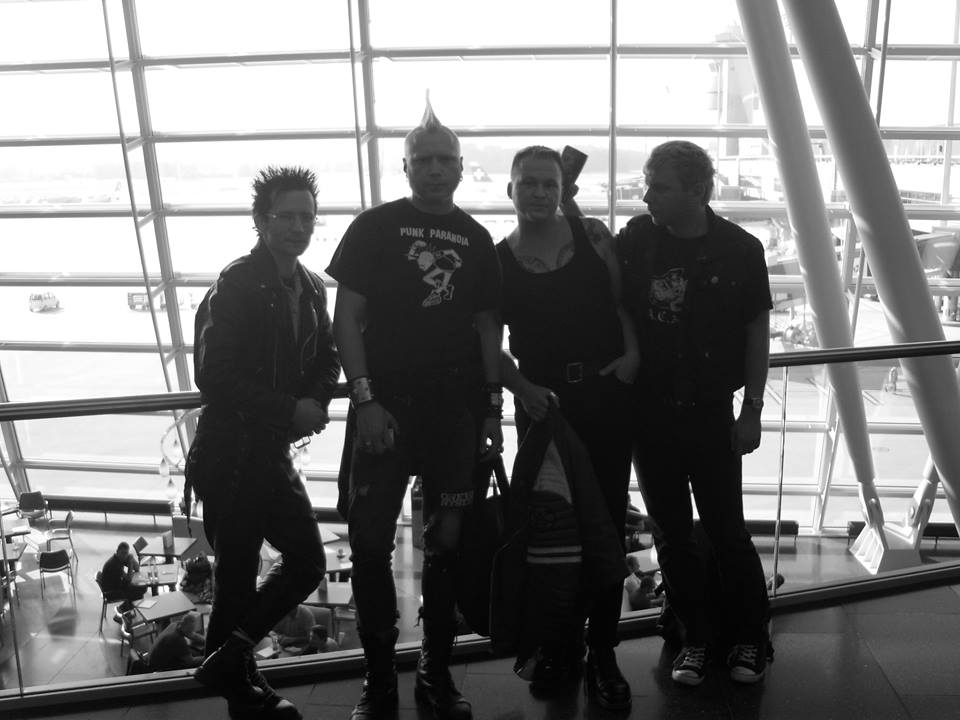 Best political band/artist?
-No idea, you know one? Small joke.

Do you think that music(lyrics and so on) can change anyones life, I mean people who listens to music?
-Influence, perhaps. If it helps them with their own way to go then definitely, but Starts is no music for melancholy, but still all systems go on.

Have you done any new material(The next attack came 2010)?
New material is abundant and we will soon go into the studio and record a few new things, but we don´t give ourselves no pressure.

Why do you sing in both English and in german???Which language is most easy to do lyrics in?
-In German can you better reach people who listen sometimes what we actually screaming because we do it only in English, it sounds just usually a bit better and with our Saxon dialect provided unmistakably brilliant.
Please tell me a funny thing which have happened during your career and under some gig?
-What fun, where do you start then on after 15 years of chaos. We were naked once when we drove and we have real pigsblood at a concert , a box beer thrown in the pogo with plenty of space sore, cracked windowpanes or destroying our guitars without reason. Punk rock baby.
How does your audience look like? Which people do you miss on your concerts?
-The audience is almost always mixed relatively colorful, old and young people, punks, metal heads, skins and together we will rock all and make every concert a special experience.
Is it boring with interviews? IS it much interviews?
-Interviews always make fun and it's amazing what people is questions about everything haha but it keeps within limits and people take their time.
Please ask the questions you never get but you want to have, ask it and answer it?
-When will the world be tour ed??? Determined in this live sometime. Why are you so nice and quiet, and on stage one thinks you were the devil obsessed??? It is just the way a bit but madness lies within each of us. Why are you so old and still doing this??? Because it keeps us young and we will continue to annoy you until we can come any longer.
Futureplans for the band?
-New album, more gigs abroad and abandon in no case even if we will never be rockstars.
For yourself?
-Themselves to remain faithful.
Wisdomword?
-Grey hair make it interesting.