Lani Ford do a whole lot of songs and she plays the bass in Stark. She was so kind that she answered some questions from me in the end of October 2008.
History?
-I grew up in Texas. Started making up my own songs at age 3. My mother played classical piano and hymns on the organ so I grew up listening to very intense music, but I wasn't allowed to touch the instruments except to dust them so I was very bitter about keyboards, still am really. I picked up violin at age 8 and messed around with my dad's guitar to write songs and record on the tape recorder Santa Claus brought me. Ha ha. I started gymnastics and acting classes at age 7. I sucked at gymnastics but was pretty good at acting. I was intimidated about musicals though because my mother would tell me I couldn't sing. And there was a girl--Fleur Phillips, I'll never forget her, who would get all the kickass roles, but I kept at it for most of my life. Haven't done much acting lately. Well, time passes. I moved to New York 8 and 1/2 years ago to pursue acting, realized I hated actors and had all these songs I had written on bass and guitar and keyboards (believe it or not) and wanted to perform them and see what happened so that's what I did and in a few months I formed a band with some guys I met at regular open mic. That was Dylan Grewen and Greg Schiff. Dylan had to leave to take care of other issues and Jonesy came on board. Then Greg moved back to Maryland and Gass Wild came in to play drums. Then Jonesy had to take care of his shit so Josette started playing guitar. She didn't like playing with Gass so she brought Rob Endemann in to play drums. Josette wimped out after we released a record and got a UK tour so my engineer, Joe Hogan came on board. Then in May, Rob had a baby and moved back to Florida so Joe recommended Eric Robel. I burned through a few other players along the way as well and most of them are still great friends…I'm really not hard to get along with, it's just very difficult to keep a band together in NYC. Glad we're only a 3 piece.
Please tell me a little about every member, age, interests, work, family and something really bad about every one?
-Lani Ford (that's me)—founder of STARK. I play bass and sing and write a lot of songs. I used to write most of them but now Joe Hogan is bringing a lot to the band and we're running with it as a team. So cool! I'm married to the drummer of a band called The Sprinkle Genies. We have a Chihuahua who is evil and popular on the Lower East Side of New York City. I'm not telling you my age, but I'm over 30 and proud I lasted this long. That's probably my really bad thing. Well, that and the two tattoos I got from some dudes I met riding down the highway in California.
Joe Hogan—guitar and backing vocals. He's also over 30. Joe engineered both of my first 2 records and ended up filling in on guitar for our tour in the UK last winter. After we returned, he joined the band permanently and we've already written 4 awesome songs together. He's married to a fun chick named Amy. He works for Blue Man Group and as an independent engineer/producer. He pees in hallways if he drinks too much tequila.
Eric Robel—drums. He'll be the first one to turn 40 someday. Eric's toured a lot, playing with former bands Nova Express and Heroin Sheiks. He lives with his baby's mama. She's cool. His kid Zach is 5 and soooooo cute! Eric's a special effects video guy. He will kick anyone's ass. He's a hater.(laugh)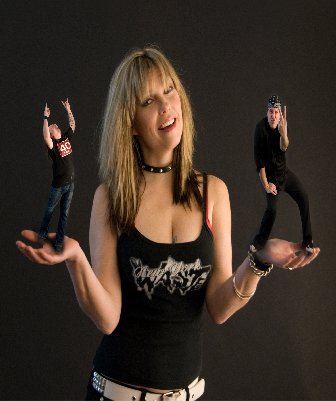 Punk in USA, how is it to play it?
-Mostly not welcome or appreciated much in the mainstream world. I think people are actually afraid of it or think it's bands like Blink 182 or something. When you do play in the underground scenes it can be cool…almost like the old days with a sense of community.
Have it been any good bands back in time in USA, any favourites?
-Metallica, Nirvana, Fleetwood Mac, Sublime, Supersuckers, Rage Against The Machine, Blondie, Dead Boys, New York Dolls…
You work on TV too, how could you mix those two things?
-I'd rather just be playing rock and roll but I would like to have a TV show that featured up and coming bands, singers, comedians, artists. Not an easy task.
Reliably Disappointing Relationship, what do you mean?
-An old friend of mine challenged me to write a song using that phrase when I was complaining about an old boyfriend and she told me to break up with him because he wasn't reliable. I said maybe I don't really want him to be and I like our "reliably disappointing relationship." It's something I could count on more than just a reliable relationship.
Have done any more records than the The Curse and Put it to your head? If you have how can I get it??
-We're working on the new stuff now. I do have a 3 song live EP from a former lineup and an acoustic CD plus an acoustic demo. If you would like those I can send them.
Which type of people comes to your concerts?
-All types—gay, straight, young, old, partiers, former partiers, guys, girls, very mixed.
What does punk mean to you, is it only a word or is it a lifestyle?
-Definitely a lifestyle. The older you get and have to have jobs and stuff, you can't demonstrate it as much in clothing or graffiti but you can still live with the attitude that rich people mostly suck, the government sucks, live fast now because it will all end soon…if you're lucky. (laugh)
How would you describe your music in three words?
-Loud, passionate, rough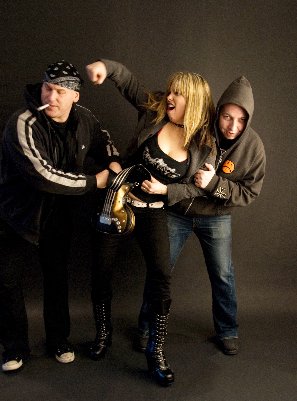 How is the reviews you have got for the new CD?
-Mostly good. Even the bad ones haven't been that bad and have had some good gems to offer. Only 2 people didn't seem to really understand it. They didn't seem to appreciate the ability we have to play all styles/genres of music and still keep it punk. One wanted me to sing more of the pretty stuff, the other wanted me to be all punk noise all the way. What can you do? Can't please everyone, especially idiots.
Do you care about reviews?
-I don't mind the good ones. I like to hear what people say but it's not going to make me change too much.
How is it to live in USA, I mean politically? Now with the election and everything?
-If I could leave the USA, I would. 8 years of Bush has ruined this country and it doesn't matter who wins the election, they are screwed for a long time. Of course, I'll vote for Obama, even though I think it should have been Hilary. I can't stand the Republican regime. No one seems to be fighting about it much. Most people don't even pay attention. In the middle states, they just vote for who they like or who their families vote for. Some people can be pretty disgusting and ignorant.
The best and the worst of living in USA?
-Still trying to find the best thing. See above for the worst…plus the economy, lack of support of the arts, lack of good education options, no health coverage….it goes on and on.
What is typical swedish?
-Dry sense of humor, strength.
What do you know about Sweden?
-Not much, except that the climate is cold and the people are warm.
Any good bands from Sweden you like?
-I met this band Stupidity a while back and I really liked them a lot. I'm sure there are others but they stand out the most right now.
Is there any good bands in USA right now?
-Yeah, not so sure about any of the famous ones but I love Bantam, Banana Fish Zero, New Professionals, ICU, The Bullys, Grande, Roarfiend, The Ettes, Girl To Gorilla, The Swear, Mongrel Bitch, She Wolves, De Luxe…a lot of them don't play out much anymore.l
Much interviews? Is it boring?
-I kind of like doing interviews. I feel like I might be boring sometimes. I try almost too hard to come up with good answers that are honest. If I was more full of shit, I'd probably do better.
Please rank your five favourite records, five favouriteconcerts and five most important things in life?
-Wow. Ok. 5 favorite records so far are Bantam "Suicide Tourist", Banana Fish Zero "Down and Dirty", Roarfiend "Sonic", Sass Jordan "Rats", NIN "Pretty Hate Machine"
5 Concerts: Ted Nugent (1986 Texas Jam), AC/DC (Fly on the Wall in Dallas), Red Hot Chili Peppers (can't remember name of small club around 1989 in Dallas), 7 Mary 3 (some outdoor show in Cincinnati when there was a riot), Megadeth (Cincinnati, 1998)—and every Stevie Nicks show I've seen…I know that's six but she's amazing in concert
5 most important things: My family (pets included), my friends, art (incl. music, literature, etc.), justice for all, sleep
First and last and most expensive record ever bought?
-First—Linda Ronstadt's Greatest Hits
Last—Katy Pfaffl's latest record
Most Expensive—Pretenders Box Set
Most embarrassing record in your collection?
-Cat Power
Your record label is it your own or?, is it a good label, what have they released more?
-I don't have a record label. Everything is self-released. I use my publishing name Kicking and Screaming Music. We've been on compilation CD's from Versailles Records, Poptown Records and MJR Films. We're supposed to have a track on a Wicked Cool Records comp in 2009.
New stuff like My space, Facebook and so on.... is it good or how do you see on these things?
-I hate computers, websites, My Space, especially Facebook and all the others. It's a waste of my time and creative energy. However, technology is a necessary evil…I guess. Myspace helps a bit for touring…I've had pretty good experiences in that way. Dealing with internet branding and press kit sending is the first thing I want to delegate to someone else.
How do you see on Mp3 and downloading and so on? is it good or bad for smaller bands?
-If it's available for you to download, I think that's good. That's what it's there for. If you're downloading it illegally, I find it abhorring. If you burn cd's for someone else I hate that. I'd rather give my cd to someone for free than to have people copying them. I might do the dropcard thing next time. I guess, I'm torn though because you have to be heard somehow.
Which is the biggest band you have played with on a concert?
-Well, depends on how you look at it. We played at a festival where the Gin Blossoms headlined but we played on a different stage. We played at a record store with The Dollyrots but I'm not sure how big they really are. I've played many times on the same stage as Sami Yaffa from Hanoi Rocks/New York Dolls with his other band Mad Juana. I've also played with Bantam and the She Wolves. Gina Volpe from Lunachicks heads Bantam. Donna Lupe (Honey 86%er) from Cycle Sluts From Hell leads She Wolves. I've also played with members of Joan Jett's Blackhearts in their other bands. Fernando Rosario (JD Malo) from Mike Monroe band and more has played guitar and bass for my band on numerous occasions. Oh, and we've played with Warrior Soul. That was cool. I've played with Patti Rothberg and Joy Rider as well. We're still waiting to open for AC/DC at the Garden.(laugh)
And which band do you really like to support if it..s possible?
-New Professionals, Bantam, Statues of Liberty, Roots Rock Rebel, Magges, Girl To Gorilla, Ash Gray, Sprinkle Genies, Grande, She Wolves, Cycle Sluts From Hell, Warrior Soul, Honor Among Thieves, Action City Blackout, Paper Tongue, Daddy, The Bullys, Devil's Blues, …oh, I think I was supposed to list one. Going out to see music is the only thing I really do besides play music and work.
Is it a dream you have to unite all the world punks, do you see that there is many different styles of punks which don't go so well together?
-Well, to me, lots of things can go together as long as it's good. I have very eclectic tastes in music but I think that everything I like somehow has a punk attitude. I like underdogs. I would love to unite all punks, all musicians, all people…meanwhile I'm not getting a Mohawk any time soon.
Future plans for the band?
-Oh yeah! We're writing new stuff every week, faster when we can. We love working together. We are planning a West Coast Tour for winter and want to get back to the UK and Europe in June. Hopefully Texas next fall. We really want to tour every where we can. Record a new record and start getting paid a little bit.
For yourself?
-Improve as a person, wife, and musician every day. Try to focus on the most important things and not waste time on bullshit. Stop working in the corporate world.
Wisdomword?
-Whatever
Something more to add?
-Still trying to think of that one question I've never been asked. Not really sure, but no one's ever asked me if I write other things. I do. Not as often as I'd like because I love writing songs the most but I have written a full-length one-woman theatrical show, a 10-minute play, several short stories, papers and speeches. And tons of poems. I've started but never finished many novels. My current goal is to publish short articles/musings in the New York Waste. Just need to type them…someday, when I have an assistant.
Thanks so much! Hope to see you in Sweden someday soon.