Spring Fall Sea have a little bit odd background. Here have Dylan and Marvin told us a little about the group. They were very fast when they answered my mail and it didn´t took many hours before the answers was in my mail. January-2018
Please tell me a little bit about the history of the group!
-Marvin: Dylan and I met in Bangkok, Thailand in 2014. Dylan was studying sound engineering at SAE Bangkok and I was working as a bartender. A mutual friend asked us to play cover songs for her birthday party, that's when we played music together for the first time. During rehearsals we would show each other some of our original ideas and realized quickly, that we were interested in the same sound and vibe. So pretty much right after the cover band project was done we recorded a first demo at Dylan's school and started working on our first EP. That was two years ago and we've come a long way since. We recorded 3 Eps by now, played over 150 shows in 15 countries on 3 different continents, moved to London, UK and are working on our 4th release.
Please tell me a little bit about every member in the group, age, family, work, interests and something bad about everyone? Have you played in other bands before? Or do you have other bands on the side?
-Marvin: I'm 27, I quit my last 'normal' job when the band got a bit more serious. Next to music I love to go for runs and I'm super passionate about cooking. I guess I can get annoying while working on stuff I'm passionate about, most of the time I feel like I have a clear vision and want things my way. I'm not going to say anything bad about Dylan (haha). We both played in bands before. Dylan played in a band called 'Blindstar' before and he also played with the finalist of 'The Voice Thailand' Max Jenmana, which is a pretty big thing actually! I've played in a few bands before, including 'Schmutzstaffel', 'Snarg', 'Lafftrak' and 'Sledge', all different genres. Dylan: I'm 22, born in England and grew up in France. I never had a 'real' job before, I worked as a teacher for a couple of English camps in Thailand and bartended at a few music festivals. When I was a kid, 'Tony Hawk's Pro Skater' made me want to start skating and play music immediately. My mother, who used to be a singer in a punk band in Toulouse, France, bought me my first skateboard and taught me how to skate, then at the age of 12 or 13 I got my first drum kit! At 15 I started my first band called 'Blindstar' and we released an album called 'The Next Stage', we recorded it in the basement of my parents house in Normandie at the time. To this day I'm very passionate about skating. But I've decided that I'm done hurting myself and I can't afford breaking an arm in order to play drums. So I just cruise around with a longboard these days.
I can hear different influences in your music, but mostly indie, emo etc? Do you have any favorites from the past?
-Marvin: Most of the time we were considered post rock so far, which I can definitely hear, but I wouldn't see us as a good fit in that genre either. In my opinion, we both like the energy of heavier genres like metal, hardcore and punk but also love melodies, harmonies, grooves. And electronic music! So we just do something including all of these things.
Spring.Fall.Sea, are you satisfied with the name? How did you come up with it? Were you afraid that other bands used the name? What is the best band name you know?
-Marvin: Finding a band name is always a struggle. For this one: Spring.Fall.Sea basically just means 'river'. It starts at the spring and ends in the sea. I like that it's kind of cryptic. Dylan: I like our name! This is the only thing that is a bit annoying: when people ask about it I have to repeat it two or three times in order to get it understood… is that a bad thing? But I definitely wasn't afraid that another band would have this name, it's too special!
What´s the best thing about playing live?
-Marvin: Energy! Dylan: Sweat!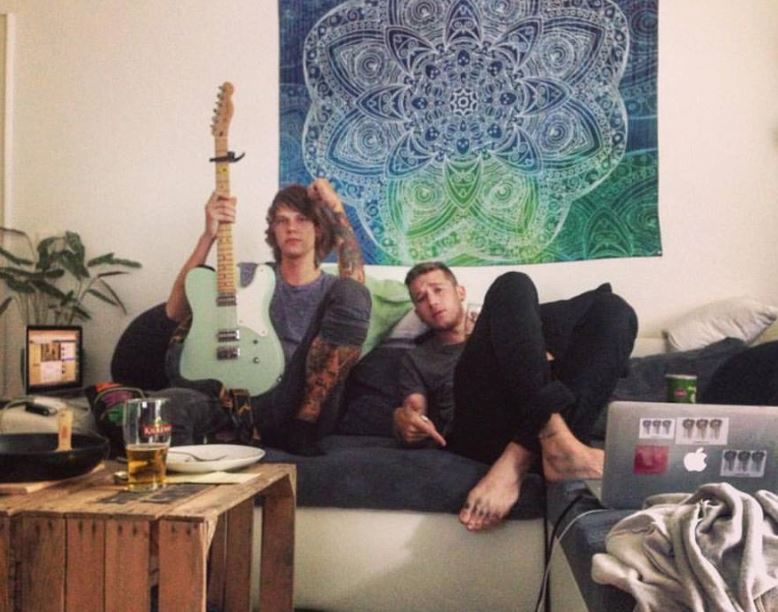 Where is best to play? And the worst place?
-Marvin: I think my favorite shows were some gigs we put on ourselves in Bangkok. And I loved playing in Vietnam, the energy was amazing. We had good shows everywhere we went, it's hard to pick a favourite. Worst? We had some shows in the US where the venues didn't know there was a band coming, the 'promoters' just didn't inform the bar staff, that sucked. So we played for the regulars, I still enjoyed the shows though and we got a good response. Dylan: I love playing in Germany, but I think the best energy I have felt during our shows was when we played in Vietnam!
What is it like to play this sort of music in your home country? (which is your home country? The record came from London and I read that you are from Bangkok?) What type of bands do you play concerts with?
-Marvin: That's a tough question, my 'home country' is Germany and Dylan's is France. We both haven't lived there for years though. We spent a bit more than 3 years in Bangkok and recently moved to London. We are sharing a room at the moment to save money, be productive and creative and finish our next release, which will be out in a couple months from now. We've played in countries where you would expect no music scene for our sound, but I learned that there is a scene everywhere. Music is a universal language that's understood around the globe. Bands we play with? Thinking of Bangkok 'Count The Thief' and 'Sinners Turned Saints' stick out to me, we played a lot with them! Snarg is the only band we've played with on two different continents. In London I'm hoping to play shows with our friends in Hearth, check them out! Dylan: Technically this is my home country because I was born in England but left when I was 4 years old. This is the first time I'm back. I'm looking forward to play shows in the UK and see how our music gets received! We've played with tons of different bands in general, I really enjoy shows with different genres, it's always more fun to me!
How would you describe your music in three words?
-Marvin: High energy rock. Dylan: Heavy but friendly?
What does punk mean to you, is it only a word or is it a lifestyle?
-Marvin: I think punk is lifestyle first, music second. Punk isn't about playing 'good' music but about energy and the message. I love punk!
What's your opinion on downloading music, mp3 and that stuff?
-Marvin: I think it's great, we have all our music for free online, I'm happy about every single person that is interested and listening. Why make music inaccessible? Music is about unifying ideas and people.
What is it like to live in your home country right now? Politically? Fascists?
-Marvin: I think both of us not living in our home countries is a good statement (haha). There was a global right shift in politics last year, with Trump, Brexit, the twisted public opinion on refugee movements, other elections in Europe and even in Asia. It's terrible. With Merkel being portrayed as the 'liberal' force of the western world - I really don't know what to say anymore. I mean she is the leader of the conservative Christian party in Germany. That was the furthest right wing party in the German parliament until AFD got voted in last year, now it's even worse. We have to point out that racism and fascism are a real threat and problem, people like to pretend it doesn't exist and then engage in behaviors that are exactly that.
Is there any good bands from your home country right now? Is the punk scene/hardcore scene big? How is it in your hometown?
-Marvin: Being in London is great. Every band that plays a EU tour stops here. There is loads of shows happening every day and I'm very excited to be here. Dylan: There are tons of great bands from the UK, the scene is huge!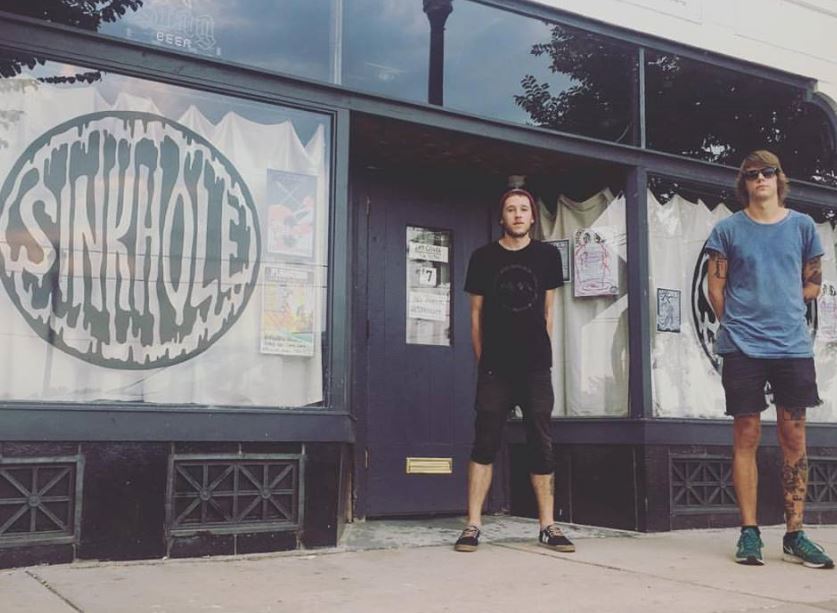 What do you know about Sweden?
-Marvin: I've been to Sweden once as a teenager. I don't know too much about Sweden in particular. But the Scandinavian countries seem to be a few steps ahead in some areas compared to the rest of the world. I love that Finland is giving basic income a try, that should be a thing everywhere. Dylan: Pewdiepie.
Have you heard any good bands from Sweden?
-Marvin: One of my favourite bands is from Sweden, Refused! They have inspired me a lot, they were so ahead of their time. 'The Shape of Punk to Come' is still so relevant and sounds like it's been recorded this year - and the record is 20 years old now. Dylan: Same here, Refused!
Who writes your lyrics and what influences you? Is it easier to write lyrics now or was its easier when you were younger?
-Marvin: So far I wrote the lyrics to our songs. On 'The Seedless Fruit' I wrote a song called 'Shape Me', which is about my own struggle with trying to grow and learn and sometimes feeling like I'm stuck, while 'The Man in Gold' is criticism of capitalism and 'Mother' deals with humanity exploiting and destroying the ecosystem and this planet. Well, the planet will survive but we might not. I tried to write fictional stories that reflect these topics. On our next record it will be a bit more personal and poetic I think!
Is there any subject that you will never write anything about?
-Marvin: Probably, there is too many topics to write a song about every single one
Politics and music, does it go hand in hand? Which is your most political song?
-Marvin: It does! Music and art and life in general always transports some sort of statement. And writing words to songs is a great opportunity to share ideas and give an interesting perspective. I would say 'Mother' is the most political thing we have done so far.
Best political band/artist?
-Marvin: Refused, Minor Threat, Dead Kennedys, Enter Shikari.
Do you think that music (lyrics and so on) can change anyone's life? I mean people who listens to music?
-Marvin: Sure, when I started listening to music it changed everything for me. Music is magical! Dylan: Definitely, music has changed my life and I wouldn't be who I am or where I am today if it wasn't thanks to music.
Your cover on your CD looks really nice, is it important to have a record cover that shows people which type of music you play? What is your favorite record cover? Who does your covers? And do you have any good record stores in your hometown?
-Marvin: Thanks, the artwork was done by our friend Til, he's also the drummer for Snarg. You can follow him on Instagram, just look for malbvch! I love artworks and art in general, so the cover is your first step of your experience with a record. It is important! I think my favourite artwork is 'Die Erde ist eine Scheide' by German rapper 'Audio88', check it out, it's dope! Dylan: One album cover that stands out to me is the Blink-182 self titled album from 2003!
Is it important to get out physical records of your music? Why or why not? Vinyl, CD, cassette, what do you prefer if you could choose?
-Marvin: With music being available for stream and download that's a fair question. But since there is so much passion involved in music, physical records are a great way to support and collect artists. It's a whole different experience in general. And vinyl still sounds best anyways. We've done CD, cassette and vinyl. CD is probably my least favourite.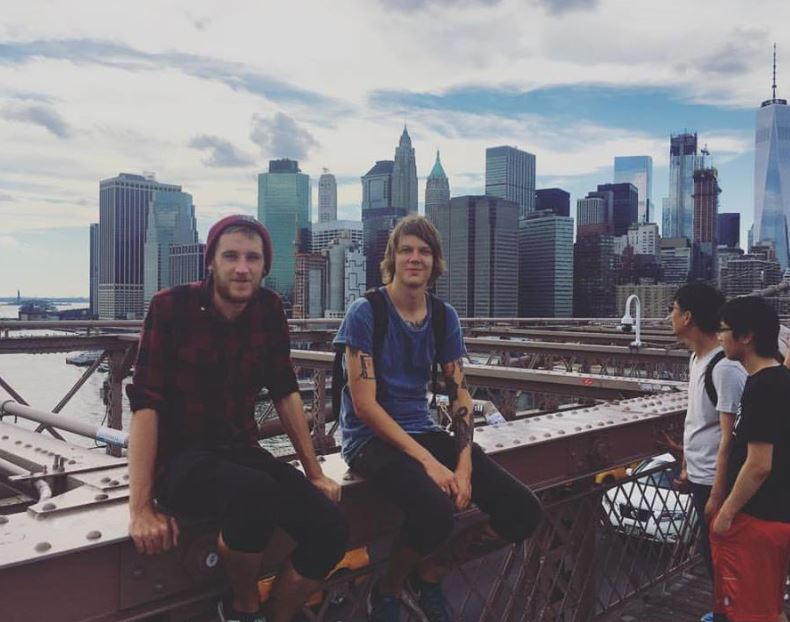 Please tell me a funny thing that happened during your career while playing shows? -Marvin: We played a 6 week US tour this summer and we had a videographer join us after the first week. We wanted him to make a documentary of our trip, so he flew from France to Iceland and from there to Los Angeles. First he forgot to re-check his baggage during the stopover in Iceland, so he arrived with no clothes or any of his stuff. He only had his laptop and a camera that were in his hand luggage. He lasted two weeks on the road with us (haha). I fully understand though. Touring is hard, little to no sleep, having to be social 24/7, long drives, little security in terms of knowing where you will sleep, bad food. It's tiring. But he left us in the most inconvenient way possible. We were staying at this promoter's house outside of Nashville, dozens of miles from the city and in the middle of the woods. He just left in the middle of the night, walked 2 miles through the forest and then hitchhiked to the airport and went straight back to France. We couldn't believe that actually happened for a week or so (haha). I love you Mark! We had loads of other funny situations with language barriers too. In general, touring is so random and every day is an adventure, that's what makes it exciting, I love it! We released two short documentaries about our tours in Europe and Asia on our YouTube channel, check them out to get an idea!
How does your audience look like? Which people do you miss attending your concerts? What is the biggest band you have ever played with?
-Marvin: I think we resonate quite good with people that are into heavier music. But there is no typical audience, we got surprised so many times by people coming up to us after shows that really enjoyed it. We would have never expected! One time there was this couple, probably in their 70's, they sat on a table in the back of the room for a show we played in Cambodia and they loved it! Biggest band we've played with? We played some festivals in Thailand that had very popular acts. I would say my favourite bigger show was with LITE, they were awesome.
Please rank your five favorite records, five favorite concerts and five most important things in life?
-Marvin: Refused – The Shape of Punk to Come, System of a Down – System of a Down, Explosions in the Sky – The Earth Is Not A Cold Dead Place, Shojoskip – Cosodorokitsune, Enter Shikari – The Spark. I honestly have no idea about my favourite shows. It's probably the ones that we are involved in and there are too many. The 5 biggest things in my daily routine are fruits for breakfast, sports, music, cooking, sleep. They are not the most important things in life but that's what I spend almost all my time on (haha). This question is too vague to give a real answer to. Dylan: Angels & Airwaves – I Empire, Angels & Airwaves – We Don't Need To Whisper, Have Mercy – The Earth Pushed Back, Korn – Issues, Shojoskip – Cosodorokitsune, Bring Me The Horizon – Sempiternal. The five most important things in life are friends, family, surrounding yourself with good & positive people, Marijuana and MUSIC!
First, last and most expensive record you ever bought?
-Marvin: I can't remember my first one, probably some Bravo Hits chart collection. Last one was 'Enter Shikari – The Spark'. I think all records I ever bought were under 20$. Dylan: First record I ever bought was 'Sum 41 - Underclass Hero' and the last and most expensive was the 'LOVE' 1 & 2 + movie package from 'Angels and Airwaves'!
Are interviews boring? Do you do a lot of interviews?
-Marvin: We've done a few interviews and been on a couple podcasts. I've enjoyed all of it so far.
If you could choose five bands from the past or recent, both dead and alive to have a concert with, which five would you pick? Marvin: Probably the bands that I mentioned in the 5 favourite records question. Dylan: Same for me.
Is music a good way to get out frustration and become a nicer person outside of music? -Marvin: Definitely! I feel off if I don't play music. I just discovered that very recently again. Since we were moving half way around the globe we were homeless for the last few months. Well, we didn't have to sleep outside but we were crashing on friend's couches and stuff like that for most of the time. We didn't get to rehearse at all for like 3 months and this week we had our first real rehearsal since September – I had the best day of my month the day after, it's all energy (haha)!
What is the oddest question you ever got in an interview?
-Marvin: We were doing two interviews for our friend Stevo. He has a podcast called 'Surrounded by Details'. He likes to ask odd questions. I can't remember a specific one though.
Is there a question you want to be asked but you never get? Please ask and answer it! -Marvin: I ask myself so many questions all the time and don't know the answer (haha).
Future plans for the band?
-Marvin: Find a producer for our next EP, record it, release it, tour it!
And for yourself?
-Marvin: I'm trying really hard to run 10km in under 45 minutes (haha), I practise like 4 times a week. I'm close but still can't do it. And I'm trying to make the best sushi I can, it's tricky! Dylan: I've had a pretty bad sleeping routine lately, I can't sleep at all and stay awake for 2 days straight, so hopefully I can fix that soon!
Words of wisdom?
-Marvin: Eat your fruits and vegetables (haha). Dylan: Don't be a dick!
Anything to add?
-Marvin: Thanks for the interview! Find us online, we have loads of videos on Youtube and all our music is for free download on our Bandcamp page. Much love!