Something Like… comes from Czech republic and plays a really good sort of hardcore. It took a while but here´s the interview….august 2022.
Please tell me a little bit history of the group?
-Something Like was formed during the year 2001 with a gradual transition from the band Pain of Anothers. We were a bunch of young guys influenced by the music and views of Earth Crisis, Snapcase, Despair, Agnostic Front, Madball, Undying, Unearth, HSB and the whole metalcore wave of the beginning of the new millennium. The line-up has changed in various ways. To these days only I - Jenda remain from the original line-up. In 2006 we released a mini CD and in 2016 a record MMXVI. We currently have a new singer Matej and after the covid time we are starting a new stage of Something Like
Please tell me a little about every member in the group right now, age, family, work, interests and something bad about everyone? Earlier bands? Other bands on the side?
-Matej plays the microphone, he is 27 years old, he has a girlfriend and a five-year-old son. He works as a serviceman of industrial machines and production lines, so he often flies and travels around the world. Hobbies: shooting, TV series, guitar, PlayStation, hiking. Bands he played or sang: Picture Imperfect, Pawnshop, Anthem
Jenda is a founding member. He plays bass in Something Like. He is going to be 41 this year old and he is married. His wife Bara plays bass in the band Ethos of Nemesis. He works as a salesman in a shop with tools and materials of all kinds. The only vegan straight edge in the band and probably the biggest fan of the band Heaven Shall Burn in the world :-) In addition to the band he has been doing Aikido for many years, occasionally goes bouldering, enjoys B-action movies, watches MMA and martial arts in general. Jenda speaks very fast and sometimes it is difficult to understand him. The boys are afraid to ride in the car with him - he often gets so caught up in the topic that he forgets to drive. Unfortunately, only Jenda drives our band to concerts almost all the time :-) Something Like has always been his only band but he also helped a few times elsewhere - in some concerts or in a studio. Positive Mind - hardcore, Clash - punk nu-metal, Neron - black metal, Neurotic Machinery - progressive metal, Vipýchaná fčela - punk.
I guess David came to Somethiing Like in 2005 when he was playing in the punk rock band Vipýchaná Fčela. He is 34 years old, has two beautiful daughters, a great wife and works as a manager of a financial company. He likes to do new things that he doesn't understand for reason to learn something new. He's quite choleric so for us it is not always easy with him because he quite often doesn't go far for criticism. But we have known him for years and always forgive him 😊.
Zdeněk plays drums in SL. He is 27 years old and married. He works as a social worker in a home for the elderly. Hobbies: music of course, collecting gramophone records, comics, playing games, watching wrestling. Former bands: Fixed Light (pop-rock), C.S.D.V.T., DAERRWIN. Zdenda is a magnet for diseases. As soon as a new one comes out he must have it right away - just a passionate collector :-)
Marcel is a nice guy who plays guitar with us. He is 34 years old, he has a girlfriend, he is not planning to get married soon but we don't believe him. Nobody knows any bad qualities on Marcel there is simply no calmer person in the world! He loves music, moshing at concerts and sports - especially cycling - downhill, etc. Which we often forbid him because sometimes he breaks something and then he can't play the guitar - that's probably the only thing that sucks us, hehe.
I can hear much different influences but mostly thrashmetal and hardcore,? Favorites from the past?
-We love the melody and hardness of metal and the urgency, authenticity and commitment of hardcore. Some of us grew up on punk, others on hardcore and others on metal. We found ourselves in a metalcore that suits us all. Our music mixes metalcore from the beginning of the millennium with modern metalcore. That's how it suits us and that's how we enjoy it the most.
Something Like… are you satisfied with the name? How did it came up? You weren't afraid that some other band would be named like this? Which is the best bandname you know?
-When we were choosing the name, the internet was relatively a baby. Today when you come up with the name of band, you have to take into consideration the traceability on the Internet. That's something we didn't have to deal with at that time. However, at that time we could not agree on the name at all. Different names were dropping, Keep the Fire Burning, Rain Has Fallen. Murder You Call War, Jamie Farr (Corporal Klinger from the series Mash) and others. We still couldn't agree. What one liked did not like the others. At the time, we were sitting in a pub and saying, "It would be good to be named something like Caliban, that sounds great." When one of our friend said:, "What about to be named "Something Like Caliban." (he said it in English). We were interested and we agreed to be called Something Like… and for those 3 dots each of us will replace what he likes. Today, over time, I understand that the name expresses the agreement of five boys. As one of our drummers, who was just leaving us, once said. When you break up with a girl, it's terrible. But when you break up with a band, it's much worse because you break up with four people at once. At this time I realized that the band is a lot about compromise and tolerance is important. For me, the name means compromise and especially tolerance. And even though it may seem to be stupid, it is a thing that 5 young, undisturbed, and selfish boys managed to agree on the name. And that's a lot. And the best name of the band we know? Definitely Neaera for me - I don't know what that means, but it sounds absolutely great, of course Heaven Shall Burn and then also the band Shut Up And Dance.
What´s the best thing with playing live? Have you done any since the covid came? What is your strength as a liveband?
-Live playing is the most. All the things you do around, like the web presentation, making music and music videos are great but you do them because you want to play live so people know the songs and can sing them with you. We didn't play many concerts during the covid. Mainly because we "used" the time of the pandemic to find a new singer. We finally succeeded and we have got Matej with whom we recorded the single ONA (we also recorded a video for it) and played 2 concerts. The first concert was such a warm-up. The second one was absolutely great and we are really looking forward to the next one. The concert calendar is starting to fill up, and that's great. Our strongest point is probably authenticity. First of all, we enjoy performing live and we mainly want to enjoy the concert. Nice photos from the concert from professional photographers are nice but the most important thing is the atmosphere and the fact that we and the people under the stage enjoy it.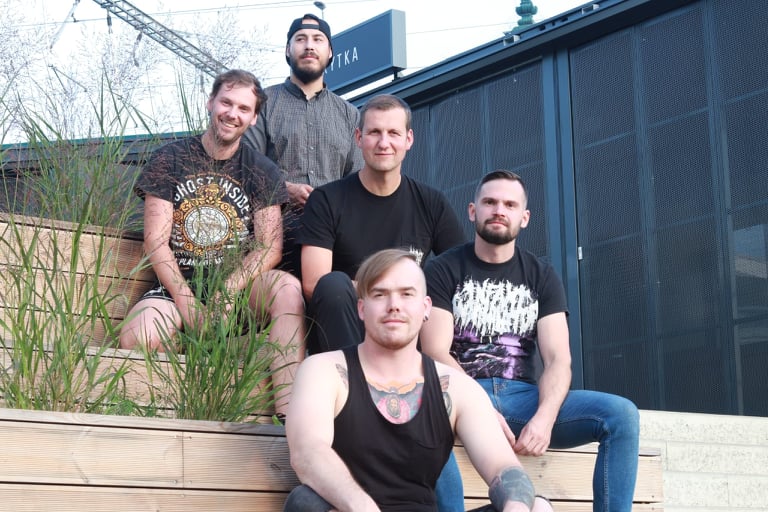 And where is best to play? And the worst place?
-The best places are where people enjoy concerts. We used to have great place in Tachov called Garage, which no longer works. Morrison (RIP) in Mariánské Lázně was also great - the best people who ever owned a club. Other great places are Pilsen – Pod lampou, Prague - 007, Cross Club, Strakonice - Křemelka (RIP). The worst concert we have experienced so far was probably in Pilsen in Neutral, where the organizer totally fucked with us. For a while it seemed that the concert wouldn't even happen - he didn't get sound engineers, microphones, he didn't show up, the club almost didn't open. In the end the concert was finally organized and in the finals the concert was great :-).
How is to play this sort of music in Czech Republic right now? Which types of bands do you have concerts together with? Is it only similar bands or which type is it?
-Metalcore has definitely been popular lately but I think everyone has a place on the scene. Today's scene is multigenre and each style has its place in the sun. We play concerts with bands of different styles quite often. We have friends among death metalists, punks, metalcore and others.
How would you describe your music in three words?
-Aggressive, powerful, melodic
What does punk mean to you, is it only a word or is it a lifestyle?
-I've never recognized Sex Pistols and similar bands like punk. I hate all that no future, alcohol and drug shit. I have always seen punk as something positive, something that seeks change and strives to go its own way. Just no demolition but creating. Maybe someone calls it hardcore. I take it as one lifestyle.
Which song/album or group was it who took you into music and to be playing yourself?
Jenda: Earth Crisis - Destroy The Machines, maybe even earlier was Biohazard and Mata Laeo. But I think I've wanted to be a musician since I was a kid.
David: I came to music through Punk rock (Sum 41, Blink 182, Good Charlotte), then my friend showed me Atreya where I found out that I also enjoy scream, so I was looking for different combinations of singing and screaming (Funeral for a Friend, From Autumn To Ashes, Alexisonfire) and my style was gradually getting harder. My metalcore heroes were Parkway Drive, I Killed The Prom Queen, Breakdown of Sanity, etc.
Zdenek: When I was three or four years old my uncle (also a drummer) had a room completely glued by Metallica posters from top to bottom. It was perhaps the first band which I completely perceived from all sides and especially drums. I got my first children's drum kit under Christmas tree when I was three years old (I was supposed to rattle to the beat already in the cradle of haha). At the same time my mom also listened Green Day and their album Dookie or old Offspring. I still remember when Hybrid Theory came out from Linkin Park, I was about five years old and it was love at first sight.
What shall a young guy do today to shock their parents as the way we did when we were young? They have already seen everything ?
-Haha, this is a good question. I think today most parents are shocked by children without piercings and tattoos. I would probably be most shocked (and also annoyed) if my child wears a jacket and a tie and feels normal.
David: Unfortunately, I don't think today children shock their parents with classic mischiefs but by trying to be "different" than the standard is. I am a very tolerant person but what I see in society today when every other person is suddenly sexless, non-binary, etc., from that I am not feeling well and I'm afraid, as a parent, how it is going to look like in 10 years.
How is it to live in Czech republic right now? Politically? Fascists? Antivaxxers?
-I'm not knowledgeable about the world, but I don't think we should complain at all. We are fine, we don´t have to deal with vital things. Some people have to deal with many troubles like if they survive to the next day. We can decide what to wear, what color of car to choose or where to go for food. Unfortunately, fascism has not completely disappeared. Sometimes it gets marginally into politics and I feel that some past actions are beginning to be tolerated by some people which would not have happened before. I'm so sorry for that. Just a little uncertainty and discomfort and people are starting to look for shortcuts to prosperity. Sometimes I feel sad about it. When it comes to antivaxxers…. sometimes I am not surprised how people react. Our government makes a lot of wild decisions and changes them more often than socks. People are confused, so I understand that they are dissatisfied and do not trust anyone or anything. The government is to blame for this through populism and disagreement with opinions and regulations. Populism and disagreement over opinions and regulations reduce government confidence. It is information confusion here. David: I agree with Jenda that the government and its unconceptual actions about vaccination causes that a large number of people reject it but at the same time it is necessary to say that people are so intoxicated by their freedom that they forget that rights go hand in hand together with a responsibility and that by their right to refuse vaccination also threatens the people around them, economically and medically.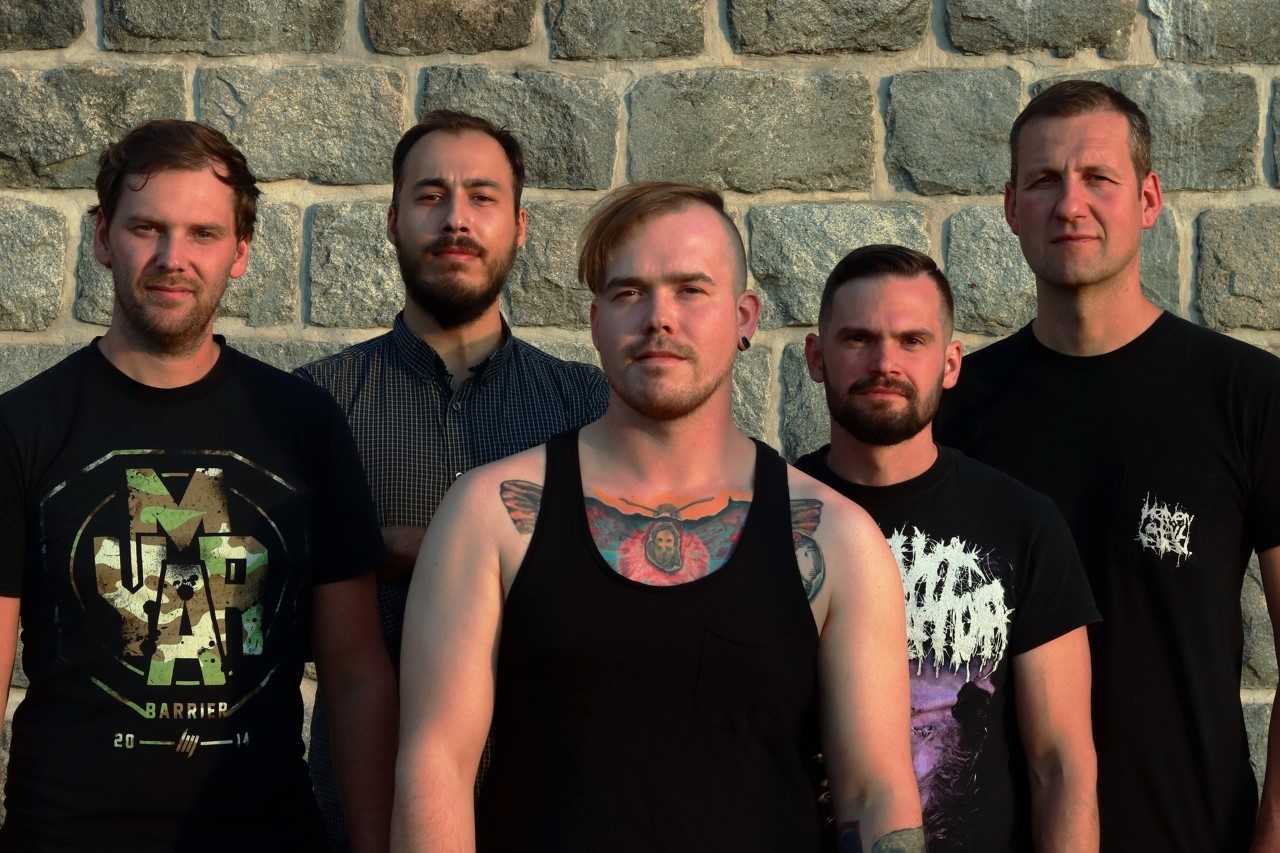 Is there any good bands from Czech republic right now? I love a lot of Czech bands like Fialky, Dezinfekce, Sanov 1, Mad Pigs etc.. Is the punkscene/metalscene/hardcorescene big? How is it in your hometown?
-Certainly, we have a lot of friends in great bands. We organize concerts together and we support each other. There are a lot of those bands. I have already mentioned Ethos Of Nemesis, then there are Neurotic Machinery, Nothing Left To Say, Anime Torment, also great are Skywalker, Secrets of Darkness, Vanguard. These are mostly metal or metalcore bands. But you might be interested in: Kriticka Situace (RIP), Balaclava (RIP) Tabula Rasa (RIP), Tales of Error (RIP), Balaclava RIP. Also great are our friends Empty Hall of Fame - great melodic hardcore, new EP Minuty ticha is sung in Czech, I definitely recommend!
What do you know about Sweden? Have you been here sometime? What is typical Swedish?
-Jenda: Unfortunately, I've never been to Sweden, but I'd like to visit Scandinavia. I like to go hiking and we usually spend our holidays in the mountains rather than by the sea. So, anywhere where are a lot of greenery and nature attracting me. What is typically Swedish? I'm sorry, my knowledge is limited but I think the Vikings, I have that connected with Sweden and also Husqvarna - the city, I think the river, weapons and chainsaws. :-)
David: I love VOLVO Cars. I directly cooperate with the import of this brand for the Czech Republic and I am also a fan of the Easy Core band "Abandoned by Bears".
Have you heard any good bands from Sweden?
-Jenda: Yeah, I grew up on Swedish hardcore. I like Abhinanda, Refused, Doughnuts, Nine, Final Exit and all those bands with compilation of Straight edge as Fuck and stuff on Burning Heart Records. I love Raised Fist, I also like Amon Amarth or Soilwork.
David: definitely Abandoned by Bears
Zdeněk: For me definitely Imminence what I adore and then Adept are very good.
Your lyrics, who does them and what influences you? Never in english? Please tell me a little about the following songs
-20 let svobody
–Peklo
-LD 50
-I (Jenda) write the lyrics. I grew up on the hardcore and that influenced me. In general, lyrics are very important to us and we don't just take them as a supplement to music. If our lyrics have a positive effect or have influenced someone, it's great and they have served their purpose. We write about what affects us, what we would like to change in society or ourselves or what we want to support or to say thank you. There are a lot of bad things in the world that we want to point out and fortunately also a lot of things that we want to support. Something Like has always sung in Czech language. In the beginning it was because our singer did not speak English and then it became our trademark. Even though our past singer Jirka and our current singer Matej speak English and both sang in English in the past but we remain with Czech. Mostly we play in the Czech Republic and we want people to understand us and be able to sing with us. Of course, we can also better express our opinions, thoughts and feelings in our native language. Maybe if we play more concerts abroad in the future we will switch to English ... In addition, Czech language is a huge challenge for us. Phrasing a text in English is easier than in Czech.
20 let svobody (20 years of freedom) - a song about freedom and the influence of the media in our lives. Just because they tell you something on TV every day doesn't mean it has to be true. It is also about the fact that we must seek the greatest freedom in ourselves otherwise we will never be free.
Peklo (Hell) - a song about drugs, about a lot of people (friends) drowning their talent and the effort to create something in drugs. The song is meant to show an alternative to the lifestyle of sex drugs and rock ´n´ roll, although it is not directly about the straight edge. It's also about the fact that we can only help the person who wants the help.
LD 50 - as the name suggests it's a song about vivisection, about testing cosmetics, weapons and other things on animals. It is sad that this still exists in the 21st century.
Is there any subject that you never will write anything about? Or isn´t anything sacred?
-I will definitely never write lyrics about how nice Adolf Hitler was, how nice it is to heil and that white power is great. I also don't want to write about topics I don't understand, about what I don't have enough information.
Politic and music, does it goes hand in hand? Which is your most political song? Is it important to get out your opinions in music? Or is it OK to play music and not sing about politics?
-We will probably never write directly about politics. I mean that we will not sing about specific political parties, directions or encourage people whom they should vote for. But I think music should bring ideas. Voice and singing are one of the tools and when I write words, I want it has the power to change something positively. If it means being a political band because we are singing about that fascism is evil or because we are destroying nature and our country, then we probably are. We also respect bands that don't deal with the lyrics and rather make texts just funny or just as a supplement to the music. It's everyone's business. The only sad thing is when the lyrics are completely stupid, or they encourage people to do bad things.
Best political band/artist?
-Morning Again, Boy Sets Fire, Balaclava, Empty Hall of Fame, Tabula Rasa, Heaven Shall Burn. Or for example Enter Shikari who are very political. We don't agree in everything with them but they make a great music.
Do you think that music(lyrics and so on) can change anyones life, I mean people who listens to music?
-Music and especially lyrics have influenced my life a lot. I have seen a lot of people who smoke weed because of music, started taking drugs and luckily some of them stopped. I believe that musicians are responsible for how they present themselves, what they talk about or sing. In particular young people trying to find themselves and they are influenced by music. We try to approach it in this way and we want to set a positive example.
Your favorite recordcover alltime? Who does your recordcovers? And do you have any good recordstores in your hometown?
-The cover for our record was taken by our friend Iva, it was edited by our guitarist David and refined to perfection and the whole booklet for the MMXVI record was made by Dahlien Design. Unfortunately, there is no music shop in or around Tachov. In general, these stores have disappeared a lot with the arrival of the Internet and downloading music from the scene. But in Pilsen where is our rehearsal room there is Music Records that has been operating for more than 25 years. We were buying our first boards there. I think my first purchased CD was something from Cypress Hill. And the best record covers? Counterparts – Tragedy Will Find Us Heaven Shall Burn – Whatever It May Take Parkway Drive – Reverence Balaclava - Creativity Make Them Suffer – How To Survive A Funeral
Is it important to get out physical records of your stuff? Why or why not? Vinyl, CD, cassette, what do you prefer if you could choose whatever ? If you only had released an album digitally would it feel that you have released an album then?
-We prefer physical records. In these days it's modern vinyl (and it's good because without it the cult of music media will probably die) but we prefer CD. Unfortunately, Spotify and similar platforms work more among young people today. We decided to go this way as well. We want to publish our songs individually. Firstly, because we work slower than other bands and it would take us longer to release the whole record. Secondly, we still have a few boxes of our CD MMXVI and at concerts we can see that people would rather buy a T-shirt than a CD. They listen to our music on Youtube or Spotify. I am different, I need to have a book with the lyrics in my hand and read them when I listen to music. How we talked about it in the previous questions. Without lyrics the music seems incomplete to me. I'm sorry and I'm surprised that people don't care about lyrics, they don't find it important.
Please tell me a funny thing which have happened during your career and under some gig? With this band or any other band?
-The best place we have played was Krupka - a small town in northern Bohemia - and a pub named U Herzinů. A place that unfortunately no longer works. When we arrived in Krupka the city seemed very sadly and cold to us. But when the first band started playing hell broke loose from the first notes. When we played people fought with paper swords and shredded papers flew through the air. Those people just came to enjoy the concert, not look around and then maybe shake their heads.
How does your audience look like? Which people do you miss on your concerts? Which is the biggest band you ever have played together with?
-Our audience is different and not only ours but there are also a lot of different people going to concerts in general and that's fine. From metalheads to hardcorists, punks. What's great is that a lot of girls go to concerts. They are really interested to the music and they enjoy it. The biggest band we have played with was War of Ages. They are great musicians and seriously nice people.
Please rank your five favoriterecords, five favoriteconcerts and five most important things in life?
-Jenda: Five favoriterecords: Earth Crisis – Destroy the Machines Balaclava – Retrospective Heaven Shall Burn – Whatever It May Takes Raised Fist – From The North Heaven Shall Burn – Of Truth And Sacrifice Favoriteconcerts: Heaven Shall Burn, Fluff fest 2001 Heaven Shall Burn, Wanderer record release show in Chemnitz 2016 Balaclava – 007 Undying – 007 Kritická Situace – Lucerna – reunion shows Five most important things in life: my wife Baru, Something Like, family, my health and health of my family, being happy
David: Five favoriterecords: Parkway Drive – Horizons Set Your Goals – Mutiny Sum 41 – All Killer No Fillers Breakdown od Sanity – Perception Chunk! No, Captain Chunk – Something For Nothing Favoriteconcerts: Never Say Die Tour 2010 Praha The Ghost Inside – Rock for People 2013 The Amity Affliction – Rock for People 2019 Underoath – Praha Lucerna Music Bar 2010 Funeral for a Friend – Praha Abaton 2007 Five most important things in life: My family, friendship, my work, music, sport
Zdeněk: Five favourite records: Trivium – In Waves Polaris – The Mortal Coil Leprous (all records) Northlane – Alien Architects – All Our Gods Have Abandoned Us, but of course there is much more… Five favourite concerts: HSB + Carnifex + Northlane Praha 2014 The Ghost Inside – Praha 2015 Trivium – Praha 2019 Leprous Praha 2019 Slipknot Praha 2016 Five most important things in life: my wife, health of my loved ones and mine, the band, my friends and a safe and stable background.
First, last and most expensive record ever bought?
Jenda: First: Masterboy – tape, Last: Ancst – 3 records that I was missed, Expensive – HSB / Fall of serenity split,
David – I have never bought a physical record only a digital subscription.
Zdenek: First: Metallica – St. Anger, Last: – Spiritbox – Eternal Blue a Expensive: While She Sleeps – You Are We Deluxe vinyl set.
Is it boring with interviews? Is it much interviews?
-We enjoy interviews and we are definitely not bored. Maybe it's because we haven't done so many yet but we always learn something new about our band. In addition, this is our first interview in English and it will be really hard to translate it into English. We have never got so many interesting and exhausting questions at once :-)
Do you care about reviews? Which is the most peculiar you ever had, with this band or any other band you have been to? Have you ever changed anything after a bad review?
-Of course, we enjoy reading reviews (not only) on our music. So far we have (almost) always had positive feedbacks. I remember only one review where we were stoned but it was an objective critique in the Echoes zine. We did not feel any resentment at all but an unbiased human opinion. In addition, the editor was interested in our texts, so he had done an extensive interview with us. Thinking about that we would sometimes change something according to the review? Certainly not, maybe only when we were criticized for the sound of the recording but we always try to make it as good as possible and work on it. We have never changed the style because of the review and we will not do.
Which bands do people compare you to, is it boring that people compare you to other bands or is it understandable? Which is the most odd comparison you have got?
-I know that many people don't like music boxes or comparisons to other bands, we do. On the contrary, we take it as an honor when people compare us to the old Parkway Drive or Heaven Shall Burn - this probably happens most often. We love both bands. When you make music, you have some idols, and when you create new things, subconsciously, whether you like it or not you are influenced by what you like. So, until it's similar to something you like you won't actually accept it. There are many original bands and many bands that try to be original at all costs and you can see it in them. But you usually can't listen to it. :)
If you could choose five bands from the past and the history and nowadays and both dead and living bands to have a concert together with your band. Which five have you been chosen?
-Parkway Drive Heaven Shall Burn Trivium Breakdown of Sanity Raised Fist
Is music a good way to get out frustration and become a nicer person outside the music?
-Of course, music is great for relieving tension and frustration. Music is something that should bring people together. Naturally, there are situations where people argue or fight at concerts but luckily this doesn't happen very often. As I have already written, I try to make the world and people nicer by our texts.
Which is the most odd question you ever have got in an interview? (Except this one)
-How did your name come about? But you're actually the first one who asked us that in an interview. And after I wrote it here, some members of the band finally found out :-)
Which is the question you want to have but you never get. Please ask it and answer it?
-I remember how I used to dream specifically about this question and imagined what I wanted it to be and how I would answer it. But we have already received and answered all the questions we dreamed of. But another thing comes to my mind. I would like to ask you something. I noticed that you like a lot of Czech bands that sing in Czech language. How do you perceive Czech as a language in music? Does it sound good, weird, loud, ugly? How does Czech language fit you in a hard style the way we do? Thank you for your answer and don't be afraid to be critical.
Futureplans for the band?
-Playing as many concerts as we enjoy, get to some big festivals ... Soon we will go to the studio again where we will record a new song. It will be about friendship and the joy of the community and the scene in which we live and play. We also want to record a clip or live video for the song again.
For yourself?
-Jenda: This year I want to make a garden around the house, plant a tree and sire a son (That's how we call it here, do you say that too?)
David: I want to pay more attention to the guitar and improve my playing. And finally I also want to buy a new guitar 😊.
Wisdomword?
-Listen to music with your heart, not just with your ears.
David: Be considerate of the others, always deal with others the way you want others to treat you.
Something to add?
-Thanks for making this zine for years. Thank you (and we hate you: -)) for a lot of interesting questions – you definitely had a lot of work with them. This is our longest interview.
A last question. Beerfavorite sort? If you did a beer with your band which sort would it be and what have it been called?
-Jenda drinks Kofola
David: Any light lager - we are not demanding.