Söderberg has released a disc on Beat Butchers .... he answer those myself but I've missed but this will now interview with Ebbe Grön interpreter Söderberg .... April 2013
Tell us a little about yourself .... age, family, work etc?
-49 years, growing up south of Stockholm. Family is my amazing friends, 2 brothers, my mom, brothers children. I work as a sound engineer. Like riding a bike
What other bands have you been in?
-Oroliga Kalkoner, Inferno, Nittonhundratalsräven,Tuk Tuk Rally and Åka Bil. In the scheme
Why did a cover of a Ebba-song, how has it been received?
-A few years ago I attended a sound engineering course at a distance and there was that it would record a cover of a completely different genre than the original. I did not feel super lit on the idea but thought that if I take one of the best songs I've ever heard, it might be a little more fun! And it was there, but it is not the version that later ended up on the Exorcist. My version has been very well received and has also played in P3.
What do you usually being compared to?
-Thåström, Ossler and Anna Ternheim I've been told.

Do you care about reviews anyway? Are you one that reads
reviews, or are you trying to help?
-It's clear you care but the best way to become somewhat immune to
bad reviews is that you're happy for yourself and feel that you have done Top. It is more sensitive as a solo artist than if you are in a band
Have you ever changed anything for a review?
-No, not that I know
What inspires you to write just the entries you make?
-It usually usually be personal stuff I need to get out of me, but it is also important to form a good overall with the music. the music will
almost always present lyrics.
Politics and music, does that work?
-Yes, absolutely, although direct political lyrics rarely been for me
Best political band / artist?
-Ebbe Grön, KSMB, Refused, Latin Kings, bob hund, Mattias Alkberg are the ones I will think of right now

How do you think it is to live in Sweden right now ... in a political opinion?
-There is pressure on us citizens, it is important to be healthy, have a job and fit into consumption template! Otherwise you end up in the cold. It is a strange time, Mammon is God.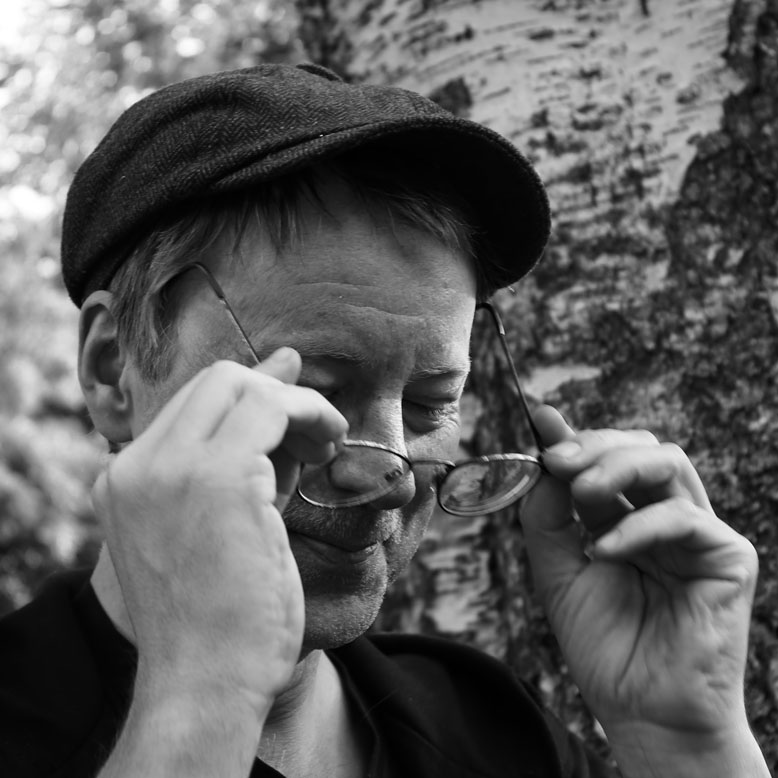 What is the best and the worst in Sweden do you think?
-Best's the freedom and security we actually have and the worst thing is that we is so bad at using it to something good.
Is there any good music in Sweden right now?
-Yes, lots! Pascal, Skriet, bob hund, The Knife, Säkert, Ane Brun, Anna
Ternheim, Thåström, past Turist i tillvaron Collection to name a few
What do you think about Spoitfy, download etc? Does it help you something?
-The fact that almost everyone is able to get the spread of their music is good,think it helps me too.

If you buy any physical discs yourself?
-Yes, but not often. 5-10 pc last year
While we're talking about records, first, last and most expensive you bought?
-The first was Slade "Old, new, borrowed and blue" and last Thåström liveDVD
Best album to have sex to?
-No, no music! But MA Numminen's "Som en gummiboll" perhaps is the thing!
Beat Butchers, what is the best and the worst of them?
-Best are the artistic freedom and that they are buddies that I like, worst well that they can not live on the proceeds and pay the company more time!
Describe your music in three words?
-Nervous and frustrated suburban rock!

What is the type of people who come to your concerts?
-I do not know, have not done any solo concert yet! Playing at Café 44, 18 April along with Köttgrottorna
Is it many interviews these days?
-You are the first after the album release!
The future plans for you with music?
-I want to start recording the next album as soon as possible, the material is so almost ready. And then I will of course out and play
For yourself?
-Doing things by myself and the environment is good for
Words of Wisdom?
- "Continue and continue to be yourself"