Hanna from Socialstyrelsen has been so kind and answered a whole bunch of questions from me. It took a while but now the interview is in it´s place now. August-2020
Little story about the group?
-Socialstyrelssen started as a two-man band / project in 2008 with Micke behind the drums and Devan on guitar and vocals.
Two demos were recorded but then the band remained until 2014/15, when Arne joined in on bass and shouting. New songs were recorded and a 10-day tour of Europe was completed.
Since then, it has rolled on with some member changes. Today the band consists of Hanna on vocals, Arne bass, Devan and Putte on guitar and Sebbe on drums.
Tell us a little about each member, age, job, family, band before and other bands on the side?
-Hanna has just turned 30 and works as a truck driver. Has a six year old kid and two crazy cats. Is living with Devan who also plays (guitar) in Soc. Likes folk beer and make-up and being creative in different ways.
Screams in Soc, Maleo and Ondsint and plays guitar in Rashes.
Devan is 37, drives a taxi, likes folk beer and has, among other things, played in Värmland's Våldsamt Motstånd and A.R.S.E.L. Is living with the above-mentioned Hanna and the same crazy cats and thank God not quite as crazy six-year-old.
Currently also plays guitar in Speedshank and drums a bit in Fördärvad and Ondsint.
Arne is 30 years old, works in elderly care, likes schnapps (and folk beer). Plays bass in Soc, Gränslandet, Speedshank and Dryckerna, and is also involved in a whole lot of other funny projects where he plays on everything he can put his teeth into. Also likes 80's synth, cartoons and horror movies.
Patrik is 34 years old, works as a preschool teacher and lives with his wife and two children in Karlstad. Likes sports and likes to drink fine beer. Also brews its own beer at home. Has played in various skatepunk bands over the years and currently plays bass in From The Tracks, and guitar in the somewhat legendary bands RockPöse and Illegalt Badkar.
Sebastian, 31 years old. Married and will soon be a father for the first time. Has played drums in Canis Lupus \ Moruga, Fortress of fear and various projects. In addition to music, he has a great interest in film and video games.
I can hear very old crust and then both Swedish and English, I hear right? Was it better before?
-I would probably not say that it was better before. There are of course lots of great bands from the past, but even today there are lots of great bands in the genre, if not even more considering that it is easier to spread and get over music now. Of course we like very old crust, but would probably say that there are at least as many (if not more) really good crustbands today.
Socialstyrelsen, are you happy with the name? If you Google, you will get many pictures, but usually not on you! How were your thoughts and discussions when you took the name? If the best band name had not been taken, which name would you have chosen then? I mean what is the best band name?
-Yes, so we are well satisfied with the name, otherwise we would have changed by now.
Since Devan was the only one who was present when the band name was taken, he has to answer. Unfortunately, he does not remember more than that it still sounded crusty in some way, so then it had to be so.
Oops, it's hard to come up with the optimal band name.Skitsystem is a good name, Illvilja as well.
What is the best thing about playing live? When did you last do it and have you booked a new gig or have you not dared to book one?
-The best thing is probably everything around. To get to a place that has booked us, meet the people who have stopped and hang out with those who come to check. It's so fucking wonderful. Then it's quite dizzying to think that someone is there to see us play. I am so indescribably grateful to everyone who comes and wants to see us play.
The last time we played in front of an audience was in Falun in February. Falu Gruvpunx organized an absolutely fantastic evening and we shared the stage with, among others, Dispyt from Finland. Then we did a livestream gig in collaboration with Studiefrämjandet in May to celebrate our recently released LP "Med Rädsla För Livet". It was also damn fun, even though it felt a little weird without an audience.
We have had several gigs booked but they have been canceled due to Covid 19.
At the moment we have a gig in December that we keep our fingers crossed that it will not be canceled.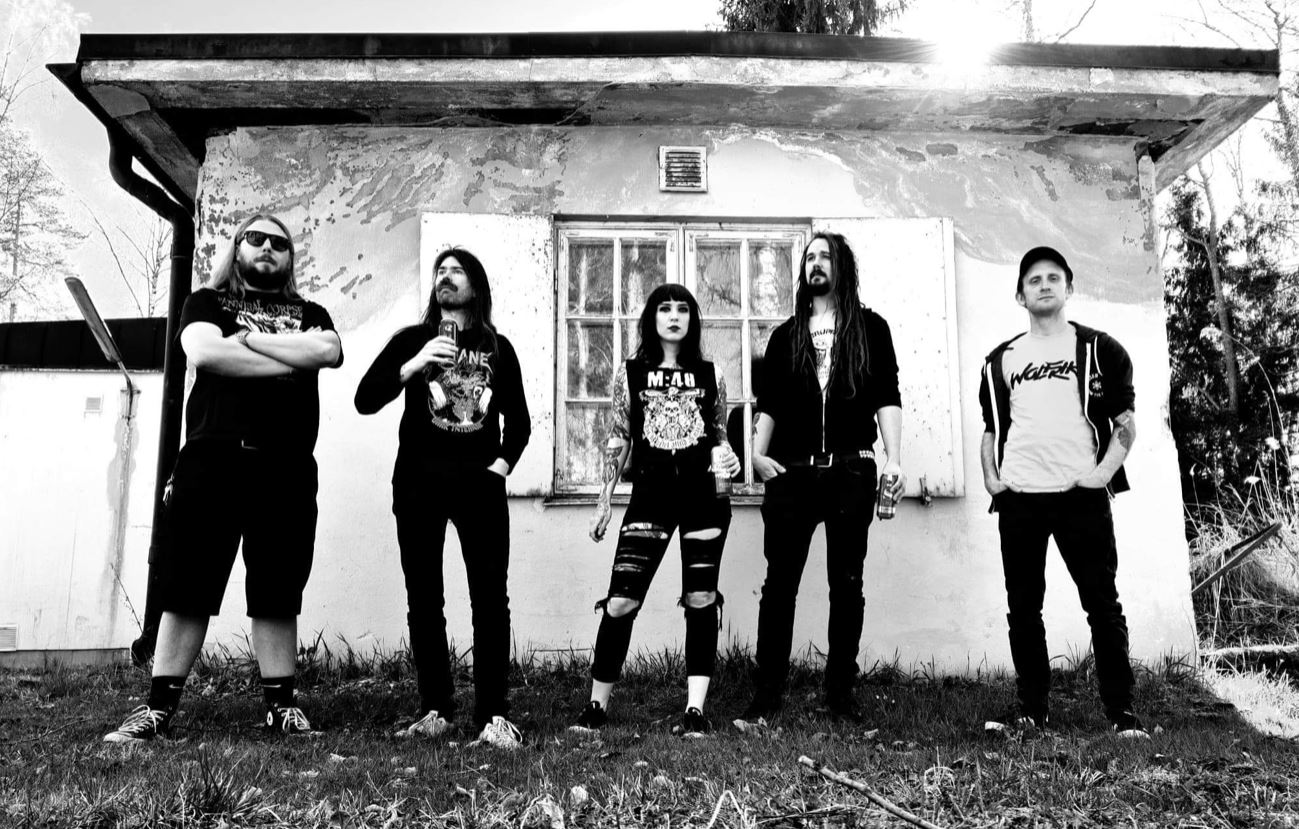 Where is the best to play, where is the worst?
-The best is of course in "punk places", the worst are usually "rock pub places". D.I.Y places are always the best anyway!
What is it like to play this kind of punk in Sweden today?
-Yes it's good thank you! In addition to the pandemic, it feels like there is a lot of room for this kind of music. But for me personally, it's actually mostly about a way to survive. To be able to shout out my anxiety via the lyrics is the best therapy there is, and to be able to rehearse with these amazing people who have become like my family means so much to me! And on the whole, I have through this sort of found my thing in life. Like I'm looking for something I've finally found and that's, it's so damn cool!
How would you describe your music in three words?
-Fast, anxiety and folkbeer-friendly
What does punk mean to you, is it just a word or is it a lifestyle?
-It is both. Punk is good and nice, it's DIY, it's usually associated with good values ​​and it's easy to find a community among like-minded people there. But it is not a stamp of quality, there are still many idiots who call themselves punks and so on.
How do you see on download, mp3, Spotify and the like? Is it a must to have your music on Spotify for example?
-Our songs are available for free download via our bandcamp. We think it's super fun if people like our music and want it to listen to over and over again. Then it is of course fun if someone wants to buy the record even physically!
Regarding Spotify, there are mixed opinions in the band. Some of us have Spotify and think everything should be there, while some of us prefer more oldschool "methods".
Med Rädsla för Livet, however, will be on Spotify in the near future.
How do you think it is to live in Sweden today, politically? SD, KD etc… Nice right now that it's pretty quiet about SD, what are the plans they are making now on do you think?
-It is very nice that it is quieter from SD right now. This is probably due in large part to the fact that there is a lot of focus on pandemics and that it is difficult to blame it on immigrants. They are certainly very happy with closed borders, now they do not have much to talk about anymore.
But yes SD, KD. Better right-socialists than that, but preferably not right-socialists either.
Are there any good bands in Sweden today? In your hometown?
-Yes, there are many good bands in Sweden today. In the hometown of Karlstad, for example, we have Affect.
Do you play anything outside Sweden?
-Soc has, as previously mentioned, made a European turn in 2015, in Germany, the Netherlands, the Czech Republic and Poland .
We would have played in Germany and Denmark this spring, but as I said, Corona.
Other good bands from abroad?
-Oh there are a lot of them, but Petrol Girls, Antigen, The Coathangers, Worst Witch, Modern Life Is War we can say.
Your lyrics, what are you influenced by? Who makes them? Never in a language other than Swedish? Tell us a little about some of your songs?
-Since I (Hanna) joined the band, I have write almost all the lyrics. Sometimes Devan is involved and also writes and he is also the one who wrote most of the lyrics before I started in Soc. That it will be in Swedish has probably mostly just become so.
When I write, I am influenced by a lot of different things, most of all my own feelings such as anxiety, anger, fear, etc. But I can also get inspiration from a little bit of anything that is going on in the world, the most important thing is to go into a feeling when I write.
-Alltid knivfull(Always knifedrunk)
This song touches on a rather tragic subject in a somewhat playful way. About people who become aggressive and violent when they´re drunk, lose their sense of consistency and draw a knife for crap things.
-Aborterade Rättigheter (Aborted Rights)
I wrote it when there was a lot of talk on the news about the right to abortion in the United States, among other places. It was in the same vein that different states began to remove the right to abortion and I got angry and wrote a text about it. Even in Europe (eg Poland and Ireland) there are very strict abortion laws and in that time there was also a lot of news that SD wanted to lower the limit for which week abortion can be performed in. I think it should be the child carrier's decision and that no should have to be forced to go through a pregnancy if one does not want to.
-Massproducerade lik (Mass-produced corpses)
Mass-produced corpses are about how we humans use animals and see them as "products" instead of individuals. We raise them in animal factories, force them to live in fear and anxiety only to then murder them and eat their carcasses. Even though we do not even have to do it, we continue while these millions of individuals have to live their lives just to die.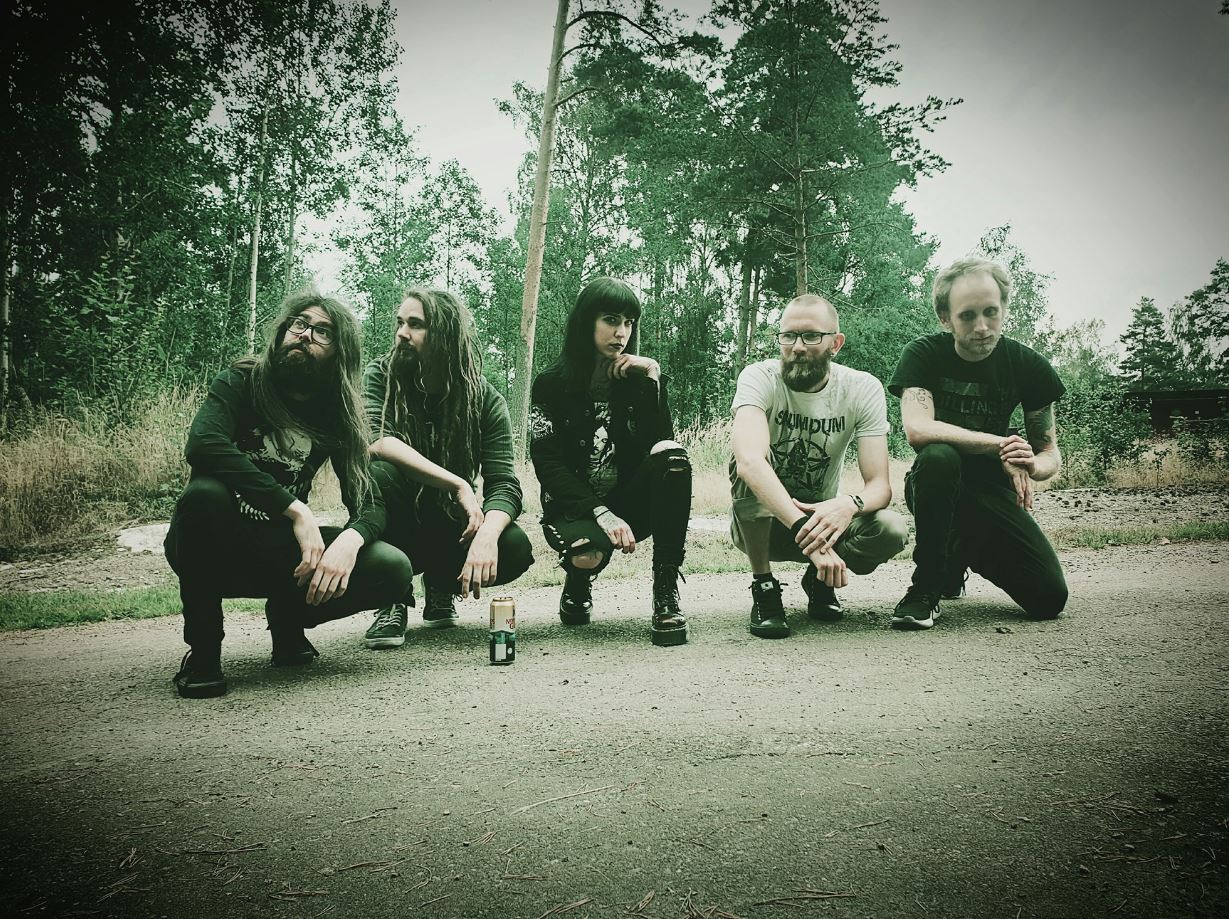 Is there anything you will never write about?
-No, no one is safe. If we feel like writing about something or someone, we will do it.
Politics and music, do they always belong together?
-No, not always. Politics and music are a damn good combo, but sometimes it's damn liberating to write a text about, for example, a feeling that does not necessarily have to be political, so to speak.
Best political band / artist?
-Ett dödens maskineri is fucking good.
Do you think music can change someone's life, then I mean lyrics etc?
-Yes. Music and lyrics can be a terribly good support and give pep and a lift. It can also give perspective and make one feel less alone in their feelings and thoughts.
Your cover is really cool on your LP, who did it. Did you have any special thoughts on that? Is it important to have a cover so you understand what type of music the band play? Which is your all-time favorite cover?…
-I (Hanna again) took the photo and the rest of the band liked it so much that it had to be a record cover. Andreas Bustad drew the logo. The idea was that it looked gloomy but still nice, felt like it suited the music and it's good.
Favorite covers hm, Fall of Efrafa and Fredag den 13 have nice covers!
Is it important to get out physical records? Vinyl or CD or both? Is there a good record store near you?
-Releasing physically is not necessary, but it is an unbeatable feeling to hold a vinyl record in your hands and even better if it is a record that you participate in yourself.
It's more atmospheric to put a disc on the player at home than to just click on Spotify or any streaming service.
We have Knastret in Karlstad, they probably sell most used but it's nice that they exist.
Please tell me something really funny that happened during your career on stage or behind the scenes etc?
-The trip to Falun most recently is memorable. Halfway there, the exhaust system on our faithful old Volvo came loose. Devan made a MacGyver and attached it provisionally using a bass string. We went on to the nearest small town where we find a gas station and happened to find a small workshop, they took in the car at once and not only fixed the exhaust system quickly but also offered the whole band beer and coffee in the meantime.
It was so cozy and thanks to them we managed to get to the gig in Falun in time. Thanks again if you read this.
My first gig with Soc is also worth mentioning. I jumped into the band a bit quickly and had two weeks to learn the whole set list. We played at Fraggelberget's eviction party in Gbg, our playing time was constantly postponed and we finally went on stage after three o'clock at night. Before the band had time to get both drunk and had a hangover, we lost our drummer and found him sleeping in a basement staircase. It was an adventure but the show was still successful and fun.
How does youre audience look like? What type of people comes? Do you miss any types of people?
-We probably have most punks in the audience, but sometimes you can see a glimpse of a hard rocker here and there. It still feels perfectly okay and reasonable.
Tell us a little about each album and what you think about it today?
-The first album you bought or got?
Spice Girls, it´s good today too!
-Last album you bought?
LA Witch - October, I think. Sickly good album and perfect for balcony listening with a drink in your hand.
-The most embarrassing album you have?
I'm not ashamed of what I listen to.
-The album that makes that Socialstyrelsen sound like you do?
I can not answer why Soc sounds as we sound, but my vocals is inspired by Emilia (Radium Grrrls).
-The album you would have liked to have been on and played?
Easy Illvilja's self-titled debut album.
-The album that must always be in the tour bus?
Kjell Höglund's Häxprocess.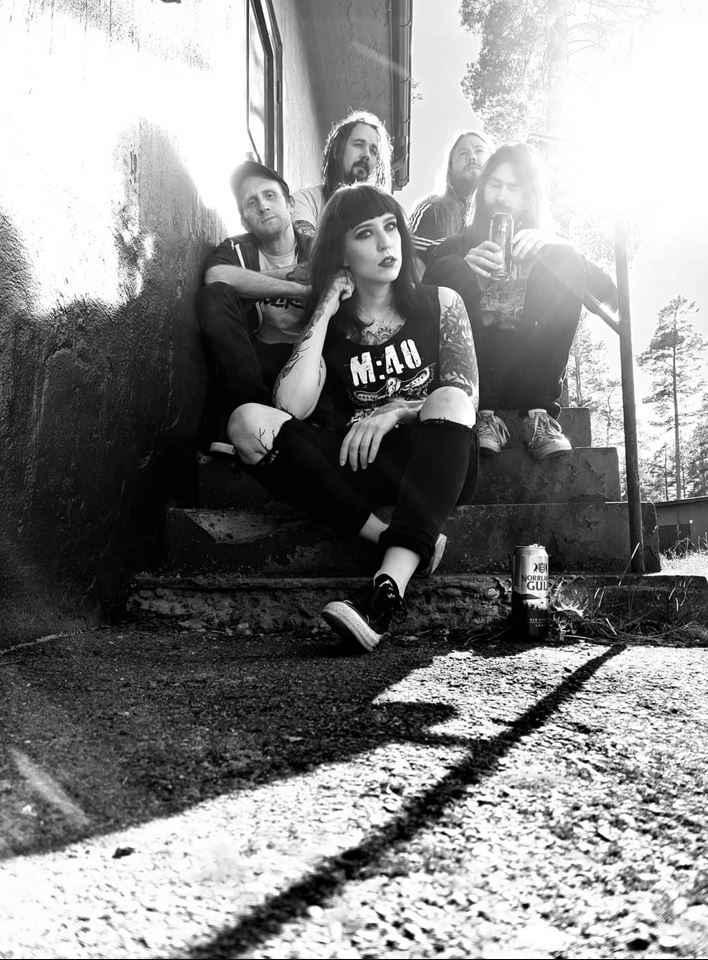 Is it boring with interviews ??
-It's fun as hell with interviews, but I'm also a procrastinator of rank.
If you could choose five bands from the history and both living and dead bands to have a big concert with your band? Which five have you been chosen?
-Totalitär
Modern life is war
LA witch
Skitsystem
Totalt jävla mörker
As a bubbler, Original-Misfits can be a band and Pink Floyd can play music when we party, pack our things and go home.
Is music a good way to vent frustration and become a kinder person? Are you angrier today than you were as young punks?
-Yes, music is a great way to get rid of frustration! Even if it does not make one kinder, it will at least be a discharge that makes one calmer when you do not have to carry some of the shit.
Listen, we're still young punks. (Sorry… ..younger punk then :-)
What is the strangest question you have been asked in an interview?
-Oh, I do not know. We probably have not received any directly strange questions.
Which is the question you never get, ask it and answer it?
-Question: Where can I send my fan letters and folk beer packages to the band?
Answer: When you find the place which is on the cover of "Rädsla för livet", just unload it on the loading dock, thank you!
Future plans for the band?
-We will try to get as many gigs as we can, try to get some tour, release records and drink a lot of folk beer.
For yourself?
-Continue with music and try to learn more instruments, try to have it as good as I can. Feel good.
Words of wisdom?
-Socialstyrelsen recommends: Please, cough in the armpit, drink folk beer, become vegan.
Anything to add?
-Sorry that it took such a long time to respond to this interview, thank you very much for allowing us to participate!
Hanna från Socialstyrelsen har varit så snäll och svarat på ett helt gäng med frågor från mig. Det tog lite tyd men nu är intervjun på plats. Augusti-2020
Lite historia om gruppen?
-Socialstyrelsen började som ett tvåmannaband/ projekt 2008 med Micke bakom trummorna och Devan på gitarr och sång.
Två demos spelades in men sen blev bandet liggande fram till 2014/15, då Arne kom med på bas och vrål. Nya låtar spelades in samt en 10-dagarsturné i Europa avverkades.
Sen dess har det rullat på med några medlemsbyten. Idag består bandet av Hanna på sång, Arne bas, Devan och Putte på gitarr och Sebbe på trummor.

Berätta lite om varje medlem, ålder, jobb, familj, band före och band bredvid??
-Hanna har nyss fyllt 30 och jobbar som truckförare. Har en sexårig unge och två galna katter. Är sambo med Devan som också spelar (gitarr) i Soc. Gillar folköl och smink och att vara kreativ på olika sätt.
Skriker i Soc, Maleo och Ondsint och spelar gitarr i Rashes.
Devan är 37, kör taxi, gillar folköl och har bland annat spelat i värmländska Våldsamt Motstånd och A.R.S.E.L. Är sambo med ovan nämnda Hanna samt samma galna katter och gudskelov inte fullt lika galna sexåring.
Spelar för närvarande också gitarr i Speedshank samt trummar lite i Fördärvad och Ondsint.
Arne är 30 år fyllda, jobbar inom äldreomsorgen, gillar snaps (och folköl). Lirar bas i Soc, Gränslandet, Speedshank och Dryckerna, och är även med i en himla massa andra lustiga projekt där han spelar på allt han kan sätta tänderna i. Gillar även 80-talssynth, tecknat och skräckfilm.
Patrik är 34 år, jobbar som förskollärare och bor med fru och två barn i Karlstad. Gillar sport och dricker gärna finöl. Brygger även egen öl hemma. Har spelat i diverse skatepunkband genom åren och spelar för tillfället bas i From The Tracks, och gitarr i de smått legendariska banden RockPöse och Illegalt Badkar.
Sebastian, 31 år. Gift och ska snart bli pappa för första gången. Har lirat trummor i bl.a Canis Lupus\Moruga, Fortress of fear samt diverse projekt. Har utöver musiken ett stort film och tv-spelsintresse.
Jag kan höra mycket gammal käng och då både svensk och engelsksjungen, hör jag rätt? Var det bättre förr?
-Skulle nog inte säga att det var bättre förr. Det finns såklart massa superbra band från förr men även idag finns det massor med svinbra band inom genren, om inte ännu fler med tanke på att det är lättare att sprida och komma över musik nu. Självklart gillar vi mycket gammal käng, men skulle nog säga att det finns minst lika många (om inte fler) snorbra kängband idag.
Socialstyrelsen, är ni nöjda med namnet? Slår man på Google så får man upp många bilder men oftast inte på er! Hur gick tankarna och diskussionerna när ni tog namnet? Om inte det bästa bandnamnet hade varit upptaget, viket namn hade ni valt då? Jag menar vilket är det bästa bandnamnet?
-Ja, alltså vi är väl nöjda med namnet, annars hade vi bytt vid det här laget.
Eftersom Devan var den enda som var med när bandnamnet togs så får han svara. Tyvärr minns han inte mer än att det ändå lät kängigt på något vis, så då fick det bli så.
Oj, skitsvårt att komma på det optimala bandnamnet. Skitsystem är ett bra namn, Illvilja likaså.
Vad är det bästa med att spela live? När gjorde ni det sist och har ni någon ny spelning inbokad eller har ni inte vågat att boka någon?
-Det bästa är nog allt runtomkring. Att få komma till ett ställe som bokat oss, träffa personerna som arrat och hänga med dom som kommer för att kolla. Det är så jävla underbart. Sen är det rätt svindlande att tänka att någon är där för att se just oss spela. Jag är så obeskrivligt tacksam för alla som kommer och vill se oss spela.
Sist vi spelade inför publik var i Falun i februari. Falu Gruvpunx anordnade en helt fantastisk kväll och vi delade scen med bl.a Dispyt från Finland. Sen gjorde vi en livestreamspelning i samarbete med Studiefrämjandet i maj för att fira vår nyligen släppta LP "Med rädsla för livet". Det var också jävligt kul, även om det kändes lite konstigt utan publik.
Vi har haft flera gig inbokade men de har blivit inställda pga Covid 19.
För tillfället har vi ett gig i december som vi håller tummarna för att det inte ska bli inställt.
Var är bäst att spela, var är sämst?
-Bäst är ju såklart på "punkställen", sämst brukar vara "rockpubställen". D.I.Y ställen är alltid bäst i alla fall!
Hur är det att spela denna sortens punk i Sverige idag?
-Jo det är bra tack! Utöver pandemin så känns det som att det finns mycket utrymme för den här sortens musik. Men för mig personligen handlar det faktiskt mest om ett sätt att överleva. Att få skrika ut min ångest via texterna är den bästa terapin som finns, och att få repa med dessa fantastiska människor som blivit som min familj betyder så galet mycket för mig! Och i det stora hela så har jag genom detta liksom funnit min grej i livet. Som att jag letat efter något som jag nu äntligen hittat och det, det är så jävla häftigt!
Hur skulle du beskriva er musik med tre ord?
-Snabb, ångest och folkölsvänlig
Vad betyder punk för er, är det bara ett ord eller är det en livsstil?
-Det är väl både och. Punk är ju gött och fint, det är DIY, det brukar oftast förknippas med bra värderingar och det är lätt att finna en gemenskap bland likasinnade där. Men det är ingen kvalitetsstämpel, det finns fortfarande många as som kallar sig punkare osv.
Hur ser ni på nedladdning, mp3,Spotify och liknande? Är det ett tvunget att ha sin musik på Spotify till exempel?
-Våra låtar finns ju för gratis nedladdning via vår bandcamp. Vi tänker att det är ju superkul om folk gillar vår musik och vill ha den för att lyssna på om och om igen. Sen är det såklart roligt om några vill köpa skivan även fysiskt!
Gällande Spotify så är det blandade åsikter i bandet. Några av oss har Spotify och tycker att allt borde finnas där, medan några av oss föredrar mer oldschool "metoder".
Med rädsla för livet kommer dock finnas på Spotify inom en snar framtid.
Hur tycker ni det är att bo i Sverige idag, politiskt? SD, KD etc… Skönt just nu att det är ganska tyst om SD, vad är det för för planer de smider nu på tror ni?
-Det är jätteskönt att det är tystare från SD just nu. Det beror väl mycket på att det är mycket fokus på pandemi och att det är svårt att skylla det på invandrare. De är säkert skitnöjda med stängda gränser, nu har de inte så mycket att snacka om längre.
Men ja SD, KD. Hellre högersossar än det alltså, men helst inte högersossar heller.

Finns det några band I Sverige idag? I er hemstad?
-Ja, det finns jättemånga bra band i Sverige idag. I hemstaden Karlstad har vi tex Affect.
Spelar ni något utanför Sverige?
-Soc har som tidigare nämnt gjort en Europa-sväng 2015, då Tyskland, Nederländerna, Tjeckien och Polen avverkades.
Vi skulle ha spelat i Tyskland och Danmark i våras, men som sagt, Corona.
Andra bra band från utlandet?
-Oj det finns ju jättemånga, men Petrol Girls, Antigen, The Coathangers, Worst Witch, Modern Life Is War kan vi dra till med.
Era texter, vad influeras ni av? Vem gör dem? Aldrig på annan språk än svenska? Berätta lite om några av era låtar
-Ända sen jag (Hanna) kom med i bandet så är det jag som skriver nästan alla texter. Ibland är Devan med och skriver också och det är även han som skrev de flesta texterna innan jag började i Soc. Att det blir på svenska har nog mest bara blivit så.
När jag skriver influeras jag av massa olika saker, allra mest mina egna känslor som t.ex ångest, ilska, rädsla osv. Men jag kan även hämta inspiration från lite vad som helst som pågår i världen, viktigast är att gå in i en känsla när jag skriver.
-Alltid knivfull
Denna låt berör ett ganska tragisk ämne på ett någorlunda skämtsamt sätt. Om folk som blir aggressiva och våldsamma på fyllan, tappar konsekvenstänk och drar kniv för skitgrejer.
-Aborterade Rättigheter
Den skrev jag när det pratades mycket på nyheterna om aborträtten i bland annat USA. Det var i samma veva olika delstater började ta bort aborträtten och jag blev arg och skrev en text om det. Även i Europa (t.ex Polen och Irland) finns väldigt hårda abortlagar och i den vevan var det även mycket på nyheterna om att SD ville sänka gränsen för vilken vecka abort får genomföras i. Jag anser att det bör vara livmoderbärarens beslut och att ingen ska behöva tvingas till att gå igenom en graviditet om en inte vill.
-Massproducerade lik
Massproducerade lik handlar om hur vi människor utnyttjar djur och ser dem som "produkter" istället för individer. Vi föder upp dem i djurfabriker, tvingar dem att leva i skräck och ångest bara för att sedan mörda dem och äta upp deras kadaver. Trots att vi inte ens behöver göra det, så fortsätter vi medan dessa miljontals individer får leva sina liv enbart för att dö.
Finns det något ni aldrig kommer att skriva om?
-Nej, ingen går säker. Känner vi att skriva om något eller någon så lär vi göra det.
Politik och musik, hör det alltid ihop?
-Nej, inte alltid. Politik och musik är en jävligt bra kombo, men ibland är det jävligt befriande att skriva en text om till exempel en känsla som nödvändigtvis inte måste vara politisk, så sett.
Bästa politiska band/artist?
-Ett dödens maskineri är ruggigt bra.
Tror du musik kan ändra någons liv, då menar jag texter etc?
-Ja. Musik och texter kan vara ett fruktansvärt bra stöd och ge pepp och lyft. Det kan också ge perspektiv och få en att känna sig mindre ensam i sina känslor och tankar.
Ert omslag är riktigt fräckt på er LP, vem har gjort det. Hade ni någon speciell tanke med det? Är det viktigt att ha ett omslag som man förstår vilken typ av musik man spelar? Vilken är ert favoritomslag alla tider?…
-Jag (Hanna igen) tog fotot och resten av bandet gillade det såpass mycket så att det fick bli skivomslag. Andreas Bustad ritade loggan. Tanken var väl att det såg dystert men ändå fint ut, kändes som att det passade musiken och det är ju gött.
Favoritomslag hm, Fall of Efrafa och Fredag den 13e har snygga omslag!
Är det viktigt att få ut fysiska skivor? Vinyl eller CD eller både och? Finns det någon bra skivaffär i er närhet kvar?
-Att släppa fysiskt är inte nödvändigt, men det är en svårslagen känsla att hålla en vinylskiva i händerna och ännu bättre om det är en skiva som en medverkar på själv.
Det är mer stämningsfullt att lägga på en skiva på spelaren hemma än att bara klicka igång Spotify eller valfri streamingtjänst.
Vi har Knastret i Karlstad, de säljer väl mest begagnat men det är skönt att de finns.
Snälla berätta något riktigt roligt som hänt under er karriär på scen eller bakom scen etc?
-Färden till Falun nu senast är minnesvärd. Halvvägs dit så lossnade avgassystemet på vår trogna gamla Volvo. Devan gjorde en MacGyver och fäste det provisoriskt med hjälp av en bassträng. Vi tog oss vidare till närmsta småhåla där vi bakom en mack råkade hitta en liten verkstad, de tog in bilen på en gång och inte bara fixade avgassystemet snabbt utan bjöd också hela bandet på öl och kaffe under tiden.
Det var så mysigt och tack vare dem lyckades vi hinna till spelningen i Falun i tid. Tack igen om ni läser detta.
Mitt första gig med Soc är också värt att nämna. Jag hoppade in lite hastigt och lustigt i bandet och hade två veckor på mig att lära mig hela setlisten. Vi spelade på Fraggelbergets vräkningsfest i Gbg, vår speltid blev hela tiden senarelagd och vi gick till slut på scenen efter kl tre på natten. Innan dess hann bandet bli både fulla och bakfulla, vi tappade bort vår trummis och hittade honom däckad i en källartrapp. Det var ett äventyr men spelningen blev ändå lyckad och rolig.
Hur ser er publik ut? Vad drar ni för folk? Saknar ni några typer av folk?
-Vi har väl mest punkare i publiken, men ibland kan en se en skymt av en hårdrockare här och där. Det känns väl ändå helt okej och rimligt.
Berätta lite om varje album och vad du tycker om det idag?
-Första albumet du köpte eller fick?
Spice Girls, det håller än idag!
-Senaste albumet du köpte?
LA Witch - Octobre, tror jag. Sjukt bra album och perfekt för balkonglyssning med en grogg i näven.
-Det mest pinsamma albumet du har?
Jag skäms då inte för vad jag lyssnar på.
-Albumet som gör att Socialstyrelsen låter som ni gör?
Jag kan inte svara för varför Soc låter som vi låter, men min sång är bland annat inspirerad av Emilia (Radium Grrrls).
-Albumet du gärna skulle ha varit med på och spelat?
Lätt Illviljas självbetitlade debutalbum.
-Albumet som alltid måste finnas i turnébussen?
Kjell Höglunds Häxprocess.
Är det tråkigt med intervjuer??
-Det är roligt som fan med intervjuer, men jag är också en prokrastrinerare av rang.
Ifall ni kunde välja fem band från historien, döda och levande att ha en konsert ihop med ert band, vilka är drömbanden då?
-Totalitär
Modern life is war
LA witch
Skitsystem
Totalt jävla mörker
Som bubblare kan Original-Misfits få vara förband och Pink Floyd kan få spela musiken då vi efterfestar, packar ihop våra grejer och går hem.

Är musik ett bra sätt att få ut frustration och bli en snällare person? Är ni argare idag än ni var unga punkare?
-Ja, musik är ett jättebra sätt att få ut frustration på! Även om det inte gör en snällare så blir det i alla fall en urladdning som gör en lugnare när man slipper bära på en del av skiten.
Hörredu va, vi är fortfarande unga punkare. (Sorry…..yngre punkare då:-)
Vilken är den konstigaste frågan ni fått i en intervju?
-Oj, vet inte. Vi har nog inte fått några direkt konstiga frågor.
Vilken är frågan ni aldrig får, ställ den och besvara den?
-Fråga: Var kan jag skicka mina beundrarbrev och folkölspaket till bandet?
Svar: När du hittar platsen som pryder omslaget till "Rädsla för livet" så är det bara att lasta av det där på lastkajen, tack!
Framtidsplaner för bandet?
-Vi ska försöka få så mycket spelningar som vi kan, försöka få till någon turné, släppa skivor och dricka mycket folköl.
För dig själv?
-Fortsätta med musik och försöka lära mig fler instrument, försöka ha det så gött som jag bara kan. Må bra.

Visdomsord?
-Socialstyrelsen rekommenderar: Var snäll, hosta i armvecket, drick folköl, bli vegan.
Nåt att tillägga?
-Sorry att det tog sådan tid att svara på den här intervjun, stort tack för att vi fick medverka!