Social Decline is a Danish band which plays really hard music. They was so kind and let me interview them. All this took it´s place in the end of February 2023. Bo is the one who have answered the most of the questions
Please tell me a little about every member and the history of the band? Age, work, bands before?
(Bo) We were formed in 2019, but actually Jesper, Bo and Christian were playing together in a band called King Carrot. But when our then drummer Lars quit King Carrot, Esben joined the band and then we decided to put King Carrot in the grave and Social Declined was formed. Our musical style was shifting from Hard core and Punk to more Thrash Metal orientated songs. So, it made sence to restart with another name. We do still play a couple of King Carrot songs though.
Esben is also currently playing drums in Dårligt Selskab and Meat Fist (Misfits coverband). Meat Fist together with Jesper
We are:
Christian, Bas and Lead Vocal (44) - also owner of Provo Lyd ( a recording studio were we do our records)
Jesper, Guitar (48)
Esben, Drums (51)
Bo, Guitar (43)

Your music is a style which came foreward many years ago, I think you have traces of both thrash and some hardcore, what about that?
(Bo) True, we are very influenced by early Thrash Metal and Hard-Core Punk music. It's the stuff we grew up with musically and that really shines through on "Beyond the Gates". We did not set out to invent the wheel with this record. It is more a about making a record that reflects the music that we love and what comes natural to us in the writing process. "Beyond the Gates" is probably more Thrash than Hardcore while our debut "Hells Gate" where more a mix of Thrash, Hardcore and Punk. But we don't think a lot about genres when we write the music.
The name Social Decline where did it came from? What do you mean with it…You weren´t afraid that someone else have named a band like this?
(Bo) I don't think we ever sat down a defined what the actual meaning of that name is. But as I remember it we researched if there were other bands called that, and we did not find any.
(Bo) But I guess the name refers to the decline of social rights and welfare in the modern world. Countries like Denmark and Sweden has a lot of good things and is a good place to live, but people seem to forget how all these social rights were achieved and they take them for granted. It was not something that was granted to us. It was achieved through struggle and solidarity, and when we forget that… we get Social Decline … or it could be an image of the bandmembers declining abilities to be civil and socialize (that's Danish irony 😊)

Is it important to release physical things? Or can you feel that you have done a record if you only release it digitally? Is this your first record? If it´s not how can I get the old ones?
(Bo) "Beyond The Gates" is our second album. We released our debut "Hells Gate" in 2019. You can buy both albums on vinyl from our bandcamp sit: (https://social-decline.bandcamp.com/). We released some singles as pure digital releases, but albums we prefer to have as a physical product also, but of course It only makes sense if there are still people listening to that format.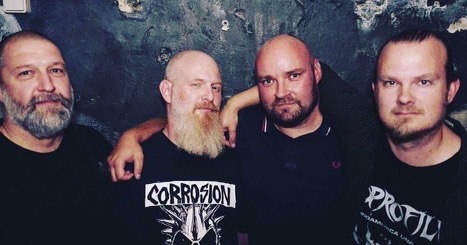 You have never been to Sweden and played or been here as tourists? If you not have when do you come?
Social Decline has sadly not done any shows in Sweden yet. But it's a matter of time as we want to come (bookers? 😊) … Esben has just played with his other band (Dårligt Selskab) in Gotheborg, and made some good connettions, so sometime soon…

Which countries have had the pleasure to be hearing the band live?
(Bo) Denmark and Germany so far… We had a small tour in the Basque Country planned I 2020 but then covid came and that got cancelled. But Sweden and Norway are some of the places we would like to go in the near future.
When you do songs, how do you do, are you jamming together or do someone comes with a lyric and some with the music or how do you do your songs?
(Bo) On Beyond the Gates it was pretty much someone bringing the song to our rehearsal. Sometimes a finished song with lyrics, other times maybe just the parts that we then would arrange and put together as a group, and maybe somebody else would write the lyrics. We did not do a lot off jamming writing songs. But that's partly because most of the songs were written during the Covid lockdowns.

You have done a tribute song to FCK , you sing in Danish, is this the only one you sing in danish? How come you did a tributesong to a football team?
(Bo) Three of us is supporters of FCK and seasoncard holders (Christian, Esben and Bo) so it was natural to do a tribute to our team.

Please tell me a little about the following lyrics….and who wrote it and why?
Victory of Plutocracy. (Chr) It's about the fact, that no matter how great values you belive (like democracy etc), in the end it's money that rules the world.
I Am The State. (Chr) Is how easy we can be seduced by populism, and the fragile side of democracy.
Weight Of A Broken Dream – (Bo) I wrote the first draft of it, and Christian added and changed parts of it. It's a bit different than most of our texts as is not issues we are discontent with or politics, but about the dark thoughts, the desperation and depression you can experience when a lifedream or something you worked hard for collapses.

How is it to live in Denmark nowadays, racists, politics, covid, etc?
(Bo) For most people life in Denmark is quite cozy and pleasant. But less so for minorities, refugees, unemployed, people who suffer from mental disorders. I don't think we treat the weakest members of society with dignity. We are a very wealthy society and still a lot of people don't get the help they need.

Are you calling yourself a thrash, hardcore, metalcore band or what do you call your style?? What is your thoughts about punk when you started and if you compare with punk today? I know you don´t play punk but what´s your feelings about punk?
(Bo) I think it's a bit hard to label your own music. But Thrashy, hardcore or punky Thrash could be it… maybe Crossover would be the right label? In the end there is a lot of cross-references between Thrash, hardcore and punk.
(Bo) We love punk. All of us started out playing punk, and we still play punkvenues and play shows with punk bands. Obviously punk is a lot of things and different styles of music, but I think the essence of Punk is the DIY attitude and that's something we fully embrace as band and still practice, doing most things ourselves or with the help of friends.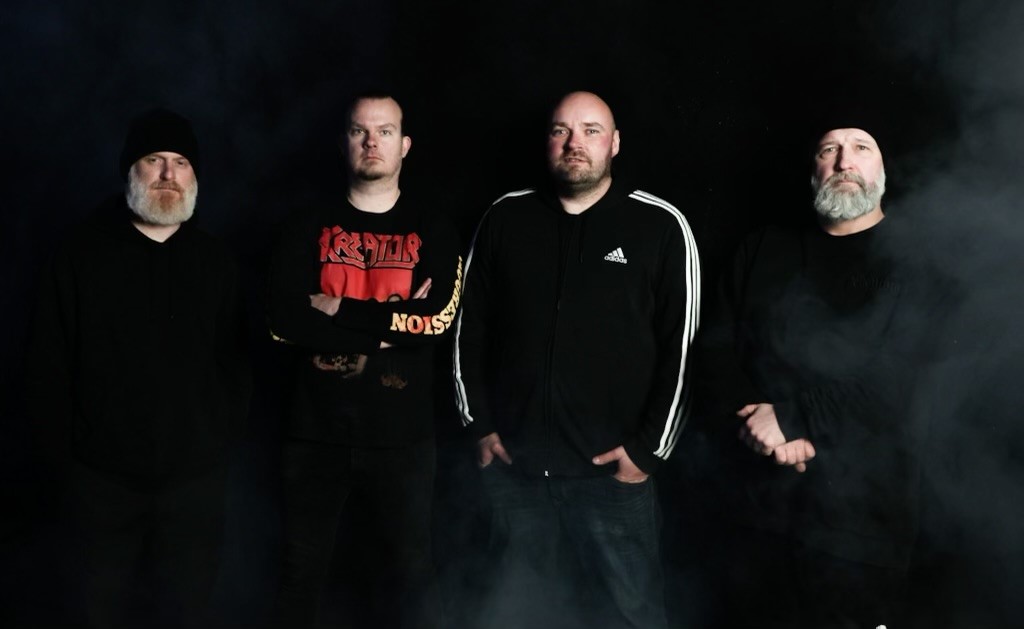 Do you have any favorite football team (I support Arsenal(England) and a Swedish team called GAIS myself)? I mean are you all FCK-fans?
(Bo) FCK … we wrote a song for them… but Esben is also a Arsenal Supporter

Beer is expensive in Sweden. I have a very big interest in beer and brew myself? Your favourite beerstyle ? You don´t have an own Social Decline-beer? Or maybe you are straightedge?
(Bo) We love beer. I'll drink a lot of styles, but in the end, you never go wrong with a good pilsner.
(Bo) Jesper actually was involved in some beer brewing and made a prototype of a "Social Decline" beer. I think it was a Bock style… never massproduced for the public though

Is there any good bands from Denmark worth to mention? And how is the oi/punk/hardcore scene living on in Denmark right now?
(Bo) There is a many good danish bands at moment, both within Metal and Punk, and there are many we could mention. Demolizer and Killing are playing fast old school Thrash Metal and are really good. Indre Krig is a really good Punk band, and our good friends Rival Leaders play some really gritty melodic Oi

What is your strength when you play live?
(Bo). Energy. Sweaty, full throttle musical aggression – few words spoken 😊

Which type of people comes to your concerts? Which type of people do you miss?
(Bo) Lately it has actually been quite varied, with both young people and older guys our own age. Which is great because a lot of the younger audience usually is a bit more energetic which reflects on our stage performance.
Do you buy much records, or is it only Spotify and those type of things to listen to music? Any good record store?
(Bo) In Copenhagen I would recommend Mephisto (for Metal music), Extremely Rotten Shop (for Death Metal) and Sexbeat records. But personally, I don't buy a lot of records.

Are you selling any merch on your gigs, do people buy it? What sells best?
(Bo) We do sell merch. Mostly Vinyl and T-Shirts. We are planning to do patches and maybe cassette tapes, but our black T-shirt with the re logo, is the "number one" seller.

Which is your own favoritesong among your own songs? And which song is the people choice?
(Bo) Hard to say. It's like choosing which of your children you like the best. But we start the new record with "Trenches of Salvation" because we all agreed that it had a lot going for it in terms of riffs and arrangement.
What´s the biggest difference when you plays live nowadays if you compare when you first started to play in a band? Or is this your first band maybe?
(Bo) We know what we are doing, we have better gear and are probably a lot calmer compared with 20 years ago.
Do you care about reviews? Which is the most peculiar you ever had, with this band or any other band you have been to?
(Bo) Well, we want to get reviews because it means that people are noticing our music, and of course it's nice to have good reviews, but we will take all the reviews we get, good or bad.
(Bo) In a review of our last record, "Hells Gate", a reviewer gave us 5 out of 10 stars and argued that we were not as skillful musicians as Slayer or Testament… with was a bit funny way to judge us. But hey, half as good as Slayer is still something.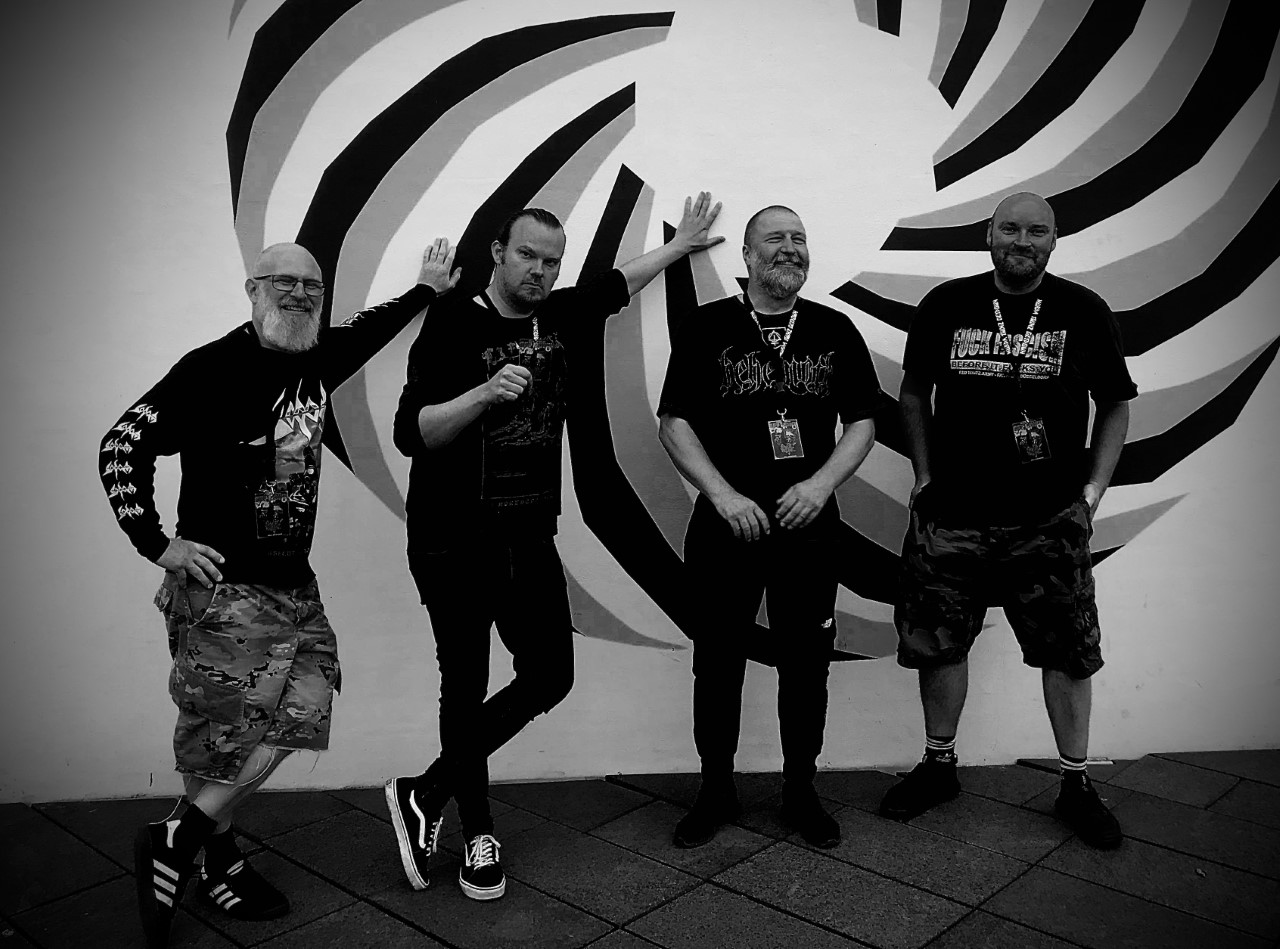 If you could choose five bands from the past and the history and nowadays and both dead and living bands to have a concert together with your band. Which five have you been chosen?
(Bo) In regards of still touring bands it would be cool to do a combined show with Agnostic Front and Sodom. Then Social Decline would be the musical bridge between the two. Sepultura in the original lineup, (with Igor and Max), could also be cool. A warmup gig for Judas Priest. Because Rob Halford and the guys are the kings of metal, and we all love them. Then a show with the Doors just to hang out with Jim Morrison backstage.

Is music a good way to get out frustration and become a nicer person outside the music?
(Bo) Probably, but I think we would be nice persons even without playing music. Its more about creating music we like than getting out personal aggressions.

Do you have any fans which have done something mad, tattoos with Social Decline or anything else?
(Bo) Sadly no. At least not something we are aware of…

Any good Swedish bands you like?
(Bo)Lots, where to start and stop. Some years ago, we played with some great crust guys called Crutches
(Bo) Swedish Metal is legendary. Bands like Entombed, Edge of Sanity, Dismember, At the Gates … you could go on. And all the punk stuff like Satanic Surfers, 59 times the pain, No fun at All was something I listened a lot to growing up.

Is it boring with interviews? Is it much interviews? What do you prefer telephoneinterviews, face to face or as this one via e-mail?
(Bo) We don't do that many, so it's fun to do

Futureplans for the band?
(Bo) play lots of shows, and make some new music

Wisdomword?
"I love the smell of beer in the morning"… Christian Loosely quoted from a tourbus on the road to Flensburg

Something more to add?
No 😊