Småjävlafötter has a great name, I think. Their album just came out on Second Class Kids and why not hear a lite with what they think about things. End of May 2023
Tell us a little about why Småjävlafötter started and when?
-The band started around 2020 one night when Malin and Kammo had been on date night. The plan was to go to the studio and jam Rage against the machine, but after a couple of many beers, they decided to write punk instead, only for fun. It became a song that was released on Spotify after they forced John into the project. He got to play bass and act as a producer. A few months later we saw Olbar and Torbjörn play with their old band Aldrig, and there Malin fooled Olbar into Småjävlafötter. After a while, he dragged Torbjörn with him and I guess that's when we started for real.
Tell us about today's members, age, other bands on the side? Have there been many Membership changes?
-Malin Regnell, vocals, Kammo Olayvar, drums, John Nilsson-Tysklind, bass, Torbjörn Vigardt and Olbar Hammer Ekhem, guitar. We're well around 30 whole gang type, 26-32. Kammo is the one with the most balls in the air, I would say. Some years ago he had like 6-7 bands but now he is down to 4. In addition to us, it is probably Symmel & Xammo that is most involved there. We've never changed members other than having Scott Crocker on bass in the studio a couple of times when John couldn't. However, that was before he had decided to be a regular bass player in Band.
You have released your album on Second Class Kids, how did you get in touch with them?
-Ah, it was Pelle who contacted us, sometime after the release of the Göteborgspop EP. Asked what we wanted to do with the band in the future and if we could collaborate in any way. And we wanted that, a lot of what is there is stuff that we ourselves listen to so we had a little bit of an eye on them before.
Is this your first physical release? What do you prefer most; vinyl, cd, cassette?
-We have actually released a cassette before, a single collection of C33 tapes. Some of the The songs that are on the new album are included there. Awesome limited edition that ran out quickly. I personally (Olbar) buy about something exclusively vinyl records, but listen to 99% on music digitally.
Is it important to get the music out on physical disc, do you think or is it just as good to just release digital?
-It's a fun thing to be able to hold your plate in your hand, and it also feels a bit more like a serious, bigger deal. You have to be serious. No, but jokes aside, we would like to get one together full-length LP, it will probably come in the future. Is, as I said, I´m hooked on digital listening so for that matter, I think it works just as well with digital.
Your music is a bit tougher than what is usually released on SCK. How did they come to want you anyway?
-Ah, it's a trallpunk bottom in the music anyway. SCK maybe, like us, want to be able to do what, Don't have to stay in a box just because.
What do you like the other bands at SCK?
-Awesome. As individuals, our taste in music can spread a lot, but I think it was in Lastkaj and Hata som ett lejon (which I don't know how long they've been at SCK) that we really agreed originally.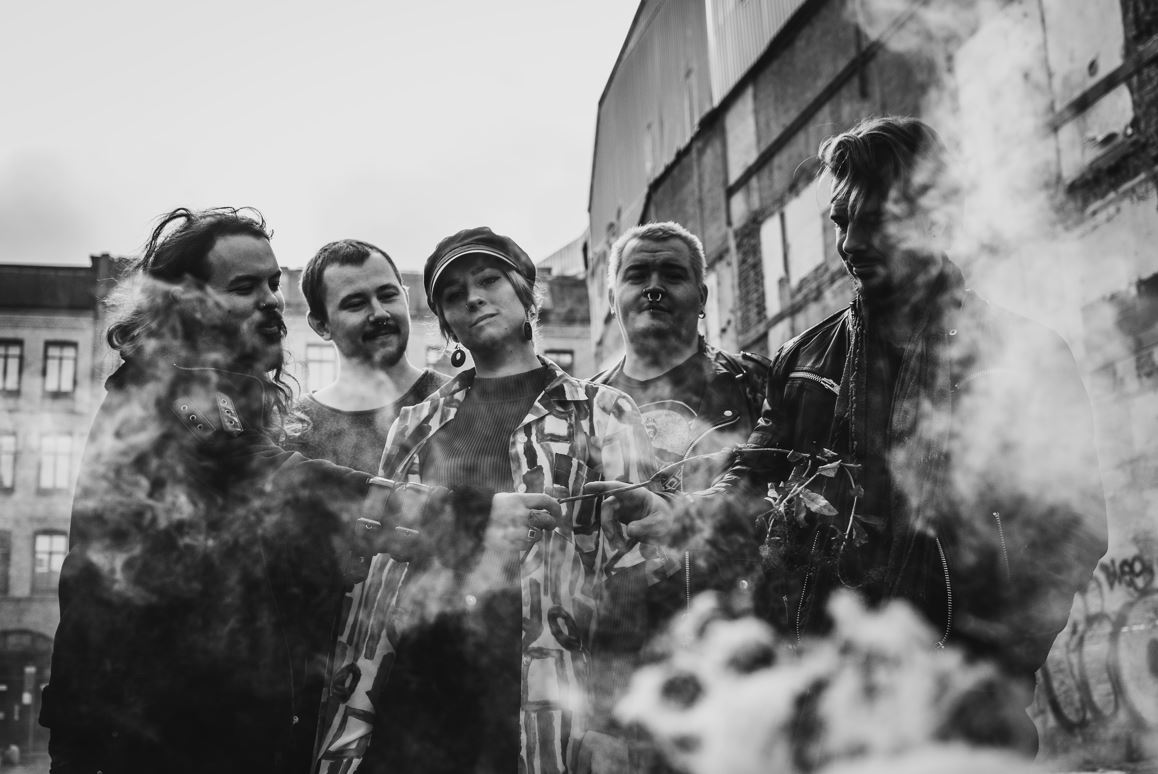 You have been recorded by Dying Grin, tell us about this studio or what it is?
-Dying Grin, or Nicklas Doverdal, is our sixth member, producer and soundboard genius. As The process of recording has looked like until today we have brought our new things to the rehearsal room, finished writing and arranging while Nicklas rowed up for recording. So when The song is finished we record it pretty straight up and down, all the songs we have released so far are recorded that way more or less. Add on Nicklas mixing magic and it actually sounds pretty good imo.
What's happening on the record front moving forward?
-First step is to sell the hundreds of CDs we have lying around, then we'll see haha.
Why do you think it is because you sound the way you do? Favorites there?
-On the one hand, the songs are often written on an acoustic guitars and vocals. After that, it is rearranged into more distorted stuff. Since John, Kammo and Olbar do not play their normally main instruments, they have to reinvent the wheel every repetition. It probably plays into the fact that several of us have backgrounds in metal as well. If nothing else, it came out quite a lot on the Maskrosbarn EP.
Småjävlafötter, where does that name come from? Happy with the name?
-"I'm going to be a vet! Worry people unnecessarily I will do, make up my own sexual orientation and shrink things in the wash. It is not at all inconceivable. I'm going to be a sailor! And have small little feet..." says a character in the theater group Klungan, those behind the radio program Mammas nya kille, in a theater performance that was broadcast on SVT sometime. When Malin, Kammo and John had thrown together the first song on that date night so we had to have a band name in case we were to throw it up to the streaming services and That was the first thing that came to mind and it sounded fun. Even though we quoted incorrectly, it got to stay.
When you play live, what kind of audience do you draw, age and what is your strength live?
-Yes, it's probably trallpunk fans in general who would be interested in o see us think I. Our greatest strength, I think, lies in the fact that we write and record everything in full band, so that's how it is The songs sound as well. Don't sit endlessly and put the right stuff or put stuff on, the sound From the stage, it's basically like on record.
When you play live, do you do any covers?
-Skända flaggan by Mattias Alkberg ended up on our setlist before a gig where the playing time was little more than we could get together even though we played several songs several times, and there it has become left. We also recorded it and released digitally with the latest release because we liked it was so fucking lovely in trallpunk.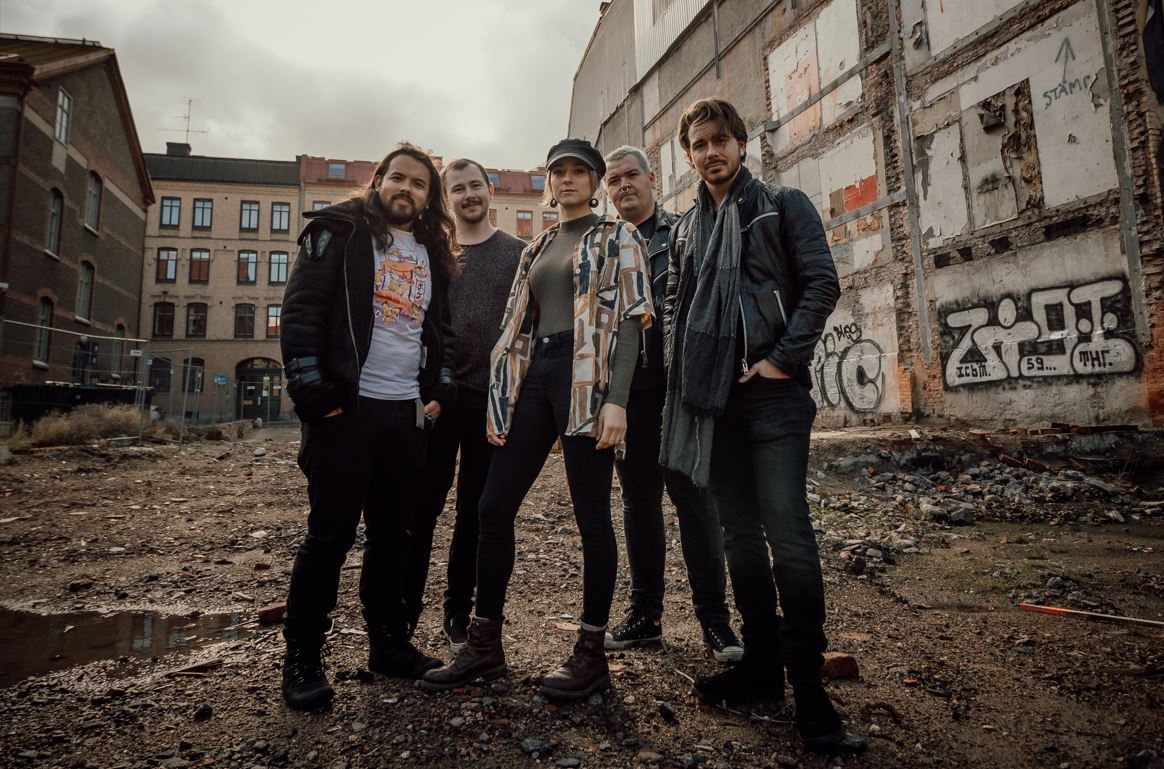 If someone paid for a four-song recording where you were "forced" to record four covers, Which would you have chosen then?
-Damn do we get five or? May you censor us otherwise, we choose one each.
Torbjörn - In kommer Gösta
Kammo - Luftens Hjältar
Malin - Die Mauer, with a looooong kazoosolo in the outro
John - Leif Volvo
Olbar – Rosanna
Who makes the lyrics, What does the inspiration come from? Can you write about anything?
-Olbar and Malin write most of the lyrics. The inspiration can vary greatly, whether it's angry vomit over things that are worst that are the starting point in the writing or a funny one wording (lex Du är ful när du gråter or Knulla skiten ur dem). Most often, we starts from a title and brainstorms what a song called so could be about/sound.
Politics and music, do they always go together? What is your most political song?
-I probably mostly think that politics is damn frustrating, and music is a great tool to get out frustration. So no, it doesn't always have to be related, but they are close at hand. Most and mostly, I don't know, it happens that the vast majority become political. IST is a pretty good boot to the right in general but both Inte nu and Maskrosbarn are like fight songs, so any of them maybe?
Best political band?
-Fever333
How do you think it is to live in Sweden right now? Shootings, SD+M+KD etc etc?
-Windy
You have never done any song in a language other than Swedish, right?
-No, but we have at least been thinking about doing some stuff in German, then when we are going to hit Internationale.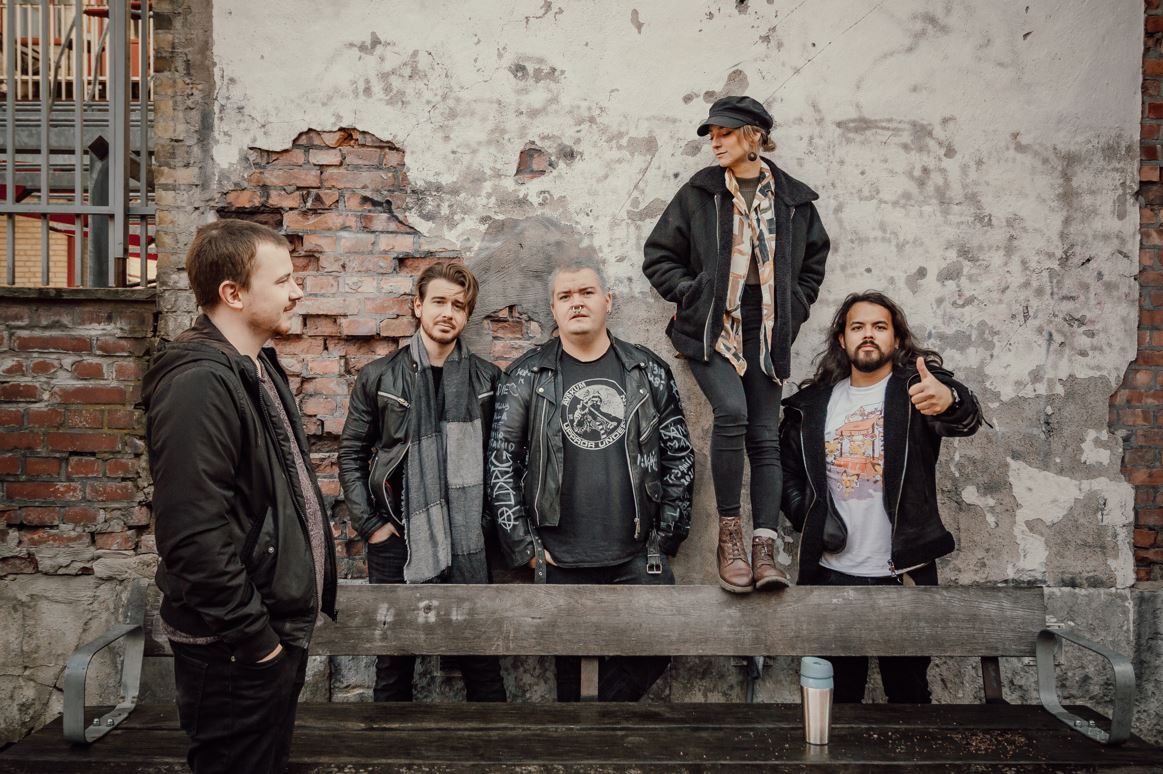 Tell us a little about the following songs
-a)Du är ful när du gråter As stated above, fun wording and it was about time that Jocke got a theme song.
b) Knivar & ballonger started like most of our songs just as a title. Malin then wrote The text based on a really to dude she met at the pub which was type year 1800-frozen. c)Varmfrontsgatan yes what the hell. It happened a little too often that you tired on the trolley after a night out and needed to find your way home from Varmfrontsgatan (the end of trams 5 and 6 towards Länsmansgården, along which Olbar lived). Quite simply, the current topic, and that it became so good and skasounding and it was probably because it was summer when it was written and then you get a ska feeling.
Playing this kind of punk in Sweden, how is it? Do you play concerts mostly with others punk band or how about it? What is the oddest band you have done a gig with?
-It's great fun actually. Many times, the gig itself feels like a second-hand thing, that just being at a concert o seeing band one still wanted to see is the best. We've just reached double-digit in gigs, so we don't have a huge number of concerts to compare with, And nothing direct that has spread in some too odd direction from punk scenes as well. But we are open for all suggestions, gig in the woods to Scandinavium, hit us up.
If you could choose five bands to have a concert with you, which five would you choose If you could choose any band, dead or alive?
1. Psykbryt
2. Talco
3. Hata som Lejon
4. Maximum the Hormone
5. Amy Diamond
Do you buy a lot yourself? First disc you bought, the latest and the most expensive you ever bought?
-Will not be heavenly a lot of records in all honesty. If nothing else, we are damn diligent at Buy merch from other bands when we play with them or see them. Especially John. He will within a couple of years to account for 50% of all punk Sweden's T-shirt consumption.
Are there any really good bands in Sweden that you can recommend?
-There are so many sick good bands. However, would like to start by striking a blow for the fantastic trio Konsumenterna, but when we get together, Slaveriet and Kampen are going pretty damn well right now also. Everyone already knows Lastkaj of course ;)
Will there be a lot of interviews or how is it? Boring or nice?
-No, this is a first. HARD gots to say, but funny o think about
What is the question you never get but want? Ask it and answer it!
-What is going on here?! Breakfast.
Do you read reviews on your records? What's the weirdest one you've ever gotten?
-100%. Since this is our first release, we haven't received a lot of reviews. I get the The feeling that people do not review digital releases to any great extent. We were on Grönpeppar records Ursäkta för röran vol 3, which got some reviews, and it's exciting To read but like, hasn't been that much weird I think.
Do you have any favorite zines etc that you often come back to?
-Must admit that it is a phenomenon that has pretty much been missed for myself, only when SCK started sending their newspapers with the orders from where I started Explore the field a little more.
Future prospects for the band in addition to new gigs?
-We want to go to Europe. The German romance in the band is strong so a dream would be to play in Berlin. Yes or like hell, take a whole summer and drag around city after city would be fucking fun. But there are new gigs. Ah otherwise I don't know, we will probably eventually release a LP.
For yourself?
-Veva jävel o drink beers /All
Words of wisdom?
-All power to Tengil It's damn cool to be nice Lick dust
Anything to add?
-Extra everything