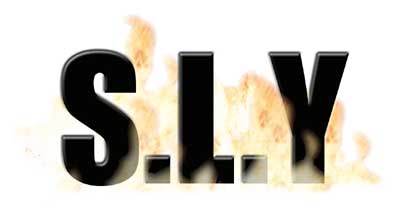 Please tell us your short or long history about TT Task or WC and everything about that?
-Wow, a short history about the two bands...hmmmm TT Task , that´s me and Jonny before we were in S.L.Y. and that was this towns first hardcoreband which played betwen 1982 and 1992. We did two EP:s and we were on some compilations and cassettes. We did mostly gigs outside this city and also in Finland and Norwa. WC was the band which Jörgen was playing in and they were much bigger in this town and all punks in this town really liked them and they were often written about in our city´s paper. They won a competition once upon a time and they won the prize to do a single and I have heard that the cover was more expensive than the record. It was very cool.

Can I get a CD with WC or how is it?
–No, you can´t, not what I know. But some years it have been on it´s way, it´s recorded , mixed and ready , it´s only for Rosa Honung to get their thumb out of their arse.

Please tell us a little about everyone in the band, family, interests, age and so on?
- Jörgen, sologuitar & vocals, 35 years old and he works as a webdirector on the biggest paper in this town, he has a wife and two daughters and he´s most interested making this town badest house good. The horrbile thing with him is his interest for splattermovies.

Jonny, bass. He´s the youngest in the band with his 31 years and he works as a computerprogrammer and he´s going up in his career. He has a girlfriend but no children. His interests is in the music and he´s member of many bands when it´s all about blueband in this city. Something terrible about him I can´t say.

Micke, drums, he´s 34 years old and he´s studying to a geolog and he has a girlfriend and a daughter. He has the same interests as Jörgen , to get an old house as new. The terrible thing with gim is that he´s never coming away from the school. He´s a typical student which lives on us other people in Sweden

And then me, Johan, guitar and backgroundvocals. I´m 33 years old and I have a girlfreind and 2 sons and stepdaughter. I work as a techniqueinformator and my interests is to get my projects to work, a rockclub in town and a musicclub in my work. The horrrible thing with me is that I can´t can hold onto things that I promise, but I´m trying to do it.

How do you feel about playing punk in your age. Is it many people who says that to you
-It feels fucking great. We have tried to play other styles between the punkbands but we´re satisfied to be back in the traces and that people would remind us about our age, no I don´t think so.

How´s life in Eskilstuna then, any other good bands?
-Everything is floating and some goods bands is it here. Carnated and Röd Storm and when we get the rockclub going on I´m sure we´re gonna find many good rockbands in this town that we didn´t knew was around. We will see..

Wasn´t it a documentary about a fucking stupid skinhead in Eskilstuna, how ´s life going on with him?
_I don´t really know but I know that it´s really calm on that front right now

Is it any difference between your lyrics if you compare when you were young and nowadays
–Yeah of course we work more with them nowadays but the things we write about is the same things but nowadays we have better words for things but otherwise it´s not so much change between the years
What makes you write lyrics?
–Everything....you can write about everything and all your experiences. Everything from the war and misery you see on the telly to write about the fukicng old lady you meet in the shop.

Musically I have compared you to bands KSMB, Sixten Redlös, Russian
Submarines, Råttorna oand so on, what about that?
-can you get better reviews. KSMB was one of Swedens best bands as I see it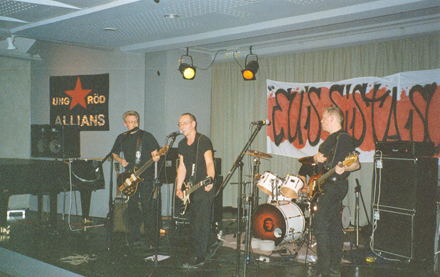 What do you lsten to, is there any good bands you can recommend?
Johan:-I´m really snowed in on old bands like Ramones,
ASTA KASK and KSMB. But of course I can listen to new bands like KKPA and Blink 182. Jörgen:- Don´t forget the new swedish bands Randy, Refused, Plastic
Pride, Bombshell Rocks, Psychopunch VST, Troublemakers and other things. The sweidish punk is really alive

Five favouriterecord, five favourite concerts and five most important things in life?
–Wow, this was really difficult....but do this easy. 5 records with Ramones, no names ,all is good. Concerts, hmmm ZZ top in Stokcholm 93 or 94 and then dee Dee Ramones concerst was really good. Aerosmith 93 or something like that was good. And when WC had a reunion is a concert you can´t forget

And this one with the important things... Children are they things? Yeah , they are the most important things I have and then my girlfriend, guitars and the mobilephone, how could make a living without before???

The first, last and the most ecxpensive ever bought?
– I have never bought any expensive record, But the first one was Abrasive Wheels and the latest one must be some record to my kids, like Absolute Kids or something...now I´m ashamed.. :o)

What do you think about mp3 and the whole thing, doesn´t people play music for fun and not to make money?
- I think it´s OK with mp3 and that you for FREE can take down some music. And so it must be, music is fun and you don´t have to make a lot of money out of it.

What does punk mean to you?
–Punk is a way of living , a way to be and think. And to show that you don´t take all shit and that you can say what you want when you think something is worng. Before when you were younger you had clothing style which showed who you were but that is something for the younger people. Yeah I can talk a lot more about what is punk and what not is punk... :o)

What drives you to play music, you don´t earn any money on it, but you maybe get some chicks or booze or what drives you?
-We have all girlfriends amd wifes so it can´t be the chicks and not money either because we haven´t earn any money on our music No, we play because we have a common musicinterest, it´s fun to play music and punk is the thing we have closest to our heart and that we never gonna stop with. It´s important to say things and the lyrics is almost as much as important as the music..

is it many interviews or is it not so much?
–Now have it been really calm for while but we like interviews and we love to answer them

Which is the question you never get , but you want to have, please ask it and answer it now?
–Do you want a record contract there you can earn so much money so you only can play music and don´t work? Yeah, thanks! :o)

is there any good zines on the net or on paper that you read?
–Of course it is, SKRUTT is a really good zine with much to read. And then it´s behind the Music whic is really good and some other things I don´t remember the name on.

How did you react when you heard about the terrrorist attack the 11th of september 2001?
–I didn´t really understand what had happen before I saw it on the telly later that evening. It´s terrible and so many people died because of the fact that people on high posts can´t speak and they only can fight. And then to do the same thing back is even more stupid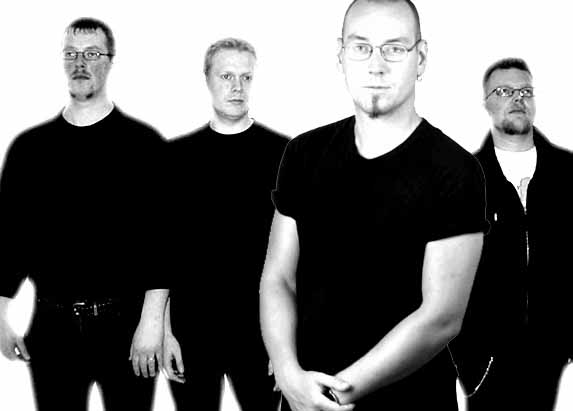 Have your life been changed after that?
–No , I don´t know...maybe I have asked my self the question if I do anything wrong to anybody or somebody. But it´s not the right solution with violence when you don´t like each other.

Are you politically interested , with European Union and so on?
–Noooo, not really. But of course it´s some things you can change in the politics but wonder if there any chance to fix it.

How do you think that Göran persson is doing his job?
–yeah that the thing, I could imagine sitting there and do his job and to sit eher and say that I would be better there ...that´s a lie. But he´s the wrong man on wrong place

George Bush then?
–It´s the same thing there. Wrong man in the worng place and it´s too much violence in the head of that man

Now back to the music, how´s a good gig with you?
–i´s much people, good sound and a low scene so you don´t have to look down on people, that´s not so fun.

Are you betterlive than on records?
–You can´t compare those things, it´s so different. The sound is better on records but the good feelings you can only find live.

Have you done anything more than Elak 2000 and Brinner and if you have done that, how can I get it and how can I get things with the groups you have been in before?
–No , it was only a local recoridng we did before so we don´t let anyone else hear it so you have to be satisfied with the two recordings we have done this far. When we´re talking about WC.s single it´s really hard to get and if you get it you can´t get it cheap. It came out in 500 editions. TT Task it´s the same thing, it came out in 300 and what i have heard it costs about 200-300 swedish krona. The other EP it´s still left and I have 100 of it which not anyone want to have. Otherwise you can order it on 1000db for 40 swedish krona

Please describe your music with three words?
- Punkrock, melodies, contain.
Is there any good band sin Sweden right now?
-Of course it do, Troublemakers, Fattijons, Mimikry and many other bands..

Futureplans for yourself as a person?
–My plans is to get the club going and to have it going on in a good way. Right now we have Balsta Musikslott and some parts of our community behind us. We only wait to get a place to be in and then we can have the first concert. I hope it can be in the end of february 2002.
<![if !supportLineBreakNewLine]>
<![endif]>
Futureplans for the band
-Many many gigs around our country we WANT to have

Wisdomword?
–It´s not easy to be heavy, but we work on it

Something to add?
–Yeah if somebody have the ,ust to go in to å http://www.sly.nu , write something in our guestbook, give us gigs, compliments or say that we´re shit. We can take the most.
<![if !supportLineBreakNewLine]>
<![endif]>