Slobobans first gig was October 4th at Porthälla School in Partille and it was a few years ago. Slobobans celebrates 40 years this year ... I hope it can be something fun with it. The group has been one of my favorite bands in punk Sweden during the years and what annoys me most is that they have not done more songs than they have done. Staffan is certainly the man who took the time to answer the questions. January 2017
When did Slobobans began to play together and which original members are still in the grouptoday?
-Our first gig was October 4, 1977 at Porthälla school in Partille. I had been on language travel in England in the summer and seen a couple of punk bands and thought it was a fun idea to start a band. We only played cover songs (Pistols, the Ramones, the Damned, Stranglers, Vibrators, Ultravox), and it was not until the summer of 1978 we understood that we could write our own songs. Tomas played bass, Anders drums and Per and I sang. 1979 jumped and guitarist Bjorn and Möller off the train and Gert, who was one of our friends, and he was always on the gigs, came in on guitar. In addition, we found a heavy metal drummer named Björn. So there are many original members left. The former drummer Möller now plays guitar with us.
Tell me a little about every member today, age, work, and you play in any other bands right now?
-We are all born in 1961, except for Per, who was born in 1958. I work as a video editor, Tomas with mail, Per at the fire service. Möller is working in the harbor and Gert as a sound engineer for, among others, Håkan Hellström. The only one who is really active in terms of the musicans is Möller who is the guitarist and lead singer of Black Ingvars. I also think Björn plays with some cover bands.
Do you play a lot out there nowadays?
-We do very few gigs. We played in Gothenburg a year ago. It was the first gig in 11 years. Then we played in Uddevalla a couple of weeks ago. Since it takes many ropes to make it sound good, it takes a lot of energy, so we are careful with what gigs we take. It has to be reached, which we believe can be good. As has a good sound, lighting, stage and where we believe that there will be people.
No plans for new songs, new album, etc.?
-We have two new songs, Tidens sår(Time Wounds) and Samma Jävla Misstag(The same damn mistakes over again). We made them last year to see if we could still write. They sound good, but it's hard to put them in relation to the other material. We have no plans at this time to record them. We were thinking of doing a vinyl single, but it turned out to be so expensive, we layed down that plan.
What is the big difference in playing out today if you compare with the beginning when you played?
-In a way it's more relaxed now. We have a confidence that we rehearsed and know that we did everything for it to be good. We know we are tight and it sounds good. We also feel a safety belt. We know each other very well. On the other hand, because we play so seldom we think sometimes about how much that can go wrong, because now we only have one chance. One person in the audience that is messy that it can destroy an entire gig. One advantage that we play so seldom that we are all sick tagged. There is no routine.
I have to me that in the beginning of your career you were on stage barefoot, maybe I have to me wrong and if I do not know how it is today?
-I really wish I was barefoot, it would have been pretty cool. Nah, I appeared frequently in stocking feet, which was not the coolest thing right. Nowadays, I have a couple of neat shoes.
That you are/were two brothers who fronted the band, became or becomes it much internal struggles, pushes your brother you down?
-To have a big brother in the band is a rare luxury. As Per is 3 years older than the rest of us, it was often he who got to be the big brother to the whole band. He had to be the driver, while we sat back and drank frozen beer. He took care of the contact with the organizers and got to be the mature in interview situations. Well there is always a certain competitive situation when you have his brother in the band. I do not know how he experienced it, but I could feel a certain joy when he sometimes he sang wrong, I can not deny. Now we are old men all of us, so it has subsided. One can say that I am the visionary and Per outpatient truck.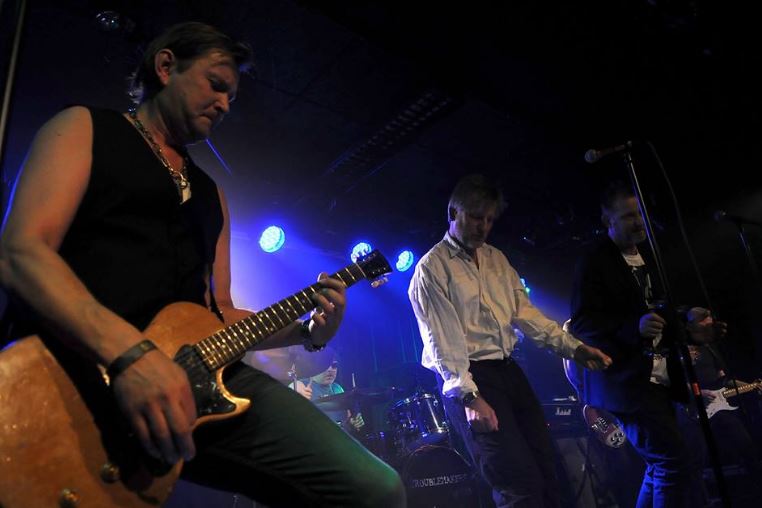 Is there any truth behind that picture and name Slobobans Undergång as you talked about in Guldslipsen for about a hundred years ago? Have you ever regretted the name? Was there any other names on the wall as you would rename the band?
-That's the truth. No other name has never been an issue.
You've many times been described as a punk rock band with heavy metal influences, how do you see it, me myself have never really understood it?
-It would be strange if there were no heavy metal influences. We are all grown up with Deep Purple, Led Zeppelin, Alice Cooper, AC / DC, Status Quo, Slade, Kiss. There is hopefully a weight of us which can relate to hardrock. The person responsible for this is Björn, who do not listen to anything other than heavy metal. Otherwise, there is a lot of hard rock that we lack, long solos for example.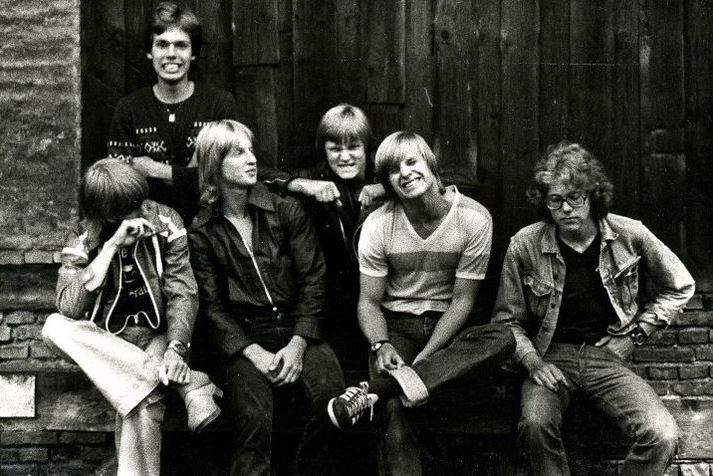 What does punk mean to you today and what it has meant to your life in general?
-Punk in general does not mean so much for me today. It shaped my life as a teenager, I had an identity, became politically aware and got a lot of new friends that I still have contact with. I am proud that Sloboban has made an impression in Swedish music history.
Your audience feels quite true, what do you think of the kind of people today, is there any younger there when you play?
-It is well all possible. Those who were there when it came to their children and those who discovered us in the meantime. We have been very surprised that it got so relatively young people who also can sing along with our texts.
Your lyrics is often political? Is there a need to have when you are doing punk music to be political and involve important things?
-No, I do not think it is a most to have political lyrics just because you're a punk band. But one must have any meaning in the text. And I have very much difficulties for Swedish punkbands who sings in English. Swedish bands at all who sings in English, I think, in general, is completely uninteresting.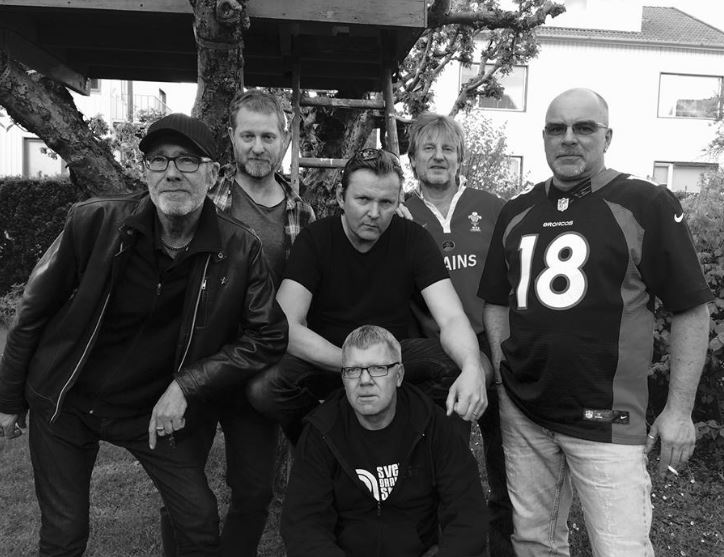 Best political band ever?
-Ebba Grön. Well there is no other band that has created so many politically engaged as Ebba. And who could package the message in the most attractive way. Wonder how many they had to refuse the military? I have also never seen a Swedish band so terribly good live as they were. Just like the Sex Pistols, they did everything right for a year or two. Then they were in complete harmony with the time. From the songs, the lyrics and artwork. So incredibly neat and well. And everything went on intuition it feels like. A perfect intuition.
Are there any good punk bands today that you like?
-No, I do not listen to punk. Well, I can listen to the things that were made prior to 1981 and find that much still sounds very good. But it is often just the first disc . Stiff Little Fingers, Vibrators, The Boys, 999, Ruth, Damned. I think Stranglers first 3 are fantastic. I think London Calling is the best disc recorded. I think the Sex Pistols is the world's best band .. But today's punk does not interest me. It must be the new generation to take care of that.
The five best albums right now?
-I do not know if I can count on 5 new records. I think Cage the Elephant, an American indie band, is completely cruel. Saw them in Copenhagen last year and it was fantastic. I like The Kills, and I like a Danish band called Nephew. Otherwise, I probably like most others. It can not be bothered to embrace new music and becoming more and more find their way back to what you were listening to when you were between 15 and 20, when music really meant everything. I like to listen to everything from Led Zeppelin, T Rex, Queen and 10CC. Then there are three bands that I really love, I constantly return to and I love to read everything I can get over them. It is Slade, Alex Harvey Band and The Sex Pistols. Those, I'm really in love with!
Do you buy records still or are you like that "boring" like many others and just listen to Spotify?
-I buy almost no discs to myself. I buy vinyl to my sons in an attempt to form them in the 70s. As the New York Dolls, Television, T Rex, Roxy Music and Talking Heads. Otherwise, I'm probably like many others. Listen to playlists on Spotify. Everything from Laleh to Weezer.
What do you think about the political climate in Sweden today? What do you think of Trump, what happened there anyway?
- I think the Swedish people, and American too, for that matter, have forfeited their right to vote. They have forfeited their right to live in a democracy. When you read on FB you are struck by people being so fucking stupid. For a while I was into all that, during training at Facebook, said they passed The lfes hard school, prohibiting voting. In the end I got stuck for the radical solution that no men, only women get right to vote. It would probably be better. But it's really fucked up right now, and it will get worse before it gets better.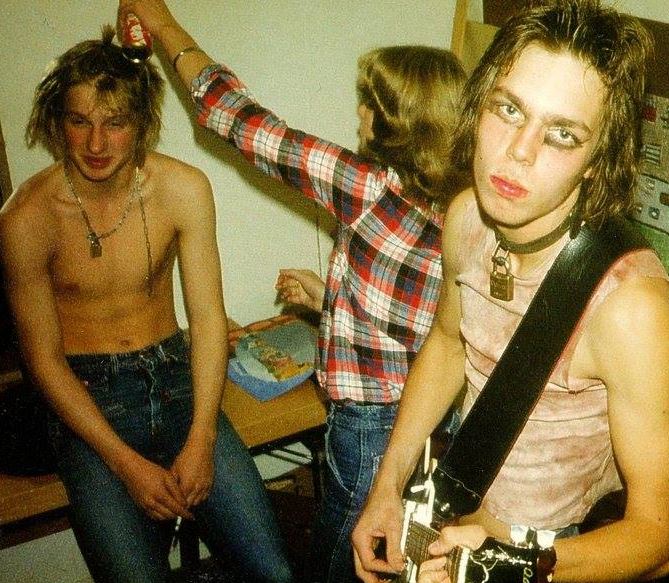 If you could choose five bands from the past living and dead to have a concert with Slobobans which five have you been selected?
-Ebba Grön, Cage The Elephant, Slade, Alex Harvey och Hunters & Collectors
At the time when you played in Partille, how does your music been received in such a small place?
-In Partille it was either hard rock or symphonic rock that was the thing in the 70s. Partille not cared not at all about us. Indifference is surely a good word.
What is the most fun song to play do you think? What song would crowd preferably hear?
-I like best about playing Soluppgång och Lycka( Sunrise and happiness). It is our most nagging song and I'm very weak on bands that understood grind dets genius. As Nephew. Or Hunters & Collectors. I really do not know what song the audience most want to hear. I´m pleased and surprised that they want to hear us at all.
You made a split LP with Rövarna with cover songs, how come you did it?
-As I recall we had contributions to make a split album. Our goal was to make an own record and not to burn all our own songs, we chose to do a cover album, with Gothenburg songs that we liked. Worked not so good to share disc with another band. And because we never got to make your own, you can now in retrospect think it was a pity that we did not play our own songs. A dreadful cover moreover.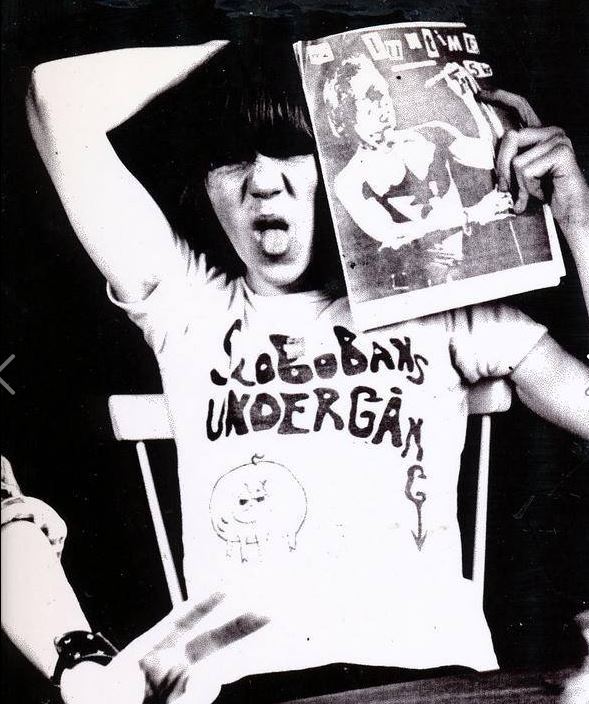 Can not you release a CD box with everything you released, there are a lot of unreleased tracks maybe that you do not have released?
-First I do not think there is an interest in a CD box with Sloboban. Secondly, we have not much unreleased in caches that we can share with the rest of the world. The feeling is that they probably is best on their tapes. The last discovery we made was Skuggorna kommer(Shadows comes) which we recorded to the split album, but that never came on it and then it was forgotten.
When is the next gig for you, or do you have nothing planned?
-We have no gig planned. No offers either. But do we get some which we feel appropriate, we are not particularly difficult flirted.
It seems to me that you are one of the best live bands, what do you think about that? What is your strength live?
-Our strength is that we live nowadays we are always well prepared. We have rehearsed so much that it is tight and heavy. And then I think it shows on us that we think it's funny. And it's kind of positivism around us. And we have both me and Per who have time to give the audience all the attention it deserves.
Future plans for the band?
-We have no plans. If it pops up somthing that feels right we play. It may happen next year, or about 10. It had been fun rehearsing some new material. Not that I think people want it, but for our own sake. But there has always been a very long process for us, so that time is not real. Attentat and Kai Martin has done new music, recorded new CDs and started functioning as a band and it is fantastic of them. But I do not think we have the strength or time for it. But it's always crazy fun to meet people again. And to meet the audience again.