I thought that Sledgeback was an old band but I mix them together with some other band I think. March2-009
History about the group, you have been on the road for many years?
-Sledgeback formed in 2004 and we got signed to Sliver records 3 months later. That brought the first album and a bunch of tours on the Western USA. Mostly Seattle, Los Angeles, San Francisco, Las Vegas...etc
Please tell me a little about every member, age, family, work, interests and something bad about every one?
-Silo - Guitar,Vocals. 25 years old.I don't keep in close contact with my family due to a far from average childhood. My mother died when I was 6. I was raised by my father and grandparents. I left home and quit school at 15 to play in bands. later I got caught up in drugs and train hopping. living on the streets wherever I could. I've been engaged twice, neither worked out. Went to rehab more times than i like to remember and eventually moved away from Gainesville, FL. to Seattle, to start over. That's when I met and joined Sledgeback
Gabor Hun Szakacsi- Vocals,guitar-,I was born Budapest Hungary. Moved to Seattle in 1999 to clean up after a long period of drug use from my late teen age. I am pretty hard headed and if I have a bad day I don't talk to people. Otherwise I love to play gigs, record music. If it's about the everyday things and not the Sledgeback stuff.. here: I don't like to go out to clubs, I don't drink alcohol, I don't smoke weed, I rarely go to shows.
TIM MULLEN-DRUMS. Tim was born in Phoenix, Arizona USA and started playing drums when he was 13. He was playing in the band HIMSA before he joined Sledgeback. As much as I know he drinks and smokes but I have never seen him drunk. Pretty tough guy and the best drummer I've ever played with.
Have it been changes in the line up through the years?
-Yes. Just like most bands on their ways. Some people left the band because of family things, some of them left for other reasons. It was their decision. Nobody ever got fired from this band.
To play punk in USA, how is that?
-Gabor-You know..it's the best thing. I am lucky to be a punk rocker in America and play the music here. I would never change it for anything else..
Silo-Ha, far different than it used to be. Punk used to be a movement, with causes and a reason to stand up and fight for what you believed in. Unity. Now it seems as if real punk is dead, but the fashion lives on through overpriced and easily accessible clothing chains that seem to focus more on pop culture and "what underage kids living on mommy and daddy's dime" think is punk. Water downed mall-core bullshit. There's no attitude to today's "punk". Now it seems it's all about who's eyeliner was more expensive, or who got what first from "Hot Topic". Fuck that! Punk is dead!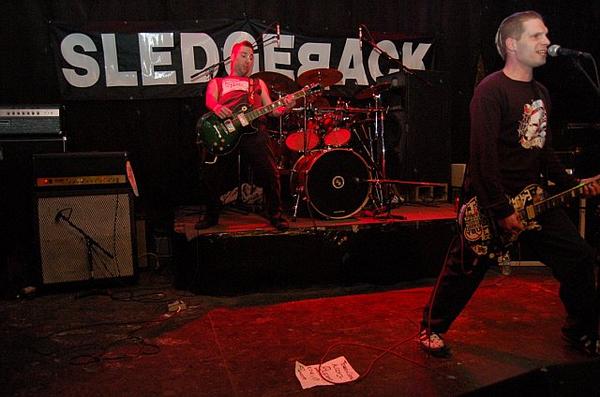 No more grunge in Seattle?
-There is grunge around here but it sunk pretty deep for now. I still listen the classics like Alice in Chains and Soundgarden. Come on. You know they were great.
What does punk mean to you, is it only a word or is it a lifestyle?
-Gabor-What would you say after almost 20 years around this damn thing? For me it's a lifestyle but it's changing as I am aging.
Silo-These days it's just a word tossed around more than a groupie backstage at a Motley Crue show. There is no real punk anymore
Is it important with lyrics which is about something and not only about love, beer and so on?
-You know it. If you listen Sledgeback you will find the typical beer punk stuff along with the more serious lyrics. The meaning of the words are way too important part in music for me.
Which is the most political song you have done?
-You will find some in Sledgeback but we try to avoid that stuff. I am not sure , probably Wonderland from the 2nd album.
Doesn't music and politics goes along hand in hand?
-For political minded groups yes but for a band like Sledgeback it's not the first thing. We express our opinions and views sometime but won't go in to depths about politics. Feelings and personal life experiences are more important for us.
Is there any good American punk band which is really political? Other good American bands?
-Political? Come on. You know it. Bad Religion. if you are asking some that I personally like ..here are some: Bouncing souls , The Generators.
How is it to live in USA nowadays? What's the best and what's the worst?
-I see people are losing jobs and families have a hard time to go on with their normal daily lifes. It seems hard but I am sure it will be back in the track soon. For me it's ok now. I would not change it for anything. I couldn't say what's best or worst.
Is it many differences between rich and the poor?
-Sure there are many differences. In Europe poor people can go to college or get healthcare. In the USA these are harder things to get if you don't have the cash. And obviously in the lifestyle. One has a Cadillac the other rides the bus if there is money for busfare.Just like anywhere else.
Football? Any favourites?
-Seahawks. Soccer: FTC
Here´s my review SLEDGEBACK-PERCEPTION BECOMES REALITY(CD-SLIVER RECORDS SSLV 9303) I don.'t know why but I had been waiting to do a review on this record. I thought it would be psychobilly but so it wasn't, not in the near. It..s good to be surprised in this way and Sledgeback's music is really good. You can hear influences from many of the big bands in the punkworld I must say. Social Distortion, Professionals, Pistols and so on. You can understand just because of this that the music has a fucking drive in their music and a really interesting sound. I almost become a little bit depressed when the record is at its end after 11 songs and 34 minutes. I want to have more so I put on the record again. (EIGHT) 10/2-09 Comment?
-Thank you for the nice words. It's really important for us to put our own style in each song. I know it's easy to compare bands to other ones and say copy because they don't work hard enough to find their on style. They just follow the trends and later sink to nothing. You can hear the influences in Sledgeback but as I've heard from people it's still way different from any other band. People say different things but mostly they think it's the way I sing and how the band matches up the parts with the feeling of the lyrics.
Your hometown, how is the musiclife there?
-I think it's pretty good. Of course there are some musicians who always bitch about the scene just because their shows are weak. That's their problem. If your band is good it will be popular and people will show up. But if you suck.. of course nobody will come out to see you.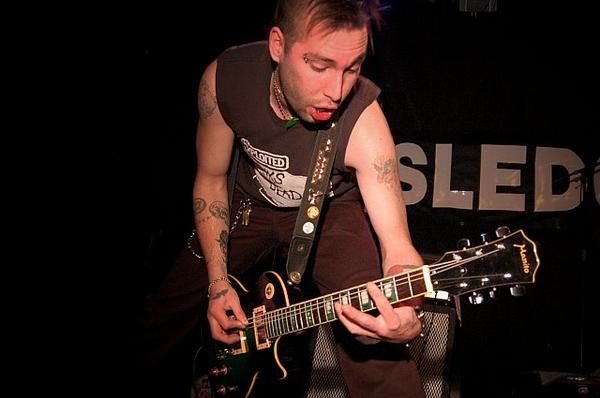 What do you know about Sweden?
-I know some. I've heard the "social system" is very good and people are nice.
Have you heard any good Swedish bands?
-I used to listened Millencolin.
Have you done anything else than Perception becomes reality? If you have how can I get it?
-Yes we did. We´ve done an album in 2004 -titled:"People's choice".That was our debut full length and we just finished our 3rd album, -Bite the bullet".It's coming out in the United States for March 2009.You can get our albums thru several distributors. If you can't find it you should contact Sliver records at www.sliverrecords.com
New things like My Space, Facebook and those things, have it helped you a lot?
-Yes.For sure. We made lots of friends thru Myspace and similar sites.I think these online communities are great.People find new stuff and bands find new fans.
You have been a lot outside USA and played, where have you been and where was most fun?
-We only played in Canada with Sledgeback outside of the USA but we are going to Europe as soon as we can hook it up.
How does the average Sledgeback-fan look like?
-I hope not ugly.
Which people do you miss on your concerts?
-Noone really.The gang that shows up on our gigs are more than enough to get in trouble with.
Which song is the fans favourite? And you own Sledgeback-favourite?
-I know they like "Pants off" and "Good bye my friend" from the first cd.Our or my favourite? I like all of them.They are our babies.Probably "Push me away" from the "People's choice" album.
You haven't done any cover-songs?
-We used to play "Bad luck" from Social Distortion.
Sliver Records, is it a good label?
-Yes. They are great. We have a good relationship. They are not a huge label but they did every possible thing to put us out there.
First, last and most expensive record ever bought?
-First I really paid for was "THERAPY? - Nurse" album. Last I bought was a special edition KISS 3cd set.
Most embarrassing record in your collection?/
-Can't think of any. .I like music no matter what it is. I have stuff from Miles Davis to Napalm Death.
What about mp3 and downloading, where do you stand?
-It's good and bad in the same time. Honestly?..I think it's rather good than bad for mid-size bands but you could argue it for days with other people.
Is it good or bad for a band of your caliber?
-It's ok for us at the moment. I wouldn't say it's bad but the economy kills us too. People buy less merchandise thru internet , distros or at the shows.
Futureplans for the band?
-Tours after the 3rd full length album.
For yourself as a human being?
-Keep staying away from hard drugs. I don't want to go back there.
Wisdomword?
-Never trust a hippy.haha
Something to add?
-Hopefully coming over to Sweden in this decade.