Slaughter and the Dogs have always been one of my favorite bands. Now they have released a new album called "Vicious" which I haven´t heard yet but here is Mick Rossi talking about the group today! April-2017
What has happened since the last time I interviewed you ... about 10 years ago? New Members?
-Over the last 10 years SATD have been playing steadily; touring the world & playing large festivals as well as continuing to write new material. We signed with a great indie label in Los Angeles Cleopatra Records, We've just completed our new album "VICIOUS" which is available worldwide. Sadly our incredible friend & brilliant drummer of the last 20 years, Noel Kay succumbed to a tragic accident at his home in France, he is most sadly missed. The new members of the band include Dan Graziano on bass & Mark Reback on drums; they have brought their unique sensibilities, style & power to our rhythm section and we love them.
Tell me a little about every member today, age, family, interests, favorite football team & work if you do anything else other than music?
-Full time Musicians, Rock Stars & Dreamers. I have loved Film my whole life, I'm a big fan of Al Pacino & Dirk Bogarde & French actress Isabelle Hubbert. I've worked as an actor/writer in Los Angeles for several years. I also produce other musical acts, I enjoy that. As for Football. Wayne loves Manchester United. I love Manchester City.
How did the European Tour go?
-The tour was amazing; most of the shows were sold out. One thing that struck us the most was the audiences were comprised of all ages & knew all the words to the songs including the new songs on "Vicious". It was incredibly gratifying to play to such enthusiastic crowds. We felt very privileged.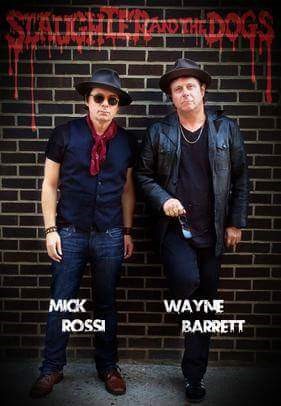 How does the audience look? Old / young?
-Fantastic looking audiences everywhere we went. Surprising amount of young kids as well as our loyal SATD fans. People of all ages. It was a real celebration.
Which is the song people most want to hear?
-Cranked Up Really High
And which song do you want to play the most?
-I'm really loving playing "Trash Talking Queen" off "Vicious".
The songs on the new record - was it difficult to write new songs?
-The songs on "Vicious" are vibrant & fresh with all the spirit of SATD. Wayne & I rented a house in San Francisco for a month & wrote everyday, it was fun & productive & at times challenging.
Which is the most important when you do music. Is it the lyrics or the melodies?
-Both are of equal importance. The lyric serves the melody & the music AND the music creates the tone for the lyric.
Is there anything you will never write a song about?
-At this stage in my life I don't know. So far I haven't found anything off limits.
How is it now to live in England, after Brexit and so on?
-I've been living in Los Angeles for several years so I'm not the best person to answer this question.
They're talking about terrorist threats in England. Are people afraid something will happen?
-I think in today's climate no matter which country you live in - there is always the chance that something can & will happen. It's a horrendous fact of the world we live in today.
You don´t live in Manchester?
-I visit Manchester as often as I can but I live in the USA.
What do you know about Sweden?
-I have very good friends who live in Southern Sweden, great people, I've been to visit. It's an amazingly clean country.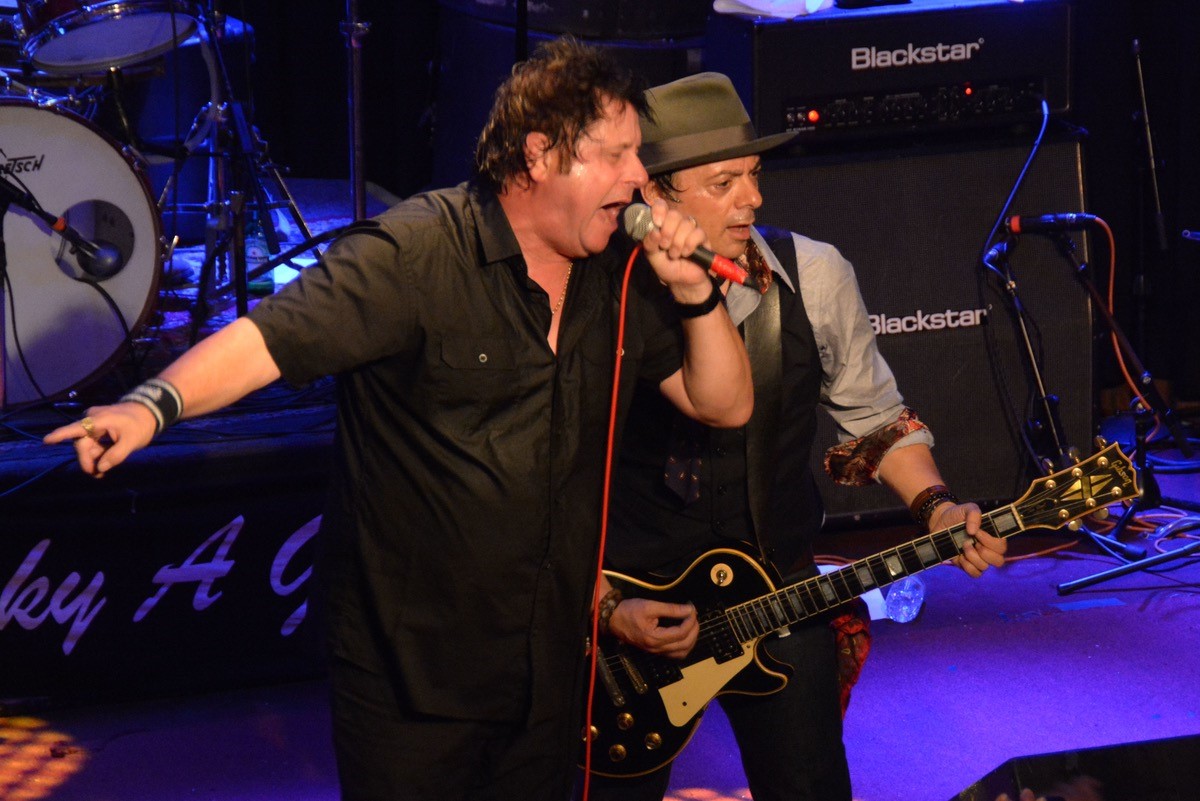 Have you heard any good Swedish bands?
-You mean other than ABBA ....
For me is beer very important, which type of beer is your favorite, ale, lager, IPA, stout or what and if you have some special brewery you like?
-I drink Green tea.
Do you want to have your own wine/beer?
-I'd rather play my Les Paul than run a brewery or crush grapes!
What do you think about punk so more than 40 years afterwards, how have it going through the years, is it alive and kicking or what?
-PUNK is back and we need it now more than ever. I think it's fantastic that bands are still out there doing their thing & that new bands are emerging every day. Whether you're playing in your garage, your bedroom, a shitty club or a stadium - it really doesn't matter. Music is a vital form of expression particularly in today's political climate.
Are you playing at Rebellion?
-We are headlining Rebellion in 2018. We love playing there, we love Daz & Jennie who run the festival, they are family.
Any other bands you want to see at Rebellion?
-The Damned never disappoint!
Five favorite records?
-Starman (David Bowie) Pretty Vacant (Sex Pistols) Master Plan (Oasis) Perfect Day (Lou Reed) Only After Dark (Mick Ronson)
Do you still buy records? What do you prefer, CD, cassette vinyl digital?
-I still buy CDs.
Is there much interviews now? Is it boring to do them?
-Interviews are fine to do; they're part of it. I don't mind them & I've done a whole lot of them since the release of "Vicious". They can be quite fun.
Future plans for the band?
-We are playing a big festival in the USA in August followed by a full tour.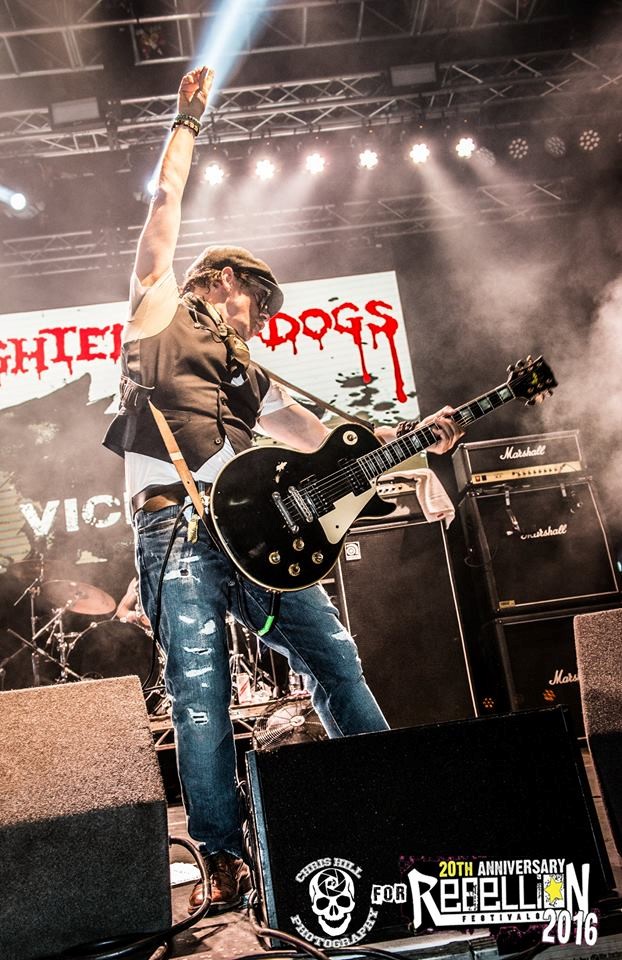 Future Plans for yourself?
-I'm also an actor & a writer. I've written & produced several movies which have done very well world wide. I love acting and I've been lucky enough to play the lead role in several movies opposite such great actors as Val Kilmer, Gabriel Byrne, Vinnie Jones, Patsy Kensit, Joanne Whalley etc. My next movie shoots in Berlin in late Sept. 2017.
Wisdom word?
-Believe in yourself!
Something more to add?
-Yeah, it's late in Los Angeles & I'm ready to go to bed! Good night & thanks for the questions.
Thanks for being patient with me. Let me know if you received the album from Cleopatra Records. Best Regards, Mick Rossi Slaughter & The Dogs