Slapdown is a really interesting metalband which plays metal and a little bit of hardcore. They come from France and they was very quick to give me an interview. Oktober 2021
Please tell me a little bit history of the group?
Slapdown has been founded in 2013. At the beginning, we were playing US nu metal. But after few months, our singer left the band. So, we looked for another nu metal singer in vain. Then, Estéban contacted us on YouTube, and joined the band. We began to write some new songs, but rather in a thrash death metal style. In 2018, we released a home recorded 7 titles EP called "CULT". The next two years, we wrote some new songs, more violent, more death metal. In 2020, we recorded our first album "FUNDAMENTALLY WICKED" at the Kohlekeller Studio.
Please tell me a little about every member in the group right now, age, family, work, interests and something bad about everyone? Earlier bands? Other bands on the side?
-Vincent (guitar) is 30yearsold, he's a cellphone technician, he's lucky bastard at video games and he has the back of a 90-year-old man.
Nicolas (bass) is 36 years old, he's a delivery driver, he's the most ill-tempered and annoying guy in the world.
Olivier (drums) is 33 years old, he works at a post office and is a chronic procrastinator.
Estéban (vocals) is 24 years old, he's a manager at a fast food restaurant, he has an odd style, crazy socks in too big shoes, giving you an irrepressible need to cut both legs to never have to see that carnage again.

I can hear many different influences but mostly death metal and a little bit of hardcore? Favorites from the past?
-We have mostly been influenced by bands like Aborted, Cannibal Corpse, Hypocrisy for death metal. Our hardcore influences are bands like Madball, Hatebreed, Get The Shot, Wall of Jericho… We're also fans of Iron Maiden, Pantera, Exodus.
Slapdown are you satisfied with the name? How did it came up? What does it mean? You weren't afraid that some other band would be named like this? Which is the best bandname you know?
-We're really satisfied with the name, it expresses our need to sound like a big slap in your face. We don't know if another band is named like this. Whatever, zero fucks given.
What's the best thing with playing live? Have you done any since the covid came?
-Playing live is essential for a band, to share our music, meet new cool people and have fun.
We only played twice since Covid, but we hope for 2022to be a more fruitful year.
And where is best to play? And the worst place?
-The best is a little stage, a close fury pit and crazy crowd. But in reality as long there is a stage to play on and people to watch us and support us, it's the best place that we can dream of.
The worst place is not having one!
How is to play this sort of music in France right now? Which types of bands do you have concerts together with?
-Extreme metal got a well-welcome scene in France. We play with all types of bands, hardcore, deathcore, thrash metal, black metal, death metal…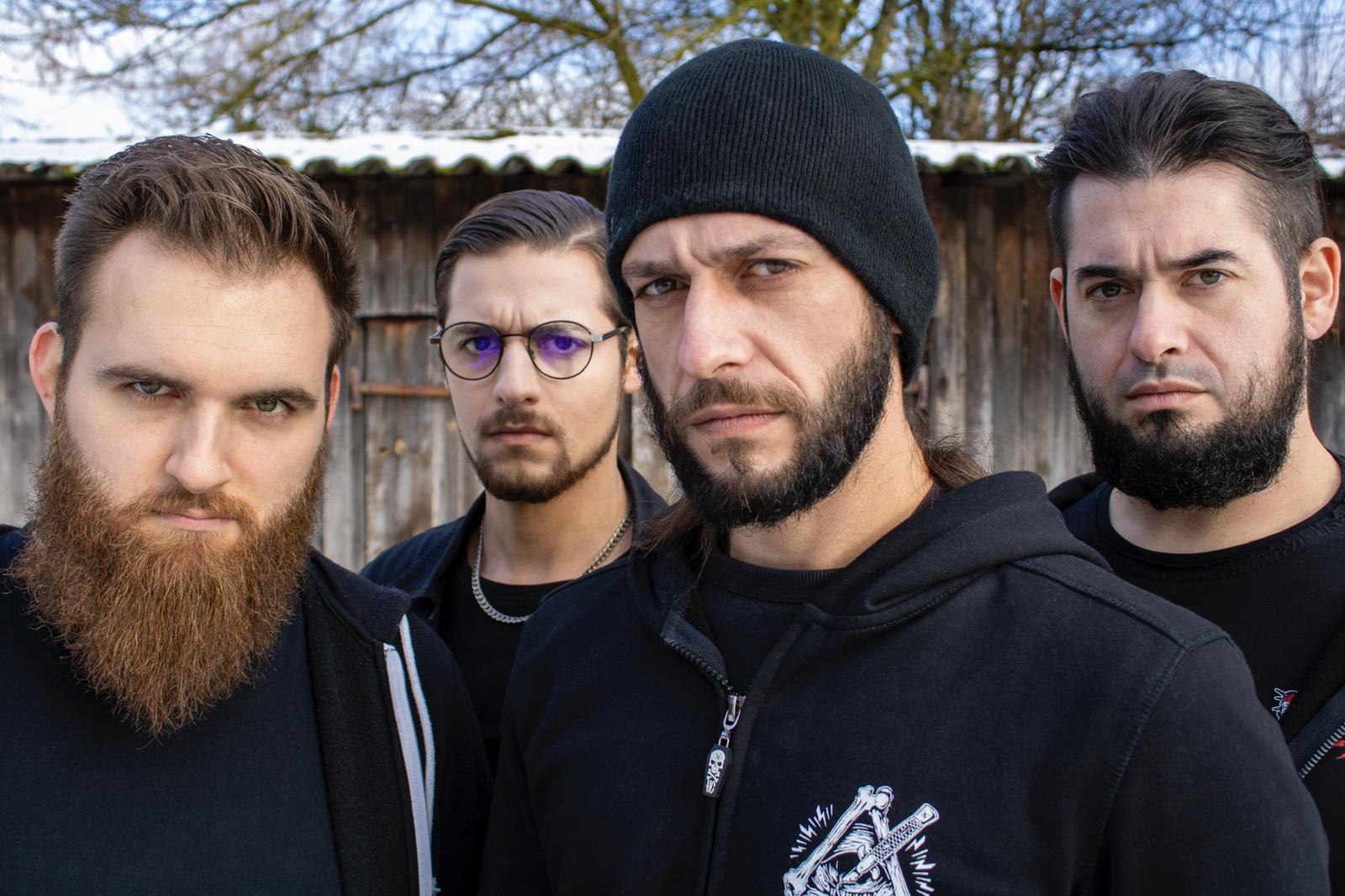 How would you describe your music in three words?
-Percussive, aggressive, effective.
What does punk mean to you, is it only a word or is it a lifestyle? I know you don't play punk but I think you have some hardcore influences?
-Punk is clearly a lifestyle, even if it has become fashion since 2000. It can be argued that the punk movement has declinedover time, which means that it tends to disappear. However, we can see a similar movement in hardcore right now.
Which song/album or group was it who took you into music and play yourself?
-About Nicolas and Olivier, they are brothers, their father was a musician. Vincent was a fan of Metallica, and Estéban of Marylin Manson.
What shall a young guy do today to shock their parents as the way we did when we were young? They have already seen everything ;-)?
-Parents have seen so many things, but young people are so creative. Read a book maybe or for a little gore, introduce a dead goat your parents as if it were your girlfriend?
How is it to live in France right now? Politically? Fascists? I heard about this maniac on TV today that said that 70 percent was afraid of people who isn't born in France, some rightwingguy
-Well, a baguette, a croissant and a wine bottle and voilà! The best day ever you could live in France.
About fascist, there are idiots and they can be anywhere in the whole world, France is less racist than some other countries.
Is there any good bands from France right now? Is the punkscene/metalscene/hardcorescene big? How is it in your hometown?
-Yes, there are bands like Gojira, Benighted, Gorod. Punkscene/metalscene/hardcorescene is growing and begin to have a well-established place. Unfortunately, it's not that good in our city.
What do you know about Sweden? Have you been here sometime? What is typical Swedish?
-We've never been in Sweden, but we'd like to. About Sweden, we know so many famous metal bands, snow, surströmming, Zlatan… Typical Swedish? Abba :D? Seriously, Melodic death metaland surströmming!
Have you heard any good bands from Sweden?
-Yeah sure! Amon Amarth, Meshuggah, Arch Enemy, Hypocrisy, In Flames, and many others.
Your lyrics, who does them and what influences you? Is it much horror movies or so which inspires you? Is there any deeper meaning in many of your lyrics?
-Estéban write them.Sometimes Nicolas can add his creativity to the lyrics as well. 80's horror movies are a bit of an inspiration, but our main focus came out from real famous serial killers. The fact that they are/were human beings living close to anyone in this world makes every stories about them pure horror. Our lyrics relate how they became like this, what impulses they had, etc.
Is there any subject that you never will write anything about? Or isn't anything sacred?
-Nothing is sacred, we'll never talk about politics for sure.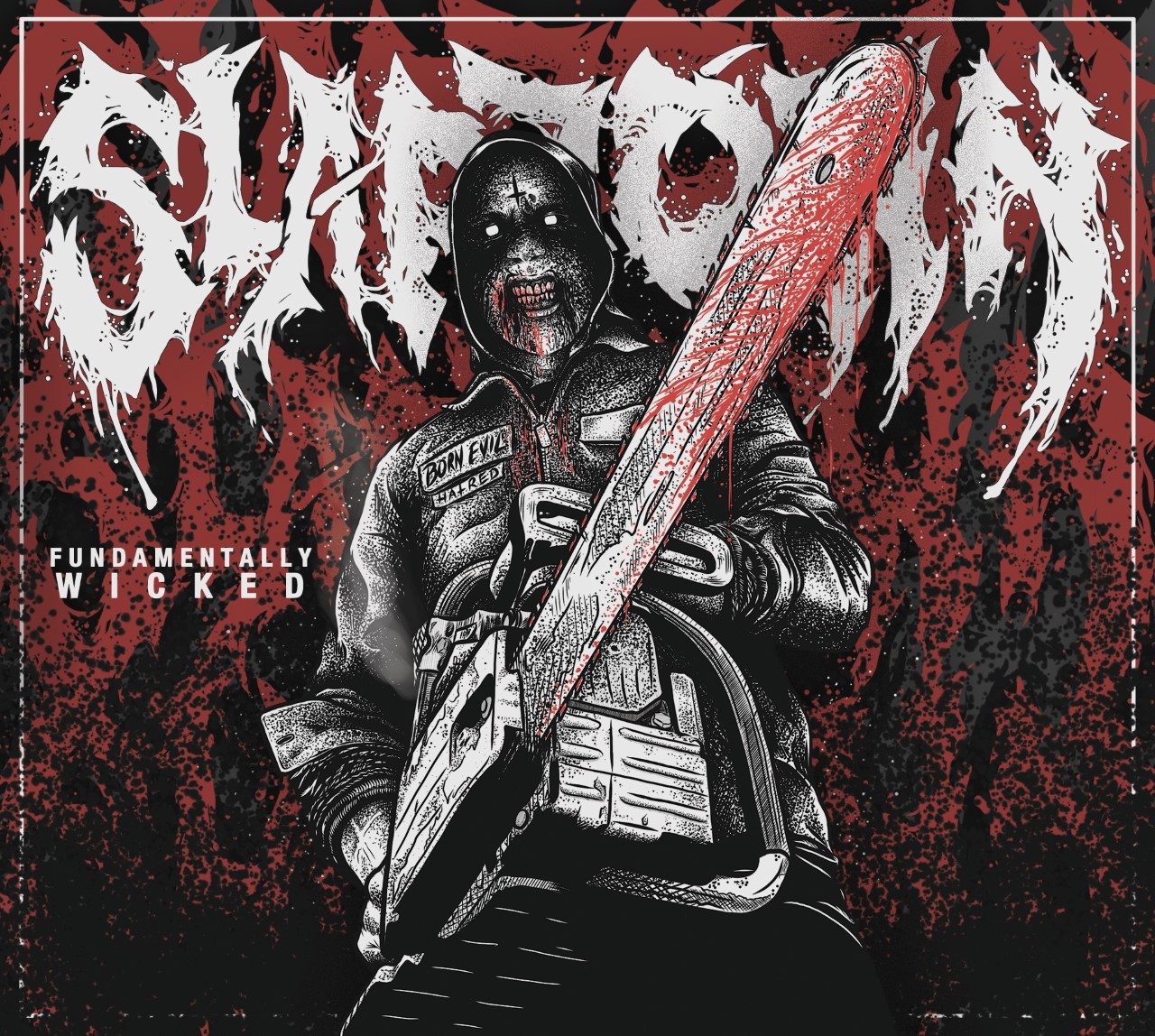 Politic and music, it does not goes hand in hand?
-Music can be political, but this is not for us.
Best political band/artist?
-Gojira about ecology maybe, we have Lofofora in France who's good too.
Do you think that music (lyrics and so on) can change anyones life, I mean people who listens to music?
-Everybody can be changed by music!
Your favorite recordcoveralltime? Who does your recordcovers? And do you have any good record stores in your hometown?
-Iron Maiden "Powerslave" is really cool. Our record cover has been created by HP (HPB Graphic Design). We had good record stores, but they closed.
Is it important to get out physical records of your stuff? Why or why not? Vinyl, CD, cassette, what do you prefer if you could choose whatever?
-Yes, it's very important! It's really satisfying to have the final product of our work out there. If we could choose, we'll choose a beautiful vinyl.
Please tell me a funny thing which have happened during your career and under some gig?
-We shared a stage with a band who played before us. Their singer took painkillers, and drank too much whisky. He couldn't stop falling down during the whole show, on the cabs, on the drums… When they finished, he came and told us:" That was because of my shoes! Look at the sole! They are slippery!"
How does your audience look like? Which people do you miss on your concerts? Which is the biggest band you ever have played together with?
-We have a growing audience, so any type of profile can be found in our crowd. Mostly death metal fans because of the music we used to make. Once we shared the stage with "In Other Climes" which is the biggest band we had the chance to play with.
Please rank your five favoriterecords, five favoriteconcerts and five most important things in life?
I'll try to represent everyone's taste in these top 5, let's go!
Five favorite records:
—Iron Maiden—Brave New World
—Lamb Of God—Sacrament
—Benighted—Obscene Repressed
—Marilyn Manson—Holy Wood
—Dying Fetus—Reign Supreme
Five Favorite concerts:
—Iron Maiden—Legacy Of The Beast Tour
—Iron Maiden—England World Tour
—Godsmack—1000hp Tour
—Alice Cooper in Lyon
—Marilyn Manson in Carcassonne
Well, the five most important things in life are probably family and friends, music, of course, then food and beer!
First, last and most expensive record ever bought?
-The first hmm… I think it was "Let There Be Rock" by AC/DC. The most expensive probably the Blind Guardian Live album and the last one is Obscene Repressed.
Is it boring with interviews? Is it many interviews?
-Not at all! It's actually quite fun. Some questions raise answers that we would probably never have thought of. Having to put words on everything is not something obvious, especially when it comes to music. It's rather suggestive, but I think answering some of the questions can be eye-opening and interesting. I can't wait for the next one!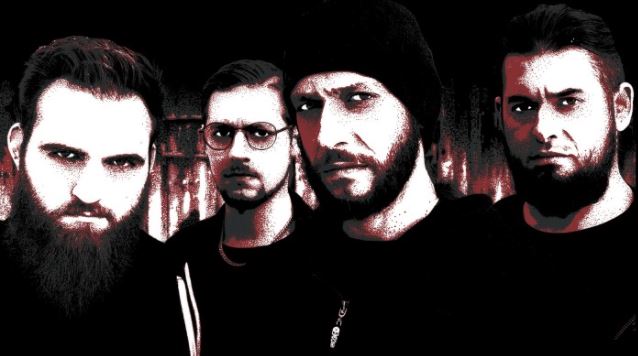 Do you care about reviews? Which is the most peculiar you ever had, with this band or any other band you have been to? Have you ever changed anything after a bad review?
-Reviews are important. It's our first album, so we never had some yet. But we still give importance to reviews because that's what can motivate or even influence people to listen to our stuff. So even if it's not something that will make us change anything, we stay tuned.
Which bands do people compare you to, is it boring that people compare you to other bands or is it understandable?
-We understand that people compare us. It's just annoying when people ask you to describe your music using a well-known band which is reductive and counterproductive.
If you could choose five bands from the past and the history and nowadays and both dead and living bands to have a concert together with your band. Which five have you been chosen?
-Pantera, Benighted (as a friend and a fucking great band), Motorhead, Death and Slayer.
Is music a good way to get out frustration and become a nicer person outside the music?
-Of course! You can put all your anger, sadness or love in your music!
Which is the most odd question you ever have got in an interview? (Except this one)? -Fortunately, interviewers are always nice to us. We hadn´t had strange questions yet.
Which is the question you want to have but you never get. Please ask it and answer it?
-Is Jesus always by your side?
Of course, I believe that Jesus loves everyone and stand there for any soul to be saved by absolution.
Sorry, I have to admit I have no idea.
o idea.
Futureplans for the band?
-More gigs, more albums!
For yourself?
All our plans revolves around Slapdown. ´Cause there´s nothing cooler than doing music with mates.
Wisdomword?
- Support your local band.
?
Something to add?
Support us ,share our stuff, talk about it with your friends and obisiously listen to " Fundamentally Wicked"