Slaktkniv is a really nice group playing tough music that we may call crustpunk. At the end of September 2017, this interview with Mats was made and he apologized for taking some time!
A little story about the group?
-We started about 2015 when I (Mats) wanted to start playing punk again. I already played in an indie pop band (Our Local Gang!) with the drummer Pasi but when we played around with some punkriffs (the song Våld) I discovered that he was playing D-beat like a God! Inspiration came and then we took Tomas on bass who is also an old punk. I have previously played some kind of Ebba Grön punk but wanted to do the music we listened to around 1982: GBH and Discharge above all. Then it has rolled on ... Our idea was to play for ourselves and have a drink and drink beer together, but after our first demo we realized that something was quite good with us.
Tell us a little about each member, age, job, family, band before and band next?
-Pasi Laine 48, drummer, has a paintcompany and family, has practiced a lot of martial arts and is generally hard. Has played in various local bands over the years, now playing in the Nyrkki Mononen band and Wasted Hearts, has played in Soul Preachers. Tomas Nordlöf 49, basist, works with ??? and have family. Have done and do many posters and posters for different stuff. Is the fastest designer I know, and kindest! Has played in Kurt Kaka and Triggerface. I, Mats Petterborg 48, work as a state prosecutor. Has played drums first (Lydriket, Teardrops) and then bass (Lydriket, Ashes of Man) and late guitar (Autonom, Our Local Gang! Also plays percussion in The Hijackers which is a garageband. Playing guitar and screaming in Slaktkniv, as well as writing text and music.
I can hear a lot of old crust and then both Swedish and English, I hear right? Was it better before?
-Do not say that it was better before when it´s about punk, but there is no GBH today anyway (except GBH!)
Slaktkniv(Butcher knife), are you satisfied with the name? If you hit Google, you get a lot of pictures, but usually not on you! If the best band name had not been taken, if you had chosen name, would have you been chosen? I mean which is the best band name?
-The band name originated originally from a project that never became something and there we would be named Slakpistol with members from Wasted Hearts and Adhesive, but it never became something of it. Then we wondered whether Knivslakt or Slaktkniv was the best name, and that later is undoubtedly a bit "better" in these times. Hard and concise and it describes what we do and are.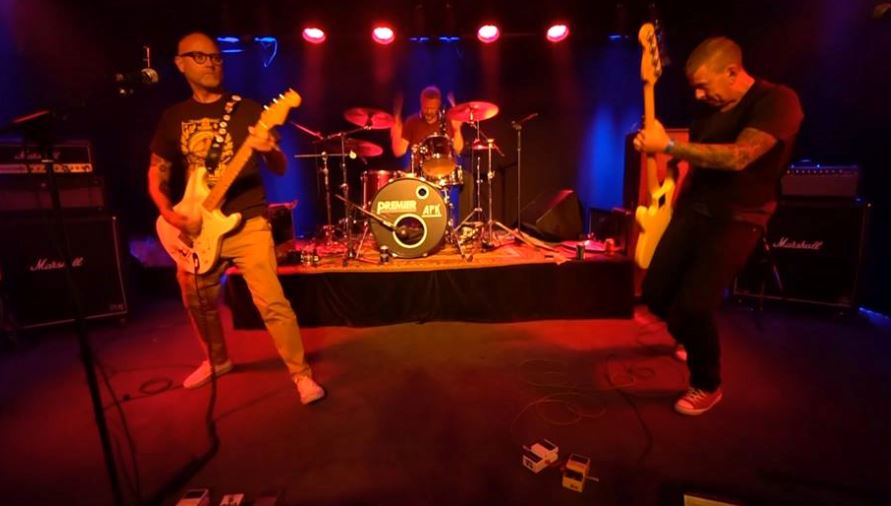 What's the best thing about playing live?
-For many years I thought it was very hard to play because of nervousness, but now it's all fun and the fun is the contact with the audience when they scream and goes bananas.
Where is the best place to play, where is the worst?
-Best is boring because it´s to play at places that serve alcohol, the worst is the type of youth centers, but we are too old for it all so ...
How is it to play this kind of punk in Sweden today?
-If it wasn´t for Jag minns min punk(I remember my punk / Oi!) and such groups, and if there were no Spotify, Youtube and Bandcamp, it would have been impossible to get any response at all. I remember when and then you came to the neighboring municipality as the longest trip ...
How would you describe your music in three words?
-Fast, hard and short.
What does punk mean to you, is it just a word or is it a lifestyle?
I think we all retain the punkattitude from our youth, even though we do not look like punkers. The idea of being an outsider, looking outside the box, wanting something and doing it without worrying about what others think or think about.
How do you look at downloading, mp3 and the like?
-It's a pity that you can not make money of selling music but as I said, without downloads etc, we would not have had some bigger audience today.
How do you think it's to live in Sweden today, politically?
-Politic in Sweden today is middlemilk, everyone is in the same file besides SD that tracks its way. But we are, perhaps sadly, an unpolitical band.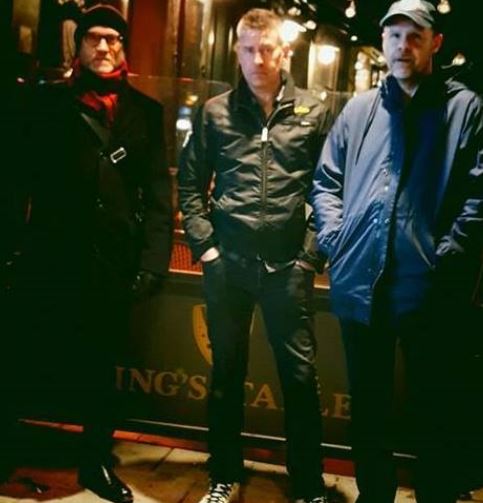 Are there any bands in Sweden today? You are home town
-Swedish good bands, obviously there is, then there may not be so many that keep the whole way for an album. But we like Slöa knivar, Stiffy Jones, Twopointeight, No Fun At All, Refused, Masshysteri/Hurula, Bäddat för trubbel, Baboon Show, Trubbel, Hårda tider, Wolf Brigade, Skitsystem, Rövsvett, Disfear, Blisterhead among others.
Do you play anything outside Sweden?
-We have played in Copenhagen at the House KBH at the club Punks Undead which was incredibly fun!
Other good bands from abroad?
-There´s a lot, but of those we played with Ingen Fantasi and Haymaker. Otherwise, Tomas is probably the bestin new punk. Pasi is listening to mixed on Spotify and Old Finnish punk, Damned and the Cure. I listen to very much different stuff, and not just punk. Then it should be really good. Band like Terror - Metal-core or what it's called can sometimes just be too much metal, same with the crustbands. But Sick of It All always works, and so do Madball and Agnostic Front. And so much old punk - Pistols, Clash, Ramones, Sham 69, Undertones, Stiff Little Fingers, Blitz, Cockney Rejects, Buzzcocks, Last resort, the Business. American band as Black Flag, Dead Kennedy, Bad Brains, Germs, Dead Boys. And more modern bands like Social Distortion, Descendents, Lag Wagon, Strung Out, Rancid, Against Me!, Sheer Terror, Bad Religion, Lawrence Arms, Afi, Tiger Army, Mad Sin, Booze and Glory...
Your texts, what are you influenced of? Never in a language other than Swedish? Short lyrics and the end of the song Svensson are wonderful ?
-The form of the texts is derived from Ramones, partly Japanese haiku-dictation. Inspiration to the lyrics is, by myself, broadly mixed with short phrases that I find and that you can turn and turn around. Gråtande blåslagna ögon are a contrast to Leende guldbruna ögon of Sven-Ingvars, for example! And singing in Swedish is tricky, it's easy to end up in some sort of storytelling type ... I wanted to get away from it.
Is there anything you will never write about?
-Now, we do not want to write about politics or religion, but who knows ...
Politics and music, does it always belong?
- To some extent, it's all together. I listened a lot to Ebba Grön, and when I was younger, it's actually not as clear as you can think, but rather to take it in your own hands if you want change. Then it is clear that you can write texts about politicians who track out like Boman in the 80's, Pervers politiker etc. But sure, the punks have always been working music but, for that matter, not automatically left.
Best political band / artist?
-Yes the Clash, let me say that.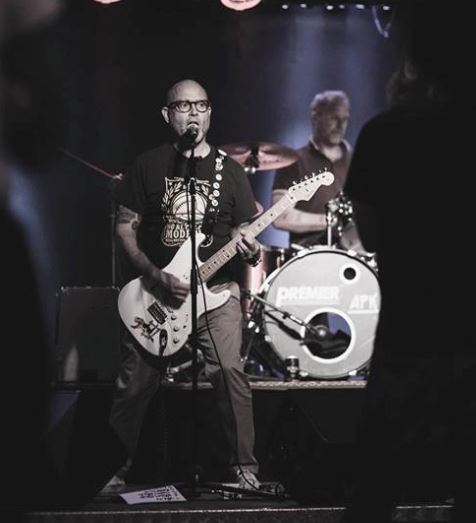 Do you think music can change someone's life, then I mean lyrics etc?
-Punk changed my life so yes! Will never forget when I was on a Sunday trip with the family and on the radio, Tiden tempo was played with KSMB, that's the coolest thing I heard then! Then I listened early to Ramones, Clash and Pistols. Started buying NME and Melody Maker though I could barely read English. And that's how I learned English, through the punk. And then you sat in front of the radio when Ny Våg came on P3 and then you recorded every program- a new world was opened!
Your cover is really nice on your CD, who has done it. Is it important to have a cover so you understand what kind of music you play? Which is your favorite cover all the time?
-Thanks for it, it's Tomas who has dene it. Today, when most of the release is released on Spotify, it may not be as important as it used to be. As when standing in the record store and almost choosing discs to listen to from what the cover looked like. The cover was what made one find some nice bands when there were only LP's. It may, however, clarify what kind of music you play, but it can also be a contrast to what you do ... Mats and Pasis favorite cover: Never mind the bollocks with Pistols
Is it important to get out physical discs? Vinyl or CD or both and? Is there any good record store in your vicinity?
-I think it's fun with physical discs, cd or vinyl, but it's no must ... record store, Sound Pollution in the Old Town is a classic of course.
Please tell me something really fun that happened during your career on stage or behind stage etc?
-When we were going to make our first major gig (10 mins) so 10 minutes before we went on, Pasi discovered that there were no cymbals on the drum set as promised. We easily got panic, but Pasi's solution on the whole was to go to the bar and buy a beer. I did not get so happy, but after a few minutes he came back with a beer and a cymbal bag! The bartender obviously had a bunch of cymbals behind the bar that Pasi had to use ... It was also fun to drink Danish Ingen Fantasi under the table before their gig in Copenhagen, he he!
How is your audience looking like? Do you miss any kind of people?
-Facebook says that those who like us to 98% men and in the ages of 30-50 years. So there you have it! So we would wish for a little more younger fans as well as women ... Otherwise you can say that our audience is raw barked hard men!
Please rank five favorite discs, five favorite concerts?
-Favorite Discs: Mats: Sex Pistols - Never mind the bollocks, Ramones - Leave home, The Clash - Give it enough rope, Ebba Green - Were only in it for the drugs, KSMB - Action. Tomas likes all old punk and even harder rock like Turbonegro, for example, in addition, he generally likes all the gigs in which chaos and errands are made.
Is it boring with interviews?
-No, this is our first interview so keep it coming!
If you could choose five bands from history, dead and alive to have a concert with your band, what are the dreambands then?
-Mats: Old Stooges, MC5, Black Flag, Bad Brains and Dead Kennedy.
Is music a great way to get frustration and become a nicer person? Are you as angry today than you were young punks?
Playing punk is definitely a valve, especially our music. Then writing texts is good for the psyche!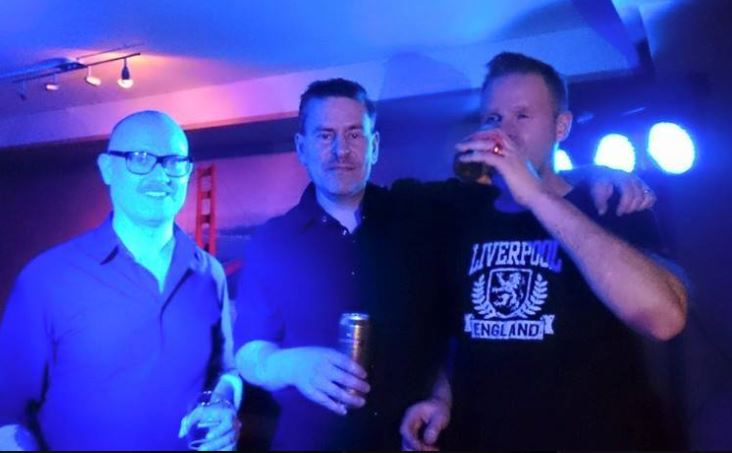 What is the strangest question you received in an interview?
-This!
What is the question you never get, ask it and answer it?
-How can you look so fresh at your age? Hm, yes, it's just God's gift simply!
Future plans for the band?
-Play out, record more, design logos, cover, write texts and drink beer. Lots of beer.
For yourself?
-Keep on truckin '!
Words of wisdom?
-Live hard - die young!
Something to add?
-Thank you for interviewing us