Skinheadsband which isnīt racists , thereīs a lot of them and hereīs a mixed band from Lund which really isnīt racists. They listens to Linton Kewsi johnson and have a modspunk as a guitarist
SKUNKS UNITED
History?
-As many other bands it started with a chat when weīre drunk in Roskilde 2000. In august 2001 it got really serious when Wallin get some mates together (Jonas, Per och Anse) and began to play. All except Wallin was guitarists so they began to learn other instruments. Anse took the drums and Jonas the bass. In October 2003 we took Lupus on kontrabass and Jonas have been a guitarist now also.
Please tell me a little about every member, age, interstets, family, work and something terrible about every one?
-Wallin (vocals): 25 years: studies sometimes, works sometimes. Skinhead who likes Aston Villa, beer and the punkfestival Force Attack. Is really terrible over all. Per (Guitar and chorus): 26 years, studying, also a skinhead, likes Landskrona BoIS, beer and text-TV. Likes the books about Remo. Anse (Drums): 27 years, works in the municipal care. Is a really disguisting latino from Chile and he also plays guitar in the heavy metal band Greffelheads. And the most terrible about him is that he practise karate... Lupus (Contra- & elbass): 21 years, a real studying idiot. He calls himself a "postrockabilly" and noone else have understood what is all about. The most terrible is that he plays out as a singer-songwriter sometimes. And then he have a girlfriend Jonas (Guitar): 30 years old mod/punk which drinks whiskey to the TV-serie Womenprison. Heīs on the dole(or heīs free of work as he says). Besserwisser with a bad attitude and the only with a girlfriend.

Guilty as usual, why this title?
-Yeah, itīs about idiots who always judge for the way you look. First itīs the cops and youīre always guilt when you meet them.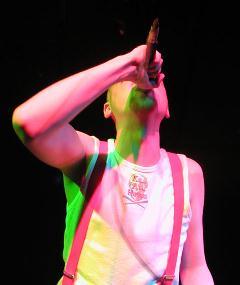 To be a skin/skunk band, how is it, is it many poeple who calls you naziband/racistband and so on?
-Skunks United is noskinheadband. Weīre a gang of mates who likes Oi-punk and similar. Wer have a really big mix of subcultures(which you can read above) and thatīs the point with the bandname also. – Unity! Itīs so that people donīt understand but why care about people with no brain

Why do anyone choose to be a skinhead when itīs have such a bad name? That people canīt their history about the beginning with skinheads when they werenīt racists?
-Skinhead is about to live the hell and donīt give a shit about what people think, the day when skinhead havenīt a bad name so have the most important get lost. We(Per & wallin who is skins) donīt are about what people thinks/believes, we are with the people we like and we do our own race.
Guilty as usual have a little bad sound quality, whatīs the next release? Will you get a better sound on that?
-The sound quality isnīt so good, it depends that everything was done on Jonas 25-year old eighttrack-recorder. A new recording with better sound is on itīs way and it will be released in some way during the spring.

No "real" records? Or recordlabels who have been in touch?
-No, but we have been really lazy to hunt for that so itīs our own fault. But maybe weīre a really bad group, thatīs why...

What does punk mean to you, is it only a word or is it a lifestyle?
-Punk is a lifestyle, but it hasnīt any standards, it varies much if you compare different countries, ciites and so on. The only thing which is the same is that it have " a fuck off-attitude" to the system, hippieattitudes and a lot of other things and itīs all bout donīt give a shit about authorities and do something for yourself instead. Itīs really a shame that the punk is splintered in so many different styles which donīt work together as. Crust, Oi, 77, rawpunk, hardcore, melodic punk and so on, United we stand- divided we fall.

To be a punk and skinhead and be together isnīt any strange for you but why do you think it donīt always work?
-Down here in Lund/Malmö isnīt this any big problem but maybe in other places. It depends of the nazi-stamp all skins have got thanks to a really wrong mediapicture.

How is a good concert with you?
-We have never done a good concert…no, itīs fast and itīs many bruises on my legs

Which style of people comes to your concerts?
-Yeah, hopefully punks and skins and other people who likes to have a good time. And the our relatives or nearest people(an eloge to Pippi Skúli)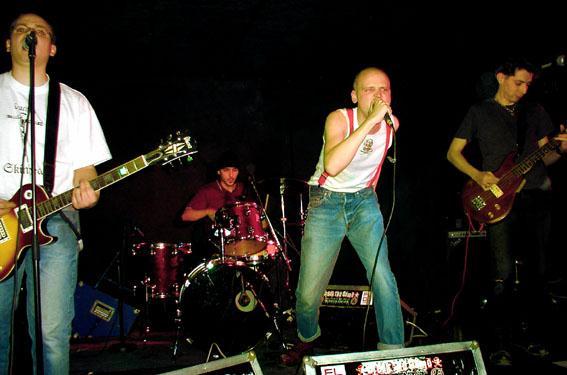 To live in Lund, how is it?
-Expensive as hell.. Not a straight road anywhere and a lot of disturbing snobstudents(read people from Stockholm)).

How is it to live in Sweden?
-Swedish. Cold. But what the hell but if you donīt have something to compare with is it OK.

Is there any good bands in Lund right now, In Sweden?
-The crustband Bulldom is the only good one in Lund right now(except us) and in Sweden thereīs a lot of good bands as; Mockingbirds, Wildcat Strike and Wizex.

Skåne is otherwise "known" for the racsistic cities as Klippan and Sjöbo, what do you think about those places?"
-Once we ate pizza in Sjöbo.It was boring . Inbreeding farmers.

Please rank the best records, best concert and the most important things?
-Per: All and nothing; Motörhead, Metropol 1995 or. 94; Beer.
Wallin: Have fun, fight fascism (ska-samling); The Business, Mejeriet january 2001; Beer.
Jonas: The Who - Quadrophenia; Svenne & Lotta, Hököns marknad 2003; Cigarettes (Dunhill)
Lupus: Mike Ness - Cheating a solitaire; Nick Cave, Roskilde 2000; and a lot of red wine.
Anse: Everything withIron Maiden; Metallica, Roskilde 2003; Stagparties.

The first, last and most expensive record ever bought?
-I (Wallin): The first one was James Bond (compilation with Bondsong), Latest - Let's go bowling - Music to bowl by (american ska)Most expensive? I donīt really know, I buy a lot of second hand records so nothing over 200:- anyway.

When you do music, which is most important, is it to have good lyrics, good melodies or to have a refrain that people remembers?
-We have never planned so, but a mix of all these things is something all want

Is music and politic goes hand in hand?
-Both yeas and no. The border between politic and the rest is difficult to do. And then you always been influenced by your opinions no matter if you want it or not.

Which is the best political band?
-Many bands like: Linton Kwesi Johnson, The Kinks, Angelic Upstarts, Dead Kennedys, Anti-Flag, and so on.....

Where do you stand when weīre talking about mp3īs? Is it the right thing to download?
-take vereything from the big record labels. More money to the artists instead.

You have all your songs on your website, is it many who download the songs?
-I donīt know, we have no statistics for that but we have about 10-15 visitors a day.

Futureplans for the band?
-A "Grammis"(swedish music prize) of course. More concerts have been fun but itīs really difficult to get them in Sweden.

And for yourself?
-To get money to tomorrows breakfast.

Wisdomword?
-I come back to that question when I get wise, but beer is always good. And donīt lick on lampposts.

Something to ad?
-See you in the meatvalley.
And please fix concerts to us, you will not regret it! www.skunksunited.tk