This Scottish band really makes me smile when they start to play their punkrock in old style. Here´s an interview done with them in march 2015.
Please tell me a little bit history of the group?
-We originally formed in 2005 but at the time we were just kids mostly playing covers. After a few line up changes we got to the current line up in 2009 and after staying quiet for a short while started taking things seriously then and just kept going and now here we are.
Please tell me a little about every member in the group right now, age, family, work, interests and something bad about everyone? Have you been in any other bands before?
-Mike (guitar and vocals) is 23 and works as a building site laborer, interests include music, going to and playing gigs, tattoos, collecting records, anime and wrestling. A bad thing about Mike is the smell of his feet. Jamie (guitar and vocals) is 23 and works as a workshop joiner. Jamies interests include going to and playing gigs, tattoos, drinking cider and American Horror Story. A bad thing about Jamie is that he is far too excitable. Steve (bass) is 21 and works in Tesco as a shop assistant. His interests are gigging, reading, cigarettes, television and anime. A bad thing about Steve is he is always late. Ted (drums) is 23 and works building refrigerated vehicles. His interests are drums, tattoos, hats, Travis Barker, Assassins Creed, Star Wars, his dog and macaroni. A bad thing about Ted is that he smells, disappears and likes to make a mess.
I can hear old bands like Defects and Straps from the 80´s in your music? Am I right? Favorites from the past? --Not particularly, those are bands we have not really heard much by. Any resemblance you hear there will be purely a coincidence.
Skizofrenik are you satisfied with the name?? How did it came up? Which is the best band name you know?
-Yes everyone is satisfied with the band name. It came about because of the 2 different faces of the music we play and how the faces of the songs change between whether it was Mike or Jamie who wrote the song. Everyone has different ideas for what makes a good band name, everyone has their own favorites. Ted likes Spunk Volcano and the Eruptions. Jamie likes Gnarwolves. Steve likes Rise Against. Mike likes The Exploited.
What´s the best thing with playing live?
-The response/feedback from the crowd.
And where is best to play? And the worst place?
-The best would be between Rebellion festival and Beat Generator Live in Dundee. The worst would definitely have to be a pub that I can't remember the name of in a small nearby town called Mintlaw.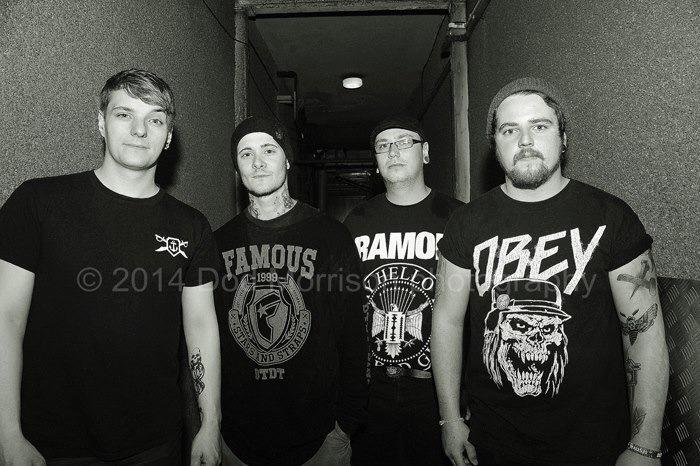 How is to play this sort of music in England right now?
-Actually we're Scottish. There's a lot of really good bands in Scotland just now so depending on which part of the country you're in you could have a really strong scene, the scene in our area seems to be a bit more of a middle of the road scene.
How would you describe your music in three words?
-Fast, energetic, punk.
What does punk mean to you, is it only a word or is it a lifestyle?
-It's a lifestyle you have to practice what you preach.
How do you see on downloading, mp3 and that stuff?
-If it's legal, go for it.
How is it to live in England now? Politically?
-(Scotland) It's a nightmare, the country is in a divide from the independence vote.
Is there any good bands from England now? Is the punkscene big? How is it in your hometown?
-(Scotland) The punk scene is quite big and there are a lot of really good bands going around. As for our home town of Fraserburgh we are the only punk band and the scene is not great but there is a thriving rock scene in our town.
What do you know about Sweden?
-Pewdiepie, Abba, Stockholm, Meatballs. (not a lot to be honest)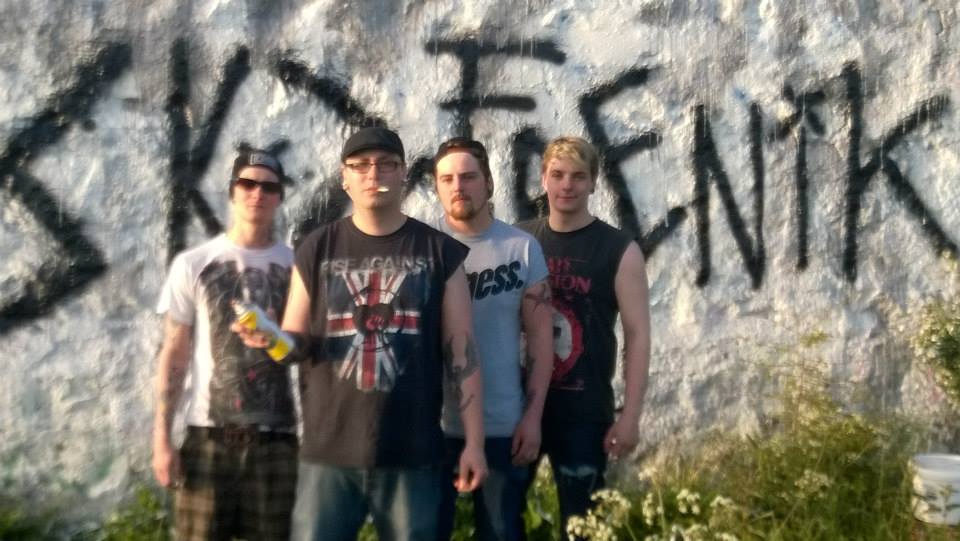 Have you heard any good bands from Sweden?
-Leather Nun
Your lyrics, who does them and what influences you?
-Mike and Jamie. We just write about anything we feel is worth writing about, life experiences.
Is there any subject that you never will write anything about?
-We will probably never do a love song, or a song about Pokemon.
Politic and music, does it goes hand in hand?
-Of course it does
Best political band/artist?
-Mike- Bad Religion, NOFX, Rise Against, Green Day, Anti-Flag. Steve- Green Day Ted- Rage Against The Machine, Green Day, Anti-Flag. Jamie- Rise Against, Anti-Flag, Green Day.
Do you think that music(lyrics and so on) can change anyones life, I mean people who listens to music?
-Without a doubt.
Are you interested in football? If you are which team do you support?
-Jamie dabbles in football he supports Aberdeen and Manchester United. Steve supports Celtic. Mike and Ted don't entertain the idea.
Is it important to get out physical records of your stuff? Why or why not?
-Yes, it is very important because not everyone has access to download, also we don't know how to release downloads haha.
Please tell me a funny thing which have happened during your career and under some gig?
-Ted invaded a kitchen area and got a got macaroni and lathered himself in macaroni then asked mike to throw a plate of macaroni in his face. (We were really drunk)
How does your audience look like? Which people do you miss on your concerts?
-Our crowds vary from between 16 and 60 years old.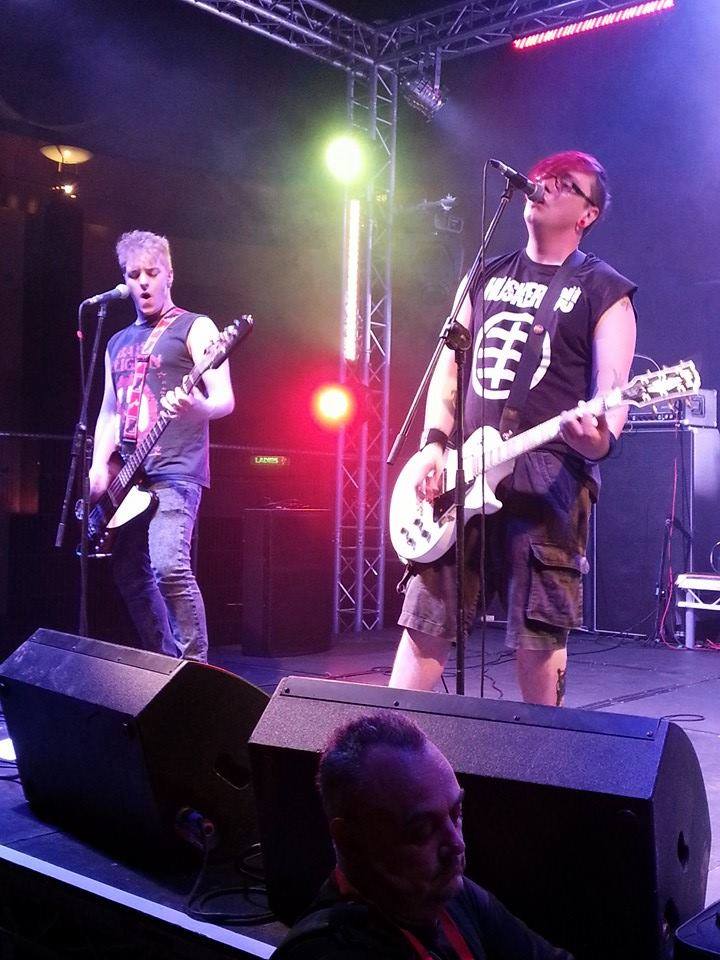 Please rank your five favorite records, five favorite concerts and five most important things in life?
-Teds records Green Day - Warning Blink-182 - Self Titled Linkin Park - Hybrid Theory Eminem - The Eminem Show Boxcar Racer - Self Titled Teds gigs Slipknot Korn Blink-182 Bowling For Soup Enter Shikari Teds important things in life Drum Kit Megan (Girlfriend) Milo (his dog) Family Jim Carrey Steves Records Green Day - Nimrod Avenged Sevenfold - Waken The Fallen Rancid - ...And Out Come The Wolves Lower Than Atlantis - Self Titled A Day To Remember - Homesick Steves Gigs Green Day Enter Shikari NOFX Rancid 30 Seconds To Mars Steves Important things Rachel (Girlfriend) Bass Family Books Netflix Mikes Records Green Day - Kerplunk Bad Religion - Los Angeles is Burning NOFX - American Errorist Husker Du - Candy Apple Grey Rancid - Indestructable Mikes gigs Green Day Rancid Bad Religion NOFX Less Than Jake Mikes important life things Guitars Music Vikki (Girlfriend) Family Records Jamies Records Gnarwolves - Self Titled Green Day - American Idiot Gallows - Orchestra of Wolves Blink-182 - Enema of the State Control - Punk Rock Ruined My Life Jamies gigs Green Day Gnarwolves Neck Deep Blink-182 The Story So Far Jamies important life things Guitars Becky (girlfriend) Girlfriends cats Traveling Sega Mega Drive
Is it boring with interviews? Is it much interviews??
-We don't get a lot of interviews but it's nice when we do
If you could choose five bands from the past and the history and nowadays and both dead and living bands to have a concert together with your band. Which five have you been chosed?
-Green Day, The Clash, The Beatles, Rancid and Alkaline Trio
Is music a good way to get out frustration and become a nice person outside the music?
-Yes
Which is the most odd question you ever have got in an interview?
-Would you like to return to Rebellion festival?
Which is the question you want to have but you never get. Please ask it and answer it?
-If you could have 2 superpowers what would they be? Immortality and farts that could knock people out
Futureplans for the band?
-Just keep doing what we are doing and hope we can get more progress along the line.
For yourself?
-None of us have really thought about it
Wisdomword?
-Keep Ted away from macaroni
Something to add?
-No thanks.