Wynn Skism skickade deras senaste skiva och en t-shirt till mig. De spelar en riktigt trevlig typ av punkrock som man bara vill höra mer av. Skulle gärna höra de tidigare skivorna också....maj-2021
Berätta historien om Skism?
-Skism startade ursprungligen 1989 som "Skism, I the beholder" med Eric Morgan (som var i ett band som hette First Order på den tiden), Pedro Felix och jag själv som en Punk/Metal Hybrid. Det var en kort och tumultartad inkarnation och när vi var färdiga med inspelningen smalnade det ner till "Skism". Alla hade olikheter i vad de ville göra, och bandet upplöstes kort därefter. Tyvärr har Pedro gått bort sedan dess och Eric gick vidare till metalbandet "Lament" och mer nyligen "A Pale Horse Maned Death" För närvarande har Eric Morgan en release Theologian Nonextant EP kommer ut den 6 juni och har ett projekt med Eddie Heedles, Johnny Kelly och Corey Glover som också kommer snart. På 2000-talet bestämde jag mig för att reformera Skism med en vän Peter Wurst på trummor. Jag spelade gitarr och bas (och Albee Damned spelade in lite gitarrspår på CD-skivan). Vi var väldigt arga efter Clinton Years och visste redan att Bush-åren skulle vara sämre och behövde uttrycka det. Vi gjorde många experimentella låtar på dessa inspelningar, och jag har blandade känslor för CD-skivorna "Schism" och "Flesh and Blood". Och sedan år 2020, då jag sekvestrerades och sattes i karantän, behövde jag en plats att antingen slå sönder saker eller skrika! .. Jag bidrog till Mad Mulligans, men jag behövde släppa ut mer aggressiva saker och Skism "2021" var det som hände.
Vilka medlemmar ingår i gruppen nu?
-Wynn Skism -Sång, gitarr, bas Mike Palmeri - trummor Albee Damned - gitarr,s ång Även om vi för närvarande letar efter en gitarrist eftersom Albee Damned för närvarande är uppbunden med Mad Mulligans.
Berätta lite om dig själv, du har varit med i band som Krays, Wrench etc. Jag har bara några skivor med Krays, berätta om de andra banden du har varit md i?
-Albee Damned och Jonny Kray och jag var de ursprungliga Kraysmedlemmarna. Tyvärr delades vi upp och jag missade när de återbilddade bandet, men jag hade alltid skryter om att min bas fanns på deras första demoinspelningar. Wrench å andra sidan gav mig chansen att spela i Europa. Det var ett Doom Metal-band med lite Punkinfluenser (gissa varför) tack vare Wrench fick jag spela i Polen, Ungern, Kroatien, Slovakien, Slovenien, Tjeckien osv.
Skism gjorde några skivor i början av 2000-talet. Hur kan jag få tag i dem och hur låter de?
-Tyvärr är dessa skivor slut. Vi var väldigt experimentella på den tiden och musiken speglade det, plus att vi släppte själv och på grund av vår brist på budget var kvaliteten inte så bra. Inte alla låtar slår i marken men det finns några bra saker där som jag antagligen spelar i framtiden. Om det finns tillräckligt med efterfrågan kan vi driva Rotten Bastard Records till att släppa dem.
Har du någonsin varit i Sverige, vad vet du om Sverige, några bra band du gillar från Sverige ?
-Tyvärr har vi inte varit i Sverige än. Jag har fått lite information om Sverige från en god vän, Ingela, som var model här i NY ett tag och var snäll nog att vara model för omslaget till CD: n "Flesh and Blood" ... hennes webbplats är http: / /swedishexotica.com/
Vilka länder har haft nöjet att höra Skism live?
-Tyvärr bara USA. Vi kraschade och brände ut oss mycket.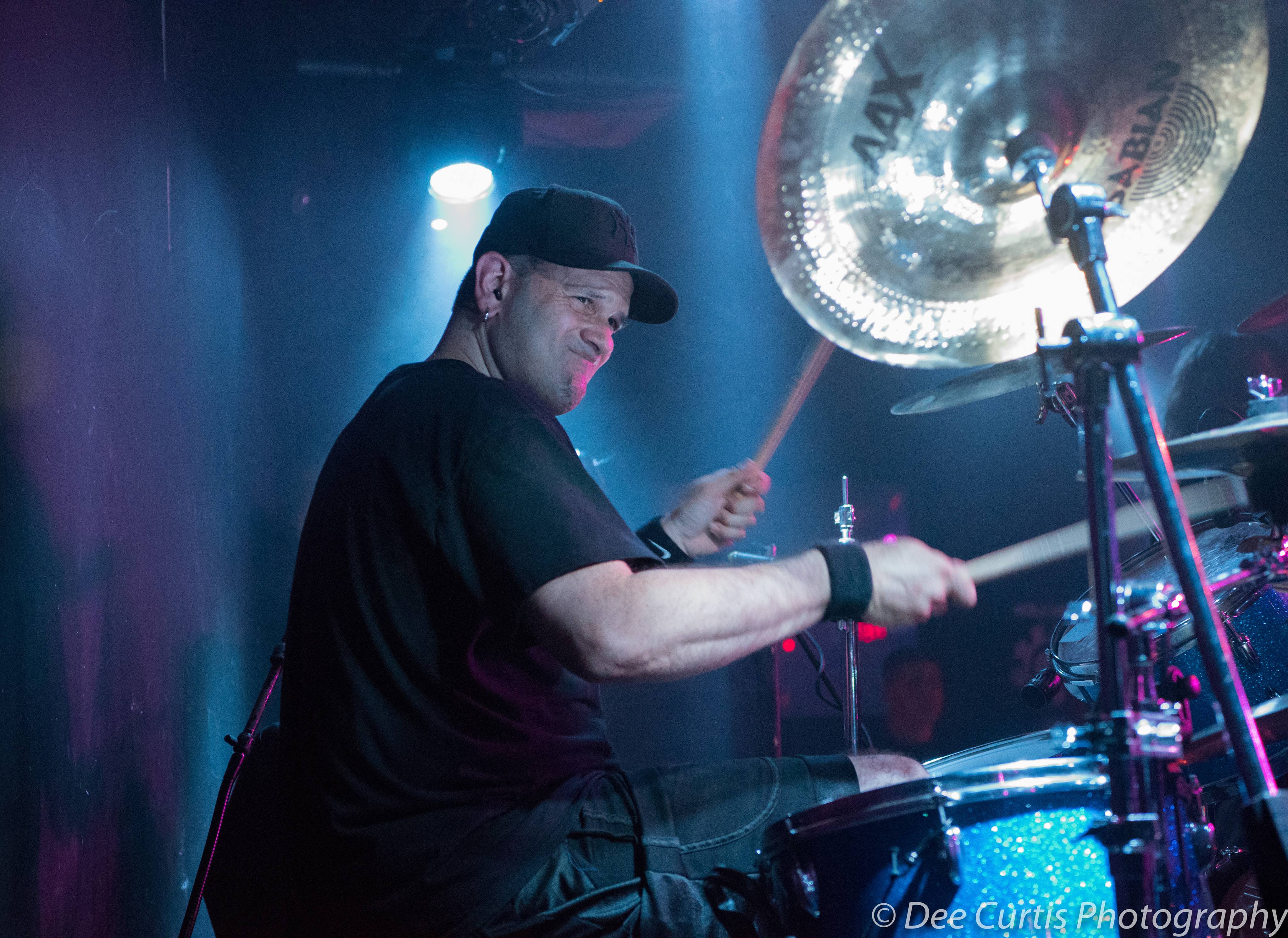 När ni gör låtar, hur gör du, jammar niihop eller kommer någon med en text och en del med musiken eller hur gör ni era låtar?
-Det är i stor utsträckning någon som kommer med en idé, en bra struktur, då träffas vi alla och gör en låt av den.
Det verkar som om era texter är viktiga. Finns det något ni inte kommer att skriva en låt om?
-Det finns inget ämne jag inte kommer att skriva om, bara ämnen som jag inte har kommit till ännu.
Berätta lite om följande texter
US Nazis fuck off and die,
Trioxin,
Outside the club
Tja .. US Nazis skrevs den 7 januari, dagen efter att en grupp "amerikanska" trumpupphängare försökte störta valet. Synen av amerikaner som viftade med nazistiska flaggor och människor som bär "Camp Auschwitz" -skjortor som försökte störta valet äcklade mig verkligen. Låten var ett uttryck för mina känslor. Trioxon å andra sidan kom ur min kärlek till skräckfilmer, Return Of The Living Dead, för att vara exakt. När Frank berättar historien om hur kapslarna kom till lagret bestämde jag mig för att föreställa mig vad en prequel skulle vara och skrev en sång om den. Outside the Club var det mycket enklare när jag gick med min hund mitt på vintern och det var runt -5C (som jag är säker på att ni i Sverige skrattar åt) och jag tänkte hur jag brukade umgås här oavsett om man dricker öl i bara en MC-jacka och jeans !!
Rotten Bastard är det er egen etikett?
-Jag tar hand om webbplatserna och andra grejer.
Vad betyder punk för dig, vad fick dig in i punken och hur det förändrades genom tiderna?
-Punk är bara ett namn och har blivit urvattnat och subgenre's som Pop Punk, Post Punk, Hardcore, etc .. och har i stort sett blivit överkörd av "punk identifierare eller purister" ... I verkligheten, om du älskar punk så det när du hör det. Jag gillar det jag gillar. När det gäller vad som fick mig till punk, började jag med de välkända sakerna som Ramones, Clash, Dead Boys, Misfits, GBH, Sex Pistols, men "The Peel Sessions" fick mig verkligen att få höra många bra saker och när jag hörde Damned och Stif Little Fingers var jag fast. Och hur har det förändrats? Det har blivit mycket mindre chockerande och mycket mer PC.
Hur är det i USA just nu, rasism, Biden, covid?
-Det är komplicerat i USA just nu när 40% av amerikanerna vägrar att tro på accepterade fakta som vem som vann valet, det var våldsamt i huvudstaden, är klimatförändringen verkliga, regeringen försöker bara mikrochipa alla med vaccinet, etc. .. Jag gillar Biden. Jag litar dock inte på honom. Han måste bevisa sig innan jag stöder honom. När det gäller rasism är jag verkligen chockad över hur mycket det har visat sig i USA under det senaste decenniet. Jag har alltid vetat att det fanns rasister där ute, men jag hade inte insett hur framträdande det var.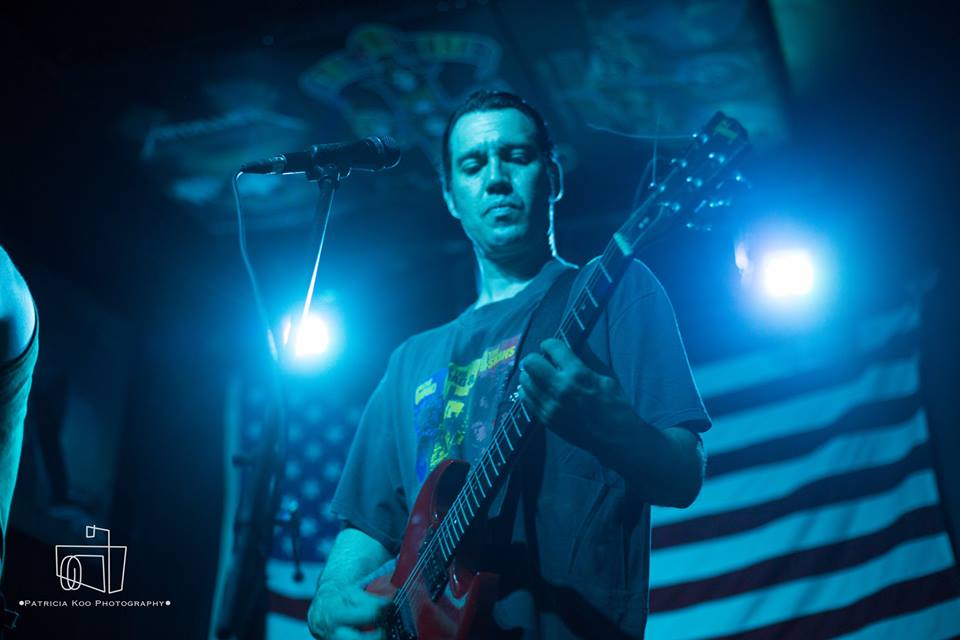 Öl är dyrt i Sverige. Jag har ett mycket stort intresse för öl och brygger själv? Din favoritölstil? Har ni inte en egen Skism-öl? Om ni kommer att ha en egen öl vilken typ skulle det vara och vad skulle det kallas?
-Jag tänkte på en Skism-öl. Jag brygger min egen här också (vanligtvis varje höst när temperaturen svalnar). Mestadels Stouts och Dark Ale's. Det finns några bra bryggaffärer i NYC för att få ingredienser och hälsosam bryggjäst. Men för det mesta föredrar jag att dricka Guinness, jag gillar en bra stout. Antingen det eller i NYC har vi ett lokalt bryggeri "Brooklyn Lager" som är en mörk fyllig Lager med en fantastisk smak. Jag njuter faktiskt av en nu.
Finns det några nya bra band i USA nu?
-Jag måste säga Krays och Mad Mulligans (jag kan vara partisk där), det finns också ett lokalt band som heter "45 Adapters" som börjar bli populära som jag tycker mycket om.
Vad är er styrka när du spelar live?
-Vi försöker alltid sätta upp en bra spelning och ha en livlig scennärvaro. Jag bryr mig inte om det är 3 personer eller 3000, vi ger allt där ute.
Vilken typ av människor kommer till er konserter? Vilken typ av människor saknar du?
-Mest berusade. Jag saknar några rövhål som skulle skälla på mig medan jag spelar och sedan vill umgås och ta ett par öl när jag går av scenen. Människor är komplicerade.
Köper du mycket skivor, eller är det bara Spotify och den typen av saker att lyssna på musik?
-Om ett band har en vinyl är det stor chans att jag köper den. Annars brukar jag lyssna på streamingtjänster, men om jag gillar bandet köper jag nästan alltid en CD, jag vill stödja band som ger mig bra musik .. och förhoppningsvis ... så stöder andra oss också.
Säljer ni några skivor på dina spelningar, köper folk dem?
-Vi har inte haft några spelningar sedan vi återbildades på grund av Covid. Förhoppningsvis kommer de att sälja när vi spelar live. Vi har gjort det ganska bra med onlineförsäljning men att sälja CD-skivor på livespelningar är alltid ett boost till moral.
Bryr du dig om recensioner? Vilket är det mest märkliga ni någonsin fått, med detta band eller något annat band du har varit med i?
- Det coolaste är att säga nej, men i verkligheten gör alla det. Om någon säger att de inte bryr sig är det säkert att de ljuger. Jag är säker på att det finns människor där ute som verkligen inte bryr sig, men jag har inte träffat någon än. Jag kan intte komma på några konstiga recensioner vi har haft, men ett av mina favoritcitat var "När du lyssnar på deras musik, tänker du bara på illaluktande underground New York-platser fyllda av bra punkmusik och öl !!" - PunkRockMag.com
Om du kunde välja fem band från det förr och nutida band och både döda och levande band för att ha en konsert tillsammans med ditt band. Vilka fem hade du valt ut?
-Om jag kunde få en lineup med 5 andra band skulle jag välja dessa .. The Damned GBH The Krays Mad Mulligans Mr Pickle and the LTD
Är musik ett bra sätt att få ut frustration och bli en trevligare person utanför musiken?
-Verkligen !!! Det är det bästa sättet att på ett säkert sätt frigöra frustration. När jag inte hade det musikaliska utloppet, var jag tvungen att hitta andra säkra sätt att blåsa av ånga, därför har jag tränat Kickboxing och jiuJitsu.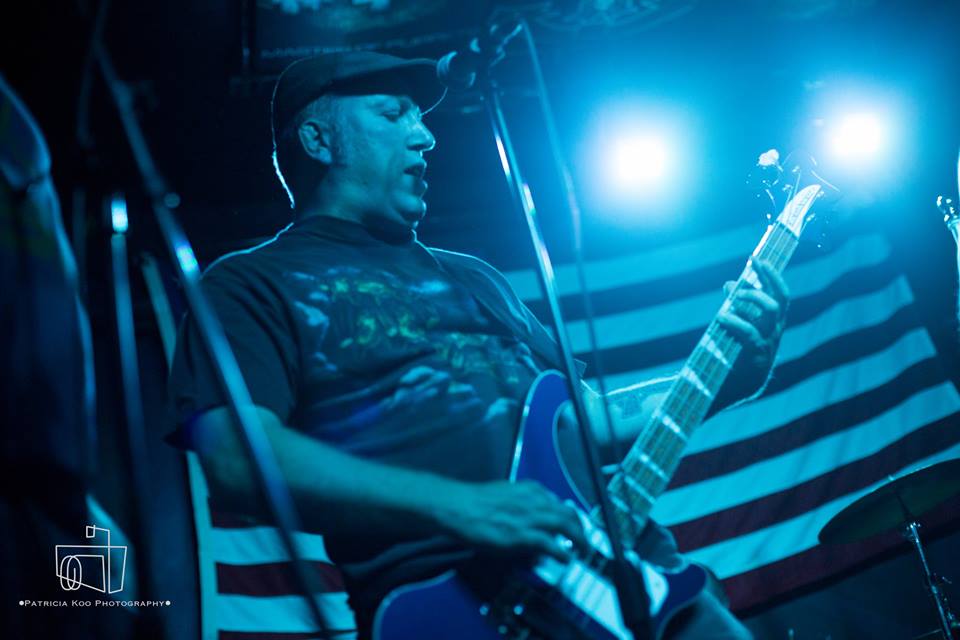 Vad ska en ung kille göra idag för att chockera sina föräldrar som vi gjorde när vi var unga? De har redan sett allt?
-Jag gillar att komma på något smart som "att vara en yuppie", men det finns inte mycket kvar. Jag är säker på att den yngre publiken kommer att räkna ut något.
Är det tråkigt med intervjuer? Är det mycket intervjuer? Vad föredrar du Telefonintervjuer, ansikte mot ansikte eller som den här via e-post?
-Jag har inte nått den punkten där intervjuer är tråkiga. Det beror förmodligen på att vi inte har fått samma frågor miljontas gånger(eller tusen) Jag tycker om en e-postfrågor eftersom jag kan ta några drinkar medan jag skriver den. Förutom det tycker jag om samspelet mellan en radio/videointervju.
Fem favoritskivor?
-Damned Damned Damned – the Damned Walk Among Us – Misfits GBH City Baby Attacked by Rats Ramones – Rocket to Russia Minor threat – Out of Step Five favorite concerts? Ramones, the Damned, the Who, GBH, Dropkick Murphys
Visdomsord?
-"Tänk"
Något mer att lägga till?
-Hoppas jag inte tjatade för mycket.
Wynn Skism sent me their latest record and a t-shirt to me. They plays a really nice type of punkrock whcih i really want to hear more of. Would like to hear the early records too......may-2021
Tell me the history about Skism?
-Skism originally started in 1989 as "Skism, I the beholder" with Eric Morgan (who was in a band First Order at the time), Pedro Felix and myself as a Punk/Metal Hybrid. It was a brief and tumultuous incarnation and by the time we finished recording it was narrowed down to "Skism". Everybody had differences on what they wanted to do, and the band disbanded shortly after. Unfortunately Pedro has passed away since then and Eric move on to metal band "Lament" and more recently "A Pale Horse Maned Death" Currently Eric Morgan has a release Theologian Nonextant EP is coming out June 6th and has a project with Eddie Heedles, Johnny Kelly and Corey Glover coming out soon. In the 2000's, I decided to reform Skism with a friend Peter Wurst on Drums. I played Guitar and Bass (and Albee Damned recorded some guitar track on the "Schism" CD). We were very angry post Clinton Years and already knew the Bush years would be worse and needed to express it. We did a lot of experimental songs on those recordings, and I have mixed feelings about the "Schism" and "Flesh and Blood" Cd's. And then again in 2020 being sequestered and quarantined, I needed a place to either break things or scream!.. I was contributing to the Mad Mulligans, but I needed to let out more aggressive stuff and Skism "2021" happened.
Which members is in the group now?
-Wynn Skism - Vocals, Guitar, Bass Mike Palmeri - Drums Albee Damned – Guitar, vocals Although we are currently looking for a guitarist because Albee Damned is currently tied up with the Mad Mulligans.
Tell me a little about yourself, you have been to bands like Krays, Wrench etc. I have only some record with Krays, tell me about the other bands you have been to?
-Albee Damned and Jonny Kray and I were the Original Krays. Unfortunately, we split up and I missed out when they reformed, but I always had bragging rights that my bass lines were on their first demo recordings. Wrench, on the other hand gave me the chance to play in Europe. It was a Doom Metal band with some Punk Influence (guess why) thanks to Wrench I go to play in Poland, Hungary, Croatia, Slovakia, Slovenia, Check Republic, etc..
Skism have done some records in the early 2000´s How can I get them, and how do they sound?
-Unfortunately, those recordings are out of print. We were very experimental at the time and the music reflected that, plus we self-released and due our lack of budget the quality wasn't that good. Not all songs hit the mark, but there's some good stuff there I probably rerecord in the future. Although, if there is enough demand, we may push Rotten Bastard Records to release them.
Have you ever been to Sweden, what do you know about Sweden, any good bands you like from Sweden??
-Unfortunately, we haven't been to Sweden yet. I've gotten a bit of information about Sweden from a good friend, Ingela, who was modeling here in NY for a while and was nice enough to model for the cover of the "Flesh and Blood" CD… her website is http://swedishexotica.com/
Which countries have had the pleasure to be hearing Skism live?
-Unfortunately, only the US. We crashed and burned a lot.
When you do songs, how do you do, are you jamming together or do someone comes with a lyric and some with the music or how do you do your songs?
-It's largely someone comes up with an idea, a good structure, then we all get together and make a song out of it.
It seems like your lyrics are important, is there anything you not will write a song about?
-There's no subject I will not write about, only subjects, I haven't gotten to yet.
Please tell me a little about the following lyrics
US Nazis fuck off and die,
Trioxin,
Outside the club
Well.. U.S. Nazis was written on January 7th, the day after a group of "American" trump supporters tried to overthrow the election. The sight of fellow Americans waving Nazi and confederate flags and people wearing "Camp Auschwitz" shirts trying to overthrow the election really disgusted me. The song was an expression of my feelings. Trioxon on the other hand came out of my love of horror movies, Return Of The Living Dead, to be precise. When Frank tells the story of how the canisters came to the warehouse, I decided to imagine what a prequel would be and wrote a song about it. Outside the Club, was a lot simpler as I was walking my dog in the middle of winter and it was around -5C (which I'm sure you in Sweden laugh at) and I was thinking, how did I used to hang out in this whether drinking beers in just an MC jacket and jeans!!
Rotten Bastard is it your own label?
-Actually, I take care of the websites and back end stuff.
What does punk mean to you, what got you into punk and how it changed through times?
-Punk is just a name and has become watered down and sub labeled/Sub Genre's.. Pop Punk, Post Punk, Hardcore, etc.. and largely become overtaken by "punk identifiers or purists" …In reality, if you love punk you know it when you hear it. I like what I like. As for what got me into punk, I started with the well-known stuff like Ramones, Clash, Dead Boys, Misfits, GBH, Sex Pistols, but "The Peel Sessions" really got me into a lot of good stuff and when I heard the Damned and Stiff Little fingers I was hooked. And how has it changed? It's become a lot less shocking and a lot more PC.
How is it in USA right now, racism, Biden, covid?
-It's complicated in the USA right now when 40% of Americans refuse to believe in accepted facts like who won the election, did violence happen at the capital, is climate change real, the government is just trying to microchip everyone with the vaccines, etc.. I like Biden. I don't trust him though. He has to prove himself before I'll support him. As for racism, I'm really shocked at how much it has shown itself in the US over the past decade. I have always known there were racists out there, but I hadn't realized how prominent it was.
Beer is expensive in Sweden. I have a very big interest in beer and brew myself? Your favorite beer style? You don´t have an own Skism-beer? If you will have an own beer which type would it be and what would it be called?
-I thought about a Skism beer. I brew my own here as well (usually every Autumn when the temperature cools down). Mostly Stouts and Dark Ale's. There are some good brew shops in NYC to get ingredients and healthy brewing yeast. But, for the most part I prefer to drink Guinness, I like a good stout. Either that or in NYC we have a local brewery "Brooklyn Lager" which is a dark full-bodied Lager with a great flavor. I'm actually enjoying one now.
Is there any new good bands in USA now?
-I have to say the Krays, and Mad Mulligans (I may be biased there), there's also a local band called "45 Adapters" that starting to get popular, I quite enjoy.
What is your strength when you play live?
-We always try to put on a good show and have a lively stage presence. I don't care if it's 3 people or 3000, we put it all out there.
Which type of people comes to your concerts? Which type of people do you miss?
-Mostly drunks. I do miss some of the assholes who would curse me out while I'm playing then want to hang out and have a few beers when I get off stage. People are complicated.
Do you buy much records, or is it only Spotify and those type of things to listen to music?
-If a band has a Vinyl, there's a good chance I'll buy it. Otherwise, I usually listen on streaming services, but if I like the band I'll almost always buy a CD, I want to support bands that put out good music.. and hopefully… others will support us as well.
Are you selling any records on your gigs, do people buy them?
-Well we haven had any gigs since we reformed due to Covid. Hopefully, they'll sell when we play live. We've been doing pretty good with online sales but selling CD's at live shows always is a boost to morale.
Do you care about reviews? Which is the most peculiar you ever had, with this band or any other band you have been to?
- The cool thing is to say no, but in reality, everybody does. If someone says they don't care, it's a safe bet they are lying. I'm sure there are people out there who truly don't care, but I haven't met one yet. I can't really think of any weird reviews we've had, but one of my favorite quotes was "When you listen to their music, you only think of smelly underground New York places full of good punk music and beer!!" – PunkRockMag.com
If you could choose five bands from the past and the history and nowadays and both dead and living bands to have a concert together with your band. Which five have you been chosen?
-If I could jump in a lineup of 5 other bands my choosing it would be.. The Damned GBH The Krays Mad Mulligans Mr Pickle and the LTD
Is music a good way to get out frustration and become a nicer person outside the music?
-Dear god yes!!! It's the best way to safely releasees frustration. When I didn't have the musical outlet, I had to find other safe ways to blow off steam, which is why I've been training in Kickboxing and jiuJitsu.
What shall a young guy do today to shock their parents as the way we did when we were young? They have already seen everything?
-I´d' like to come up with something clever like "being a yuppie", but there's not much left. I'm sure the younger crowd will figure something out.
Is it boring with interviews? Is it much interviews? What do you prefer Telephone interviews, face to face or as this one via e-mail?
-I haven't hit that point yet where interviews are boring. It's probably because we haven't been asked the same questions a million times yet (or even a hundred). I enjoy an Email questioner because I can have a few drinks whilst filing it out. Other than that, I enjoy the interaction of a radio/video interview.
Five favorite records?
-Damned Damned Damned – the Damned Walk Among Us – Misfits GBH City Baby Attacked by Rats Ramones – Rocket to Russia Minor threat – Out of Step Five favorite concerts? Ramones, the Damned, the Who, GBH, Dropkick Murphys
Wisdomword?
-"Think"
Something more to add?
-Hope I didn't ramble too much.