Not often that I do an interview or write about a record that I didn't receive or have physically but I made an exception for Skabara and this interview took its place in May 2023
Hi tell us a little about Skabara's history, how you met etc ? Previous bands etc?
Pål: I am the only original member left, and that since 2016. It started as a group of friends, then over time we have invested more and more and put in a lot of work to get ahead. Niklas has played in various ska/reggae bands but also some cosmic rock'n'roll [sic!]. Henke comes from the doom metal scene but wanted to try something else. Alexandré is classically trained and has played in major brass bands in France. We're an odd bunch in that way, but we have a lot to offer, and it's fun with all the different perspectives!
How did you get into the ska style in the first place?
Pål: When I got hooked on it, it was through punk, from Clash to Rancid. When we started, there were also clubs that played vintage-ska, like Oldies. Even today, there are clubs that keep it going, and it's important to spread the message, or proselytize, if you will... Ska is pretty poorly represented today, but it's always fun to see. Since then, there have been, and are, a lot of good Swedish ska bands that have inspired us. Liptones, Eskalator, Spökstan, to name a few. We think that everyone really likes ska, but don't know about it yet.
How did you come up with the brilliant name Skabara?
Pål: There are slightly different opinions if it is so brilliant, haha. But there are many within the scene who have the word in the name, and there we would not be worse. I'm an obsessive pun, which made it even easier.
You have made a record, why only 100 physical copies? (Would love to get hold of one)
Pål: The album "Råttkasino" is a love child that we spent a lot of time, energy and money on. We wanted it pressed in Swedish with extra everything. Then we had no idea how it would sell. In hindsight, we should have pressed more, but on the other hand, it's great that it's sought after!
Do you have any thoughts on a second album? Is it important to get the music out physically?
Pål: We have a pre-recorded album that will probably be released this year if everything is with us, also it will come on vinyl. Vinyl is a double joy in the large format of illustrations and graphics, but also to hold what you have done in your hand. Several of the band are avid collectors, so not letting it go physically would be boring. But the cost of recording, printing and illustrating easily spirals out and it has to go around.
The texts are more difficult to do in Swedish than in English? What influences you lyrically, some favorite lyricists? You will only make music in Swedish, I hope?
Pål: English is what you have heard all your life, while all the platitudes spoil a lot in the lyrics. All the "yes", "wow" and "pick it up" take the edge off a line of text that has meaning for oneself. The music needs a sensible lyric that is about something you think is important to tell. Often I pick up a metaphor or a line somewhere that becomes important in a song, but if you have a theme that feels good, the song writes itself. When you have a theme, it's more of a craft – find rhymes and style figures that make the message partly clear, but partly also more subtle. If I were to choose a lyricist, it would probably be Morrissey, who was never afraid of the pretentious. Basically, in our punk world is ska the dance band, so you have to work with both surface and depth. I think we do best to stick to the language we also know best, and maximize the ways to express what we want in Swedish.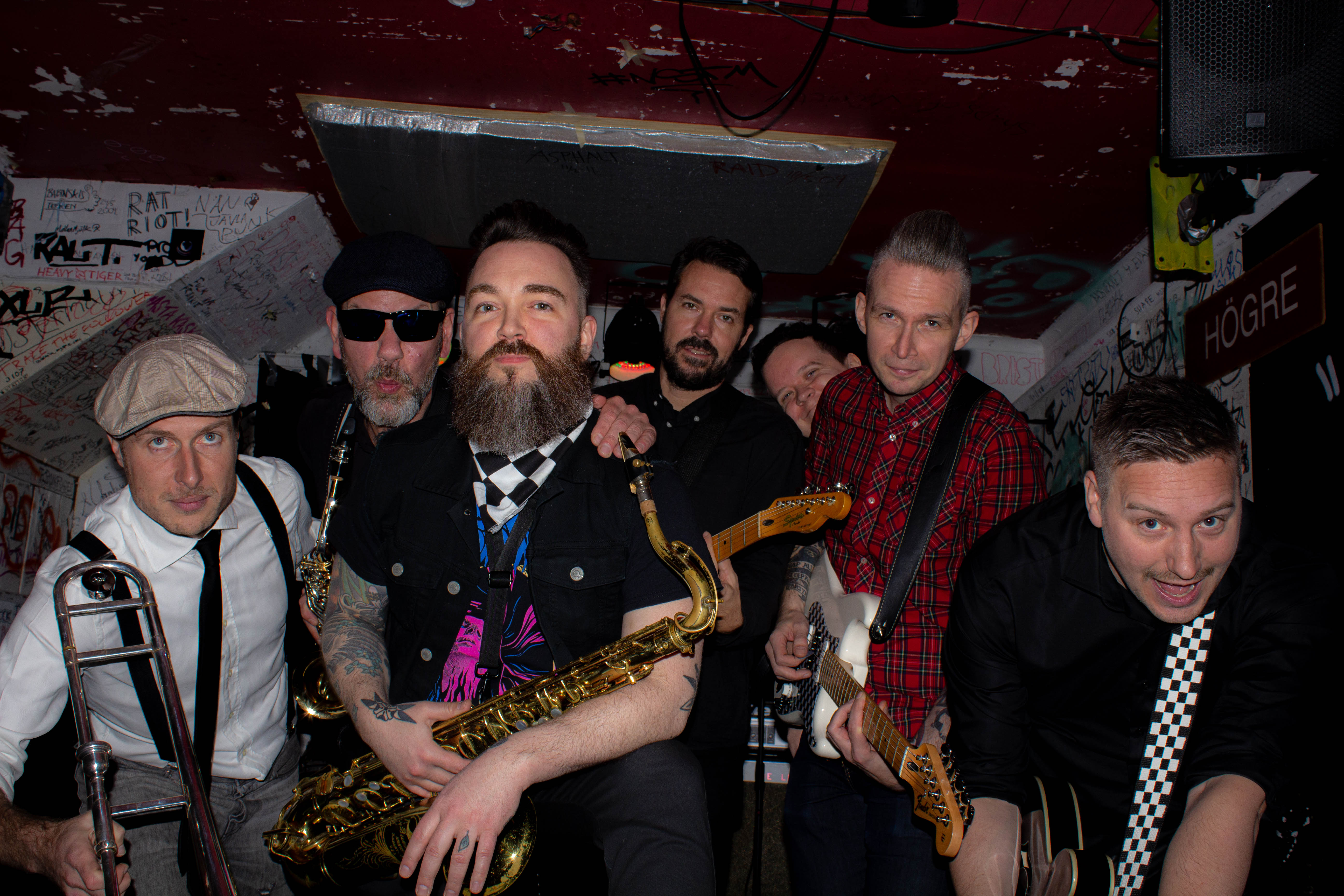 Tell us a little about the following songs
a)Trolltider
Pål: With Trolltider we wanted to make a song with horns with few chords, and with a lot of room for a solo. It is also one of ours longer. Lyrically, it came about during a period when the freedom of expression debate was heated - that some said that they were not allowed to say what they wanted at the same time received a lot of attention in the media.
b)Blå Stad
We like the contrasts in ska music, that it is danceable and swinging but at the same time often dark in lyrics and harmonies. In this song we wanted to get a feeling of a circus field on it´s way down, where the carousels have stayed for a long time. The text is along the same lines, a dystopian vision of the future.
c)Skatteparadis?
Pål: Perhaps the punkiest thing we've done. We reacted to Mr Östling's words about the tax not getting anything. We have 541 billionaires in the country, who on average pay less in taxes than cleaners. Perhaps something to think about before complaining about the tax burden?
What does punk mean to you? Is it just a word or is it a lifestyle? I hear some influences of punk in your music?
Pål: For me, different kinds of punk have been around for a long time, and I'm inspired by both new and old. Joe Strummer is a house god, but also many Swedish bands. Punk's DIY is something that you as a small band can buy and embrace. Record cheaply, learn design and everything else you need. Our attitude to music also borrows from punk, to test what feels fun instead of sticking to the same conventions always. Then we are probably too old to drink homebrew and occupy houses, but there is probably a little rebel living in all of us.
How has the most odd review sounded you got in any band you've been in?
Pål:We have not received any odd reviews, but there have been times when our purposes with a song have been misunderstood, that someone misunderstands the irony or contrasts in a song. That's what happens, and also the beauty of making a lyric or song that gets to fly, but maybe lands in the audience in a different way than we intended.
A lot of gigs? Will it be mostly that you play together with other ska bands or will there be other styles of music as well? What is your strength live?
Pål: We play as much as we can. Often we like to play with other ska bands to make it a whole evening for those who like ska, but it's fun to play with basically all bands. We aim to get out a little in the country outside Stockholm, and in the long run would like to leave Mother Svea. Now we sing in Swedish, but we believe that everyone can understand the backbeat and the ska language anyway. We like each other in the band and I think that shows in our chemistry, so you can tell we're having fun on stage. We often charge for a long time before a gig and are incredibly orderly in that way - we want to respect the audience's time and money and give value for time!
Do you have any suggestions for really good new bands that you want to say here?
Pål: Personally, I like to mention The Skints and Gentlemen's Dub Club that belong to modern reggae - they have inspired me a lot in what is really the essence of backbeat music. As an Anglophile, I love many British musicians, but when you've heard all the classics, you also want to hear some who innovate. Another slightly newer band is Interrupters, which is a sensible crown princess to what Rancid and Tim Armstrong started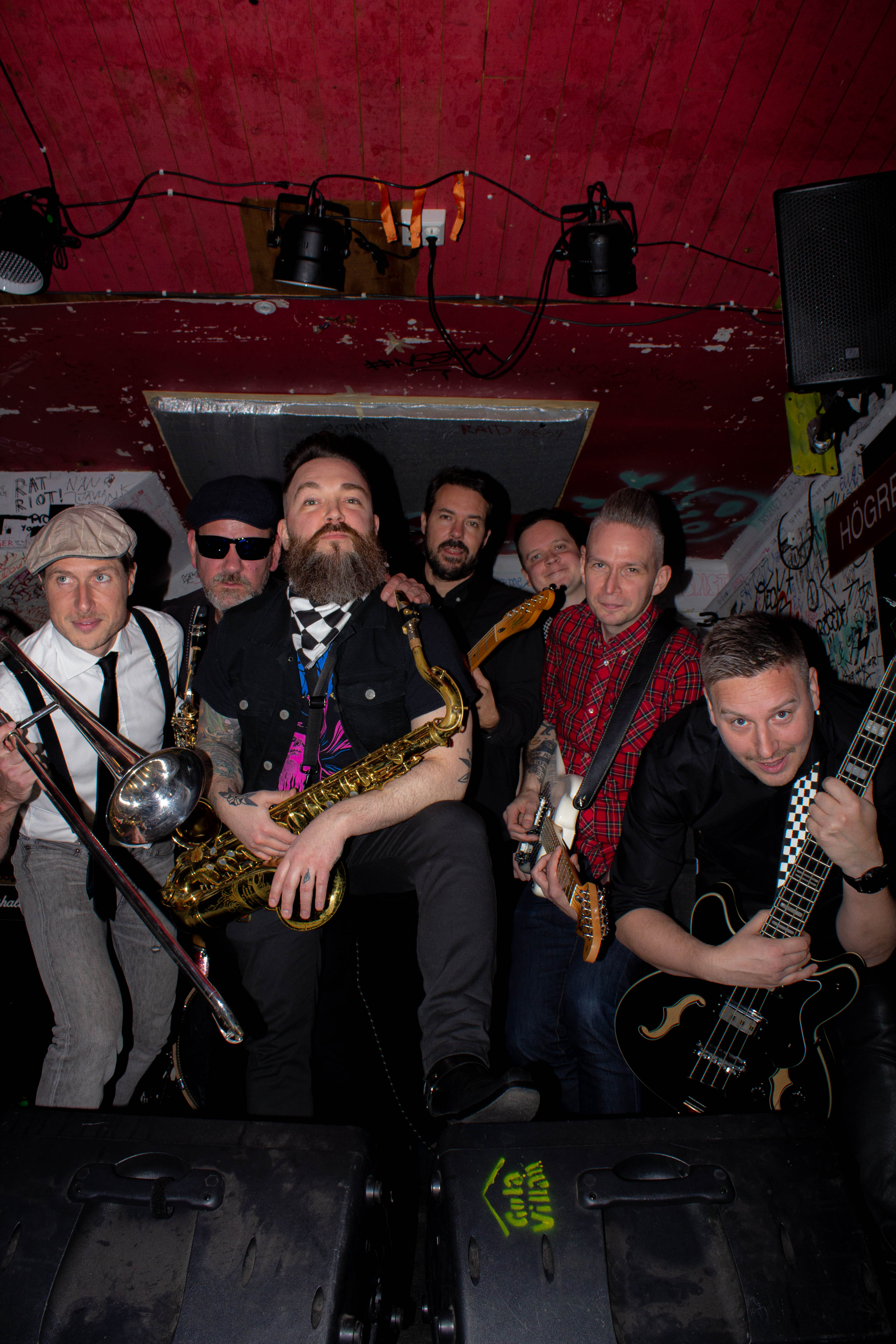 Five favorite albums of all time, five best concerts you've been to?
Pål:
London Calling (The Clash)
The Specials (The Specials)
The Queen is Dead (The Smiths)
And out come the wolves (Rancid)
Saxparty 12 (Ingvar Nordströms)
Tompa Eken evening at Mosebacke 2019
The Skints at Freedom Sounds in Cologne 2022
Morrissey at Hultsfredsfestivalen 2004
Psykbryt's farewell concert, Kafé 44
Casualties at Slaktkyrkan
Do you drink beer, should you not release your own Skabara beer, what would it be called and what is the favorite style?
Pål: Haha, that would be a dream! A Swedish ska beer! It would probably end with a lager, as amber ale and IPA fans are in the minority in the band. We dreamed for a long time of being sponsored by some brewery, but at the moment it's probably us who sponsor them, haha! With that said, we are open to any brewery that wants to make a Swedish ska beer!
You have sold out all the records, I understood, did it go fast?
Pål: The first 60 flew off the shelves to Sweden, but also Australia and Slovakia. We've sold the last ones at our gigs, and it's fun that people want to bring the music home too.
What else do you think about living in Sweden today, politically, SD-M+KD? Shootings etc etc?
Pål: We weren't super happy with the new government, while the previous one didn't have the space to do things we like. It is a tricky situation, but something can be done about it, if you really want to. But investing heavily in welfare over a long period of time does not win elections. Today's right is screaming for tougher commandments, but it's not their children who are in the thick of things. Those at risk of falling into the clutches of gangs need to be given a future to believe in and an alternative to look forward to. The future of today's young people is dark with the climate issue, then a pandemic at that, and now the economic situation. Shootings are obviously depressing and horrible for everyone, but they have only been noticed when they affect people other than those involved in the gang conflicts. All times have their issues, but this government will hardly solve any of them...
Politics and music, is it something that belongs together? Do you think it is important to get opinions out in your music? What is your most political song?
Pål: You should sing about things that are important to you. When the texts are to be written, you turn to what is most intense, that you want to talk about. Every day you encounter political issues, so it is not surprising that they have a central place. The most widely expressed political song is probably Skatteparadis?, but no song is completely devoid of politics. To quote Group 8; "The private is political"!
Who is the best political artist/band?
Pål: For me, politics is in my ears and not in the lyricist's poetry. Obvious answers are probably Clash's "Lost in the Supermarket", about a grey working class everyday life. But Pulp's "Common People" says more about ordinary people than any punk, including us, might ever do.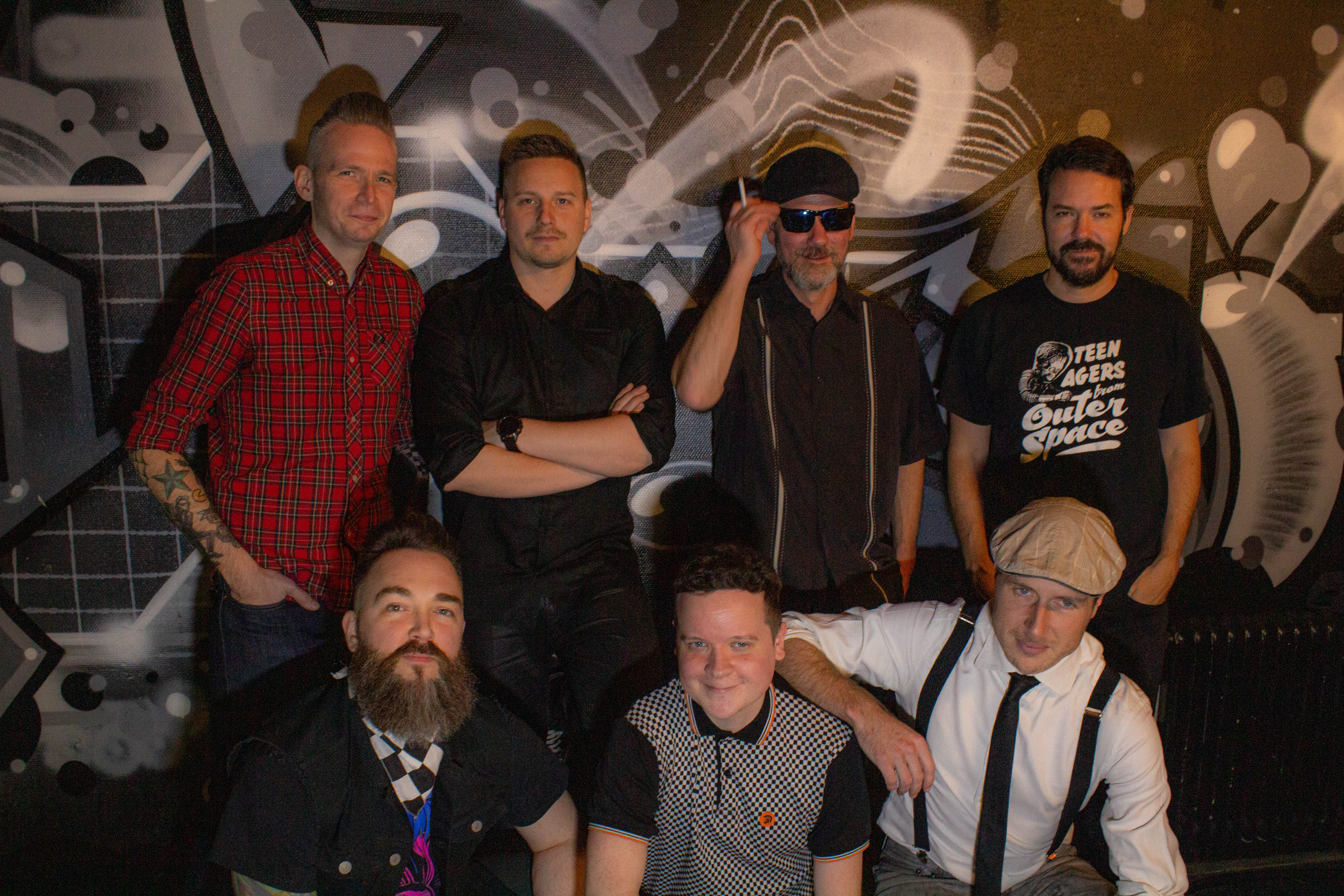 What's the weirdest thing that no one thinks you'd listen to that you listen to and like?
Pål: To unironically like some dansband songs. Perhaps the least clever thing you can do! There is heart and pain but also everyday worries, without having to be packaged in the grandiose format. Ingmar Nordström's "Saxparty" albums are still spinning today. I'm also weak for Finnish techno.
If you could choose five bands, any, both dead and living bands to have a concert with you, which five would you want to play with?
Pål: Joe Strummer, Johnny Cash, Thåström, The Specials (Original production) and maybe Jimmy Cliff.
Do you buy a lot of records yourself, are you collectors? What is the most expensive record you have?
-Some of us in the band gather some, especially Axel who loves early ska and reggae. However, do not think that we should reveal what rarities he has at home in the record hill. But physical music is fun and we probably buy more than we sell.
ls there be a lot of interviews, is it boring?
-No, we haven't entered the media spotlight yet, so it has its charm! It's fun to talk about something that you spend so much time on.
What is the most common and boring question?
–We haven't done that many interviews, but the saddest thing is to explain an entire song. The most fun is to hear other people's thoughts about your music, for better or worse.
What is the funniest thing that has happened during your career on stage, or in the bus, in the audience, etc.? Please tell me something funny that happened?
-Once we played in front of a gang where a person was sitting in permobil. Alex didn't think about it when he asked the audience to do the dance "running man". After a few seconds he understood what he had said and there was a rather awkward silence, haha. It got going anyway and the guy in the permobil actually danced better than many others there!
Future plans with the band?
-We have a newly recorded album that we hope to finish this year, and then we play as much as we can to finance it. But also make new music, of course. Both Henke and Niklas are hugely productive as songwriters, so we bathe in song suggestions, but then everyone should get a feel for the songs we record as well.
Future plans with your life otherwise?
Pål: Make more, exciting music with more artist collaborations! Play around the country! Run the half marathon! Get a steady pulse going on the ska stage in Stockholm!
Words of wisdom?
-"Where you burn books, you soon burn people too", as Heinrich Heine wrote in 1821. We must do everything for democracy and freedom and not take it for granted. Today we have too many anti-democratic currents that need to be countered before it is too late.
Anything to add?
-Nothing I can think of!