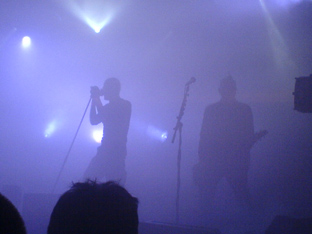 Innan jag gick från jobbet sade jag att det var så mycket trevligare att gå på konserter av detta slag, där man såg scenen och kanske ssemänniskorna som spelar i ansiktet. Visst kom vi nära men såg vi dem i ansiktet, det kan diskuteras. Rökmaskinen gick varm och det var egentligen inte mycket man såg av gruppen och vi såg ju i alla fall lite grand som stod 5 meter från scenen, jag tänker på de stackare som stod väldigt långt bak, de kan inte ha sett något och tydligen var ljudet ganska dåligt längre bak också.
Men jag hade inga förväntningar på konserten egentligen och de få jag hade gick väl i lås. Jag var lite oroligt för att Andrews röst inte skulle hålla men det gjorde den väl även om det kändes som om han mumlade fram texterna ibland. Men Sisters är en grupp som lever ganska mycket på refrängerna och när de kom var det fullt drag i låtarna, helst i låtar som This Corrosion och Dominion/Mother Russia. Jag är lite dålig på låttitlar med gruppen men jag hörde att låtar som Lucretia My Reflection, Detonation Boulevard och självklart Temple of Love som avslutade konserten. Men det klart som sagt lite besviken är jag att man betalar 350 kronor för en konsert och man inte ens får se de som spelar och ibland kändes det som om man kunde ha ställt ut vem som helst och kört en skiva i bakgrunden och man skulle inte märka någon skillnad. Att ha trummaskin gör väl inte att man har så väldigt stor chans att vara kreativ och påhittig på scenen. Men gitarristen stod närmast oss och han hade en ganska trevlig show och verkade verkligen älska att spela i Sisters of Mercy. Publiken var med bra på noterna, i alla fall de längst fram där vi stod och det blev till slut en klart godkänd konsert som startade lite trevande för att bli bättre efter hand även om jag störde mig lite på Andrew när han inte sjunga ut riktigt men vem skulle ha klarat det i den röken.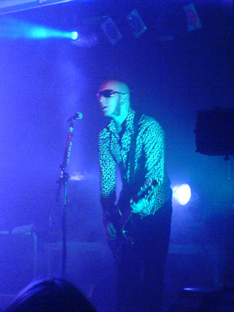 Bilderna är tagna av Peter med en mobiltelefon.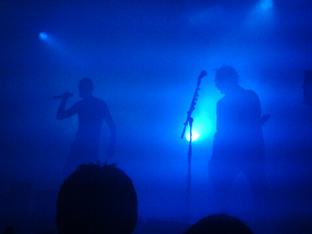 Before I went from my work I said that it so much nicer to go out on concerts of this kind, there you can see the stage and maybe see the people who plays in their face. Sure we come really near but if we see them in their faces, that can be discussed. The smokemachine became hot and it wasn´t so much that I saw of the group but we saw something anyway we who stood 5 metres from the scene but if you think about the poor ones who was standing in the back couldn´t have seen anything and the sound was really bad in the back of the local also.
But I had no expectations on this concert and the few I had became real I think. I was a little bit worried about Andrews voice and if it would be whole the whole concert and it was that but he mumbled foreward the lyrics sometimes. But Sisters is a group which lives on their refrains and when they came it was really high mood and then most in the songs This Corrosion and Dominion/Mother Russia. I´m a little bit bad when we talk about songtitles with the group but I heard songs like Lucretia My Reflection, Detonation Boulevard and of course Temple of Love which was the last song on the concert. But I´m a little bit disappointed to pay 350 swedish krona and then almost not don´t see the ones who plays and sometimes it felt like you could have put anybody up on stage and have a tape recorder in the background and don´t notify any difference. To have a drummachine makes the chance to do something different and creative on stage. But the guitarist which stood close to us , he had a really nice show and it seemed like he really loved what he did. The audience was really good , anyway the people who stand in the front of the stage and in the end it was a really good concert which started a little bit rambling and it became better and better after some songs even if I was disturbed on the fact that Andrews voice disappeared sometimes but it was maybe because of the some it disappeared.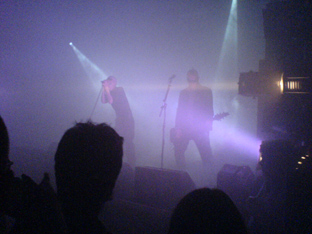 The pictures are taken by Peter with a mobilephone