Sister Shotgun is a really good gothmetal/metalband which is female fronted and I like that as you know. Here have Chloe answered lot of questions from me in may 2019
History about the group?
-We formed around 2011,Niall held a house party full of musicians and friends, he was looking to form a band even though this wasn't the intention of the party, Chloe being one of those guests but didn't join til a few months later, a former guitarist and friend of Chloe's spotted Niall's guitar collection and questioned if he wanted to start a project, he of course agreed gathering all but a vocalist the band began work on covers of the biggest hits in rock and metal after a few failed attempts of vocalists, Chloe freed up from her musical projects and was in the market for a band, she auditioned and nailed it, they all met up in a bar in Kidderminster and agreed "big riffs" "stadium sized chorus" and heavy guitars. Chloe pitches the name Sister Shotgun and the name stuck.
Please tell me a little about every member in the group right now, age, family, work, interests and something bad about everyone? Earlier bands? Other bands on the side?
-Chloe Ozwell, 26, Has one younger brother. Classically trained vocalist at aged 7 has made appearances in acting and short films,musical theatre and alternative modelling, Has a black belt in karate and competed in Italy for international championships. Sang for punk band "2 days notice" Solo career and Function/wedding bands, heavily into fashion and theatricals and has a degree in Musical performance.
Niall Wills, 27, the oldest of siblings to 4 sisters, founder, Songwriter and designer of Sister Shotgun, Selftaught musician is left handed but learned to play traditionally, illustrated car engines at 3yrs old but he could write his own name completely backwards, heavily into motorcycles and motor sports, previous musical project as a vocalist for a band called "NoHappyEnding", Studied Music Technology in college level.
Benji Tatlock, 29, Has a younger Sister, began as a metal drummer and found love in the guitar, heavily into dinosaurs and Jurassic Park, Owns Rabbits as pets. Played guitar for Death metal band Sentinel and drummer for Confined Within and played guitar for Slipknot Tribute act, used to work for Jägermeister.
Tim Chambers, 26, Has an older brother, began on guitar also knows how to play trombone and found love for Bass, has played competitive gaming and attended speed runs of games in America, has beaten diabetes twice played guitar for Sentinel with Benji and has known to session for bands such as Skarlett Riot. Has a degree in musical performance and has been an interview host for a radio station interviewing bands and artists at Download festivals
Dave Harvey, 29, Youngest sibling,Has a driving license for Trucks and Lorries, Used to work a builder, through and through drummer but knows how to pinch harmonic better then anybody in the band, owns his own Music studio/rehearsal rooms, has practiced taekwondo, heavily into his gaming and resident evil. previous bands include, Pathogen, Dalliance, Shyyne has sessions for bands such as Piston, Divided we fall, and Devil fire.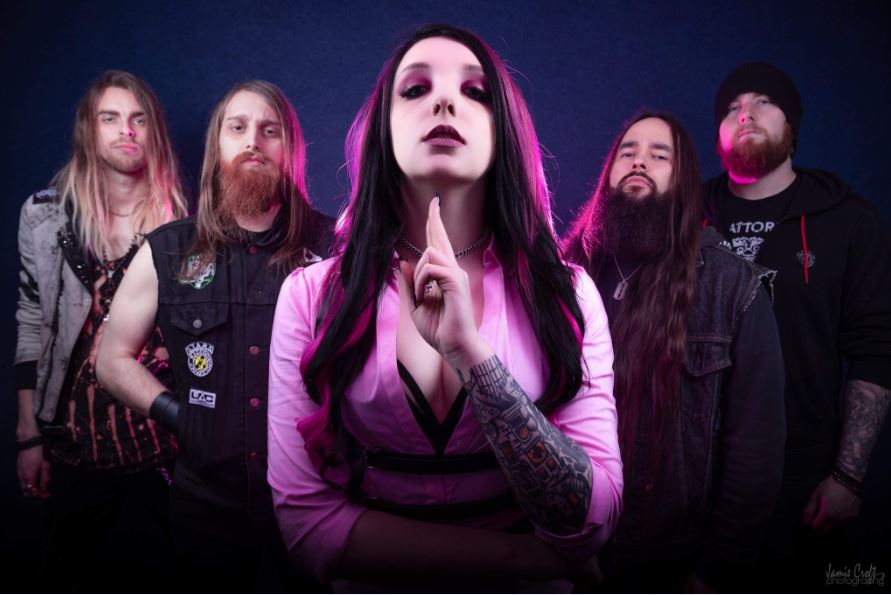 I can hear much different influences but mostly metal and gothmusic? Am I right? Favorites from the past?
-Yes you are correct, there is a lot of Nu Metal, Thrash and Stadium Rock in our writing, we all have our own personal preferences such as Korn,Machine head, Killswitch Engage, Mötley Crüe and My chemical romance.
Sister Shotgun are you satisfied with the name? How did it came up? You weren't afraid that some other band would be named like this? Which is the best bandname you know?
-Yes we are satisfied we believe it's catchy and not too complex or even pigeonholes us into a specific genre. Chloe came up with the name as she was thinking of using it for a solo project as a sort of alter ego or stage name, it was catchy and the phrase has innocence and aggression within the name like Sex pistols a word of intimacy and a word of aggression a good combination, Not at all we searched the web and there was no bands with that name if there was we would of went back to the drawing board and also no internet trafficking so we wouldn't get lost if someone wants to find us after a show. Best band names are catchy and simple and sometimes a play on words. Nirvana is a brilliant name for the meaning of the word a not necessarily an everyday word, same with Mötley Crüe a motley looking crew a band of misfits which fit them as people.
What´s the best thing with playing live?
-Playing that music loud putting your all into your performance and watching the crowd sing their heads off! Headbanging pumping their fists and just straight up watching people enjoying themselves it's like a cultural or tribal gathering and we're all sharing an experience of music we all have something in common in that room we are together in a moment.
And where is best to play? And the worst place?
-The best, it varies we get surprised sometimes it's all on the crowd if we have the room on stage and the crowd is wild it doesn't matter where it is.
How is to play this sort of music in your England? Which types of bands do you have concerts together with?
-England U.K it's great! It's get better and better each time we come around, we've played with many and many variety of bands
We've played with Janet Gardener of the band Vixen, Skindred who play tons of big festivals world wide, bands like InMe and Butcher babies, Santa Cruz, were playing with tons of bands in different genres constantly.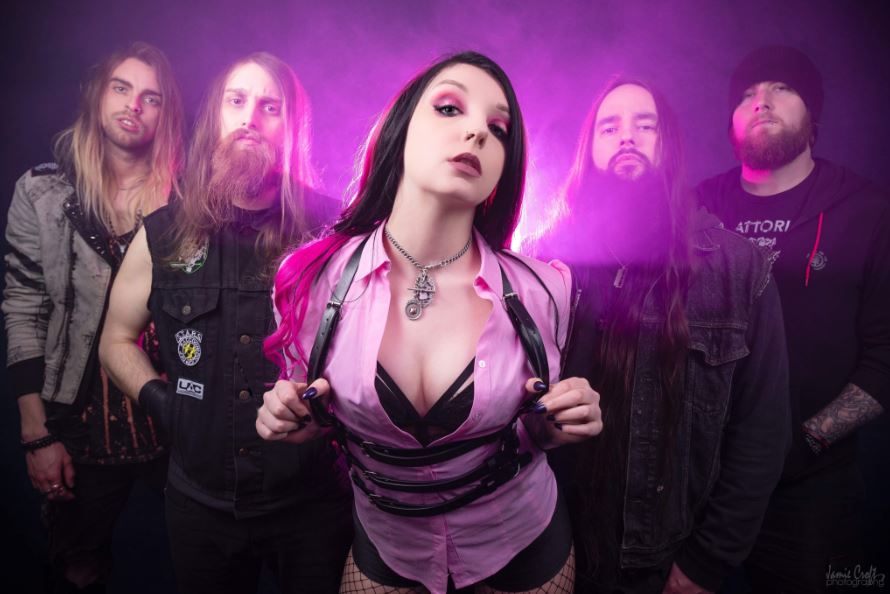 How would you describe your music in three words?
-Dynamic, Energetic, dramatic.
What does punk mean to you, is it only a word or is it a lifestyle? I know you don´t play punk but I am only curios what you think about punk?
-Punk "real punk" is expressive and has a message to tell or opinion to spread it doesn't take a lifestyle to enjoy it but punk is very cultural it's wild its outspoken and it dramatic. It pushes boundaries and we dig that, punk is a beautiful disaster it's definitely speaks to us at times it's got that edge it goes against the grain especially on some subjects but punk is all in those lyrics the lyrics is the most important but punk is special it has opened a lot of doors for a lot of artists and we respect that heavily.
What shall a young guy do today to shock their parents as the way we did when we were young? They have already seen everything ;-)?
-With the internet everybody has seen everything it's hard to shock someone unless you go out your way to offend people, Maybe going old school and throwing your tv out your bedroom window would shock them or shaving the dog something obscure and outrageous you can't shock anyone with music or fashion anymore.
How is it to live in England right now? Politically
-It's fairly expensive nobody can really afford to live by themselves a lot of people live in shared housing or in a tiny overpriced apartment not many jobs out there if they are it's a lot of hours for minimum wage lots of so it's not exactly the best.
Is there any good bands from England right now? Is the punkscene/metalscene/hardcorescene big? How is it in your hometown?
-This country is scattered with all types of music it's a free for all not necessarily a scene going on its every band for themselves you make some friends of course but it's just a mass variety of rock music which does well, our hometown we are away from too much to keep up with what's going on music wise we're just doing our thing.
What do you know about Sweden? Have you been here sometime?
-We know Sweden is metal as fuck and almost every metal band that comes out of Sweden Benji has a T-shirt for, and Niall looks like he should of been born there, we haven't been at all but hell yes we want to come visit
Have you heard any good bands from Sweden?
-MESHUGGAH! Of course, Amon Amarth, Opeth, In Flames, Crashdiet, Europe and...ABBA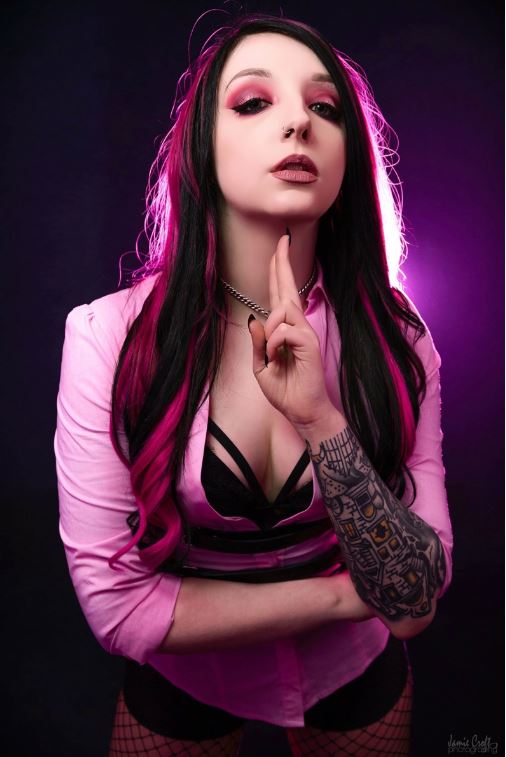 Your lyrics, who does them and what influences you?
-Chloe does all the lyrics Niall has started jumping in on songs or sections but Pretty much Chloe, influences can come from life experiences a fictional story or concept a Chloe has forged together or even events of history and sometimes even movies have inspired the lyrics
Is there any subject that you never will write anything about?
About being in a "the club" or "how we woke up in a Bugatti" stuff pop artists sing about these days, Not that basically.
Politic and music, does it goes hand in hand? Which is your most political song?
-Yes they do music is a very very powerful tool for expressing messages and opinions hence all the court cases against musicians and their messages influencing fans, we have one political song ever and it's off our e.p Devour the song is titled "Overcome" it's about over throwing a government and banding together to make a revolution.
Best political band/artist?
-Sounds generic but Sex Pistols the originators for this country, and a band called While She sleeps who hit some real political subjects and includes this is their music videos they are more modern and their subjects are more up to date with our current political position.
Do you think that music(lyrics and so on) can change anyones life, I mean people who listens to music?
-Yes! Music has definitely changed our lives over and over we all have our tracks and songs that takes us to a place in history or pain or happiness lyrics or not the right song can save a life and a certain song can fill you with joy or drive or optimism or just purely vent some energy or emotion that's what makes music one of the most beautiful gifts we have in this earth its amazing a bunch of organized sounds pouring into our ears can make a difference it's special and unique and the most addictive thing that exists
Your favorite recordcover?
-It's hard to choose because some are literal pieces of art and some have a statement or a story which is lost these days some bands will just put a seashell on the cover which means nothing, Maybe Nirvanas "Nevermind" cover, because it has a message, its thinking outside of the box it's artistic and has a statement, they actually put a baby underwater on the cover and it's caused a stir and a concern, it did more than just be a piece of art on a cover.
Who does your recordcovers? And do you have any good recordstores in your hometown? Who have done your CD-cover?
-Sam Rutter of SPR productions did our cover he's a friend of ours so the communication between the band and him was strong so we could get it right, We had an idea and a concept and we worked closely with him making changes here and there, We do we have HMV one of the biggest record stores around the world, before the album we had an e.p out "Devour" which we had Age Velez design he worked as a comic book artist and characture he's worked on almost everything "In This Moment" has released.
Is it important to get out physical records of your stuff? Why or why not? Vinyl, CD, cassette, what do you prefer if you could choose whatever? Is Pavement a good label?
-Yes of course, we believe as consumers ourselves having something physical with the artwork inside and out the lyrics the thank you is much more worth your hard earned money then a bunch of digital code. We have always been a band that has sold cd's were forever selling out of them, there's one case where we stopped stocking our EP for the release of our album and people were bidding high amount of money on eBay to get a copy making us consider repressing a few, CDs you can still use in your car and computer so we prefer that however having vinyl is amazing you get a real piece of art you can hang that on your wall and play it it's the best format but not as easily accessible to play unless you own a player which isn't as popular.
Please tell me a funny thing which have happened during your career and under some gig?
-Countless were one of those bands that just laugh the whole tour, at one show we asked the crowd to pump their fists and one guy threw his ham sandwich up in the air and we had to point it out to the crowd, or finding an out of date apple pie in a petrol station somebody left behind and carrying it round all tour seeing if we could convince somebody to eat it, or the fact some of us snore and Tim will wake up and brutally attack us with a pillow to stop us snoring.
How does your audience look like? Which people do you miss on your concerts? Which is the biggest band you ever have played together with?
-All we know is they wear black we have guys will long hair guys with bald heads girls with colored hair or dreads or just straight up normal looking people it's a good mix, everyone that comes to our show is usually a new face and we have our die hard following we see in places we don't expect them to be so we don't have chance to miss them, biggest band probably Skindred they're huge here in the U.K. they play all the major festivals hitting up the main stages they're super cool guys and gave us some of their wisdom.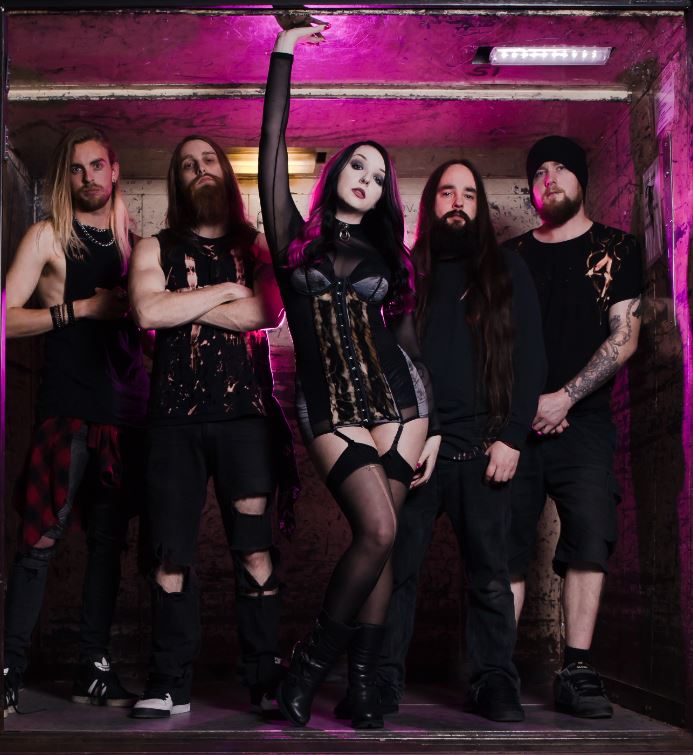 Please rank your five favorite records, five favorite concerts and five most important things in life?
I can't speak for the whole band on this one as we all have our own favorites so I'll try pick 1 from each member
-Records:
Aerosmith - Nine Lives
My chemical romance - Three Cheers
Mötley Crüe - Girls Girls Girls
Kill switch engage - As Daylight Dies
Machine head - Unto the Locust
Concerts:
- Download festival!
- Mötley Crüe's farewell tour (Tommy lees drum roller coaster was incredible)
- Rammstein live (all that pyro and fire)
- Devin Townsend live (those songs become the whole atmosphere to get lost in)
Most important things
Sex
Alcohol
Caffeine
Music
Family
First, last and most expensive record ever bought? The most embarrassing record in your collection?
-First album, Me personally bought was a complication CD called Headbangers bible I went into a record store when I was 11 and wanted to discover more rock music it's had 3 CDs and about 15 tracks each cd so I hit the mother load and discovered tons of artists, like Motörhead, Van Halen, Metallica, Pantera. Most expensive? They've all been around the same price so I couldn't really say maybe one with a live DVD in it like Devin Townsend live at Plovdiv. And most recent being the Mötley Crüe Dirt soundtrack as they have 3 new tracks as well as the classics
Is it boring with interviews? Is it much interviews?
-No of course not especially when the questions aren´t the same or generic when you get asked the exact same it can get tedious but so far everyone has asked something different. We get quite a lot of interviews around this album now which is awesome
Do you care about reviews? Which is the most peculiar you ever had, with this band or any other band you have been to?
-Yes and no, we're always curious to hear what people say and sometimes they try compare us and it's way off just because a girl sings in that band they'd compare, or an uneducated comment like they've not even heard it but we like criticism too always good to improve however a critic is one person's review and doesn't share the opinion of everyone else, we haven't really had any peculiar reviews really they're all be very professional and fairly straight forward
Which bands do people compare you to, is it boring that people compare you to other bands or is it understandable?
-Halestorm or evanescence however our songs and trademark sound sounds nothing like this maybe the aggression from the vocals in Halestorm and the dreamy vocals of evanescence but the music itself or the vocal melodies sounds nothing alike but you'll always need to find a sort of comparison to explain how we sound to people because we never went out to sound like any band so we don't sound like anybody so you have to find an artist with closest similarities to explain how we sound.
If you could choose five bands from the past and the history and nowadays and both dead and living bands to have a concert together with your band. Which five have you been chosen?
-We'd have to a festival vibe where almost no band sounds similar and the biggest most expensive and dangerous stage shows going full of fire and pyro so bands like, Slipknot, Rammstein, Kiss, Rob Zombie and Alice Cooper. Just a full on theatrical onslaught
Is music a good way to get out frustration and become a nicer person outside the music??
-I believe so, we are in no way inclined to be nasty or not nice people but it helps get any stress, anger or depressive states out of you and turn it into art and a creative thing, however some people make music and grow an ego from popularity and it doesn't make them a nice person it makes them more full of themselves so it depends on the person and the reason for making music in the first place.
Which is the most odd question you ever have got in an interview?
-Is a Jaffa cake a biscuit or a cake? It's a small cake shaped like a biscuit in the UK not sure if you have them in Sweden.
Which is the question you want to have but you never get. Please ask it and answer it?
-Do you have any hidden or nods to other artists in your music?
In "For the Love of Hate"the songs concept came from "Nikki Sixx - the heroin diaries" book about his life as a heroin addict, in our lyrics the line "Now they call you major tom" Major Tom is a character created by David Bowie and in his concept he states the character is a junky (a heroin addict) so the song gives a nod at both artists.
Futureplans for the band?
-Tours Tours Tours, More videos more music bigger shows and bigger crowds
For yourself?
-Carry on this journey become a better musician try new things get this band as big as we possibly can and enjoy the ride
Wisdomword?
-Never give up on your dreams no matter how impossible it seems or how you're going to do it or where to begin you'll find a way if you love it enough and have that passion be it in music in a relationship or business venture do what you love don't get complacent and just be "ok" be your best and favorite self.
Something to add?
-Our Album FRAGMENTS is out now you can order it worldwide from HMV and Amazon and can be streamed on Spotify and ITunes and all other music platforms we put a ton of work into it and honing our craft to make this album give it blast!