Please tell me a little about yourself, age, interests, family, work?
-I´m grown up in Vidkärr outside Gothenburg together with Freddie and Gert. Middleclass family with good parents which was working hard with morlae and good values. I was always in school and on work and have always been those things good. My spare time it was music and I started to play guitar , and I started early to do own music and I have no interest of playing other people´s songs if it isn´t Johnyy Cash.
50 years old and have two children and a wife. Music, painting, art, technique and so on. I work with advertisment, I´m a trained scenographer and grafics. Have worked with TV and with movies in 10 years.
Which instruments can you play?
-Guitar

You were in Straightjacket, Lädernunnan and have a short solocareer? Which other bands have you been in?
-Noone.

Are you in a band now?
-No

You started with music when the punk came or was it earlier?
-I started with music in the 60´s, american music, I´m not so fond of english music,
Creedence, Doors, Santana, Allman Brothers, Velvet, Jimi, Zappa, Beefheart, Dr John, blues, Chuck Berry teach me the guitar, Ry Cooder also. When the punk cane we discovered that was the things we played and we looked like Ramones. I bought Ramones early in 74 or something.

What does punk mean to you, is it only a word or is it a lifestyle?
-Punk means solidarity for me and an attitude which gave us the right to exist, the swedish progressive music was lying and too high for us and wouldn´t like to get us into their rooms.

When did Leather Nun quit?
-We quit -94 and then we did a tour 96 and one gig 2004 which was the definitive and last.

How did people react on the name Lädernunnan/Leathernun?
-They react the same way as people did on the dog that Lars Vilks did.

You had a cooperation with Throbbing Gristle in the beginning too, what was this about. Did it help you to come foreward
-We get english cred and we have some higher status in a small but really spread subculture.

You had some small hits through the years? How much did you sold when you sold best?
-40.000 Force of habit in the world. Nun permanent 20.000 in Sweden

Please tell me anything funny that happened during your long career? Something odd?
-Early when we did our first London-gig and the record sleeve to Slow Death. Freddies mother Astrid bought Kriminaljournalen and when she have read them Freddie got them and we sat there and read them and we saw the picture tp Slow Death , Jonas cut it out and we wrote the song on the way to the rehearsal.

Did you felt like rockstars for a time?
-No.

How do you look back on that time, with happiness or was it much things which was really hard?
-With happiness and sorrow over the friends which have disappeared and a burning lifestyle which have given the most of us injuries for life.

You do music today…how does it sound?
-Same as it did before but I play it myself and therefor it´s no fat soundcarpets.

Will you release anything soon?
-I hope so , I could go into studio tomorrow, I have an whole album.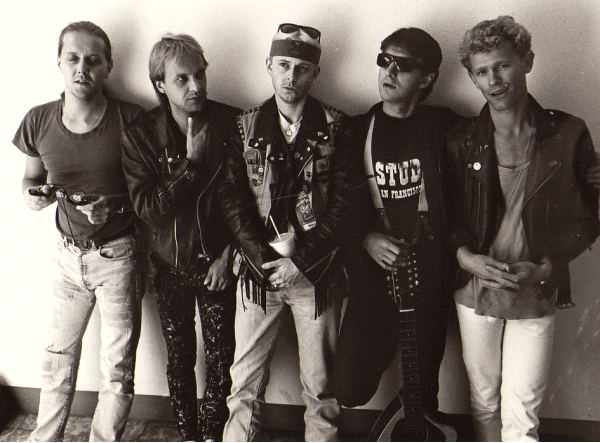 You did a solocareer with record in the 90´s on Arda Records…how did that went?
-It was fucked up, wrong people in every position maybe me too. But the songs was really good anyway.

If you could put together a concert with one of your bands and four other dreambands, which bands would play that concert? Both living and dead bands?
-Early Lädernunnan, Red hot Chili Peppers, Smashing Pumkins, Ramones, Nirvana.

Please rank your five favourite records,five favourite concerts and five most important things in life?
-Motorvatin Chucken, Leave home Ramones, Siamese dream Smashing Pumpkins, New york dolls, Velvet u loaded. Iggy 77 sthlm, Jimi 69 Liseberg, Bob Marley 77-78, Cramps -84 LA, Motorhead 75 London Roundhouse. My wife, my son Theo, my son Lucas, my summerhouse, my health.

The first and the last and the most expensive record ever bought?
-Electric Ladyland, Jens Lekman, Cycle annie Lou Reed 200 -.81

The most embarrassing record in your collection?
-My own Sister Aron Purification, but I want to do it again anyway!

How do you think that it is to live in Sweden today?
-Good except the alliance.

What´s the difference before and after the alliance won the election? Do you think that you notice any difference? Or is it the same shit?
- The ruthless exploitation of natural resources have been more an it suits really bad this times. Egoism is really immature and damn ugly.

Is there any good/promising bands in Sweden today?
-There is and have always been during the 90´s and in the 80´s it was really thin.

Is it more fun to do music today without having pressure on yourself in the way you had in Leathernun?
-No difference because my songs growing foreward so slow and it´s three songs a year.
From where came the name Sister Aron .....Aron I understand but why Sister?
-A nun… a sister?

Freddie Wadling was in your first group? Do you have any contact today? What do you think about the latest things he have done?
-I meet Freddie some times every year, we enjoy being together and often only me and him. We have written a lot of music together and have been inspiring each other. He have been my professor and I have been graduated to doctor from his R N R higschool. My graduate was Desolation Ave.

What do you think about MP3 and downloading? Is it good or bad for the artists? What´s the good and what´s the bad with it?
-Love it

Do you download yourself? In which purpose?
-Just to listen to good popsongs, record I buy in a more serious way.

Futureplans with the music?
-It´s a lifestyle, it doesn´t stop.

For yourself as a human being?
-Come out and play maybe.

Wisdomword?
-Watch what you wish for, you might get it.

Something to add?
-Do what you can with things that you have.