Andy in Sista Sekunden says down in the text that this interview was boring but we must hope that he doesn´t meant that. If you read it it doesn´t feels like he thinks so. Hear him or right said read when he tells us about Sista Sekundens history and why they´re named as they are… …..november 2006.
History? Lineupchanges and so on?
-We started in april 2005. Tommy and Dempe have been talking about having a band before and they asked Stefan and me and we said yeah. It have always been us in the band. Before our first gig in july 2005 we have been recording one demo CDR with 7 songs(which noone was buying anyway).

Please tell em a little about every member, work, age, interests, family and something bad abotu every one?
-Stefan is 26 and he plays drums, and he´s also in Skitkids and Project Hopeless. And then he plays bass with Flyktplan. Stefan is from Staffanstorp but he lives in Malmö. He can whistle without sounding anything. Stefan works at Glassfabriken(Icecreamfactory) and one school.
Tommy is 24 and he comes from Blomstermåla, a little hellhole in Småland with 900 people. That´s cool. Tommy plays guitar in The Confession and The Mockingbirds. Noone can tell us anekdots like Tommy, or say things with superlatives. Tommy study jewish humour in Lunds University and he works at Glassfabriken.
Dempe is 26 years, from Västervik. Played bass and drums with Ett Liv Kvar before. Works with tattoos in Malmoe and he have a dog called Bam. Dempe likes popcorn and hates war.
Andy plays guitar, recently 24 years, works as a printer in Lund, lives in Malmoe, likes when things go wrong, rationality and money. Plays guitar in Intensity and bass in Satanic Surfers. Do instigaterecords.com, HDHC fanzine and a lot of other good things.

Sista Sekunden....a good name...is it only a name or is it any deeper meaning with the name?
-We hade really difficulties to come up with a name and then we choosed Sista Sekunden(The last second) and we played around with names like Blueberry Snakes, Vilda Västen, I Ditt Ansikte, Flygtplan and so on.. There wasn´t any deeper meaning otherwise that we´re always out in the last seconds because we´re a little bit stressed.

Is this the only record you have done?
-yeah, and the demo before but it's maybe not be counted.

Which is the next recordproject?
-A 7 which is called Vi Kan Allt there every member plays all instrument on one song each. A new fullength and some compilations.

My review of your record is like this: SISTA SEKUNDEN-2006(CD-INSTIGATE ISG 11) Sista Sekunden-Vi kan allt(we can everything) it stands writen on thier logo behind them when they plays out. A really good description on the group. It's really fun to hear Sista Sekunden and many other groups today but there´s so many groups which plays undergroundmusic out there right now again and I think that it will be more. Sista Sekunden plays music which feels influenced both by Mob 47 and Minor Threat and Posion Idea. You can understand here that it's really tough music we talk about here. Good lyrics and even if they aren´t so long so can they give us a wink about todays life in Sweden!.(EIGHT) 17/11-06 Comments on that?
-Thanks thanks! It feels like if you have understand it !

Have you got any other reviews? What are you being compared to? Which is the most peculiar you have read about yourself?
-The most of the reviews of the record and gigs have been good. In the beginning people aid that we sounded like Raped Teenagers and Outlast but the new songs have a little bit own style over it, they sound Sista Sekunden, simple as that. I haven´t read anything sick about us but it goes rumours about that we go around in bad quarters and give handworks to old men.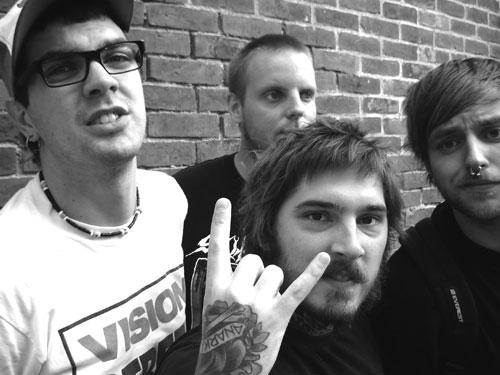 Are your livegigs really lively things?
-Of course!

Which type of people comes to your gigs?
-Many small kids which likes Myspace, but also grandpa which gets nostalgic just to hear our sound.

Do you play often?
-As much as we can. We did a tour recently with Fy Fan, eleven gigs in Sweden. Fucking fun. We want to go to Finland and do some and then it will be Germany/Europe also. But we will focuse now to play in Sweden to young kids

Which is your strength live?
-That Dennis takes off his shirt and shows his tattoos. Come and see us and you understand. Musically perfectionism have never hurt a bands liveset.

Politics and music, does it belong to each other?
-Not when it´s forced and something false but I would lie if I didn´t admit that many punkband as I have as influences for my political views through the years. Dead Kennedy's is a a really good example on a band which did it nice and good.

Best political band/artist?
-Yes, Dead Kennedys. His Hero Is Gone. Bob Dylan.

What influences you to do lyrics?
-MTV and life.

Can you imagine to record songs for a political thing or something other thing you believe in?
-Of course, if all wants the same.

Is there any good bands in Sweden right now?
-Of course. I like the new wave of bands which comes now. Förmögenhet, Fy Fan, Kamikatze, Vicious, Insurgent Kid, Svartenbrandt, Nitad and so on...

What does punk mean to you…is it only a word or is it a lifestyle?
-I think that punk is to be yourself. But not if you´re much rightwing. You must be a punk to be yourself. If you get what I mean. Punk is to be punk but with selfdistance. It's a punk like that I want to be. And then it's good to see kids who buys the whole punkkit and shave for a Mohawk and everything, that´s punk. And singers which have the microphone in front on the PA and then it's gets really distorted, that´s punk. Or what, check out The Germs, they´re really much punk.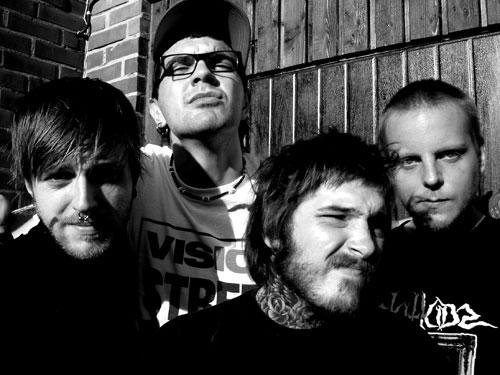 Is it many interviews? Is it boring
-This interview feels a little bit boring(????? Hmmmm). Otherwise I think it´s really fun to talk about myself and the things we do.

The question you never get but you want to have? Please ask it and answer it
-How many sugarcubes is it in a 33 cl soda? Around 18 or something similar.

How do you think it is to live in Sweden today? Do you think that punk will grow now when the rightside won the election?
-I think we have it really good in Sweden and 90% of everything we complain about is industrialcountryproblems but if you see what Sweden could have done so is all complains really good. The most important is that you don´t only complains and that you try to solve the problems or make interests in things….Look who's talking..

Please rank your five favourite records, five favourite concerts and five most important things in life?
-HIS HERO IS GONE monuments to thieves LP
EUROPE the final countdown LP
THE LAWRENCE ARMS oh calcutta LP
BUNTA HORN JAZZ BAND please don't talk about me when I'm gone LP
ZERO BOYS vicious circle LP

SUBMISSION HOLD Café Panora Malmö 2000
THE BELLRAYS Inkonst Malmö 2005
ROBBIE WILLIAMS Roskildefestivalen Roskilde 1999
THE CARDIGANS Storåsfestivalen Trondheim 2006
REGULATIONS Ungdomshuset Köpenhamn 2006

Sex
Food
Rehearse
Cleaning
Internet

First, last and most expensive record ever bought?
-First: ANITA OCH TELEVINKEN lekplatsen EP
Latest: THE MAGIC NUMBERS S/T CD
Most expensive: hmmm, THE STALIN thrash LP, or MINOR THREAT demo EP

The most embarrassing record in your collection?
-It´s THE SOUNDS then or? No fuck that, no music is embarrassing for me.

Futureplans for the band?
-Play and tour a lot 2007, record a new record and maybe a video. Reharse so we get even tighter, like man's anus.

And for yourself?
-Be ready with my new kitchen, get it together with someone, and get a good life and feel good.

If you became the prime minister for a week what shall be the most important for you to change?
-I would like to see that everyone could spell and that they´re going to see the difference between apostroph and an accent. More money to the school and raise money for lowpayment works as nurses, teachers and kindergartenteachers.

Wisdomword?
-God, give me the peace to accept the things I cannot change, guts to change the things I can change and a brain to see the difference.
Something to add?
-Thanks for the interview longtimer. Have a splendid day, and all you people who haven´t bought our record-do that! It's good, Contact us on www.myspace.com/sistasekunden or www.sistasekunden.tk
Thanks for us!You´re a genious.

************ end transmission ***********