Tell a short story and tell us a little about today's setting ... age, family bands before, etc?
-SIR REG is 6 persons between 26y.o. and 50 years who are scattered around Sweden and with a singer who lives in Denmark.
The band was founded in 2002, but was then a cover band that went by the name The Barcrawlers and played Irish traditional songs.
SIR REG started properly with out recording our first EP (mcd??) 2009.
We all have very different musical backgrounds, ranging from metal to pop and classical.
Several of us in the band have families with children and all that entails.
Karin, Juba and Bren has a side project called Banshee Bones.
They play "Irish music" around the various pubs in Scandinavia.
Mats has a side project called Tullamore Brothers.
They also play Irish, but even more traditional than they do in the Banshee.
Chris has a side project called Breakfast with Liberace.
They play pop in Swedish.
I (Eric) has no band on the side, but I do a lot of session stuff.
Above all, I play the drums, as well as write and produce for other artists in my studio.

Have there been many members who have come and gone over the years? -If we assume the start of SIR REG, that is 2009, so it's been a few. Especially in the start-up of the band. It takes some time to get the right members who are all willing to do whatever is necessary. For example, since fit is simply not to tour as much as we do for some. The latest addition to the band is Chris on electric guitar. He has been involved in a little over 1 year.

You release a new album soon .... tell us? -That's right good! The 5/4 we release our third album called 21st Century Loser. Release on CD, vinyl and digital worldwide by Heptown Records.

Do you have a similar style as usual on the new record? -We always try to develop as a band, but it's clear that we stay "true" to our sound. The songs and the production is perhaps a little harder / tougher than they previously records. Check out our single, 'Til The Dead Come Alive, so you get a little taste!

Heptown is it a good company? -Abolutely! We have a very close contact with them. We feel that Heptown really believe in us and are doing everything they can to make it go as well as possible for us!

Is it important to you (at least to me) that the disc is released "for real, or do you prefer digital? -Yeah I think probably we're still selling quite a few discs (touch wood), especially when we are out and play . A lot of people buy the record directly from us after hearing us live for the first time., I do not think there are as many who wait until they get home, log on to iTunes and buy it from there.

What are the advantages of digital versus physical ex? -The advantage of digital is that everything goes very quickly and is inexpensive. Besides, you do not wear a mp3a if you play it 25,000 times, just as it is easy to do with a CD. The advantage of the physical records (both CD and vinyl) is probably the feeling of being able to keep it. Being able to sit with a booklet and read into the texts. In addition, there are the people who argue that music sounds better on vinyl ...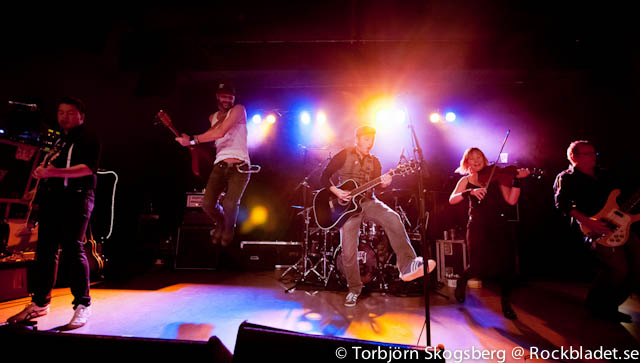 What is the type of people who come to your concerts? -We reach a very wide audience, which is great fun! People who like to jump and jump a little brain dead tend to be overrepresented! ;)

Is there any type of people that you do not have that "should" be there and that you would like to have that? -It is usually very mixed indeed. We do of course everything from city festivals to rock clubs, so it's very mixed crowd. All are welcome!

Is it wild on your concerts? What is the strangest thing that happened during a concert with you? -We and the audience usually cleans as hell! So wild, it is well I guess .. Nothing like that really weird happened. Or yes, once in Germany stopped the police the show. It was the last gig of the tour, so it was well-suited quite well that it was a bit abrupt ...

Do you play concerts with all types of bands or? -Haha, we have been involved in some shady connections in Europe, we have both one and two times wondered what the organizers thought of ... Quite often we are so mixed with something a little harder, not infrequently "melodic" punk. We played quite a few festivals, and so there are mixed. On the last tour we did some folk punk festivals, and then it is usually a great combo!

How do you see on punk, it's just a word or is it a lifestyle? -I know there are many who are really punk straight out of their fingertips, but for us in the band, it's mostly a style of music.

Where are you taking inspiration for your lyrics? -The text is usually about all that is wrong in the world, but also of hope and yearning for something new. Bren goes often mostly from how politicians in Ireland have run the country into the ground. He often said that it is fortunate that there are so many idiots, otherwise he would not have anything to write about.

Do you play any covers when you play live? -No. Or it has happened that we played a traditional Irish song when we've had technical problems on stage.

Which is the biggest band you played with? -Hm. What is the largest of Misfits and Thin Lizzy? Some of them probably. Otherwise, we have played with The Meteors, HEAT, Talco, Fiddler's Green, The Real McKenzies, The Exploited and Others

You have play pretty much abroad, right? Where are best? -We play a lot more abroad than in Sweden. Mostly we play in Germany. Do not know where that is best, but I like Italy.

Never had any thoughts on Swedish lyrics? -Haha, you never know what will happen in the future. But right now it does not feel like something that we're going to start with anyway.

How else do you think the music scene in Sweden? -I think it looks great! There's something called "The Swedish music miracle", and we should really be proud of! There are dozens of internationally recognized artists and songwriters from Sweden. Additionally, there are lots of undiscovered bands that are just waiting to get out! Then I do not know quite how it looks with the venues. I remember when I was younger and had a band, then it was not easy to get out and play, especially if you refused to pay-to-play gig. It was perhaps much that we did not know how to come in contact with the organizers. Today, we will be offered many gigs in Sweden, so it feels promising! We have a fantastic festival scene for such a small country!!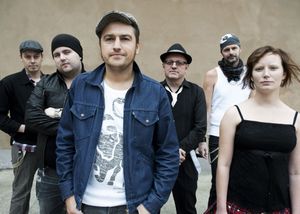 Some good Swedish bands right now? -Hm .. There are a whole bunch. Some I can suggest is Smash Into Pieces that play American alternative rock (type Creed, Alter Bridge, and the like). In addition to that, we will play with the amazing punk band Pasted tomorrow. If you like bands like Charta 77, then you should check out Pasted! Also Waredge who plays some sort of Iron Maiden-influenced rock.

How do you think it is to live in Sweden? -I think it works fine for me, but understand that there are many others who are vulnerable and have it tough. We have it very good here, but we must be careful not to muppets like SD(Swedish democrats) gaining much influence! Just want to say that this is my (Erik) highly personal opinions!

Five favorite records, five favorite concerts and the five most important things in life? -5 Records (in no particular order!)
Nickelback - Here and Now
Alter Bridge - Blackbird
Breaking Benjamin - Phobia
Hurt - Vol. 1
Staind - Chapter V
There are so sick many more records that I had wanted to include here! If you ask me the same question tomorrow, it will be perhaps other answer!
I was not sure if you meant concerts that I have been and watched, or SIR REG concerts, so I list both ..

5 concerts I've been to (in no particular order):
Nickelback - In Helsinki 2012
Dream Theater - An evening with Dream Theater tour at Hovet in Stockholm
Linking Park, 30 seconds to mars, Blindside - Globen in Stockholm for sure 5-6 years ago, if not more ..
Aaron Lewis - At Nokian Theater in New York 2010th This is the singer from Staind who played acoustically. Awesome!
Staind - In Malmö for a lot of years ago. Mejeriet was it probably on ..

5 SIR REG gig (in no particular order):
2012 Shamrock Castle in Germany. Along with among others Fiddler's Green.
2010 Full European tour with The Misfits. The favorites on the tour was probably the Rockefeller in Oslo, Nosturi in Helsinki, Baroeg in Rotterdam or maybe Carraponte in Milan.
2012 U & D Festival in Stuttgart. After a full day on the Autobahn without functioning brakes, so we arrive and headlinar this amazing festival!
2012 Folk Punk Festival on classic SO36 in Berlin together with among others The Real McKenzies. Sold out and a fucking rocking!
2012 Knust in Hamburg as opening for Talco.
It is fortunate that we have an "all historical gigs" section on the website. Had to go through and check out what we have done! Many gigs have been absolutely fantastic in different ways! :)

5 most important things in my life:
My son will clearly first! Everything that I thought were important really means nothing compared to him!
Besides that, it's hard to figure. Of course my wife is in there along with my family and then friends. It is important to do things that make me and the people who are close to me happy. Life is too short to be wasted on a bunch of crap! I live with music around the clock, but I probably would not feel good mentally without it.

First, last and most expensive record you bought? -The first record I bought with my own money was Dream Theater - Images and Words. Hell, how good I thought the record was. Can still listen to it when I feel nostalgic. Last record I bought was Nickelback - Here and Now. Heavy, damn polished rock. Fantastically well produced! The most expensive record I do not know. I was a huge Dream Theater fan before and bought everything I could get over with them. So would think I put the most money of any Japan-release there ..

Best record to have sex to? -Haha ... Hmmm .. Meshuggah - Destroy Erase Improve! No, but I really do not know. Depends well on what mood you're in! I dig everything from RnB to Metal.

The disc you must have the tour bus? -When we toured with The Misfits so it was a lot of Led Zeppelin. So it has been ever since .. We usually do not actually listen to as much music in the bus. We check most any movie or shut people into itself under a blanket with her mp3 player.

Future plans for the band? -To do the same as we do now, but even more!

For yourself? -Same as the previous question.

What is the strangest review you had on something you made? -Hmmm ... On the first plate, someone wrote ".... the singer has an almost perfect Irish accent ...". One can only hope, given that Bren was born and raised in Dublin!

Words of Wisdom? You want something enough, it is possible to implement! "If you can dream it, you can do it," I think it was Walt Disney who said it.

Something to add? -No more than that, I want to thank you for the interview and hope that everyone who reads this check out our new album which will be released on 5/4! There will also be a music video in conjunction with the single! While you are waiting for the disc to come out so you are welcome to download our single, 'Til The Dead Come Alive, on iTunes! I just saw that it is on the 14th spot on the iTunes Alternative Chart!
Rock on! / / Erik, drums.