Sir Reg is among the best band I have heard in the folkrockscene for a long time and their irish frontman answered some questions from me about this Swedish band in November 2011.
History?
-SIR REG was born out of various pub bands and a desire to make original music. Myself and Karin have been playing together for over ten years and the others hopped onboard at various intervals along the way.
Please tell me a little about every member, age, family, interests and something bad about every one?
-Karin Ullvin - Fiddle (31) - Karin grew up in Köping and comes from a very musical family. Her father is a music teacher in a local school, so music has always been a big part of her life. She likes reading, walking and getting massages.
Something bad - Hmm, nothing to report here I'm afraid. ;)
Brendan Sheehy - Vocals & Guitar (33) - I'm the Irishman in the group and one of the founding members, along with Karin. I've played in all sorts of bands over the years and decided to chance my hand at Celtic punk when I felt homesick after moving to Sweden in 2001. I like music, planes and surfing the net. About it really!
Something bad - I'm a vegetarian! Something that's tough as hell while on the road I can tell you!
Erik Dahlqvist - Drums (25) - Erik has been playing drums most of his life and studied at Stockholms Estetiska gymnasium. He has played with a host of renowned Swedish and International artists and even runs a studio in his hometown of Arboga. He likes tattoos, producing music, dogs and everything from Apple.
Something bad - Looks like Mickey Mouse when playing drums and has a hair phobia.
Jimmy Glavå - Electric guitar (26) - The newest addition to the band, joining in the Summer of 2011. Jimmy is a left-handed guitarist supremo who has played with all sorts of bands and as a trubadour. He comes from a rich musical background and owns more guitars than a music store. He's into skateboarding, collecting guitars and dressing up as famous country singers.
Something bad - He makes the rest of us look bad with his cool tattoos.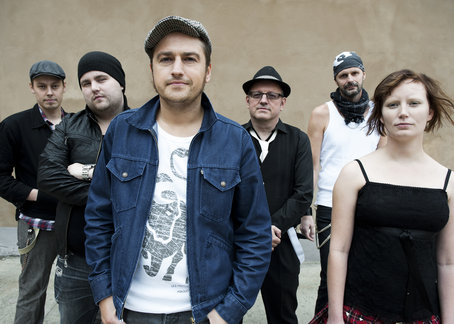 Juba - Bass (21+) - Joined the band while halfway through the recording of our first album and has been there from the first gig. He's been around the block and has played almost everything and anything. His prized Rickenbacker is his pride and joy and he looks naked without it. He's into reading, walking, space rock and Monty Python.
Something bad - Knows too much about obscure bands from the 70s.
Mats Lindström - Bouzouki (21+) - Mats has played Irish music longer than anyone else in the band and is a veteran on the folk music scene in Sweden. His knowledge of whiskey far outweighs that of an Irishman and he can drink your Grandfather under the table. He's a fan of hard rock and knows everything there is to know about that genre.
Something bad - He acts and looks like a man half his age! ;)
Do you have any other groups on the side of Sir Reg?
-Bren, Erik, Karin and Juba have an Irish covers project called Banshee Bones.
Mats is part of trad band Tullamore Brothers, among a few others.
Jimmy, when he's not busy with us plays in an ABBA tribute band called S.O.S. and also does a spot of troubadouring.
How come that it is one irish, one finnish and the rest of you swedish? How did you meet?
-I moved to Sweden in January 2001 with my Swedish girlfriend. The Finn (Juba) moved to Sweden with his parents as a child. The Swedes, well they were here all along. ;)
I guess we just all found each other, being in the right place at the right time.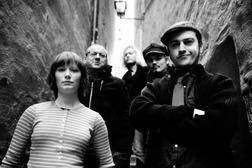 To play this sort of music, there wasn´t any doubt about doing that, that was clear from the beginning?
-With SIR REG the plan was to 100% do this sort of music. We'd written a few songs while on the road with our cover band and knew we'd be Celtic punkers from the get go.
Do you do any covers?
-No, we only play originals but sometimes when we've a technical difficulty, I've been known to lash into "The Wild Rover". It's our "break in case of emergency" song.
What are your lyrics about? Or more what influence you to do them in the way you do?
-Most of our lyrics deal with modern life and the struggles we've to battle through to get to where we want to be. A big influence on the writing is the handling of Ireland by the corrupt politicians and the downfall of its Celtic tiger economy.
How is it to play this sort of music in Sweden?
-It goes down really well with the concert goers. Thanks to Flogging Molly and Dropkick Murphy's, the genre has really taken off over the past few years and continues to grow.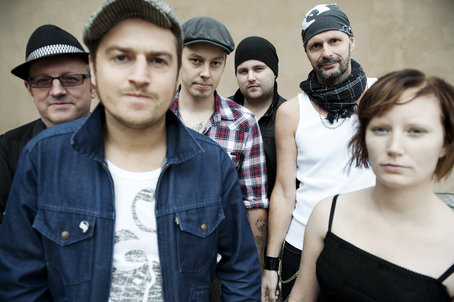 Are you playing a lot abroad? Where is best?
-Yeah we've done our fair share of foreign shows. We've done two European tours the past year and have a German tour planned for February.
The best? Well, gotta say Nosturi in Helsinki, Finland on our European tour with The Misfits. The place was mental the whole evening and the crowd gave us a fantastic response. Carroponte, Milan comes a close second!
You plays some sort of folkpunk, how would you describe it with three words?
-Progressive Celtic Punk.
What does punk mean to you, is it only a word or is it a lifestyle?
-Am sure it's a lifestyle for a lot of people. For us it's just a music style we just happen to play.
Is there any other good bands in Sweden right now?
-Yes, a few. Prins Carl, Pasted and Waredge.
In the world?
-An awful lot but a shout goes out to The Mighty Stef and The Ramshackle Army.
You´re on Heptown records now, how is that?
-It's great. They've been in the game long enough so handle everything in a professional manner. Signing with them was the perfect move for us at this time. We trust them and know they put 100% into what they do.
Where do you stand when we talk about downloading, mp3 and those things?
-Suppose it's a good way to promote your band but can mean you've a garage full of CDs that nobody wants to buy as they've already got the album. It's part of music's evolution so you've got to deal with it and get used to the situation.
Is it good or bad for a band like yours?
-Good right now for promotion purposes and helps widen our audience. We've been selling a lot of physical CDs and LPs so far so we can't complain...yet!
Which type of people comes to your concerts?
-All types. From punkers to rockers, from folk lovers to metalheads. Every walk of musical life really. We're lucky to have such a broad fan base. Division in music isn't something we're fans of.
Which type of people do you miss?
-The good ones! Anybody who's helped us and we don't see anymore! Also we miss our pals in The Misfits and everyone involved in that tour. Was like a big family on that tourbus.
Which is your strength as a liveband?
-Our songs. Without them we'd be just another bunch of musicians hopping around the stage like idiots. Image isn't everything. You've got to have substance to back it up.
What is the most odd thing which have happened when you have played , on stage or in the audience, please tell me something?
-Seeing the singer of the other support band on The Misfits tour stage-dive and land on his head at a gig in Norway. The crowd didn't bother to catch him and we could only look on in horror. Our drummer Erik accompanied him to the hospital and made sure he got looked after. Has put me off stage-diving for life! (not that I've done it before)...
Please rank your five favourite records, five favourite concerts and five most important things in life?
-Personally:
Records - Station to Station (David Bowie), Float (Flogging Molly), Definitely Maybe (Oasis), Zooropa (U2), Different Class (Pulp)
Concerts - David Bowie (Dublin 99), Blur, (Dublin 96), Flogging Molly (Stockholm 09), U2 (Dublin 09), Supergrass (Dublin 96)
Important things in life - Family, friends, happiness, music, beer.
First, last and most expensive record ever bought?
-First record - The Righteous Brothers greatest hits.
Last - The Misfits - The Devil's Rain. Most expensive - Tin Machine 2 (the one with the genitals showing).
Most embarrassing record in your collection?
-None at all. Perhaps The Righteous Brothers one?!
The record you must have in the tourbus?
-Anything with Thin Lizzy!
What do you think about living in Sweden today?
-It's okay, as long as you get on with your own thing. Nice to see the whole "Jante lag" thing is still alive and well! Should've asked me this question ten years ago!
Which is the most peculiar question you have got in an interview?
-This one or the one that's next! ;)
Actually a fan once asked if our drummer Erik liked dressing up in leather. Never did hear what he answered, haha.
Which is the question you never get but you want to have? Please ask it and answer it?
-Do you feel bands struggle a lot more these days to get somewhere?
Yes, most aren't even given a chance to prove themselves. New bands need to be encouraged and given the chance to play at festivals and as support bands to get their name out there.
Futureplans for the band?
-To release more albums and establish ourselves as a top live act.
For yourself?
-To give up Pringles and start working out! I say that every year but now I need to get things in motion. Also, continue playing and writing for the band.
Wisdomword? The truth is of course is that there is no journey. We are arriving and departing all at the same time. /db
Something to add?
-Thanks for the interview. Hope to see you at a show sometime soon! Visit our homepage at www.sir-reg.com
Cheers!
/Brendan