Sinners was band from Sweden which played garagerock and they I interviewed back in the 80´s now it´s the Belgian Sinners which is the ones which is being interviewed by me and here it is…February 2015.

Please tell me a little bit history about the band?
-10 Years ago, in a small town called Klein-Sinaai, in the North of Belgium close to the Dutch border, Tom, Tony, Maarten and Christof, formed the band Sinners. We had none or less knowledge of playing any instrument but felt the need to play some punk music. The first 2 years we rehearsed very hard and in 2007 we could play our first gig. 1 year later we were already selected to play on a large stage at the Fonnefeesten. After a shitload of shows in Belgium, our bass player chose to leave the band. In the following period we recorded a first split album with the band Working Class and played some gigs with a temporary bass player.
In 2012, Bert joined the band after meeting Tom at a local Bar. We decided to give it try. Bert, as an experienced player / Singer, looked like a good match for Sinners and we became close friends. In 2014, we recorded our first full album called Dead Conscience (20 songs) and in Spring 2015, we will release our second split album with the friended hardcore band Muckrakers.

Please tell me a little about every member in the group right now age, family, work, interests and something bad about everyone? Original members? Bands on the side?
-Our drummer Tony had the age of 38, is married and has two sons. He works in a bakery. Sometimes when we play a show, he has to take off to go to work till early in the morning. It happens that we play at ten PM and around eleven he has to take off for an hour and a half driving to his job to work till ten AM in the morning. He is a very driven guy, not the most technical drummer, but a very motivated and easy going guy. He has always been there from day one. He plays left-handed and has a left-kicking-food which is very tide. He doesn't use a double drum peddle, but still he has the talent to get the extra bass drum rhythms exactly where he wants to. In some way you can call him the working horse of Sinners.
Bad aspect: Tony used to be a retro-house DJ, one day he sold his whole collection of vinyl. Positive thing is that with that money he bought his first drum kit.
Christof age 34, has a girlfriend and has two young daughters. He works in the office. Beside Sinners, he plays in a stoner-rock-band called The Gang Bank, also from Stekene. He is the more skeptical member of Sinners, which is good cause he always points out to take things one step further. As leading guitar player, he tends to be a more low profile guy, but his shreds and flawless style makes him a pleasure to watch and hear. Some dare to say he looks a bit like Vinnie Stigma from Agnostic Front, you could say he could be the brother of Stigma, but this one is not from the N.Y. bronx, but made in Wasteland... Belgium.
Bad Aspect: When he is drunk, he likes to grab your balls, so be aware when he is around...
Bert is age 32 is the youngest member and joined later in the bio of Sinners. He has a long history of former bands and projects. Bert was already learning the art of guitar and bass in 1997 in a band called Acid Frog which was a basic joy-punk band with Singer Jeroen Cottenies who sadly passed away in 2014 (Where Are The Weirdo's, is a song from that band). Other bands he played were Sad Clown (which the song Skate And Destroy is originated from), Check Out My Ass, Knock Down, Killer Brand Bandits and Birdy Richman. Another active side-band right now, is Bonepicker where Bert plays guitar and sings, it's a drop tune Stoner Band, who will give their first try-out on the 2nd of May 2015.
On the professional side, Bert worked many years as a social worker, with youth and homeless people. He is the only single member in the band, so ladies take your chance.
Bad Aspect:...tumble weed, Bert tends to go over the top with jokes and stories, till everybody stares into the endless nothing, followed by a long silence...

Tom age 34, lives over the border in Holland along with his girlfriend and dog. He is the real manager of the band. All contacts or arrangements for Sinners, happens by him. He works for a company that trades stone tiles. He is also the leading man behind, the punkfest-shows that Sinners organizes two times a year. And when other bands are on tour, Tom arranges extra shows for them. Tom works very hard doing that and is quiet good at it too. He is a guy everyone knows and respects. He takes care of everyone and is a very kind and noble person. Tom future musical ambition is to play in rough rock 'n roll band. Beside Punk he is a big fan of Rockabilly and Psychbilly. It's always fun when Tom is around, he is always in for a party.
Bad Aspect: he is always farting during rehearsals.

I can of course hear some old punk here. I can hear both Discharge Exploited as well as some 80´s oi …what about that? Which bands are you being compared to??
-Of course, it is quite an honor to be compared with those pioneers in Punk History, but it is not that we try to copycat. We all have our influences and together we combine and sound like Sinners. It is our approach to Punk. We don't have the ambition of being high technical musicians, we work more with a base of simple structures and the energy we want to let out. Although we like to combine chords in a less orthodox combination, it is the energy and typical Sinners flow which makes us who we are. But some good straight forward riffs always remain the core business along with the forbidden beat and our typical vocal work.
Our sound can be compared with other bands like The Unseen, Dead Stop, Cut The Shit, Bones Brigade, etc... In general it all seems a bit like the early 80's hardcore punk mixed with a bit of 90's punk violence, but hey what's in a name? For us Sinners it is the uncut, pure and raw punk, as we like it.

Sinners where did the name came from(we have a swedish garageband called that)… Was it suggestions on any other name? Which is the best band name ever?
-The name Sinners is related to the hometown we came from, Klein-Sinaai with the 'sin' of 'Sinaai'.
Sinners has a bit of anti-hero status, no one is perfect, we all make mistakes and have to live with ourselves, but that doesn't mean that you can be a real person, who gives it a go, no matter what.
Best name ever might be My Dad Is A Cop or something... hehe don't know if there is a punk band called like this, but it would be funny.

What´s the best thing with playing live?
-The energy on stage and in the audience, when everybody is in... it is a hell of a party.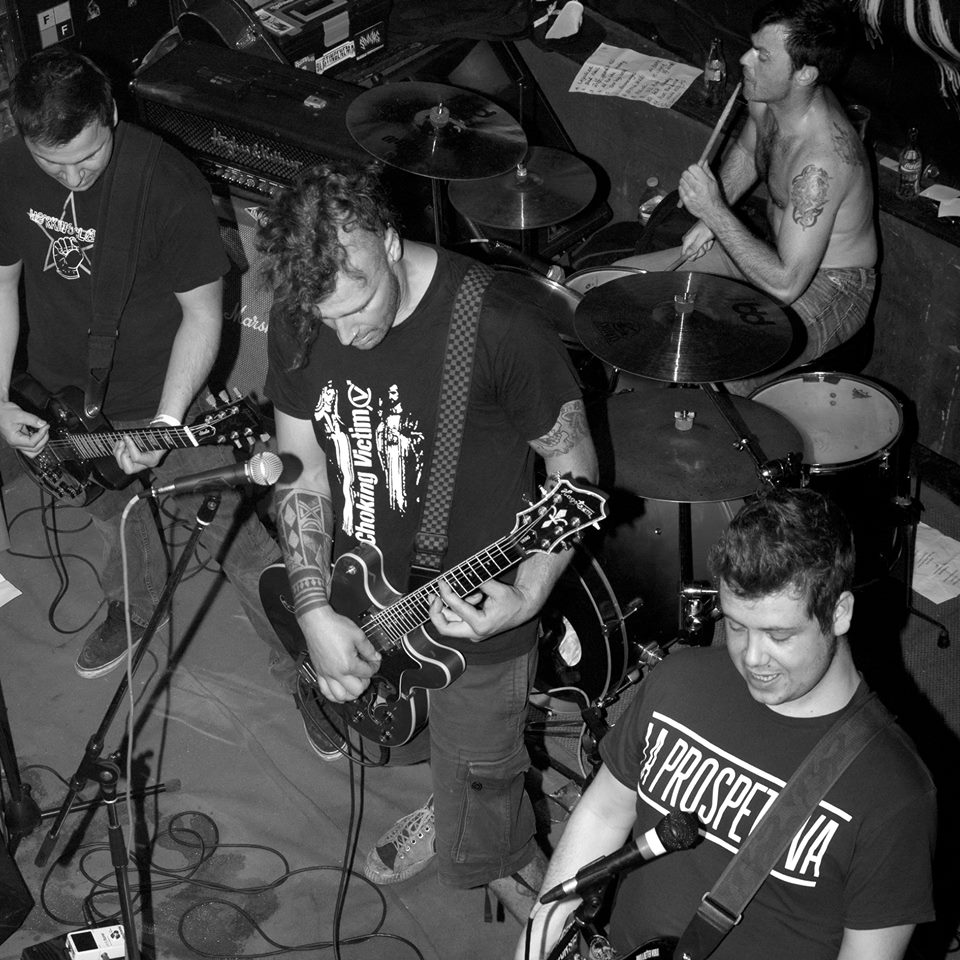 And where is best to play?
-Places where the respect is high, all people enjoy themselves and the beer is cold.

How is it to play this sort of music in your homeland? Is it a big scene?
-Belgium is a small country, and there are different scenes. With our punkfest shows and the bands playing there, we build up a sort of our own scene. But we always reach out to new bands and people, to create new chances and collaborations. We like the DIY principles, and if people stand together there are lots of possibilities. At this point, the punk scene in Belgium is rather fragmented an depends on regions an subgenres. But we don't care, we know people from the East of Belgium as well as friends from the center and all the other side of the country. We maintain a positive attitude, we give chances for young people as well for the more routine bands. Locations are relative and where ever we go, we make friends and connections for possible future projects. So we always look forward, with open minds and open hearts. Anyone is welcome to ask or propose any initiative.
How would you describe your music in three words?
-TIME TO REVOLT!!!

What does punk mean to you, is it only a word or is it a lifestyle?
-For me, punk is a big source of inspiration and how to look at and express our lives in an honest way, striving for more humanity, respect, integrity and fun. It is a state of mind, you don't have to listen to punk music to be a punk in my eyes. Its values are based on freedom, respect, honesty and daring to speak your mind, anyone who lives his life in that direction, is a punk in some way.

How do you see on downloading, mp3 and that stuff?
-We don't really mind, money is not such a big deal for us.

How is it to live in your homeland? Politically?
-Like the most parts in Europe, Belgium also suffers under the weight of the crisis. But life is quiet good here, if you turn off the mainstream media and not get cut in the political freak shows.
But it is a fact, that more and more people get aware of the situations of injustice and power abuse, that is a positive side, the down side is that our government, created a lot of people to be pro or against their decisions. I think there is still a lot of ignorance bleeding threw the suffering of many people here as well as other places outside Belgium. I think, that a political policy, that is not based on the wellbeing of all citizens, should always be questioned.

Is there any good bands from your homeland now? In your homecity?
-In our homecity, we are one of a kind, but from Antwerp you have Reproach, Toxic Shock, which are very talented bands, leaning more to the trashy side of punk. From the region of Brussels You have The End Of Ernie, with singer Lucce, who is a very good friend of ours. By spring 2015 we will be releasing a split album (also on vinyl) with Muckrakers from Hamme, who live in the same province as we. You have Working Class from the seaside of Belgium, very amusing guys with a very talented female drummer. And then there are many bands which whom we played together during the years, who don't have to cut short towards the others... As you look at it, there are actually a lot of good Punk-musicians upcoming, playing, passing, remaining and staying in Belgium.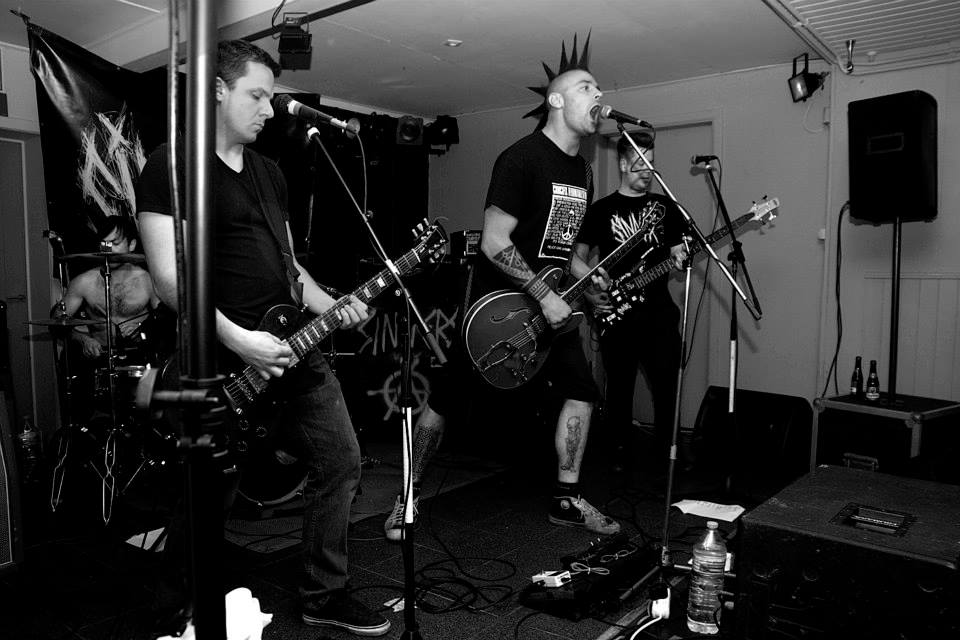 What do you know about Sweden? Have you been and here and played?
-I know the Burning Heart Records, 90's label, with Swedish bands like No Fun At All, Millencollin, 59 Times The Pain, NINE, Satanic Surfers,... I love these bands work. It is not quiet the music we make with Sinners, but in my years as young skater I bought some of their records and listened a lot to them even till this present day. I saw No Fun At All and 59 Times The Pain play in Belgium once, I must say I am a big fan.
Beside that I always assume there are a lot of pretty women in Sweden, but I can't tell, cause I 've not seen much Swedish girls, but that's the word on the street, and where there is smoke, there has to be fire (Belgium proverb hehe...)
But I guess nature must be very beautiful in Sweden, in Belgium everything is built with houses, roads and parking lots, especially in the North, not so much space and always a lot of people on a small terrain. Sweden has lots of space, I kind of like that image.
We have never been to Sweden for that matter, but the idea of visiting certainly appeals to us and If we could play some shows, it would be a blast.

Your lyrics, who does them and what influences you?
-Tom and I (Bert) write the lyrics. Most influence comes throughout of everyday's experience. We see a lots of things are not going well. There is a lot of struggle against conformity, injustice, arrogance, disrespect, people who get caught in the rat race, political or religious abuse, not being happy, not daring to stand up, to question what life is all about. We let our vision on these things and hope we can reach out and touch people who feel the same. All in all, it is a remark in the side-line, but we have learned that there are more people than you would first expect, who really can relate to what we are saying.

Is there any subject that you never will write anything about?
-I don't think so, it all depends on the things we are living through and what really affects us. Although I rather not be to political, we don't do self-censuring... If there is something that comes up, we will surely give it a go...

Politic and music, does it goes hand in hand? Which is your most political song? And your most unserious song?
-I find freedom of speech very important, music can be a good tool to sustain that. If the subject is something political, music can give it extra meaning. But we don't like to be preaching to much, or claiming that we have absolute rights over any truth. Life is much more complex than that. But you could say that it goes hand in hand. Punk has always been a reactive stream against the common way of life, especially when that common way becomes more of a treat for the wellbeing of certain groups of people, nature, animals or when people are left behind in misery or agony. Freedom and respect is very important in that matter. But to make something of a right or left wing political ideology, is not really what we are after.
- Flag Desecration - must be our most political song. It was written by Tom during the time that Belgium couldn't form a government for almost more than a year after the elections in 2010.
Our most unserious song would be - Where Are The Weirdo's? - it is an ode to all that is a bit weird but yet so enjoyable at the same time.

Best political band/artist?
-For me that is Bad Religion and Strike Anywhere

Do you think that music(lyrics and so on) can change anyones life, I mean people who listens to music?
-Yes, it did to mine.

Do you play any covers, if you do which are you doing?
-Yes we used to before, but now we don't play them as much... We played some Operation Ivy, Rancid, Casualties, Rolling Stones

Is it important for you to get out physical records? Why or why not?
-Yes, it is still something more than just some ones and zeroes on a hard disc.
Please tell me a funny thing which have happened during your career and under some gig? I can imagine that it´s wild
-Well it's what you call funny... I remember a gig outside on the Belgian coast, where all shows were over, and a young punk came to ask very polite and bit tender for some or more beer that wasn't drunk up yet... It was like if the beer isn't drunk up yet, you can give it for free, because the beer cannot be not drunk up, don't you think?
At the same town, we also did a gig in winter in a bit dirty bar. Our drummer had a big fan, concerning a little fat lady with a scooter and a pink helmet. During our show she yelled all the time she was in love with him and that Tony was hers, the face of Tony was hilarious.
And other show late 2014, an older very classy lady with cocktail dress, hair well cut and nice ear-rings was screaming along in the pit, when we opened our set, she was fully letting go, while her husband stood a bit blurry and shameful on the side line, watching his wife party along with a lots of young and rebellious punks... The grim look on the lady's face came from deep I guess, it was a big compliment that she put all her social ideas aside and just let the music roll... I was funny but at the same time, you saw the fearless, tight lipped look in her eyes, she was alive and kicking on a punkshow, while otherwise she would be somewhere drinking champagne and talking small talk on some fancy diner... Her husband well, he just stood there not understanding a thing of what was going on... Again the faces of these people spoke for them-selves.

How does your audience look like? Which people do you miss on your concerts?
-A lot of youngsters with leather jackets and mohawks, older hardcore punks, local people and friends.
We don't aim for certain people, everyone is welcome to party.

Please rank your five favoriterecords, five favoriteconcerts and five most important things in life?
-Bert:
Records: there are much good albums, but for as now...
RANCID – And Out Come The Wolves...
NOFX - Punk In Drublic
UNION 13 – East Los Presents..
SHUTDOWN – Few And Far Between
SUBLIME – 40 Oz To Freedom
Concerts:
- Rage Against The Machine (2000)
- True Colours (2010)
- Offspring (1999)
- Luvdump (2013)
- New Mexican Disaster Squad (2003)
Important things:
- (self)Respect
- Integrity
- Love
- Freedom
- Sunshine

To play punk in this form and become angry in the music, does it help people out to be calmer persons in the "real" life??
-I asked myself the same question once. With angry music, some people have a good outcome for frustration an suppressed emotions, which can be very healthy. If you swallow to much, it builds up and has to came out one way or the other... But you have to let go of the anger from time to time, if you are always angry with everything you live in constant conflict and that is not a pleasant way of living and costs a lot of energy. But when the heart is full it is good way to clear the air and start back again with your daily tasks and finding motivation, inspiration and pleasure to give it the fullest.

Is it boring with interviews?
-Depends on the questions, this is a long interview but certainly not a boring one. Thanks for the interest in Sinners.
Futureplans for the band?
-Just doing what we are busy with, making more music, new songs, new shows, new people, maybe playing in Sweden? Hehe, no we'd like to have a little tour once and a while, can be anywhere, but we look forward of being on the road, playing, seeing how life is elsewhere.

For yourself?
-Finding a good job this year, playing lots of music, getting busy with my other musical projects and see what comes out after a while. There is lot yet to be explored.

Wisdomword?
-Free beer for the punx

Something to add?
-Stay tuned for our split-release spring 2015... It's going to be the bomb.