Please tell me a little bit history of the group?
-We're a band from Barcelona surroundings. After 10 years of hard work and some lineup changes, we keep trying to make quality music.
Please tell me a little about every member in the group right now, age, family, work, interests and something bad about everyone? Other bands before?
-Our current lineup is as follows: Xènia (lyrics), Imanol (guitar), Jordi (bass) and Miguel (drums). Our ages go from 29 to 33 years old (my! We're getting old!). Xènia is a family doctor; she's interested in sports and is also a vegan activist. Miguel is a industrial mechanic, he loves drums (duh!) and fireworks (he actually manages fire and fireworks at local parties). Jordi is a chopper fan and also loves trekking. And Imanol... Imanol loves music. Our common imperfection? We're all soooo stubborn. And also not very original at interviews Smiley wink Imanol played professionally until 2011 with a band called KOP, and now plays with another band called Dejadeath. Xènia started her screaming and growling with a band called L.O.W and Miguel currently plays in a very veteran punk band called Ostiaputa.
I think I can hear both metal and hardcore in your music.. Am I right? Favorites from the past?
-Hell yes! On the first records is when you can listen to the most HC influence, is what we listened to and tried to play when we were younger. Our all time metal favourites? Pantera, Black Sabbath, Motorhead...
Silence Equals Death, who came up with the name, are you satisfied with it? Which is the best bandname you know?
-We just made a list of names and picked this one up. It comes from a Sick of it all song, actually. We're not completely satisfied with the name by the way... Lamb of God is a real good band name... but, you know... we couldn't properly choose a name for us... how can we judge what a good band name is? Smiley wink
What´s the best thing with playing live? And what´s the difference of playing now and when you started to play?
-The best thing of playing live is the aftershow beers (Miguel says). Nah, seriously, the best of playing live is when you get the audience feedback, when they jump, headbang and mosh pit... when they return the passion you're sending to them. That's the essence of it all. Now we feel much more confindent on stage than we did in the beginning, experience has helped us and we get to enjoy shows better. However, we get physically exhausted more easily, like when we play two gigs in two days... or even in one day (that has happened). We have to carry our shit from one place to another, assemble the equipment, wait for the show, play the show, dissassemble, carry it back to our rehearsal studio at 3 or 4 am... it's a huge effort.
And where is best to play? Is there any place you really hate to play?
-Bikini or Razzmatazz are good gigs in Barcelona. They have great sound without losing proximity with the audience. It would be awsome playing there with a big famous band. Places we hate to play at? The ones that make you pay big rent for shitty equipment (unfortunately too many of these).
How is it to play this sort of music in Spain?
-VERY DIFFICULT. There are many bands, few places to play and very expensive. Also the audience attending unknown band gigs is very few. In some other countries people go meet new bands and watch them play live just for fun, this isn't a habit here yet.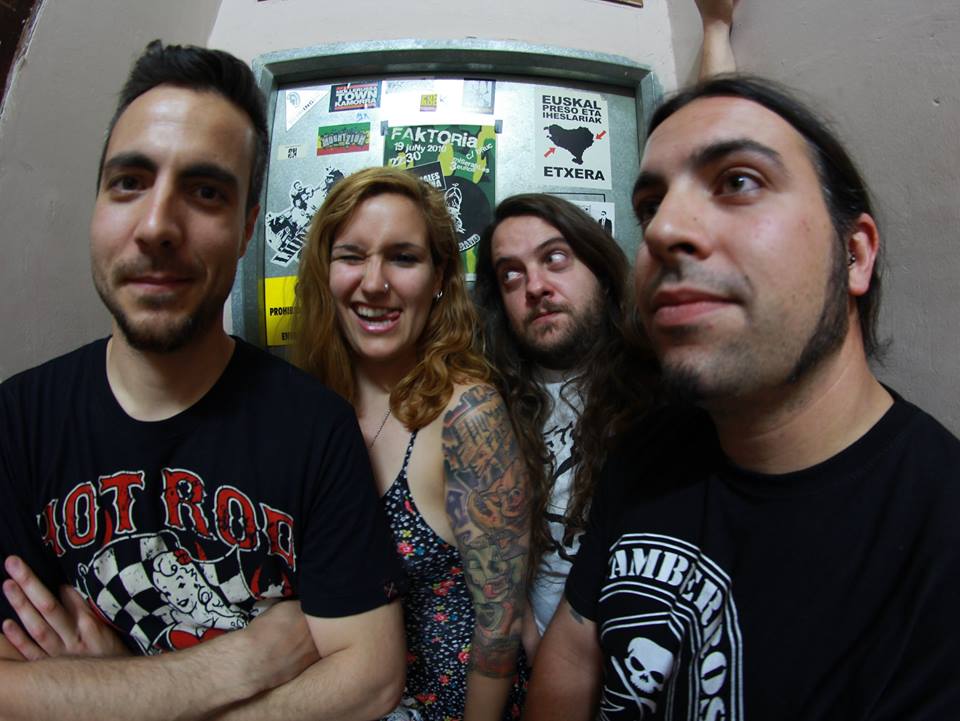 How would you describe your music in three words?
-"All" school metal.
What does punk mean to you, is it only a word or is it a lifestyle?
-For us is a music style that has some influence in our music. It is definitely a lifestyle, we have a strong punk community here. Also... you know there are sellouts everywhere, in every style.
How do you see on downloading, mp3 and that stuff?
-For us is a great platform to spread our music, one of the few ways people can get to know our work.
How is it to live in Spain now? Politically?
-Life in Spain is quite hard these days. The economic crisis has struck here strongly: we have a 25% unemployment rate, government corruption... and you can feel people's anger in the street. Politically it's just disastrous: politicians with huge wages, blackmail, black money, taxes and prices up, worker wages down...lies, lies and more lies. And all this shit comes from 40 years of facist dictatorship (Franco ruled from 1939 to1975) and a mock democracy that got installed later. Even we can still feel the power of Catholic Church ruling somehow, it never left... This is even worse in Catalunya. Dictatorship was specially cruel with anything different of the Spanish tradition and got nasty with Catalunya and Euskadi, and this somehow still floats in the air...
Is there any good bands from Spain now? Is the punkscene big?The metal scene? How is it in your hometown?
-Yes, there are many bands from both styles. As far as metal is concerned, we know and like Angelus Apatrida, Trocotombix, Moksha... Vrademargk are also good and from the city in which we rehearse. In terms of punk, the local scene is really strong, with bands such as Ostiaputa, Código Neurótico, S.N, Antipatiks...
What do you know about Sweden? Have you heard any good bands from Sweden?
-It's in the north, and it's cold... just kiddin Smiley wink Some of our favourite bands are from there! At the Gates, Entombed... And our beloved 90's HC: Refused, Nine, Abhinanda, Breach...
Your lyrics, who does them and what influences you? Never in spanish?
-Most of them are done by Xènia, Imanol also writes lyrics sometimes. We're basically influenced by what's happening around us. We do have some lyrics in Spanish: .44, No preguntes and Demencia/Terror are in Spanish.
Is there any subject that you never will write anything about?
-Tough one... probably message-less porno gore of somekind xD
Politic and music, does it goes hand in hand?
-It has to, given the circumstances aroung us.
Best political band/artist?
-Su Ta Gar, Kortatu, Soziedad Alkohólika...
Do you think that music(lyrics and so on) can change anyones life, I mean people who listens to music?
-Of course! It has happened to us with other bands.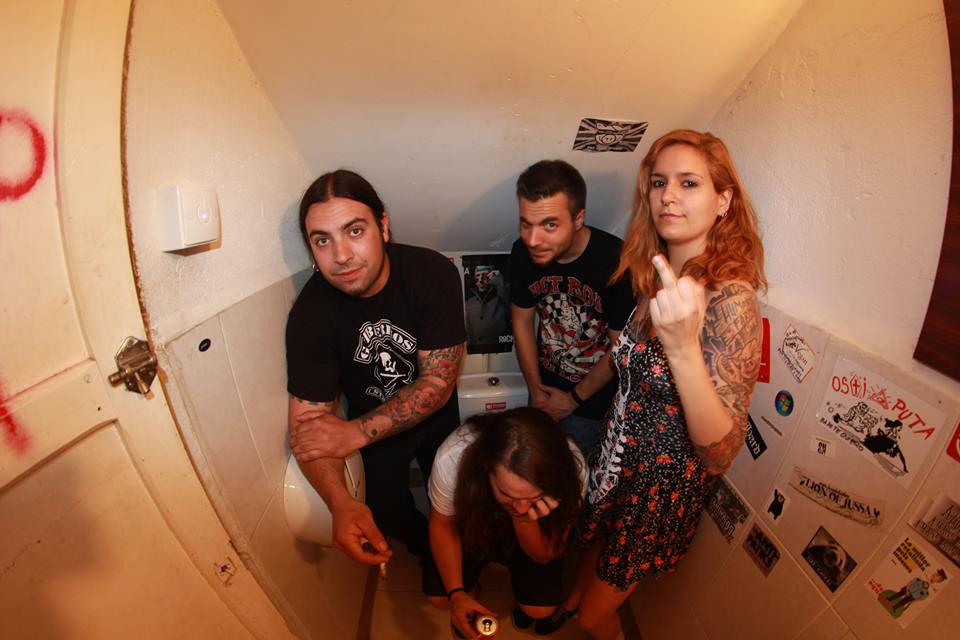 First record, last record and the most expensive record ever bought?
-IMANOL: - First: Por Instinto (Barricada) - Last: The Real Thing (Faith No More) - Most expensive: Solid Gold hits (The Beastie Boys, vinyl)
MIGUEL: - First: Ride the Lightning (Metallica) - Last: Resolution (Lamb of God) - Most expensive: doesn't remember Smiley smile
JORDI: - First: Rebellion Records Compillation (doesn't remember issue) - Last: Death is the Communion (High on Fire) - Most expensive: Dope Smoker (Sleep, vinyll)
XÈNIA: - First: Somewhere in Time (Iron Maiden) - Last: Wellcome to Hill Valley (Kyuss) - Most expensive: The Hunter (Mastodon, vinyl)
Is it important for you to get out your records physical also? New stuff on it´s way? Label?
-It is. We've always thought having a physical format gives more value to the band's work. We have new stuff coming, but not recorded yet. We do not have a label. Everything is self produced.
Please tell me a funny thing which have happened during your career and under some gig?
-We went to play this time in the north of Spain. We were promesed a place to spend the night, we were really tired cause we had been playing for some days. We went to this awful apartment... it was full of shit and the bathroom had this sado-masoquist print all over with flying dicks, masks and straps... omg, it wast pure surrealism. Slept with one eye open x'D
How does your audience look like? Which people do you miss on your concerts?
-Variety is the word: from lumberjack shirts and trucker hats to leather jackets and patch vests. The only people we miss on our concerts is the people who doesn't come. Everyone's welcome (except for nazis, they will get their asses kicked very badly if they show up).
Please rank your five favorite records, five favorite concerts and five most important things in life?
-We answer this one together:
5 FAVOURITE RECORDS: Vulgar Display of Power (Pantera), II (Led Zeppelin), Sabbath Bloody Sabbath (Black Sabbath), The Way of All Flesh (Gojira), The Shape of Punk to Come (Refused). This was hard, we could add 1000 more...
5 FAVOURITE CONCERTS: AC/DC, Meshuggah, Rotten Sound, Lamb of God, Gojira.
5 MOST IMPORTANT THINGS IN LIFE: Family, Health, Music, Solidarity (towards people and animals)... and the fifth thing... we doubt between sex and a zombie apocalipse.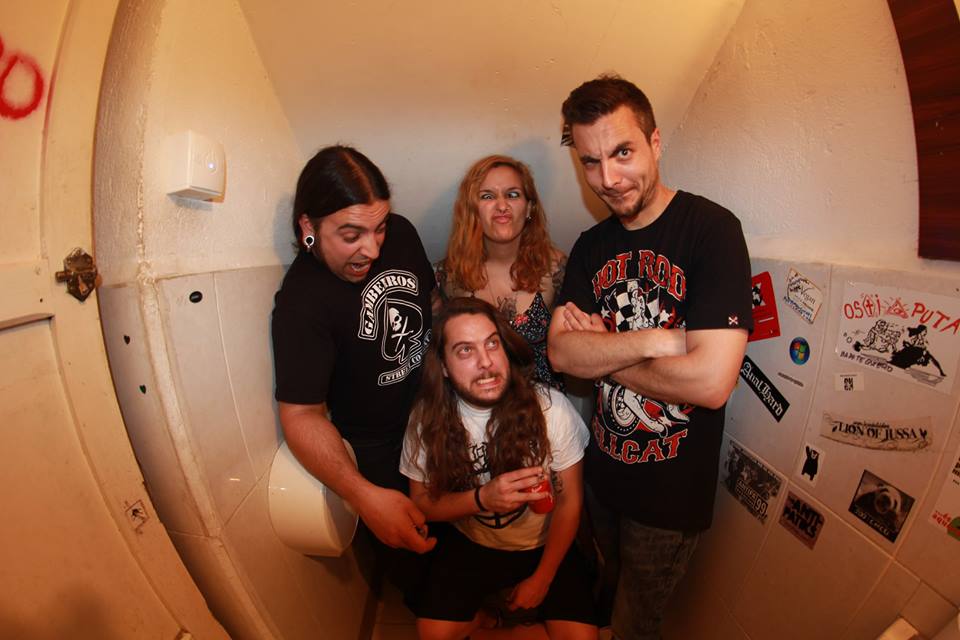 Is it boring with interviews? Is it much interviews??
-It's not boring, but it's difficult. We don't get many of them.
Please ask the questions you never get but you want to have, ask it and answer it?
-Do you want to get interviewed? Yeah! Smiley smile
Future plans for the band?
-Play live, composing songs... you know, the usual.
For yourself?
-We all dream about making music our job, our lifestyle, but unfortunatelly it's not possible, so we all keep on working hard in our daily jobs, spending time with our families, making a living.
I think your cover on your CDs is really nice, who came up with the ideas? Which is you favorite cover for a record, which band and which record?
-Imanol does all the designs. He is a big fan of western movies and he always tries to avoid the CD covers looking like a typical metal band cover. A very nice cover is the one for Red Fang's album Whales and Leeches.
Wisdomword?
-"Do or do not, don't try" Master Yoda
Something to add?
-Thanx for the interest, it would be cool to do this more often.