Sick of Society from Germany is a really good band which I really appreciate. This interview was done in October 2014.
Please tell me a little bit history of the group?
-Originally the band was founded in '89 as WICKED POWER but got renamed in '93 into SICK OF SOCIETY due to line-up and musical changes. Since 1993 the band was never on hold, we permanently played shows and released CD's as well as diverse demo tapes and a DVD. Currently we are working with a replacement guitar player/singer as Fizzi had to leave the band this summer after 23 years because of health reasons. This means we are now looking for a new front man being able to fill Fizzis very large shoes. So potential prospects – male or female – just in touch … we are waiting for you!

Please tell me a little about every member in the group right now, age, family, work, interests and something bad about everyone?
-Well, Steini and I, we are just two normal, but too good looking for this world guys. We are no longer in our twenties, never succeeded living on music but still love to play our own interpretation of PunkRock music. There's nothing bad to say about us as we belong to the "good guys" … just ask our wifes.

Sick of Society….an English name, why nothing in German?
-Pretty easy – when we were looking for a new name in 1993 we never ever spent a thought on using a German name. All our lyrics were in English, so why should we use a German name? Nowadays, where most of our lyrics are in German it would make sense going for a German name but hey, why should we go for another band name after more than 20 years?

Your influences are many I understand but somewhere I can hear Swedish trallpunk I mean bands like Asta Kask , Strebers and those band, am I right?
-Right! Fizzi, who wrote all our songs, is a huge fan of ASTA KASK … so yes, you are right. There are definitely some influences from the mentioned bands in our sound. But apart from that we always tried to integrate Metal and HC aspects into our music. We like to keep everything as flexible as possible of course without leaving the path taken – PunkRock music!

What´s the best thing with playing live? I can imagine with your fast music that it´s wild?
-Playing live is the ultimate essence of having a band. Writing songs and releasing them on albums is for sure the basis but without performing the written songs live the whole thing isn't worth anything – comparable to sex: what's the sense of having sex without climax? J.
Being on stage with all the sweat, beer, noise, chaos and feedback of the crowd just fuckin' pushs – it's the fuel that makes the SICK OF SOCIETY motor run.
Wild? Well, at least on stage all our shows have been wild so far … we'll see if the future line-up(s) will be able to keep that level.

And where is best to play?
-All venues that serve enough cold beer, provide at least gas money and care about the bands are worth playing at. We do not have any preferred venue, city or country!

How is it to play this sort of music in Germany?
-It's just pure fun! If SOS would be a North Korean band I probably would have answered "deadly" but for all the places in Germany we've played at (and abroad) it just fun!
Of course there's a huge scene in Germany with a lot of bands all looking for shows but somehow it's always possible to get a gig.

How would you describe your music in three words?
-Beer-impregnated anarchic PunkRock!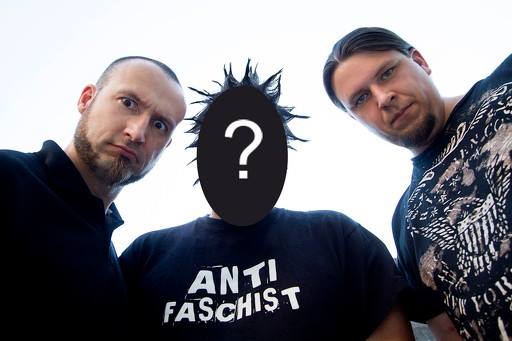 What does punk mean to you, is it only a word or is it a lifestyle?
-My personal definition of Punk is actually pretty easy: freedom (in all its facets) in a peaceful environment resp. the attainment of this condition! Punk in the first place has in my opinion nothing to do with cloth, hairstyle or even music. It's only about inner attitude.
So for me it's neither only a simple word nor shallow lifestyle with spiky hair, tons of beer and a rat on my shoulder. Punk is attitude!

How do you see on downloading, mp3 and that stuff?
-As we will never ever make big money with the band I do not care if people download our stuff from shady internet sources. Personally I do not look for free (illegal or not) download music … I still prefer having a physical product (CD) in my hand. If you can square illegal downloading with your conscience … do it! I won't judge you … but most probably somebody else J.

How is it to live in Germany now? Politically?
-There's food in my fridge, I have a job and a roof over my head – so personally I can't complain. Currently I am much more afraid about the global situation. There are so many trouble spots all over our planet that I constantly ask myself – why the fuck people do not get wiser? Didn't we see enough wars, misery and ignorance in the past? Where does that all lead to? At the moment I have reached a point where I turn off the radio or TV when the news are on because I do not stand to hear all that madness. Sad but true …

Are there any good bands from Germany now? Is the punkscene big?? How is it in your hometown?
-There are tons of good but also terrible bands like everywhere else. I'd say that the scene is pretty big but to be honest I'm not that much into scenes. I do not like to be part of something that limits me. My hometown? Haha … good joke. Vöhringen (little city with 12 k inhabitants) has nothing to offer punk-wise. It's not worth mentioning it at all …

What do you know about Sweden?
-Sweden is one of our (me and my wife) most popular vacation destinations (we spent our honeymoon in Sweden). Apart from vacation I've been several times to Sweden biz-wise. I am no Sweden expert but I really love the relaxed mentality of you guys. I have also been several times to Finland, Norway, Denmark, Iceland but Sweden is my personal #1. The only thing I do not like is the fact that you have to buy expensive beer (the normal one) or alcohol in separate stores (had to show my ID when I was almost 40 – ridiculous).
… and most important: Sweden is the home of so many extraordinary bands and talented musicians – no comparison to other European countries!!!

Have you heard any good bands from Sweden?
-Years ago, I have been in touch with PSYCHOPUNCH from Västeras. We always met when they were on tour for some beers. Nice guys!
Of course I love old Dismember stuff, Arch Enemy or Amon Amarth are fantastic, I remember Dark Funeral being extremely funny back in 1998 when I was on tour with those guys. Spiritual Beggars are great, etc., etc., etc. … and you won't believe it, but I also like ABBA (they wrote fantastic pop songs back in the 70's).

Your lyrics, who does them and what influences you?
-Fizzi wrote most of the lyrics. The rest (about 25 %) was written by me. We do not write about nonsense like fantasy or science-fiction stuff. We just get influenced by the daily life. You hear a word, see a report, speak to somebody and BANG – there's the idea for a new song! That's it … not more not less.

Is there any subject that you never will write anything about?
-It's definitely not worth losing one word about non-alcoholic beer! I'd never ever write a single word about that. Apart from that everything is possible and interesting enough for SOS lyrics.

Politic and music, does it goes hand in hand?
-No! Why should it? There's much more than only politics to write about. Of course "music with political lyrics" is a construct that always works but it's for sure not the one and only.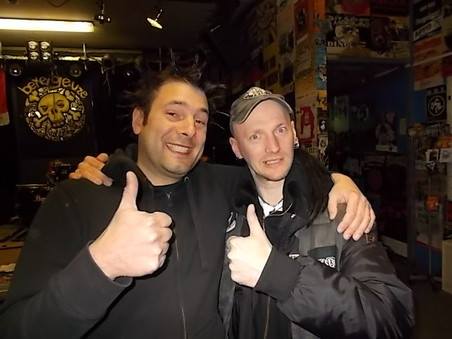 Best political band/artist?
-Napalm Death!

Do you think that music (lyrics and so on) can change anyones life, I mean people who listens to music?
-Absolutely! That's why I meanwhile think – yes, it was not always like that - you never should miss the chance to write lyrics that have a meaningful message instead of fudging a fictive story without a strong statement. In my opinion that's the responsibility authors have.

You don´t look so punky but you play punk as fuck I think…..howcome , isn´t it interesting to dress like a "real" punk?
-Haha … what do I need to wear to be a "real" Punk? How do you want us to look like?
As I mentioned earlier in my opinion Punk is much more than only a particular way to dress. Punk is attitude – the way you think and the way you act is Punk but not the color of your hair or the size of your spikes. I do not care what people wear or the scene police wants us to wear – attitude is what counts!

Some of you´re up in age I can think. Whats´the difference playing nowadays if you compare when you started to play?
-The major difference is that we are hopefully a little bit better at our instruments … at least a bit. But in general it's the same. It's still fun to play shows!

Please tell me a funny thing which have happened during your career and under some gig?
-The strangest thing happened about 4 or 5 years ago when a 2 m tall and 150 kg heavy OI-Skinhead entered the stage during our show together with a huge glass. While playing he pissed into the glass, drank out of it and poured the rest over his head. After a while the stage was extremely slippery because of the piss on it so that Fizzi ended up in a puddle of piss like a beetle. You can imagine that we were kind of confused nevertheless we did not stop our show … we never again had such an interesting co-performance on stage. Further details I'd like to spare out because they are X-rated … believe me, on all pics of that gig we are extremely stupid looking!

How does your audience look like? Which people do you miss on your concerts?
-Our audience looks like the band – fantastic! Apart from that our music offers something for everybody … Punk, Metal or HC kinds. Even people that normally do not listen to PunkRock music often like what they get to see at a SOS show.
We do not miss particular people but just more of them in general. In any case we do not want to see Nazi scum neither at our shows nor somewhere else!!!

Please rank your five favorite records, five favorite concerts and five most important things in life?
-The records thing is impossible as there are too many good albums.
Shows are a little bit easier:
1. Slayer 1990 in Stuttgart
2. Madonna 2006 in Düsseldorf
3. Casualties 2013 in Aalen
4. Casualties 2012 in Stuttgart
5. DRI 201x in Ulm
A lot of terrible things happened in 2014 that's why there's only one answer to what's important in life: simply health!

Is it boring with interviews? Which is the most stupid question you ever have got?
-Interviews are never ever boring except interviews that consist completely of uninspired standard questions. I need to get the feeling that the interviewer at least knows a few minor details about the band he/she's going to interview. Otherwise it's a waste of time …

Why do you sing in both English and German?
-Well, we started in the early days with English but had to find out around 2007/2008 that a lot of topics can be expressed much more into your face using our native language. Nowadays most of the lyrics are in German. Nevertheless I do not like to give up writing English lyrics completely. I still have some ideas for English lyrics. But currently it seems that the next album will only contain German lyrics.

Future plans for the band?
-For 2015 we had a lot ideas and plans but due to the unplanned line-up change a lot of things are canceled resp. on hold.
Of course priority has to fill the gap in the current line-up. Although we are happy with Fizzis replacement we think this won't and can't be a permanent solution. Time will tell if we find somebody that fits into the line-up. At the moment we are still confident and not willing to give up. Throwbacks are never funny but important is what you are going to make out such a frustrating situation. We are willing to make the best out of it and just go on!
In any case we'd like to continue the songwriting process for a new album. Hopefully we'll be able to start recordings sometime next year. In December we are going to discuss the strategy for the songwriting. In the meantime the temporary line-up needs to get fit for the upcoming shows in November/December.

For yourself?
-Just keeping well and fit until it's time to rest six feet under someday!

Wisdom word?
-If you don't live for something you'll die for nothing.

Something to add?
-Peter, thanks for the interesting interview. It was a pleasure answering your questions. To all your readers – check out www.sickofsociety.de or our fuckbook page (link see webpage). Cheers!

<![if !supportLineBreakNewLine]>
<![endif]>