Shivvies from The Netherlands have sent me a cd which a really good one. They took some time to answer my questions and this was done in October 2022.
Please tell me a little about every member and the history of the band?
-We've got Michiel and Robert from The Real Danger, a long running punkrockband from all over the Netherlands, and myself from bands like The Windowsill and Giant Eagles, I also used to be in a band called The Apers. We're all very much veterans in the Dutch punkrockscene and know each other well. It was Michiel who wanted to start a band and try and pay a little homage to the band Ramones and The Riverdales. That genre in particular. We wrote some songs, rehearsed a couple of times and recorded an album. This was done in the corona years of 2020 until late 2021. Michiel is a graphic designer, Robert works at a company that produces tickets for public transport and i work at a newspaper.
Your music is a style which came foreward many years ago, how come that people plays this sort of punk today?
-Because we all love the band Ramones, and because it's fun. But also because, if you want to do it right, it's hard, wich makes it more fun. There are not many buttons to push or handles to pull, musically. The limitations in which to operate are there. So if you succeed in making a reasonable good record, you've done good. I think.
The name Shivvies where did it came from? What does It mean…
-We had a lot of names and we kind of ended with Shivvies after a long time discussing. It's a selfmade knife of some sort. Like what you would need in prison to fight the gangsters in the courtyard.
Is it still important to release physical things? Or can you feel that you have done a record if you only release it digitally? Have done anything more than The Shivvies-CD?
-Ofcourse! We will always want to release physical stuff, that is the fun part right? I very much understand that everything should also be digitally released nowadays, but there are still a lot of people who like to touch records and have them in their hands, i mean, vinyl sales are going through the roof, it takes almost a year from pressing plant to product, that's how busy they are right now. The record came out on vinyl (and cd) on Shield Recordings from the Netherlands and on tape on Memorable But Not Honarable, a tape-label from the US.
You have never been to Sweden and played or been here as tourists? If you not have when do you come?
-No, never unfortunately. They say it's very nice. I don't think that we as a band have any plans to tour in that direction. Touring takes time. We don't have that much time with everything going on with everybody these day. I think Michiels sister lives in Sweden, or maybe it was Norway, i can't remember.
Which countries have had the pleasure to be hearing the band live?
-We've been to Belgium and we have some upcoming shows in Germany. And The Netherlands ofcourse. But we've only did 12 shows or something like that. We're still pretty new.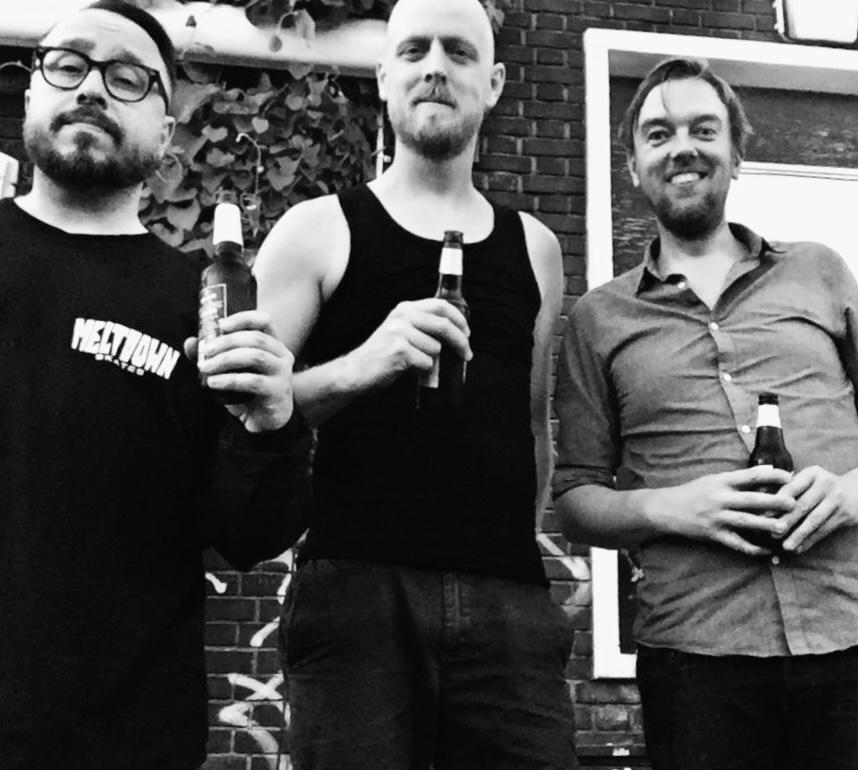 When you do songs, how do you do, are you jamming together or do someone comes with a lyric and some with the music or how do you do your songs?
-No, it's either Michiel or me with a semi-complete song, musically and lyrically . We go through it and tweak if necessary. We did write some words for verses or chorusses for each others songs, but the arrangement is pretty much always already there before we enter the rehearsal room. Jamming sucks. Unless you are Bob Marley ofcourse.
It seems like you have influences from Ramones, poppier Fat Wreck-band etc…other styles you like?
-Yeah, definitively Ramones. But also The Undertones, The Riverdales, Huntingtons. We're purposely trying to be influenced by that style. But it's not all we listen to. Michiel listens to a lot of hiphop and hardcore for example.
Please tell me a little about the following lyrics….and who wrote it and why?
-Creepy Vibes Michiel: it's about a guy giving off creepy vibes in the local disco. It happens, and it sucks. Just act normal around the ladies
Esperanza Michiel: it's about a girl that Michiel can never have. It's the classic can't get the girl thing (without giving off creepy vibes, but instead, serenade her with a sax solo)
Phone Booth It's about me waiting for my love, who sadly has been murdered
How is it to live in The Netherlands nowadays, racists, politics,covid, etc? How is it to be a punkband there?
-The Netherlands is and probably always be a great place to live in. Sure, you could problematize plenty of things going on, like the environment for example, or the shortage of houses to live in for everybody, which is created by the environmental thing, and so on. But the overall feeling is ok, for us at least.
Are you calling yourself a punkband, hardcoreband, or just call you a rockband? Is it important to mention punk in the same time you talk about your band? What is your thoughts about punk when you started and if you compare with punk today?
-We are a punkrockband. Punkrock because of the style we play, and because of the diy attitude. We're not singing about the empoverished working class or about the system. But we might do that someday. If being anti is your definition of punk, we're not those kind of punks.
Do you have any favorite football team(I support Arsenal(England) and a Swedish team called GAIS myself)?
-Robert likes Ajax (from Amsterdam), I like any team from Rotterdam that can beat Ajax, and Michiel isnt really into football, but when the national team plays, he will watch.
Beer is expensive in Sweden. I have a very big interest in beer and brew myself? Your favourite beerstyle ? You don´t have an own Shivvies-beer? Or maybe you are straightedge?
-I guess when you get older the more expensive ipa's are my go-to stuff at the moment. But we usually also drink a couple of lager beers when rehearsing. If i would have told my younger me about the great milkshake IPA I had yesterday, younger me would probably say i was being silly.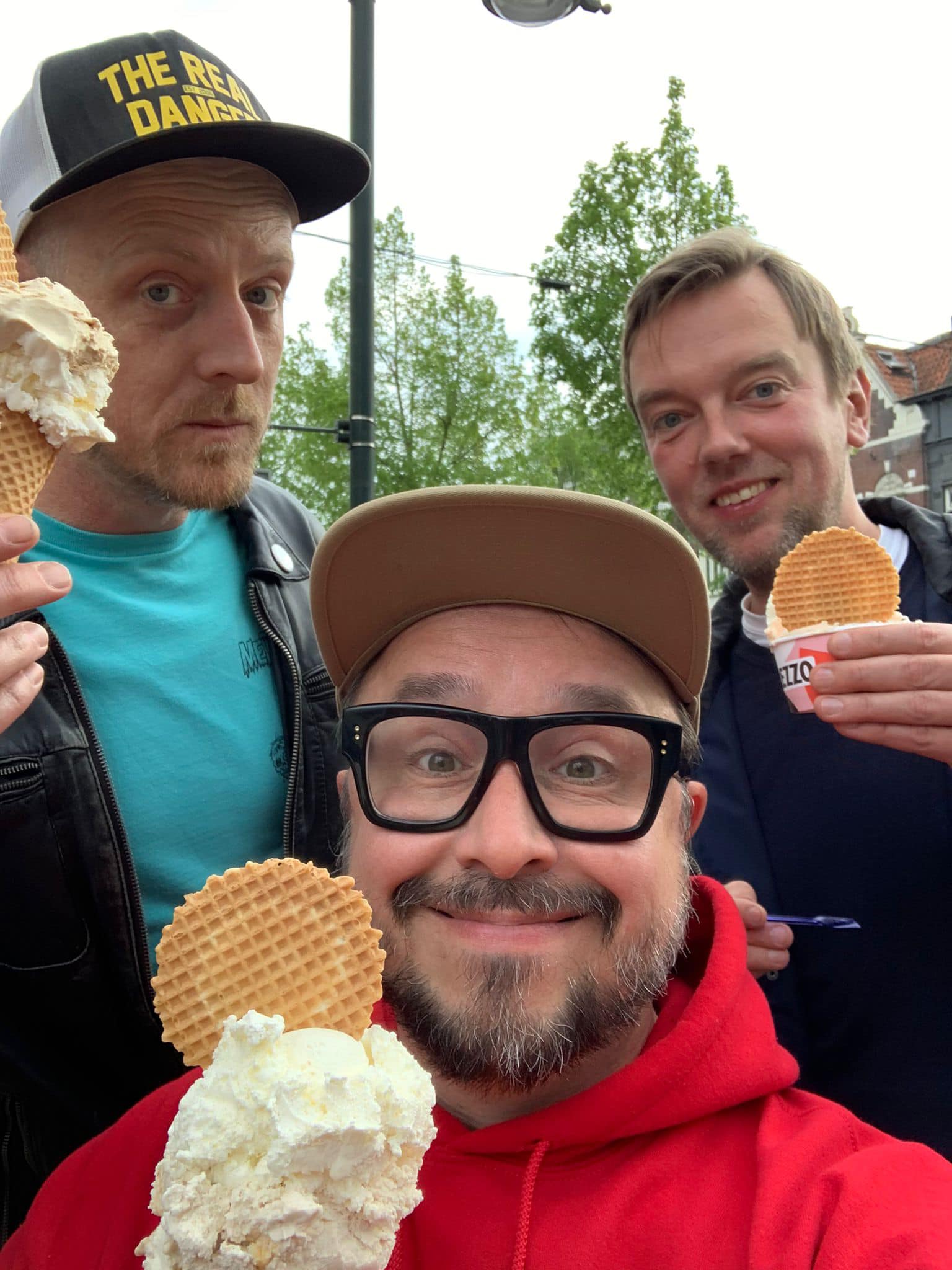 Is there any good bands from The Netherlands worth to mention? And how is punk living on in The Netherlands right now?
-Lone Wolf is a good band, check them out. They're in the US right now for some shows (mid october). The other band of Robert and Michiel The Real Danger is also very good.
What is your strength when you play live?
-Short set, tight set, some short tight jokes from the guys in front.
Which type of people comes to your concerts? Which type of people do you miss?
-I dont really see a subcrowd in our audience. It's friends, older guys with beards, young girls, hardcore kids, punkrock dudes…. I don't know, just people.
Do you buy much records, or is it only Spotify and those type of things to listen to music? Any good record store?
-I myself buy a lot of records still, I like to keep track of the European punkrockscene, and try to support that. But i also go on discogs and get those records i still miss in my collection. I just recently I spend over a 100 euro's on some Turbonegro records.
Are you selling any merch on your gigs, do people buy it? What sells best?
-We have only one record, but it sells. T-shirts sell better though.
Which is your own favoritesong among your own songs? And which song is the people choice?
-We're actually writing a lot of songs at the moment for our second album, so my favorite might be some of those. But spotify aka 'the peoples choice' clearly likes Goodnight Baby and Phonebooth the best.
What´s the biggest difference when you plays live nowadays if you compare when you first started to play in a band?
-I recently bought a very small, fits-right-in-your-hand-digital amp. I love it! And it does the job. So much better than carrying those jcm 800's up a flight of stairs like we used to. I think we have over 2.000 shows played between the 3 of us. We kind of know what to expect and what to do. You know, like Kobe Bryant.
Do you care about reviews? Which is the most peculiar you ever had, with this band or any other band you have been to?
-Haha, I've had some very weird ones with the Apers back in the 90ties. We were at that time maybe the only band playing Ramones-style music, and people had to adjust to that genre here in the Netherlands. The weirdest one was from that period: 'prakke prakke, ploenke ploenke, nice for these monkies' That was it.
If you could choose five bands from the past and the history and nowadays and both dead and living bands to have a concert together with your band. Which five have you been chosen?
-Ramones Thin lizzy with Phil Lynott Fountains of Wayne
Is music a good way to get out frustration and become a nicer person outside the music?
-Maybe, nice theory. I do think that touring helps you experience the highest of highs and the lowest of lows. That is when you truly see who you are as a person.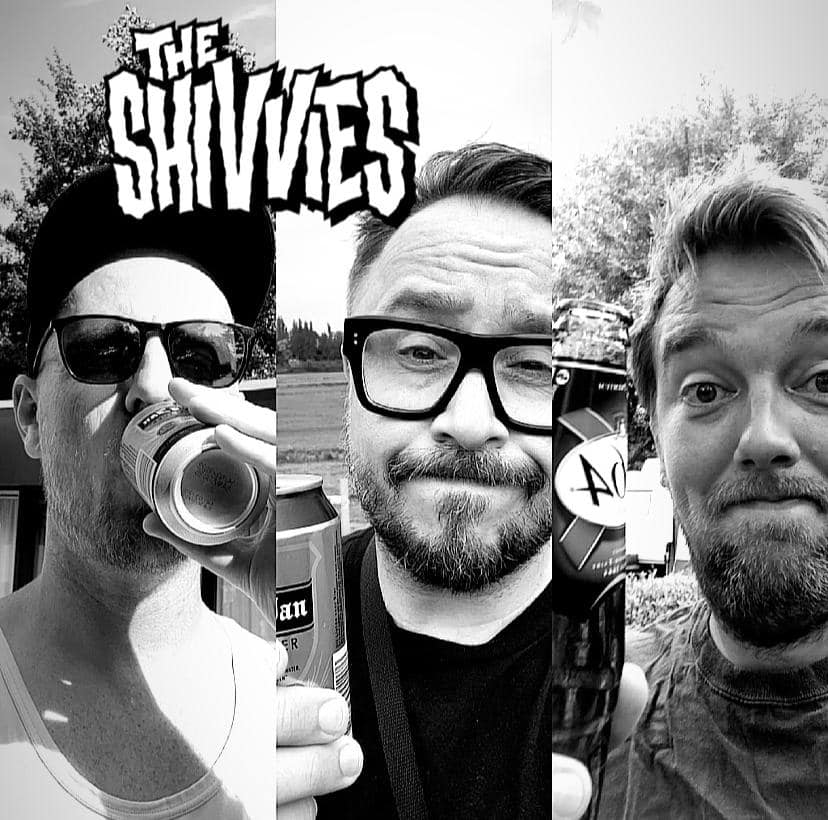 Are you only sing in english , never in dutch? Have you ever done a politic song?
-Yeah, we sing in English, but i would love to write some songs with Dutch lyrics. I've done political songs with other bands of mine, but never with The Shivvies.
Any good Swedish bands you like?
-I really like The Caesars, Soundtrack of our Lives, The High Hats, are they from Sweden? and ABBA of course
Is it boring with interviews? Is it much interviews? What do you prefer Telephoneinterviews, face to face or as this one via e-mail?
-I like interviews, no problems with them
Futureplans for the band?
-Most important plan is to record the second album. That will be fun. Also, maybe do a show in Italy. As for the rest, we don't know, we'll see it when we get there.
Futureplans for yourself?
-Stay calm and carry on
Wisdomword?
-Don't worry too much, life is short
Something more to add?
-Holland, champion of the world 2022 Slava Ukraini Embrace the rainbow