Shifters os a really good rock n roll band with a lot of punk in their music. Here they answers a lot of questions from me in January 2007. I hope you enjoy the interview as much as I did.
History?
-It all started back in 2001, it was a different line up back then. The Shifters, as we are today dates back to 2004. it's what we call the "real line up".

Please tell me a little about every member, age, family, work, interests and
something bad about every one?
-Marty Marty: singer, guitar, beer chugger extrodinaire.
-Mike-e: drummer, jagermeister and corona enthusiast.
-Eric bhell: bassist, hotel and motel party man.
-Nick evil: guitar, tequila junkie.
Lets just say what happens on the road, stays on the road;)

My review of your record is like this SHIFTERS-MUSIC FOR SINNERS(CD-SPINERAZOR RECORDS SRZ-93) Rock n roll I feel to shout when I hear the Shifters because here it's really rock n roll which is the thing. 11 fast songs in true garagepunkspirit and thereīs many groupnames which goes around in my head when I hear this group. They have really primitive sound in some way but that does the whole thing really cool in some way. Cool songtitles with the Pistols pastiche Holidays in the sin. Nick and Martys guitars is really gives us noise and the whole thing is really distorted and nice with much melodies and it's a really fun record to listen to.(SEVEN) 16/1-07
What about it?
- Well first off we're glad you liked the album, and about the review? (well thanx;)

Is there any other bands youīre being compared with?
-Yes, we've been compared to: Social D., Motorhead, AC/DC on steroids, Supersuckers, Nashville pussy... It's always a complement to be compared to such great bands, we did not reinvent rock n' roll but we sure love to play it.

Do you care about reviews? Which is the most trustful, the bad or the good one?
-For sure we care about reviews, its always fun to read about what other people think about our music. Some people get it more then others, but still its always a blast.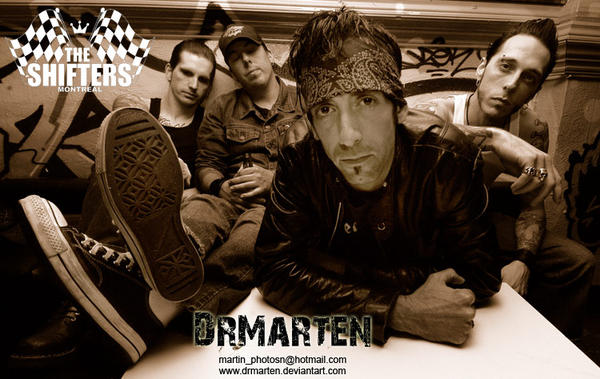 Which is the most peculiar review you ever have got?
- One review compared us to Guns and Roses, Use your illusion era, I mean did she really listen to the album or just look at the cd booklet?

How would you describe your music in three words?
- Booze, cars, chicks and wips.

How is it to live in your homecountry? Is it so that you talk both english and french?
- Well in our home country, Canada, its mostly english, we are from Montreal Quebec which is bilingual.

What about the government?
-Crooks

Do you think that music and politics goes hand in hand?
- Not in the Shifters.

Best political band?
-We are musicians not politicians.

You have never thought of singing in french?
- Not really, to us rock n' roll's universal language will always be english.

Is there any good bands in your homecountry now?
- Too many to name, just in Montreal alone we have so many excellent bands.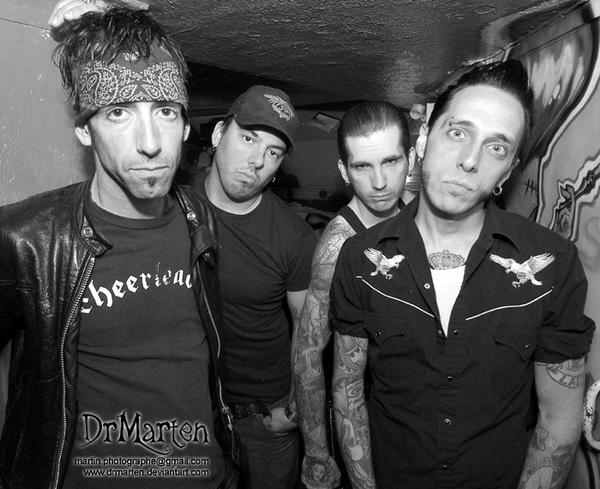 What do you know about Sweden?
- We love the Sweden scene, great fucking bands and we heard that the fans are diehard rock and rollers.

Have you heard any good swedish bands?
- Yes, to name a few, we like: The Bones, Backyard Babies,

What does punk mean to you, is it only a word or is it a lifestyle?
- It's a lifestyle, its all in the attitude baby.

Please rank your five favourite records, five favourite concerts and five
most important things in life?
-Mike-e: cd's(not in particular order) 1-Black Sabbath, We sell our soul for rock n' roll.
2-Kyuss, Blues for the red sun.
3-Led Zeppelin, II.
4-AC/DC, Highway to hell.
5-Social Distortion, White light, white heat, white trash.
concerts (not in particular order) 1-Metallica
2-Slayer
3-Social Distortion
4-Queens of the stone age
5-Beastie Boys
important things in life: (not in particular order) 1-family
2-music
3-booze
4-girls
5-rides.

First, last and most expensive record ever bought?
-Mike-e: 1st: Iron maiden, Iron maiden.
Last: The Bones, Straight flush ghetto.
Most expensive: Slow Burn, Amusing the amazing.

Most embarrassing record in your collection?
-Mike-e: I have uahuge collection of cd's they spand from when I was like 14, I'm proud of my music roots, so all my cd's are good and everyone I own brings back great memories.

Do you do any covers on stage? Why or why not?
- Yes we try and add at least one cover a night, depends on how we feel, sometimes we'll play The Ramones, and others The Sonics, its just fun to play a song from a band you admire.

Is it many interviews? Is it boring?
- Yeah we do lotsa interview, some are more boring then others, but all in all we really don't mind doing interviews, we like the fact that people are interested in what we have to say.

Which is the question you never get, please ask it and answer it?
-Question: Do we hook up with lotsa girls on the road?
-Answer: fuck yeah!

Is it any chance to see you in Sweden soon?
-We absolutely hope so.

Where is the best place to play?
-We love to play all over, as long as the fans are there and they're having a good time, we love it.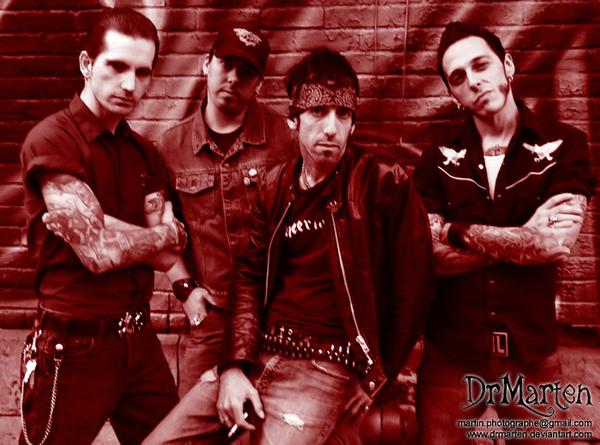 How is a good gig with you?
-Great crowd, lotsa booze, great set, lotsa booze.

The name where does it comes from?(yeah itīs a boring question but itīs interesting)? ?
-We all have a love for fast cars, so we wanted a name that would represent that without being to forward. Nick and Eric came up with the shifters and it sounded good.

What shall we do about all racists? Is it a big problem in Canada?
-Racist are closed minded people, Judging other people by colour or religion how shitty is that? I don't know how much of a problem it is in Canada because the people we hang out with are not at all racists, we close our door to close minded people.

Spinerazor, is it a good label, which other bands are on the label?
-We like our label, they support us and work hard for us, our labelmates, to name a few, are The Killcheerleader, CJ Sleeze, Mastery.

The best band in punkhistory?
-Now thats a good question, I guess some would say The Ramones, others the Sex Pistols, The Clash. We have way to many influences and like way to many bands to even start to name bands.

The most important punksong? And your best song?
-So many important punk songs. And as for our best song... You tell us;)

Futureplans for the band?
-Tour, tour, tour.

For yourself?
-Stay true.

Wisdomword?
-Never drink a warm beer.

Something to add?
- Hope you all like our album.