Setback sent their demo-CD to me where they play a powerful style of HC and they do a cover on Millenium 2 by Markoolio, its Johan(the singer) who was answering my questions.

History?

-We started to play together sometime under the summer 1994 under a different name, we have changed two members through the years, we have released a fullength CD and we have been on some compilation records. We have also done some gigs around Sweden.

Please tell me a little about every member?

-Setback is me Johan Gummesson on vocals, Iīm 25 years this year and I work on a company called ABU Garcia, they do fishing equipment, my interests are music and film, and then horror, splatter,h-k, sci-fi and some undergroundproductions which is very warmth to my heart. Tromas not be forgotten, Iīm also like tattoos. Tomas Strömberg, 33,plays guitar and he works at Carlshamns and he is an active comunist and heīs a politican in our communicy, he has two daughters which takes all his time excpet the time with the band and the politics. Ulf Olsson, 30 years, plays bass, and heīs married, he lives in a house in asarum with his family and some dogs. He works as a teacher on AMU center in Ronneby. .

Niclas Sjöqvist,he is also 33, he plays sologuitar and heīs a dad for the other time some weeks ago. He works as a mechanic and he travels a lot in his works. He is also in tattoos and piercing and he works a lot with Sweden Rock festival, he drives BMW. Markus Sjöqvist, 20 years and Niclas younger brother plays the drums. he is active in the musiclife in Karlshamn and he handle the money in Musikforum. And there is where we rehearsal.

Why Millenium 2 on the record?

- ueah, why ? I donīt really know, but we decide when we did our last recording that we must do a cover this time to. But we couldnīt put our thought together on which song we should have and then it went out this way. On one of our first recording we made Bad Religion's "We're only gonna die" and we have done some more covers live but we almost play our own material.

What do you like Markoolio?

- Weīre not any Markoolio-fans, you can compare him to Ronny and Ragge, Eddie Meduza and so on. itīs fun for a while and then you get tired on the shit. Niclas children really does like Markoolio and theyīre fans of him.

Is there any good bands in Sweden?

- Thereīs many good bands in Sweden, not so many hardore bands worth to mention but Entombed, Backyard Babies is good band plus Hives & Voice of a Generation.

I like some harder things like Driller Killer, Wolfpack...so of course theyīre many good bands in Sweden. I surely could come up with more if I only have a little more time.

How is life in Karlshamn then?

- The musiclife in Karlshamn isnīt so good, of course there some bands which are serious but theyīre easy to count. Sweden Rock Festival isnīt only nostalgy because the last Entombed, LOK and the year before Backyard Babies played, but itsīreally fun to see the old bans like Saxon, Alice Cooper and Motörhead too.

How would you describe your own music?

-Brutal fuckin hardcore which have a big dose of streetpunk and a little doze of rock n roll.

What do you want with your music?

-We want to do songs as people like and of course we ant to come out so much we can and play live. .

No record company which is interested?

-We released a record on the Stockholm-company Burn Recordz but it wasnīt any good company, so we hope that we can get a contract with our last recording which we now are sending out to many different companys.

What did the fulllength was named?

- "The Path of Resistance" and it came out last year and we have been on the compilations "Distortion to Hell...and back vol 3" (as No Solution), "Things to do Today", "Stand as One" and "The Punishment is Here".

The most of the records you can buy through us , please check out the mercahndise link and see which is available. You can also buy them in well-sorted record stores..

How is it with fanzines?

-I read much fanzines before but nowadays itīs mostly Close Up and itīs a shame beacuse itīs many good fanzines around. I havenīt checked out e-zines so much but thatīs maybe the future...

What do you think about the new way to communicate with email and internet and all that stuff?

- I think itīs really good, itīs more easy for bands to get their music out. Itīs easier to get contact with labels, other bands and so on on the other side of the world. And then you have the possibility to put out mp3:s on some sites which is much more easy than to send demotapes and cdīs which is also really expensive after a while. And the most people know what I mean if they play in a band theirselves. I think the most things with the stuff is for the good.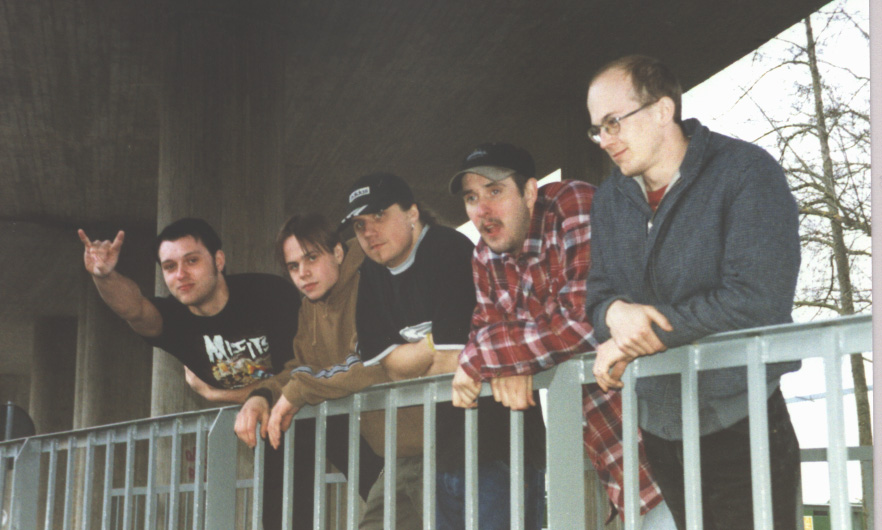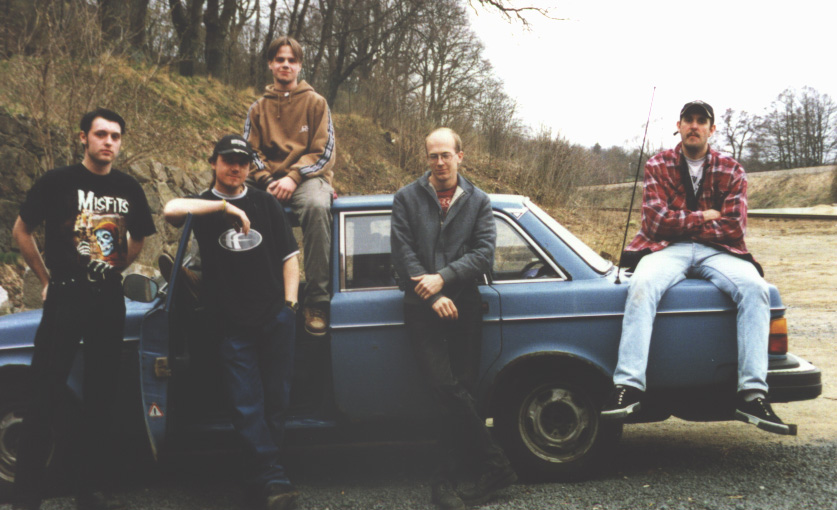 Do you ahve any favourite site on the net?

- No,not really any favoruite site, not whatīs coming up right now. Iīm mostly in on many bands sites adn some horrormoviesites and sites about serial killers and some things which Iīm think itīs interesting to read about. Itīs so fucking much on the net.

Who does your own homesite?

- I do it with a little help from a friend, itīs maybe not so that you must have a homesite but it makes things so much easier, and itīs good to have something to show people. Itīs also good if you put out mp3īs so people that are interested of us can surf in and listen how we sound. I try to puit out so much information as possible about us on our website.

Is it boring to be interviewed?

- No, itīs not so boring. Itīs always fun when people show their interest for the things we do. Itīs that sort of appreciation thatīs do it meaningful to continue to play.

Which is the queston you want to have but you never get, please ask it and answer it yourself?

- Hmmm, what a fucking difficult question... I canīt come up with something. Itīs surely so that it is no question I want the most. But thereīs many question I donīt want to have, the usual standardquestions.

How is a good gig with you?

-A fucking noise from the first to the last song and both audience and we are dancing our ass off.

How does your audience look like?

-Itīs pretty mixed I think, most younger punks and hardcorekids. When we played at Rockfestival in Karlshamns 95 ,it was some old middleaged raggare which stand out and saw our whole concert.

Idols when you were small?

-I listened mcuh to bands like Kiss, Iron Maiden, Mötley Crue, W.A.S.P and so on when I was very small, but I came in on the punk thing early because of bands like Dead Kennedys, Toy Dolls, Asta Kask, Discharge and of course Misfits.

The first and last record you bought?

-The first record I think it was Kiss "Love Gun",Iīm not really sure if it was that record but Iīm almost sure that it was a Kiss record. The latest record I bought was....hmmm, let me think I havent bought so many records the last time...I think it was Mike Ness "Cheating At Solitaire"

Whats the most peculiar thing that have happened on a concert with you in the audience or on the stage?

- It havenīt was so much peculiar things on our concerts. but once we came up with the brilliant idea that we should be stripping on a concert in Sölvesborg and the we did our whole concert only in our pants. Some years ago we played in Ronneby and it was a guy who broke his hand , but itīs not so peculiar maybe...

What is the most peculiar thing that have happened to you?

-I canīt come up with something peculiar right now, what the hell I live in Karlshamn....it happens not so much here.

How do you like living in Sweden?

-I like it in Sweden and I have no plans to quit this country hehehehe.

Whatīs the best and whatīs the worst of living in Sweden?

-Itīs many bad things in Sweden ,for an example the climat in the winter. Cold. Not so much to do about it. And then I think Sweden have been a country without own identity, always being neutral country. Under the seceond world war when almost every swedish man called himself a nazi and even the swedish church helped Hitler. What can we do about it I donīt fucking know. Swedish people is very good at sitting at home and make noise but very bad to act.

How is it with rascism in Karlshamn?

-There isnīt so much rascism in Karlshamn,not that I have noticed. I mean people who donīt look like rascists is everywhere but thereīs no fucking nazi-skins. But in Karlskrona some miles away thereīs many neonazis and it was there NSF(Nazi-party) was grounded and have their biggest time for many years.

Futureplans for the band?

- We have precisly now begin to take up our playing again after a long break, and it was our drummer Markus who have an accident and broke a bone in his hand. It took very long time for this to be good. So our new plans is to rehearsal very much and do some new material and play so many gigs as possible and someone who have a cool place to play please contact us. Weīre going to try to release our new recording and look for a good label who can be interested in us. Weīre soon on a compilationrecord called Holy Shit 3 on Trapdoor Records

Futureplans for yourself?

-I donīt like to plan my life, and I try to take the day as it comes. Things not become as you wish anyway.

Wisdowmword?

-United we stand, divided we fall.

Something to add?

-Thansk for the interview, buy our record, please hire us for gigs, please write us and if someone is interested of read some more about us, please check in our website on : http://listen.to/setback

Do you want to cam in contact Setback, please mail us on the following adress